Diaz
My Five: Least Dominant No. 1 Players
Golf Digest Senior Writer Jaime Diaz looks back at five No. 1s who weren't total world-beaters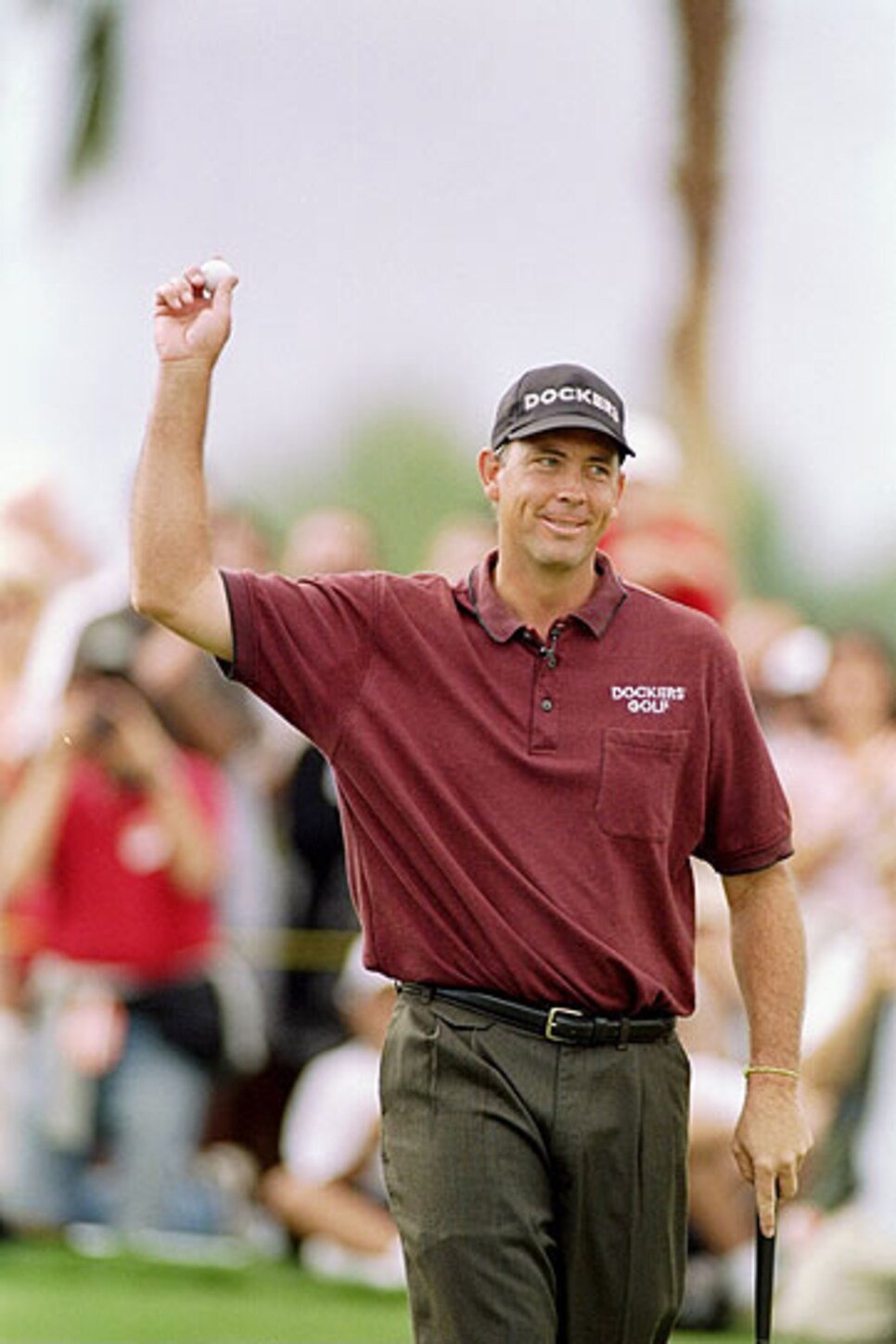 Photo By: Elsa/Getty Images
Photo By: David Cannon/Getty Images
Photo By: David Cannon/Getty Images
Photo By: Nick Wilson/Getty Images
Photo By: David Cannon/Getty Images
Tom LehmanA great ball striker perennially among the leaders in greens in regulation, but whose mediocre putter kept him from winning more than five times on the PGA Tour, Lehman had his best year in 1996. He won the British Open and the Tour Championship, led the U.S. Open after 54 holes before losing on the 72nd to Steve Jones, and earned PGA Tour Player of the Year honors. But in late 1996, Tiger Woods turned pro and immediately supplied a vivid preview of what was to come. Woods started 1997 by beating Lehman in sudden death at the 1997 Mercedes Championship, and four months later, he won by 12 at Augusta. But newbie pro Woods still didn't have enough points, and after the Masters it was Lehman who became No. 1, though only for a week, when he was succeeded by Greg Norman.
Photo By: Elsa/Getty Images
Bernhard LangerAs the 1985 Masters champion and a consistent winner in Europe, Langer had the most points when the Official World Golf Ranking debuted in April of 1986, even though Seve Ballesteros and Greg Norman had more game. But while never particularly long and susceptible to putting problems, Langer was a superb course manager with tremendous will and solid technique, all tributes that have been validated by exceptional longevity. Langer lost the No. 1 position to Ballesteros after three weeks when the one-year anniversary of his back-to-back 1985 victories at Augusta and Hilton Head passed and lessened his point total. "There have been times when there has been a dominant player like Norman or Tiger, and times when it was very close among the top players," said Langer in 2004. "That was the case when I was No. 1."
Photo By: David Cannon/Getty Images
Ian WoosnamWoosnam won the 1991 Masters and played well around the world, but his No. 1 ranking was largely due to a period in which Norman hit a bad patch, while Nick Faldo won a couple of majors but little else. Blessed with a squat and powerful body that allowed for a wonderfully simple action that David Leadbetter called the technically soundest in the game, Woosnam hit the ball dead flush, and was a formidable winner when his mostly indifferent putter got hot. However, Woosnam rarely played in the U.S. -- his only regular PGA Tour victory came at New Orleans in 1991 -- and was only an occasional force in majors. He also spoke of losing motivation after his Masters win. When Fred Couples went on a tear in late 1991, Woosnam lost the No. 1 ranking after 50 weeks.
Photo By: David Cannon/Getty Images
Ernie ElsEls had everything a player needed to be a dominant No. 1 -- length, strength, a fluid swing, short game and putting skill, along with the winning habit. But his timing was probably as unfortunate as any great player in the history of the game. Els was reaching his peak just as Woods went into his first steep ascension, and the Big Easy couldn't keep up. Els first became No. 1 for a week after winning his second U.S. Open in 1997 at Congressional. The next year, while Woods was in the midst of swing changes with Butch Harmon, he took the position over for eight more weeks. "It might have been a bit of a burden at that time," said Els in 2004, "because my game wasn't really ready. I wasn't the player I am today. No. 1 sounded awkward to me because I knew I had to work on so many things in my game. Still, it was a great feeling, a special feeling." One that Els wouldn't get close to again after Woods' swing clicked again in late 1999.
Photo By: Nick Wilson/Getty Images
Fred CouplesCouples is still a wonder in full flight, and he played the best of his life in late 1991 and early 1992, winning often and culminating with his victory in the Masters, after which he stayed No. 1 for 16 weeks. But Couples was obviously uncomfortable on the throne, and seemed less than upset when his less brilliant play dropped him back into a more comfortable "good but not great" status. "I didn't have the personality for it," said Couples, whose flaws included a frequently balky putter, difficulty grinding in major championships, and a periodic loss of motivation. "I got it with a nice stretch, but when I lost it, it was not a big deal."
Photo By: David Cannon/Getty Images