Crazy Finishes At The PGA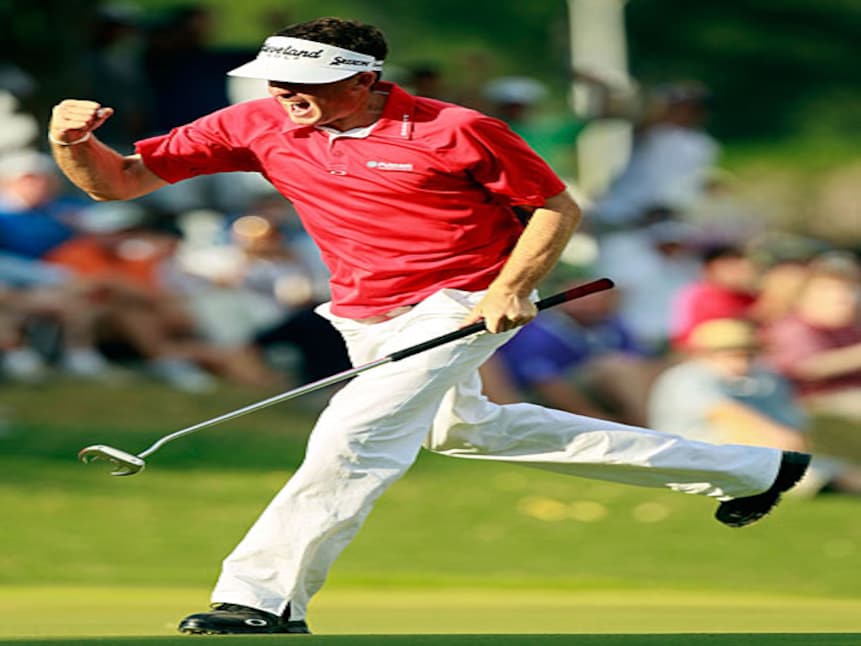 2011, Atlanta Athletic Club
After a triple bogey on No. 15 in the final round, Keegan Bradley trailed leader Jason Dufner, who stood on the hole's tee box, by five shots. But the 25-year-old PGA Tour rookie responded by birdieing the next two holes and when Dufner bogeyed three of his final four holes in regulation, the two went to a three-hole playoff. Bradley again birdied No. 16 and put away his first major title with a par on 18 to complete a stunning turnaround.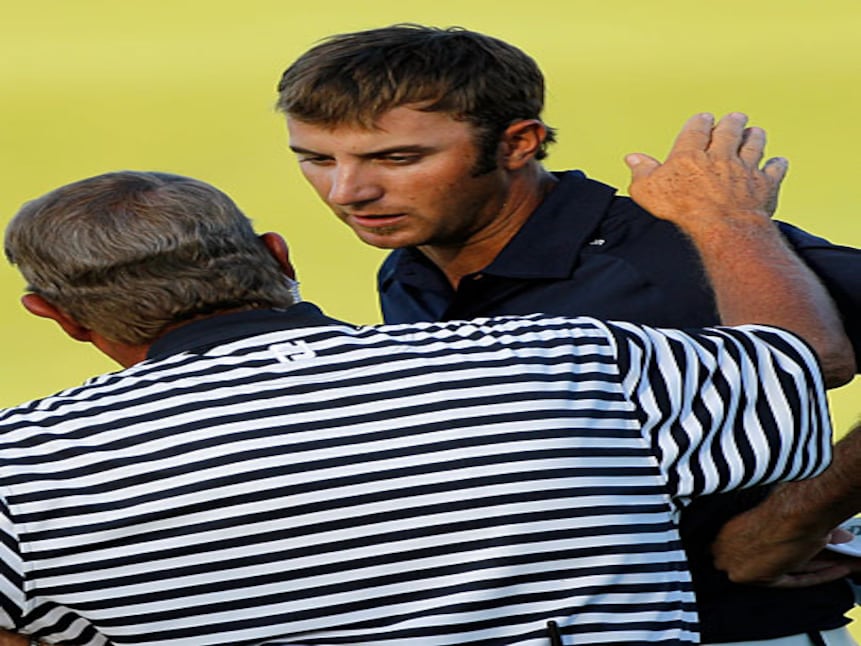 2010, Whistling Straits
This one had a bit of everything. A spectacular setting, clutch playing, major gagging and yes, a rules controversy. Unfortunately for Martin Kaymer, his first major victory will be remembered just as much for Dustin Johnson throwing a way a chance to win by unknowingly grounding his club in one of Whistling Straits' countless bunkers on the 72nd hole. The penalty knocked him out of a playoff with Kaymer and Bubba Watson, which the German won.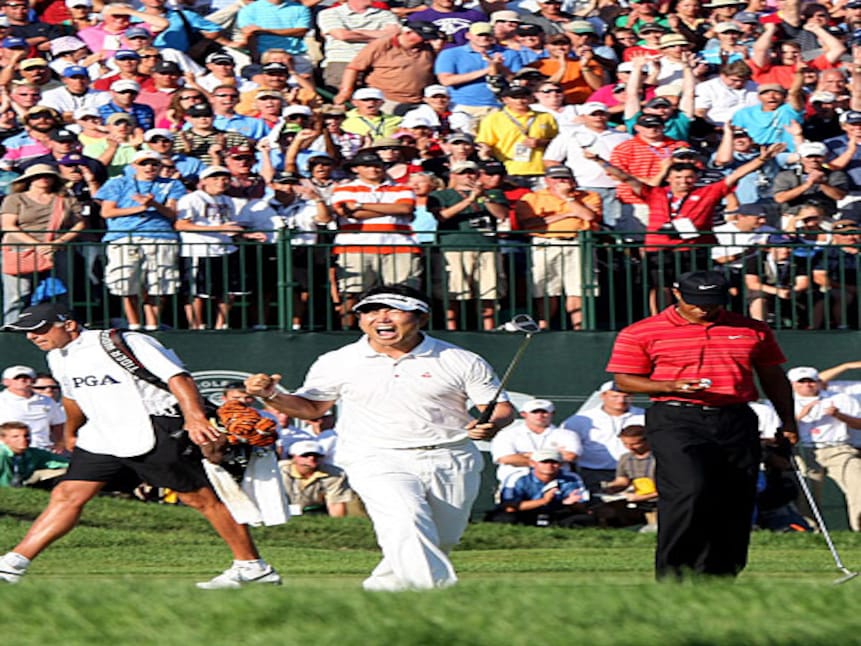 2009, Hazeltine
With Tiger Woods holding a two-shot lead through 54 holes, many thought Sunday's final round was a foregone conclusion. Instead, it turned into one of the biggest upsets in golf history. Y.E. Yang more than hung with the best player in the world and put him away with two of the most memorable shots in tournament history: a chip-in eagle on the par-4 14th and a hybrid over the trees and through the wind to 10 feet on No. 18 to seal the deal.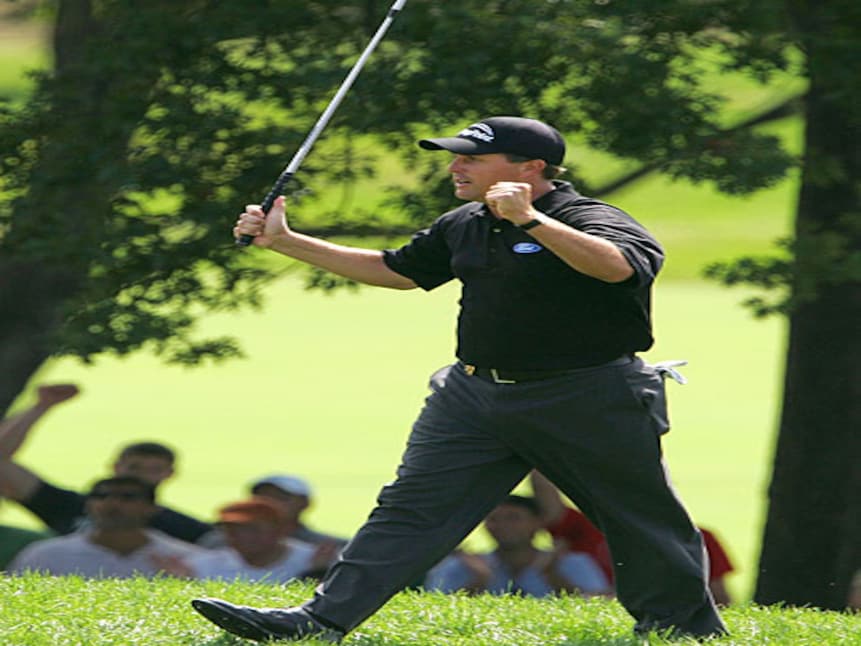 2005, Baltusrol
Thunderstorms late Sunday forced the conclusion of the final round to be pushed to the following day. When play resumed, one of the major characters was nowhere to be found. Tiger Woods had finished his 72 holes and sat just a couple shots off the lead, but figuring his chances of making it into a playoff were non-existent, he flew home. He turned out to be right as Phil Mickelson made a closing birdie (left) to beat Thomas Bjorn and Steve Elkington by one and leave Woods three back.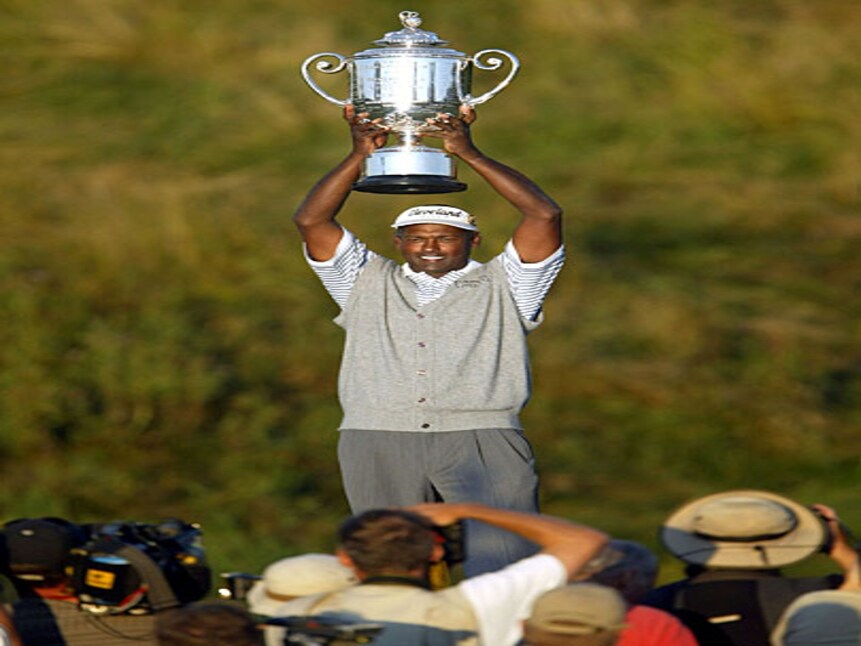 2004, Whistling Straits
As was the case in 2010, Whistling Straits' first go-round as a major-championship venue also provided plenty of excitement. After three days of relatively easy scoring, Sunday turned into a survival test as big-name contenders like Phil Mickelson, Ernie Els, Justin Leonard and Darren Clarke all shot over par. Meanwhile, 54-hole leader Vijay Singh didn't make a birdie in regulation on his way to a 76, but made one in the first hole of a three-man playoff that he eventually won over Leonard and Chris DiMarco.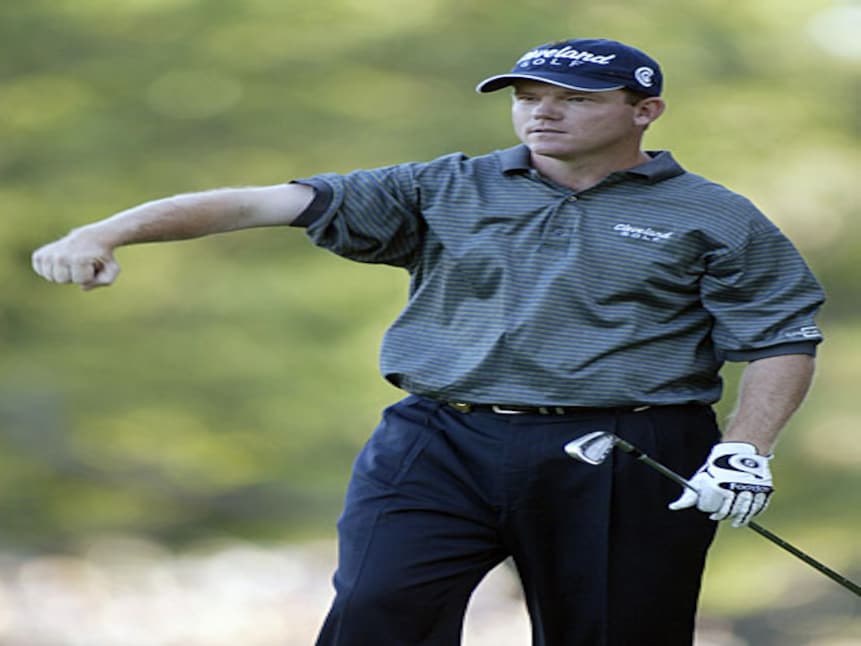 2003, Oak Hill
Shaun Micheel has turned out to be one of the least memorable major champions ever, but he still produced one of the most memorable closing-hole shots of all time. With a one-shot lead over playing partner Chad Campbell, Micheel hit an uphill 7-iron that rolled to within a couple inches of the cup for a tap-in birdie that locked up his only PGA Tour win.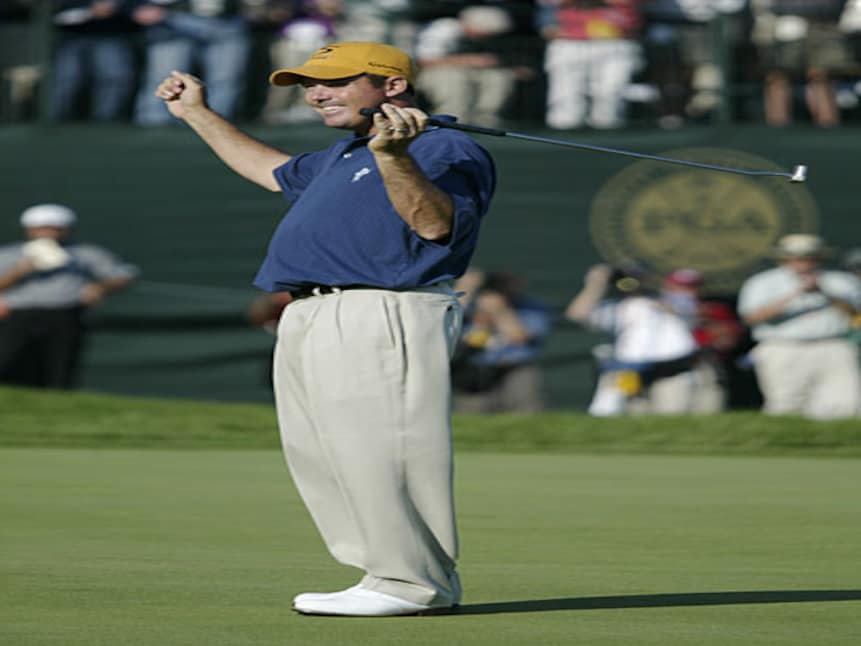 2002, Hazeltine
Long before Y.E. Yang took down Tiger Woods head to head, a former cell phone salesman outdueled the top-ranked golfer, albeit not in the same group. Beem led for most of the day, but a brilliant late charge by Tiger in which he birdied the final four holes put the pressure on Beem to close things out. Despite a bogey at the last, he finished on top by a shot, creating one of golf's all-time Cinderella stories and setting off an, um, interesting victory dance (left).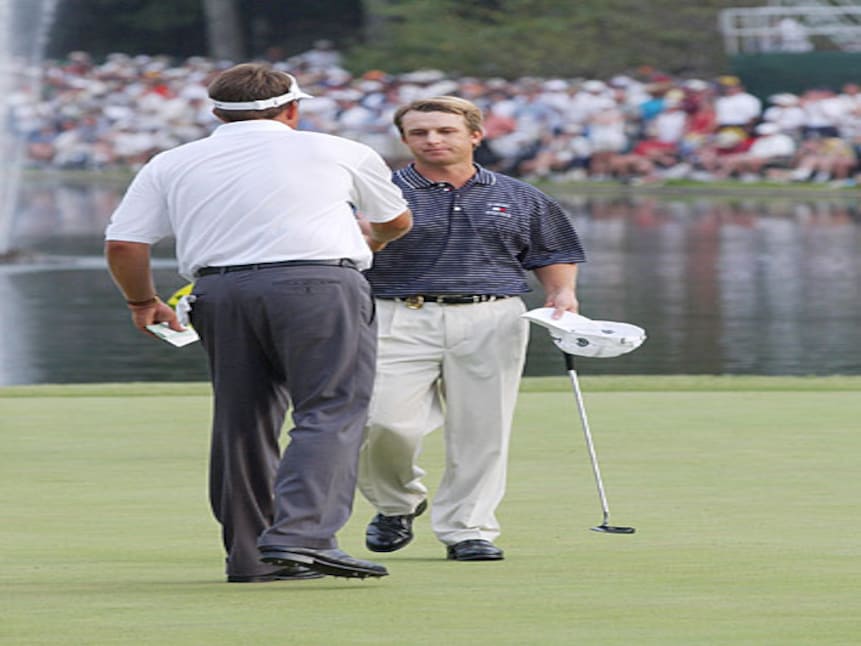 2001, Atlanta Athletic Club
Before Phil Mickelson began winning major championships, he was best known for his heartbreaking losses. This definitely ranks up there with the toughest when it appeared he could be headed for a playoff after David Toms laid up short of the water on the par-4 18th. But Toms hit a wedge to 10 feet and drained the par putt to capture his only major. Also, before the wild back nine, it was an unlikely ace by Toms with a 5-wood late on Saturday that helped put him in position to win.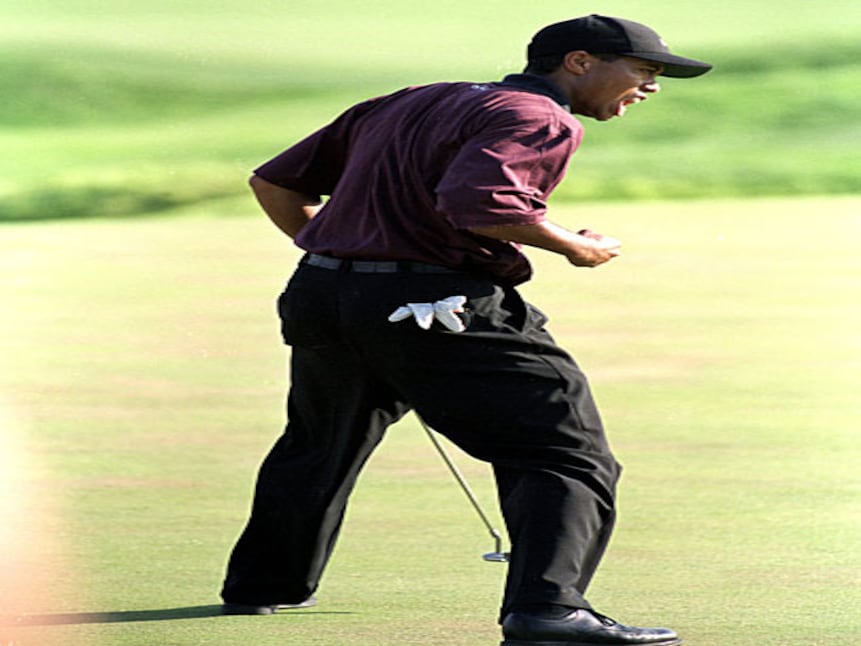 2000, Valhalla
Another year, another relatively-unknown upstart tangling with Tiger Woods at the season's final major. This time, it was Bob May's turn as he battled with a 24-year-old Tiger, who had just captured the last two majors by a combined 23 strokes. Unfazed by the situation despite never before contending in a big event, May, along with Woods went deep into red numbers at Valhalla, coming up one shot short of a major-championship scoring record in relation to par that Woods had just set at St. Andrews. Both shot a back-nine 31 that included birdies on the final hole (left). Woods' 30-footer on the first of three playoff holes was enough for a one-shot victory. The following April he would win the Masters to complete the "Tiger Slam".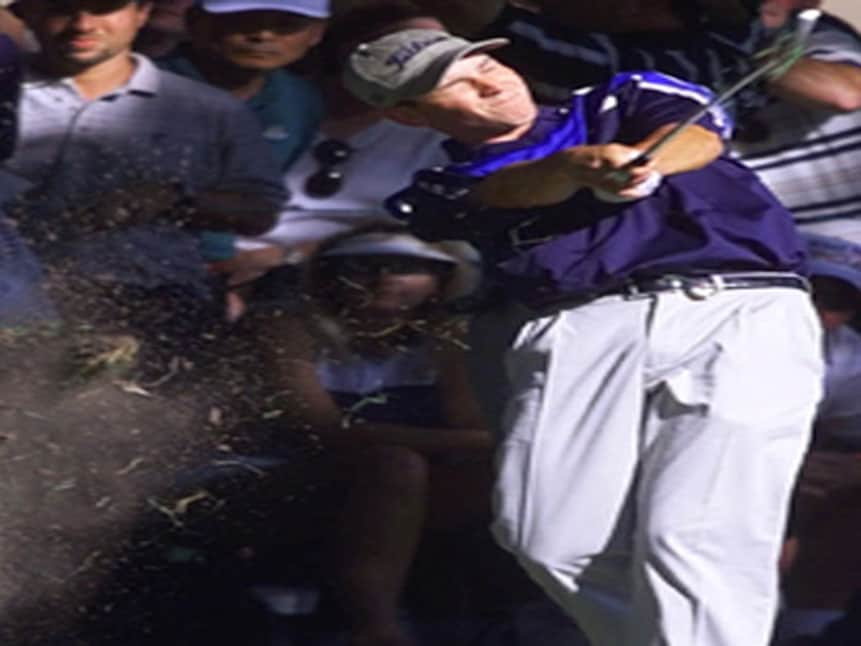 1999, Medinah
Stuck on one major championship win at age 23, Tiger Woods looked in danger of being caught in that department by an even younger player. Nineteen-year-old Spaniard Sergio Garcia made his own charge on the back nine, most famously with an incredible shot he manufactured from the base of a tree (left) and onto the 16th green. In the end, though he became a global star in the process, his theatrics weren't enough to overcome Woods.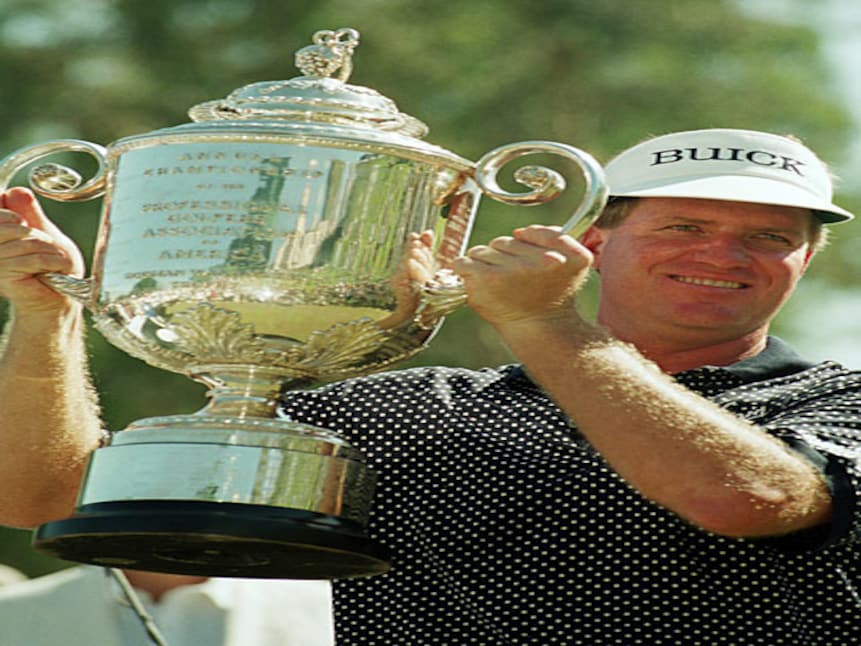 1995, Riviera
Despite all his success in Europe, Colin Montgomerie never won a PGA Tour event. This was arguably his most painful loss. A final-round 65, including three straight birdies to finish got him into a playoff with Steve Elkington. But Elk, who shot a final-round 64 of his own, rolled in a 25-foot birdie putt on the first hole of sudden death to wrestle the Wanamaker Trophy away.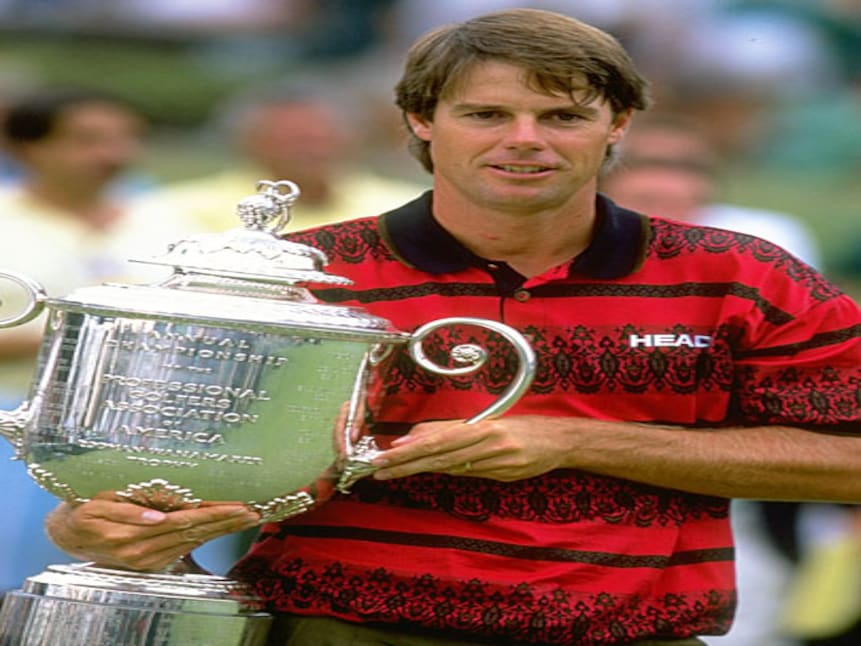 1993, Inverness
Another close call for Greg Norman might not seem that crazy, but the way Paul Azinger pulled off his lone major was. After stalling in the middle of his round on Sunday, Azinger birdied four of the final seven holes on Sunday to catch Norman. He then won on the second hole of a sudden-death playoff when the Shark missed a four-footer for par to become the second player to ever lose all four major championships in a playoff.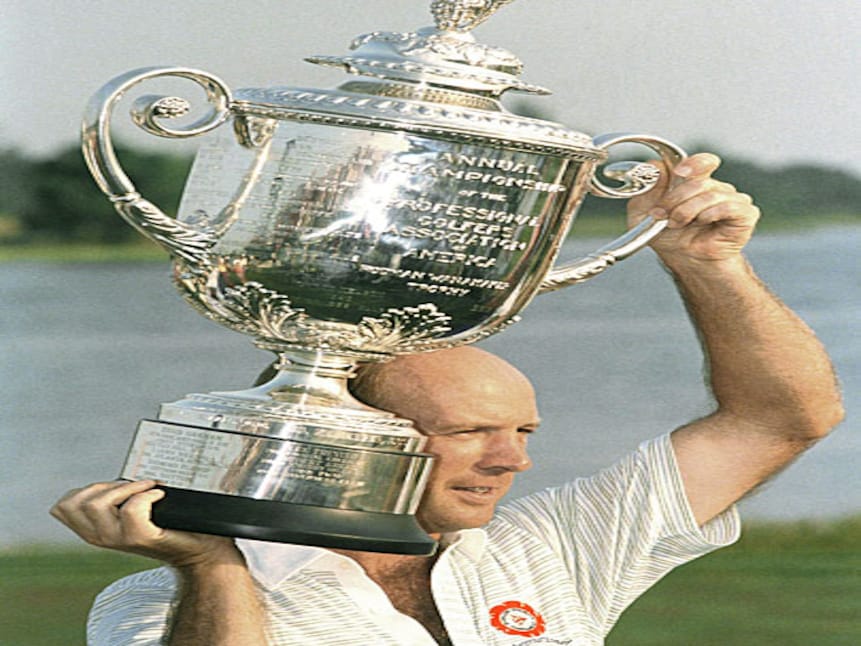 1987, PGA National
First of all, holding a PGA Championship in Florida during the month of August? Now, that's crazy. After four grueling days, Larry Nelson and Lanny Wadkins finished tied with a total of 287 -- the highest aggregate score ever at the PGA Championship by five shots. Nelson won by making a six-foot par putt on No. 1. By that point, he probably wished he had a teammate to dunk a bucket of Gatorade on him. Dan Jenkins wrote about the conditions afterward: "A month before the championship the greens were struggling in the humidity to be 80 percent bent and 20 percent Bermuda, but then they were kidnapped by a strange fungus. By tournament time they were 80 percent dirt, 10 percent wire and 10 percent herpes."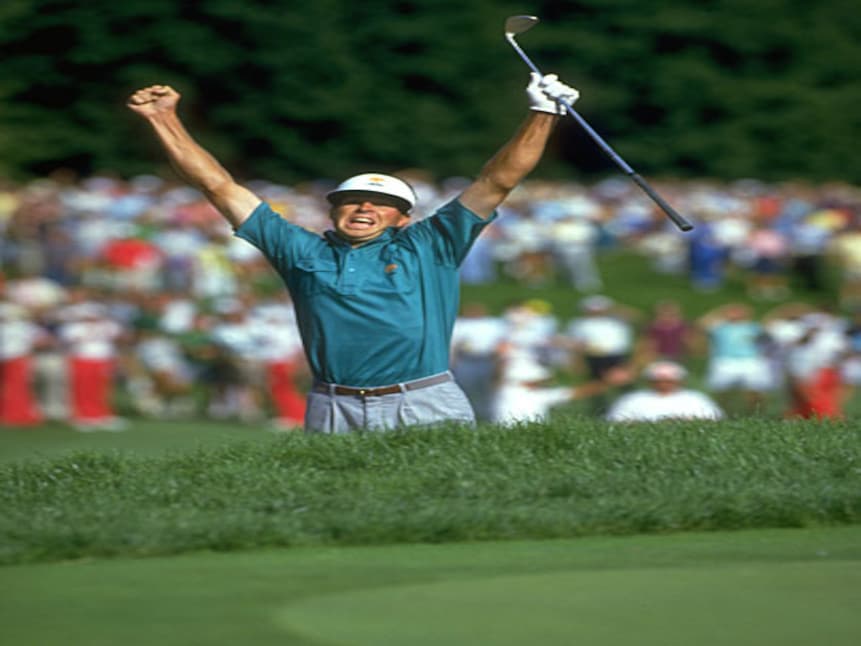 1986, Inverness
The 1986 season was crazy in general, especially for Greg Norman. The Shark held at least a piece of the 54-hole lead in each of the four majors, but only won the British Open. His wild year at the majors began with Jack Nicklaus' improbable back-nine run at Augusta and it ended with an equally-unlikely finish. After blowing a four-shot lead on the back nine, Norman looked like he'd at least find himself in a playoff, but Bob Tway holed out from a greenside bunker on the final hole for the victory. The historic shot gave Tway the lone major of his career and added another painful chapter to Norman's.