1 / 1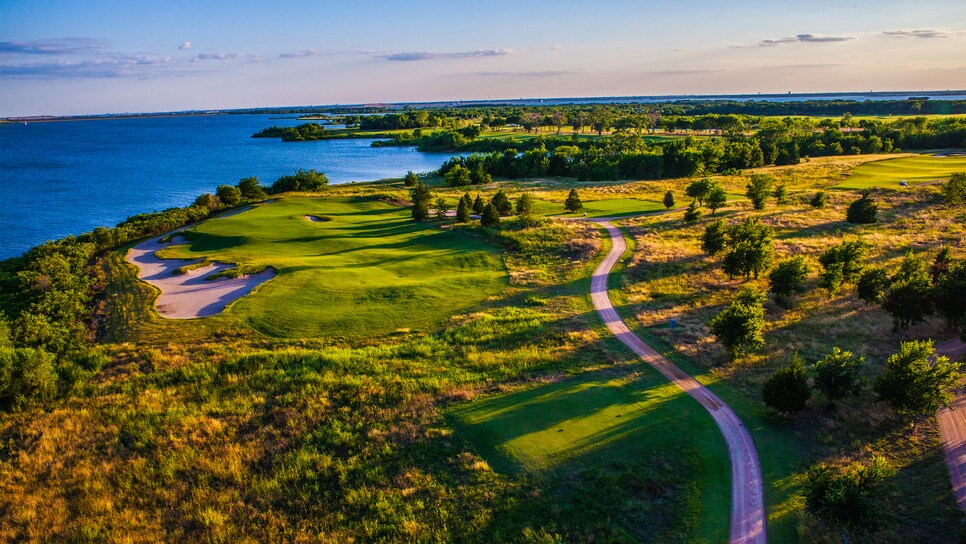 The Old American Golf Club
Overview
From Golf Digest Architecture Editor emeritus Ron Whitten:
A decade after golf architect Tripp Davis created one of the finest replica courses in the country, The Tribute Golf Club on the shoreline of Lake Lewisville north of Dallas, he returned and built another 18 adjacent to it called Old American Golf Club. The two have same architect, the same owner, a shared clubhouse and a shared shoreline, but they differ in many respects.
The Tribute, a compact core layout with returning nines, duplicates famous British golf holes. Old American, a residential development course laid out in loop design—nine holes out and nine holes back, to maximize holes along the lakefront—was inspired by National Golf Links and Shinnecock Hills, so it also looks linkslike, with some scattered trees. But there are no template holes on this 18. Old American is a Tripp Davis original.
As befits a design by one of the more talented golfers among the golf architecture community, it features options and bunkers galore and holes that demand oodles of local knowledge. When it opened in 2010, Tripp told a reporter that Old American was, "the most strategic course I've done." Now over a decade later, I suspect he still feels that way.
I say that because, in advance of my first round on the course, Tripp sent me his handwritten guide on how to analyze and play each hole. This was no ordinary yardage book with generic advice like, "Par is a good score on this hole." No, his opus runs for 49 pages! When I later saw Tripp, I joked that it took me almost as long to read his course guide as it did to play his course.
As a quick example, I'll briefly summarize a just a bit of Tripp's description of Old American's par-4 eighth hole, a dogleg-left with the approach shot over a ravine. Tripp's hole diagram and narrative read like a caddie whispering into your ear.
"The green has nine distinct pin locations in four basic areas of the green," Tripp writes. One of those areas is "...middle back, a shallow section high in the middle, falling to the back but most sharply to the front..."
This green is uniquely challenging, he says, because everyone will probably be playing a short iron into it. He then proceeds to suggest how to play to each distinct pin position, plotting your tactics from the tee. So, for example, to reach that middle back area, "...staying short left in the fairway is best...Use the slope in the fairway to work the ball to the left [on the ground]...Better to miss long [into the chipping area] rather than short when pins are back of the middle of the green.
But "...If your tee shot is well to the right or too far down the fairway, the green gets very shallow and you should favor a line just left of these pins. Don't miss long right..."
Oh, if I only had enough command of my game to be able to follow Tripp's detailed instructions.
Old American Golf Club is the consummate shot-maker's course, to be sure, with lots of doglegs, target bunkers, carry bunkers, cross bunkers, penal bunkers and buffer bunkers, so much sand that it approaches the point of being monothematic.
When I first played Old American, I did so with my old buddy, golf architect Jeff Brauer. Brauer had previously toured the course with Tripp, and said Tripp pointed out to him that every green has a knob or mound in the middle because Justin Leonard, the former British Open champion who served as his design partner on the project, told him that the only thing that screws up good tour pros are double-breaking putts.
So Old American's greens has lots of double-breaking putts. In fact, I'm pretty sure there are double-breaking putts on every hole. As I said, almost monothematic.
About
Designer
Tripp Davis/Justin Leonard
Panelists
Ratings from our panel of 1,900 course-ranking panelists
100 GREATEST/BEST IN STATE SCORES
Reviews
1 / 1
Review
"Great course that is very challenging. Great hospitality and all inclusive food and drinks on the course. A must play in the Dallas area"
Read More
2018
Readers
Collection of reviews from our readers
There are no reader ratings yet
Reviews
There are no readers reviews yet. Be the first to write a review.