The Golf Club of Tennessee
Kingston Springs, TN • Private
1 / 2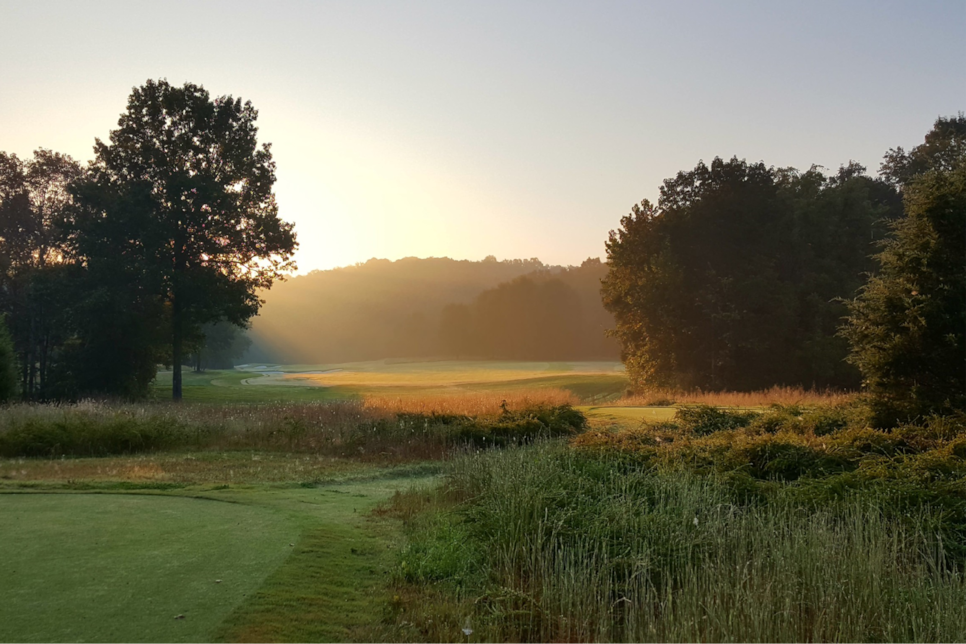 2 / 2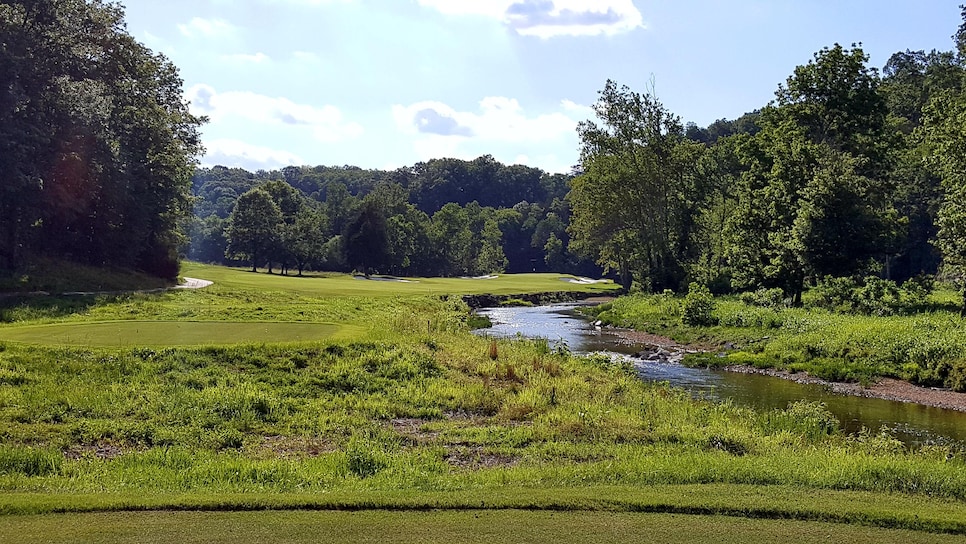 Overview
In the early 1990s, Tom Fazio, assisted by longtime associate Tom Marzolf, designed a sprawling golf-only layout just west of Nashville. They routed it over 317 acres, incorporating dense forest, rocky ridges and a river valley. Its first two holes play along the flat valley of Brush Creek, while the par-4 third runs uphill through thick trees to a green site on a bluff overlooking the valley. Four, a 200-yard par 3, requires a carry over a chasm that drops to the river. The par-3 eighth plays directly over the river, while the dogleg-right par-4 ninth hugs its rocky edge. After the par-3 10th, in a box-canyon to a green backdropped by tall shale outcropping and cascading springs, much of the back nine is in open meadowland. Sixteen is yet another par 3 over Brush Creek, the short par-5 17th has narrow dual fairways and par-4 18th doglegs left over the river. Fairways are Zoysia grass, greens are Penncross bent grass and roughs are fescue, native grasses and wildflowers.
About
Designer
Thomas Fazio, ASGCA
Awards
Second 100 Greatest: Ranked since 2017.
2023-'24 ranking (and previous): 167th.
Highest ranking: 158th.
Best in State: Ranked second in Tennessee, 2021-'22 and previously third.
Panelists
Ratings from our panel of 1,900 course-ranking panelists
100 GREATEST/BEST IN STATE SCORES
Reviews
1 / 11
Review
"A beautiful piece of property that I didn't expect to find so close to Nashville as it reminded me more of East Tennessee. The layout takes advantage nicely of the elevation changes as well as large creek that runs through the property. A good variety in the holes with high shot option value both off the tee as well as in and around the greens. A tough but fair test of golf."
Read More
2022
2 / 11
Review
"The Golf Club of Tennessee starts out as an open golf course but quickly turns into a narrow difficult course as you make the climb from the second green to the third hole. Stunning views from atop the mountains are seen from the par-3 fourth hole."
Read More
2022
3 / 11
Review
"The course is typical of Fazio: beautiful, playable, and offered numerous risk-reward options without being overwhelming."
Read More
2022
4 / 11
Review
"Bunkering and tree placement in fairways was strategically done to be in landing zone, forcing risk/reward scenarios. A good example of risk/reward here is the 12th hole, a short par 4 that is drivable but a tall tree protects the green with a bunker and fescue short. Another bunker is in the landing zone for an aggressive layup off the tee, making accuracy important if you want a wedge in on the second shot."
Read More
2021
5 / 11
Review
"Strong mix of doglegs right and left, long and short par 4s. The holes were each memorable but had a consistent theme with the stream winding through most of the holes."
Read More
2019
6 / 11
Review
"Incredible piece of property, views are incredible, lots of elevation changes, greens are firm "
Read More
2022
7 / 11
Review
"Best course in Nashville. Has some very solid holes and is worth playing if given the chance."
Read More
2022
8 / 11
Review
"Cool club with a great course. Would be nice to be a member there. Beautiful setting!"
Read More
2019
9 / 11
Review
"Stunning views as you play up hole 3 to the par-3 hole 4. The course winds through elevation among the rocky bluffs, and beautiful waterfalls can be seen on two holes. Caddie program is great, and the service here is excellent."
Read More
2018
10 / 11
Review
"One of Fazio's tougher courses. Two different 9's, the 2nd 9 is more hilly with jagged rock outcroppings. If you like country music, this is the place to be."
Read More
2018
11 / 11
Review
"Very good Fazio design outside of Nashville. Most holes weave through the forest and rocky bluffs. Lots of design variety that makes great use of the elevation changes. Great service and staff and a very classy clubhouse."
Read More
2018
Readers
Collection of reviews from our readers
There are no reader ratings yet
Reviews
There are no readers reviews yet. Be the first to write a review.