1 / 5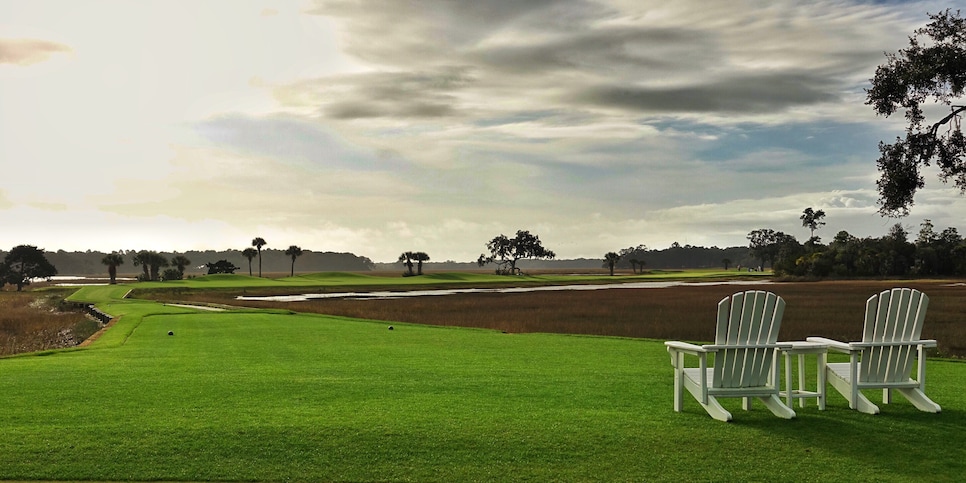 2 / 5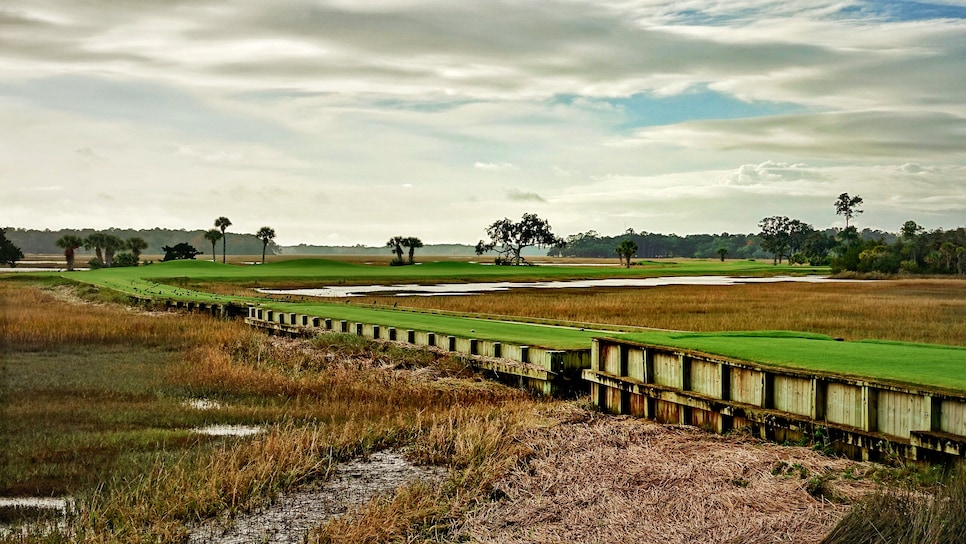 3 / 5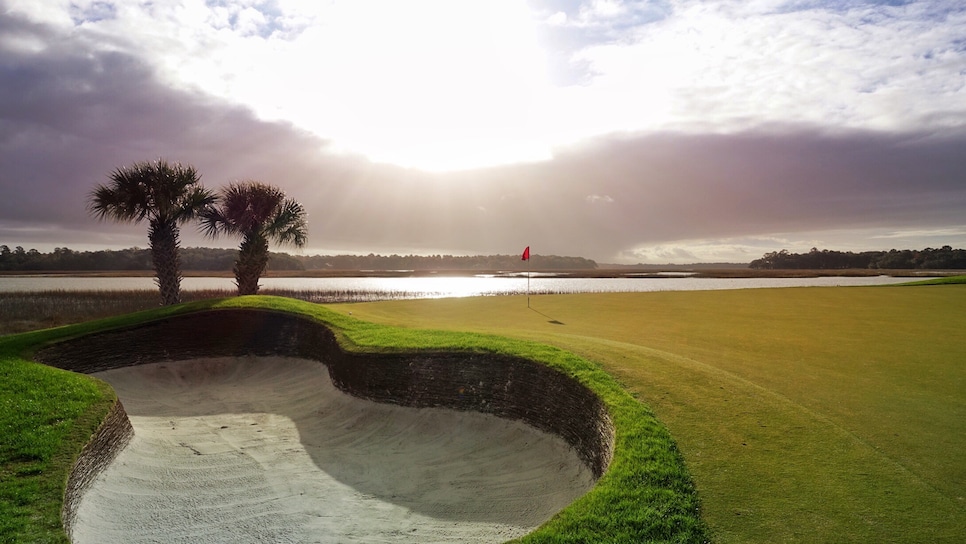 4 / 5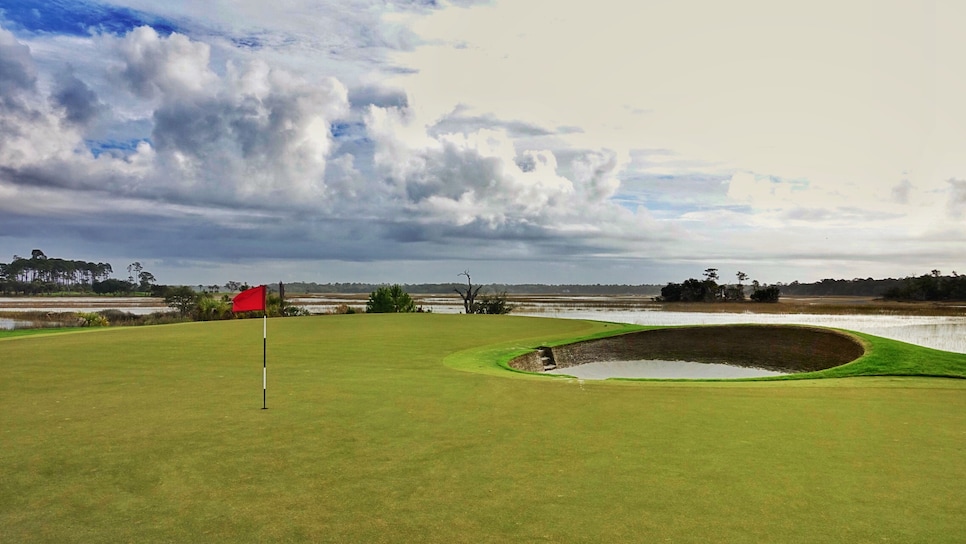 5 / 5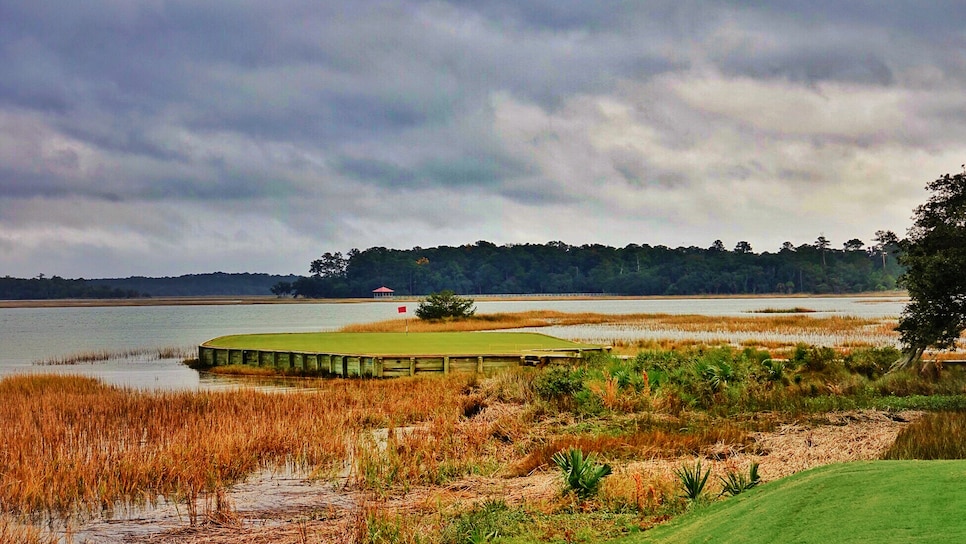 Overview
Pete Dye and his son P.B. did the early routing of Secession, but when they left in a dispute with the developer, Bruce Devlin, a PGA Tour veteran who'd previously designed courses with Robert von Hagge, stepped in and finished something much in keeping with the then-prevailing Dye philosophy of low profile architecture. Greens were set at ground grade, protected by low humps and pot bunkers with vertical stacked-sod faces. Still, Devlin invariably left open the fronts of greens for running approach shots. The site itself is a peninsula in marsh, with several holes on individual islands. Secession demands a complete game, both aerial and ground, particularly in steady ocean breezes.
Awards
Second 100 Greatest: Ranked since 2013.
2023-'24 ranking: 159th.
Previous ranking: 164th.
Highest ranking: 150th, 2013-'14.
Best in State: Ranked fifth, 2023-'24. Ranked seventh, 2021-'22.
2023-'24 ranking: 5th.
Panelists
Ratings from our panel of 1,900 course-ranking panelists
100 GREATEST/BEST IN STATE SCORES
Reviews
1 / 6
Review
"Secession is a special place that gives an amazing, walking round through an excellent low country design. But it's the overall "hang" that makes Secession one of the great experiences and memories in American golf."
Read More
2020
2 / 6
Review
"If ever given the opportunity to enjoy a day at Secession DO NOT turn it down. Low-country Southern Hospitality at it's finest, this is one of the best golf experiences you can have in a day. The course runs along the marshes with the tides rolling in and out throughout the day. Depending on the time a ball in the marsh could be playable if the tide is right. "The Point" holes 16-17 finish with a reachable par 5, island green par 3, and difficult par 4 18th is an extremely fun finish. The bunkers are the Scottish style revetted bunkers but are artificial therefore much less maintenance."
Read More
2018
3 / 6
Review
"The course is solid and fun--the green complexes aren't the most creative--but the experience is better. Outstanding caddy program, understated clubhouse, low-country feel and when so much of its membership comes from out of town, they make the most of their two to three day trips."
Read More
2018
4 / 6
Review
"Old school golf club. Walking and caddies only. National membership with links style course. The bunkers are made with old astroturf, which look great and are suppose to last much longer than layered sod. Different approach but the play and look great! If you can get inside the inner hallway there are photos that members bring from their home clubs. I can walk around the clubhouse for a couple of hours looking at all the memorabilia."
Read More
2018
5 / 6
Review
"Secession is steeped in tradition with their walking only requirement, caddie program, and devoted staff and membership. Each hole was very memorable and different in design with an overall continuity and feel. Views of the marsh on 14 holes led to high aesthetics. Playability is high due to many holes having an opening in front for playing the holes in a variety of ways, for many different conditions and player levels."
Read More
2018
6 / 6
Review
"Great place with a laid-back atmosphere. I had high expectations and the course exceeded them."
Read More
2018
Readers
Collection of reviews from our readers
There are no reader ratings yet
Reviews
There are no readers reviews yet. Be the first to write a review.