Victoria National Golf Club
Newburgh, IN • Private
1 / 3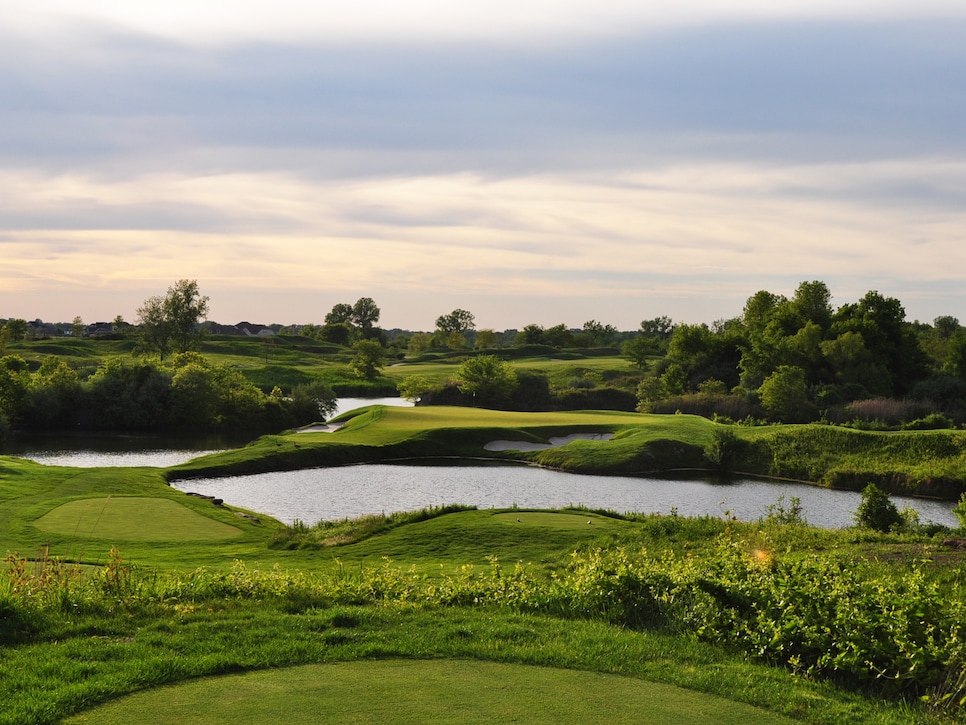 Courtesy of Victoria National GC
2 / 3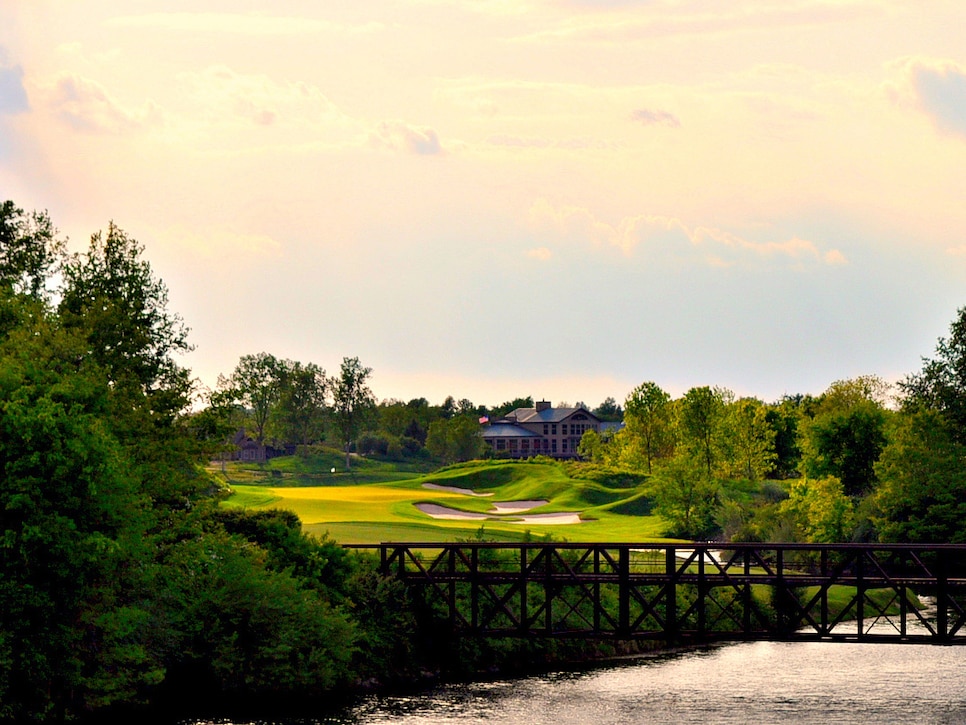 Courtesy of Victoria National
3 / 3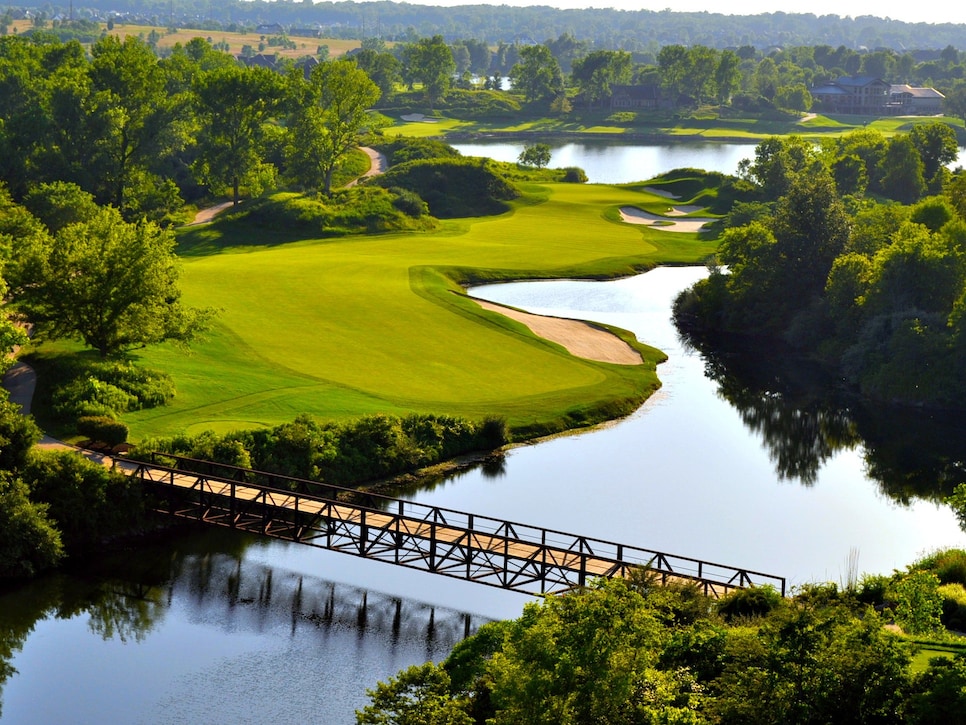 Overview
Built atop Peabody Coal Company's long-abandoned Victoria strip mine in southern Indiana, Victoria National was a simple routing for Tom Fazio. He just followed the corridors (the perfect width for fairways) that existed between mining spoil mounds (long since overgrown with trees) and some 40 acres of fingery lagoons that had formed as steam shovels carving out coal deposits hit the water table. Chosen as Best New Private Course of 1999, Victoria National stunned most panelists. One gushed it was, "the most unusual, unpolished and unpretentious Fazio design ever." Another called it, "probably the hardest Fazio course I've played. More penal than Pine Valley." Fazio concurred with that assessment. "It's U.S. Open-quality now," he said soon after it opened. "If the wind blew, it'd be too hard."
About
Designer
Thomas Fazio, ASGCA
Awards
100 Greatest: Ranked since 2001.
2023-'24 ranking: 53rd.
Previous ranking: 47th.
Highest ranking: No. 21, 2005-'06.
Best in State: Ranked first since 2001.
Panelists
Ratings from our panel of 1,900 course-ranking panelists
100 GREATEST/BEST IN STATE SCORES
Reviews
1 / 9
Review
"Victoria National is the rare course that is able to deliver an experience that is varied, challenging, and also fun. The course is routed amongst an old quarry site which is maximized for both hole variety and aesthetics. Some holes, such as the par 5 3rd and par 4 14t are truly unique and could not otherwise be shaped. The par 3s do play around water but they vary in angle, club selection, and ability to be aggressive vs. play for par. Despite the prevalence of water and long native grasses, the course is playable and fun for golfers of all abilities. Only shots that are hit offline into visible hazards risk being lost.Conditioning is excellent throughout. Kudos as well to Fazio for incorporating a set of short, yet distinct, par 4s in an otherwise difficult layout - these holes provide their own set of challenges, but greatly enhance the layout design."
Read More
2022
2 / 9
Review
"Victoria National will test every facet of your game. While not "tight" in a traditional sense, wayward tee shots will find fescue or other hazards. The holes roll beautifully through an old mining area, and there are no real "breather" holes. The final stretch is especially tough, but still fair. The par 5s are particularly strong and the green complexes provide challenges for even the strongest of short games. The staff was great, and this course should not be missed."
Read More
2022
3 / 9
Review
"While was certainly a good level of design variety, there were also 4-5 holes that felt almost the same (carries across water of the cape hole variety - for example 2, 4, 17 and 18. "
Read More
2022
4 / 9
Review
" It has three of Fazio's most inventive par fives. Overall, as difficult as this course is, Fazio showed restraint. Over the given terrain of this old strip-mine, it would have been easy to make this course so difficult no one could finish the round."
Read More
2021
5 / 9
Review
"One of the tougher courses in the country, however if you keep you ball in play the course can be very manageable. Built on an old strip mine. One of Fazio's best natural designs. Significant dirt only moved on one hole, number 10."
Read More
2021
6 / 9
Review
"Very difficult course built into old strip mining area with lakes and tree covered mounds. Pure golf that encourages walking with caddie. Spectacular holes, deep rough, fast greens, with every hole different."
Read More
2019
7 / 9
Review
"It is a fun course if your idea of fun involves getting punched in the face over and over. But seriously, this is a fabulous course, and well worth it if you can get one, but it is EXTREMELY difficult. High heather, water everywhere, long par threes, and a solid wind add up to high scores and unrelenting punishment. Certainly a beautiful course, but we may have to change our definition of "challenging" if this course is in the mix. :) I used every long iron and hybrid I had on approach shots, and still needed more distance. I really enjoyed it, but you may have to move forward from your usual tees to have a shot at a decent score."
Read More
2019
8 / 9
Review
"Victoria National is a wonderful place in southwest Indiana just outside of Evansville, Indiana. This course hosts the Web.com tour in the spring and proves to be a challenge for them with 5 holes being on the most difficult list for the Web.com tour for the year. If you get a chance to play it, you will understand why. This is a Tom Fazio course that departs from some of the other courses he has designed with the rugged raw look of the holes. This course is built on an abandoned coal mine that gives it tremendous character and has a body of water that the course meanders through. It is one of the most visually intimidating courses that I have ever played. The bunkers and the tall grasses that frame the holes is tremendous. The course is filled with amazing holes. The par 3s on the course are demanding and intimidating with bunkers and water making you get white knuckles on the grip. The conditions of this course were great. The fairways were tight, but generous in width. The rough was thick and the tall fescue was impossible. The greens were exceptional and rolled very true. This is a tough golf course, but it is playable. The caddies are knowledgable and tremendous to work with. The staff inside are second to none. The mens locker room and bar restaurant make you want you to stay too long. The final five holes on this course are extremely demanding. Sixteen is one of the hardest par 3s that I have ever played. It is 194 yards from the back tee with water on the left, right, a creek short, and a 40 yard green. Eighteen is a long par 4 with water all along the right of the hole and makes a big dogleg right. When the wind blows, just take a picture and go up to the green to chip and putt..."
Read More
2018
9 / 9
Review
"Just about as good as it gets. Great course, great facility, wonderful staff and excellent food. Felt like they rolled out the red carpet for my wife and I."
Read More
2018
Readers
Collection of reviews from our readers
There are no reader ratings yet
Reviews
There are no readers reviews yet. Be the first to write a review.