1 / 7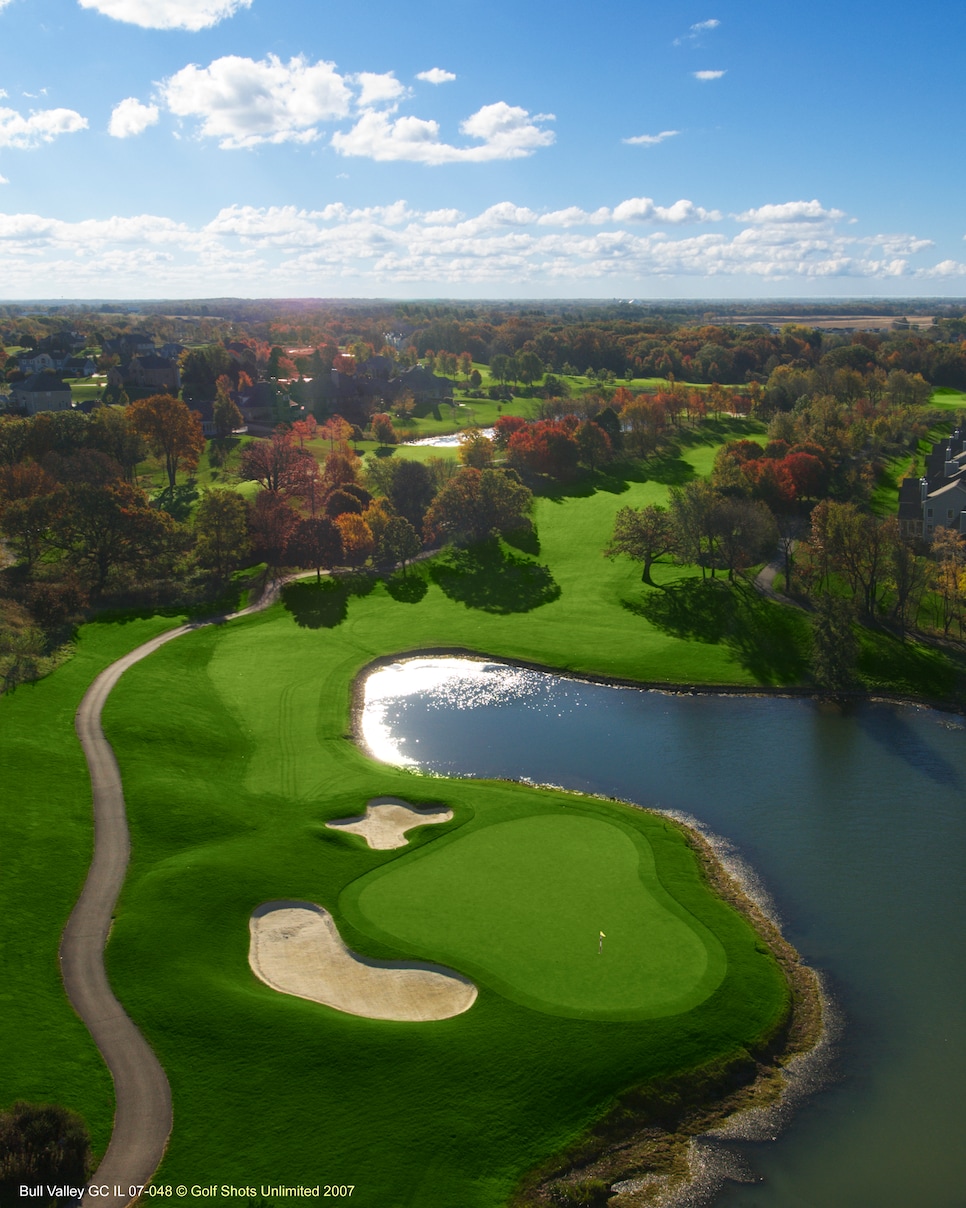 2 / 7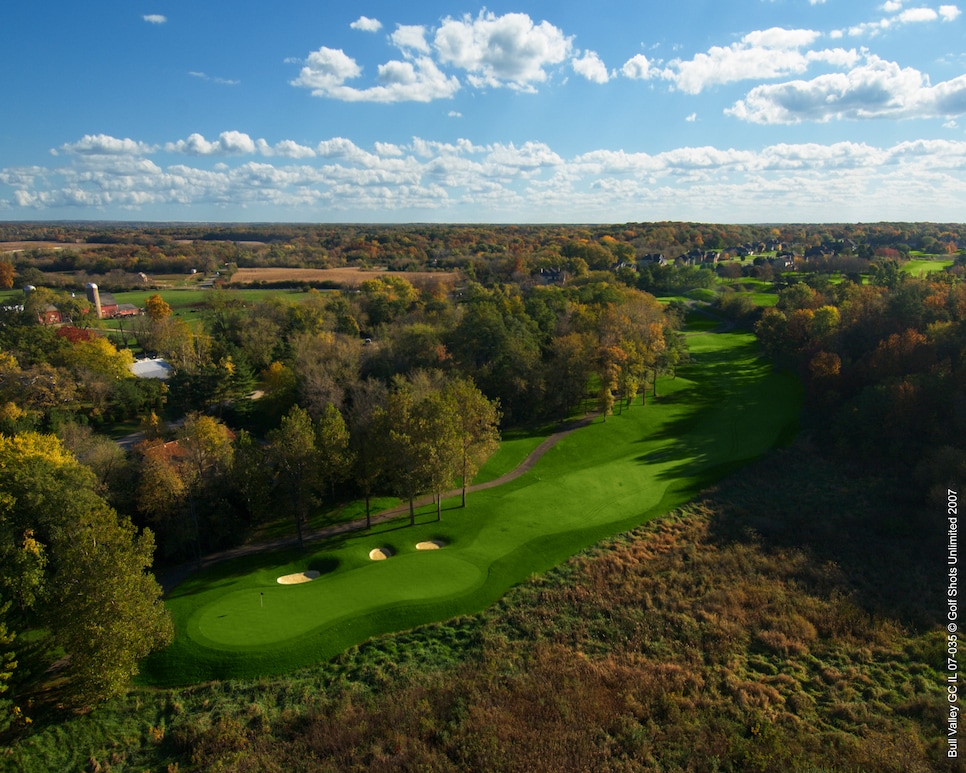 3 / 7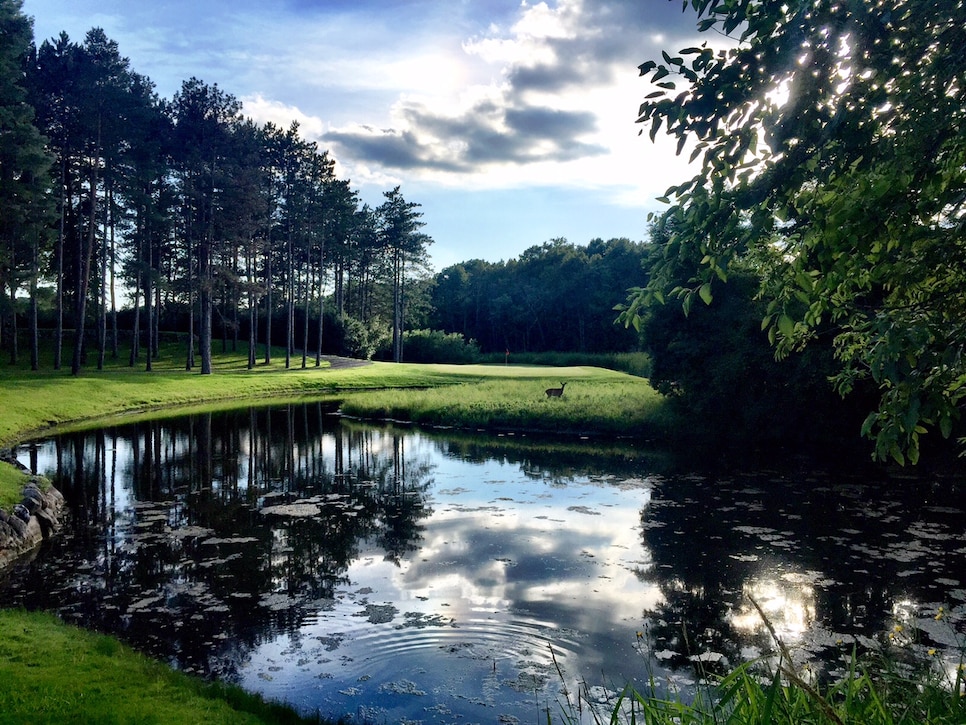 4 / 7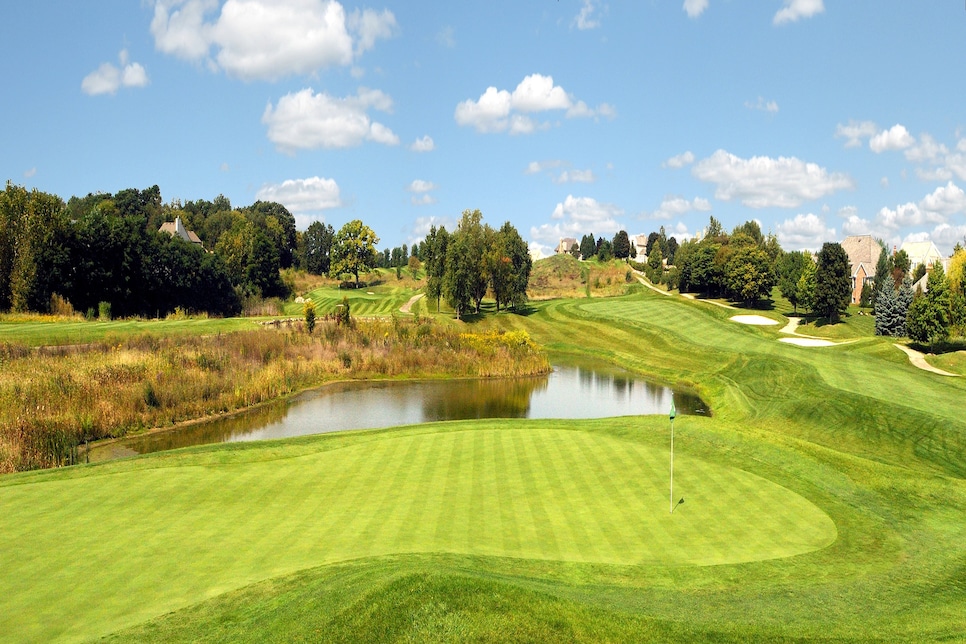 5 / 7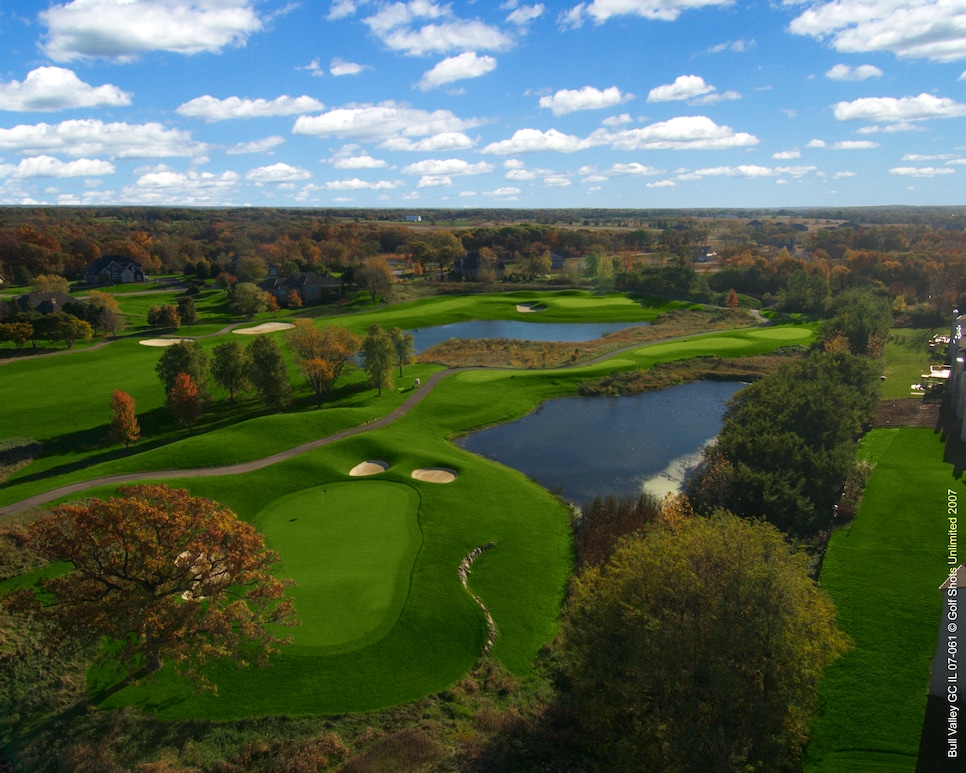 6 / 7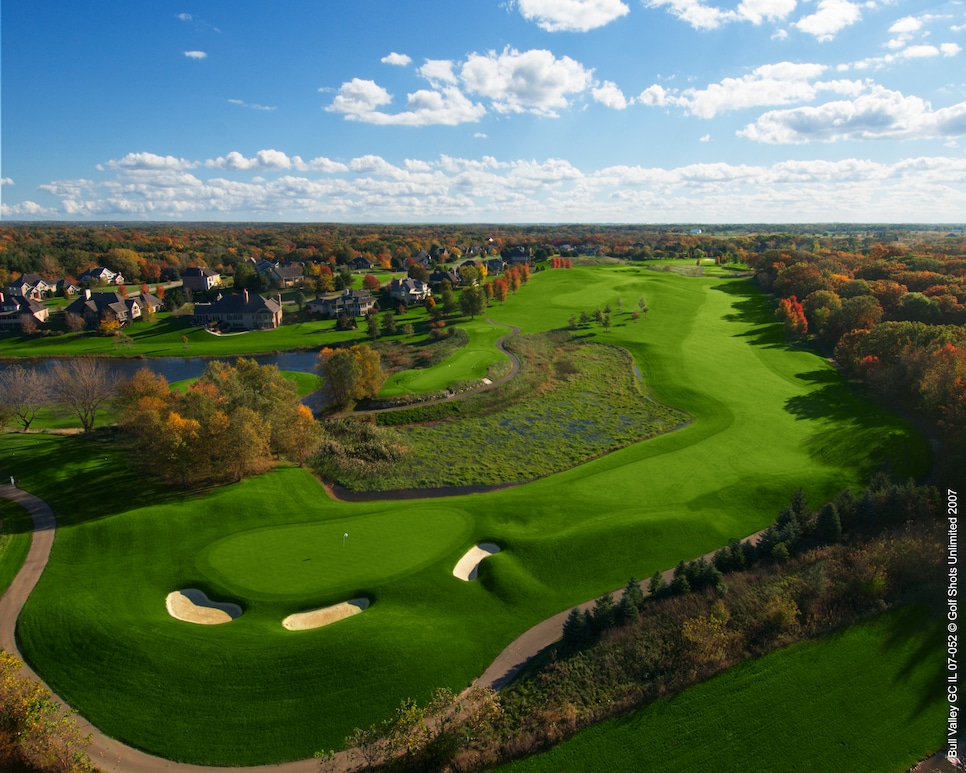 7 / 7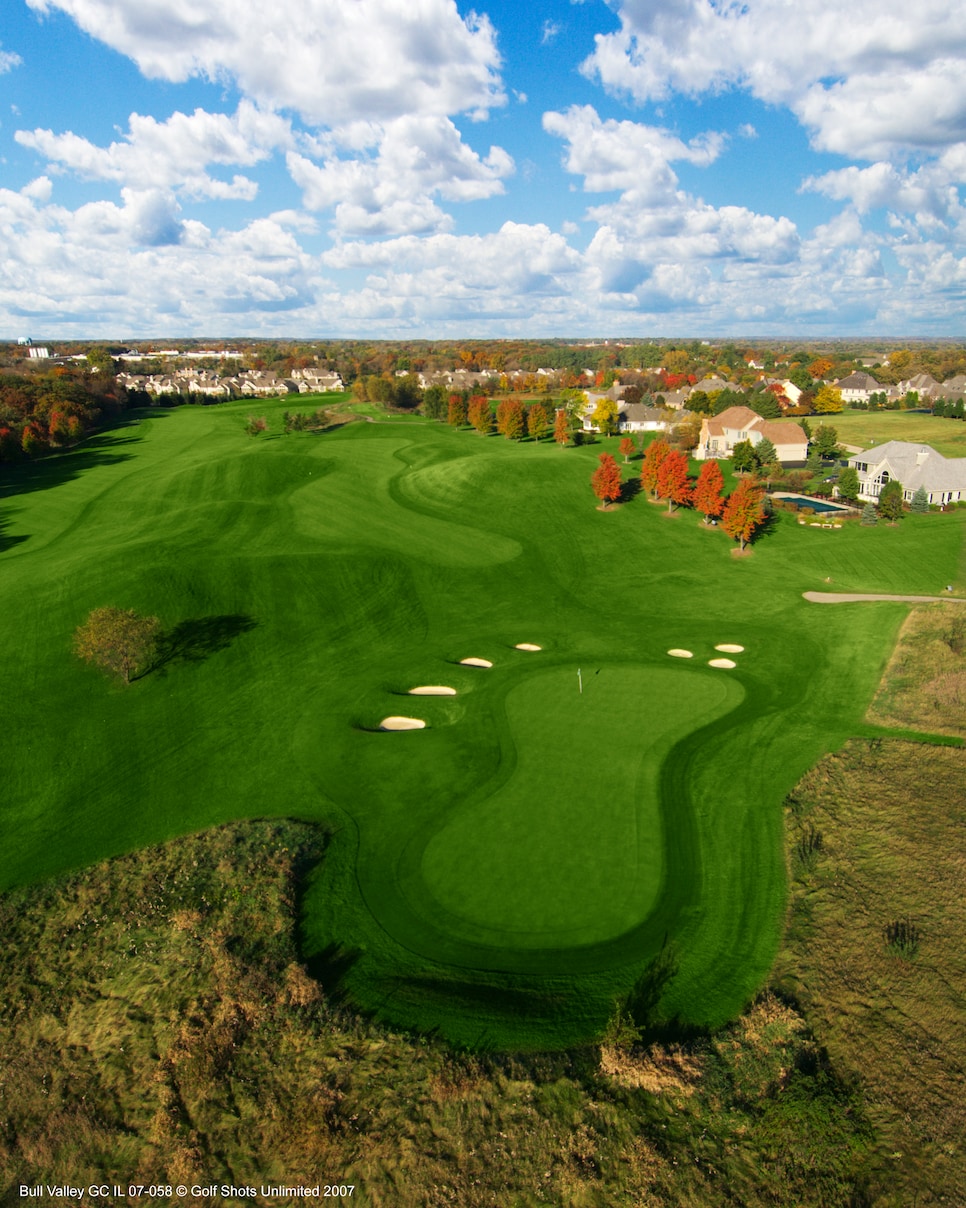 Overview
From Golf Digest Architecture Editor emeritus Ron Whitten:
If difficulty was the sole criterion used to rate golf courses, Bull Valley Golf Club in Woodstock, Ill. would have become a household name a long time ago.
It's that tough. Even for the big boys. It's not that long, relatively speaking, but it has several holes that force big hitters to leave driver in the bag, which big hitters hate. It also has lots of trees in annoying positions and water hazards on nearly every other hole, as well as greens with contours that can sweep missed putts down to far corner pockets.
Bull Valley was founded in the mid-1980s by prominent Chicago landscape architect Harry Vignocchi, who wanted it tough. That was back in golf's age of unreason, when every owner wanted a man-sized course that would make golfers squeal. Landmark Land probably started that mania in 1986 when it had Pete Dye conjure up the original PGA West in California. That was followed closely by Jack Nicklaus and his "owner-made-me-do-it" Bear at Grand Traverse Village in Michigan. Heck, even Tom Fazio was making them hard back then. His Hallbrook Country Club near Kansas City, built in 1987, remains the toughest track he's ever devised.
In 1985, Vignocchi discovered a failed dairy farm outside the Chicago suburb of Woodstock, a chunk of land full of rocks, ravines, pines and oaks that held golfing promise and, more importantly to his pocketbook, glacial moraines that offered potential elevated homesites. He spent two years working out a land plan, and with the help of his childhood friend Steve Sidari, who would become Bull Valley's first pro, he routed 18 holes around his 187 home lots. But Vignocchi figured nobody would travel 50 miles north of Chicago to live and play golf unless the course was "special," meaning headline-grabbing hard, more nasty than even Butler National and Medinah No. 3, the Nitti and Capone of Chicago golf in those days.
So he turned to golf architect Dick Nugent, co-author of Kemper Lakes, at the time another of Chicago's killer courses. (It hosted the 1989 PGA Championship, won by Payne Stewart.) Harry had previously handled the landscaping on Nugent's revamped Cook County's Pipe O' Peace Golf Course, which, in keeping with the trend of the time, had been renamed Joe Louis the Champ Golf Course. (If a course wasn't really tough, it could still be made to sound intimidating.) Nugent agreed to design features to Vignocchi's Bull Valley routing that would keep golfers on their toes.
But Nugent was fighting a bad back in those days and ultimately only visited the project on two occasions during construction. The design and construction supervision was handled principally by one of Nugent's associates, Bruce Borland. (Sadly, Borland would perish in 1999 in the same plane incident that took the life of Stewart and five others. The more I've played Borland-designed layouts, the more I've come to appreciate—far too belatedly—his special talent as a golf course architect. Every course he worked on is different from his others.)
When Bull Valley opened in August 1989, it was rugged in its challenges but rough around the edges. While some holes were carved from dense pines and others from ancient oaks and hickories, several were shaped from open fields and empty meadows next to wet prairies. Back then, half the course looked wide open, and thus hardly striking. It lacked memorability and focus.
But today, the entire course is both lovely and lethal. Homes under construction along barren perimeters back in 1989 are now maturely landscaped. Saplings planted 30 years ago to narrow corridors are now 40 feet tall and taller.
Having played the course both before and after its maturity, I can attest that every hole at Bull Valley is now scenic and sinister. The par-4 opening hole plays downhill past a flanking pair of sentinel oaks (a reoccurring theme at Bull Valley) to a diagonal green on the far side of a pond. The 461-yard second plays slightly downhill, then up to a shelf green with a deep manmade valley eating away at the front left of the putting surface. The fish-hooked-shaped 557-yard third (where Borland had once considered an alternate, upper fairway), snakes through a valley and around a small forest.
Bull Valley's back nine is simply superb, hole for hole as good and varied as anything I've seen in greater Chicago. I liked the "ha ha walls" of rock that accent several holes. I liked the change of pace in terrain and vegetation among these holes. I liked the par-4 10th, with its peninsula green, and the par-5 15th, playing diagonally over a pond off the tee (carrying as much as you dare) and the 444-yard 18th, which returns to the theme of a tight landing area between massive oaks, and offers another dramatic peninsula green. And I especially liked the 437-yard 11th, dubbed "Ballybunion." It plays between two huge glacial mounds to a meandering green at the base of a third moraine, fronted by scattered pot bunkers. The hole was conceived by Borland, Harry told me, adding that he doubted Nugent was familiar with Ballybunion. But I know better, for Nugent was walking with me at the famed Irish course on a day back in 1984 when I holed my third shot from the fairway for an eagle on the par-5 fifth. (That's probably the least distinctive hole at Ballybunion, out on flat land, away from its dramatic sand dunes. Some other hole undoubtedly served as inspiration for Bull Valley's 11th.)
Two footnotes about Bull Valley:
Vignocchi, whose routing was pretty much followed by Nugent and Borland (the exception being the fourth through sixth, where regulators had the final say), later dabbled in golf course design on his own. He designed Makray Memorial Golf Club in Barrington, Ill., a total refashioning of the old Robert Bruce Harris-designed Thunderbird Country Club. He also co-designed Bittersweet Golf Club in Gurnee, using a routing prepared by Bob Lohmann, another of Nugent's former associates. After that, he turned to painting and sculpture.
Also, before Bull Valley, Woodstock was most famous as the home of Chester Gould, one of my childhood heroes. Gould was the creator of the comic strip hero Dick Tracy, and penned it daily for over 55 years. Gould died before Bull Valley was built, but had he lived, I have no doubt he would have tried its challenges. Chester Gould was an avid golfer and had a five-hole backyard course on his Woodstock estate, along with an indoor swimming pool and a revolving cocktail lounge.
About
Designer
Richard P. Nugent, ASGCA
Awards
Best in State: Ranked 14th, 2011-'12. Ranked 15th, 2015-'18. Ranked 19th, 2013-'14, 2021-'22. Ranked 20th, 2019-'20. Ranked inside the top 20, 2009.
2023-'24 ranking: 26th.
Previous ranking: 19th.
Panelists
Ratings from our panel of 1,900 course-ranking panelists
100 GREATEST/BEST IN STATE SCORES
Reviews
1 / 3
Review
"Beautiful course, excellent shape."
Read More
2022
2 / 3
Review
"Extremely difficult golf course with a fantastic variety of golf holes throughout the property with doglegs, elevation changes, short and long holes. Play to 150 yards off the tee and play to the middle of the green. Best chances of scoring are on the front nine. Once you get into the back nine, you better have your "A" game."
Read More
2021
3 / 3
Review
"Long. Keep it in play and don't miss the fairway."
Read More
2018
Readers
Collection of reviews from our readers
There are no reader ratings yet
Reviews
There are no readers reviews yet. Be the first to write a review.