1 / 5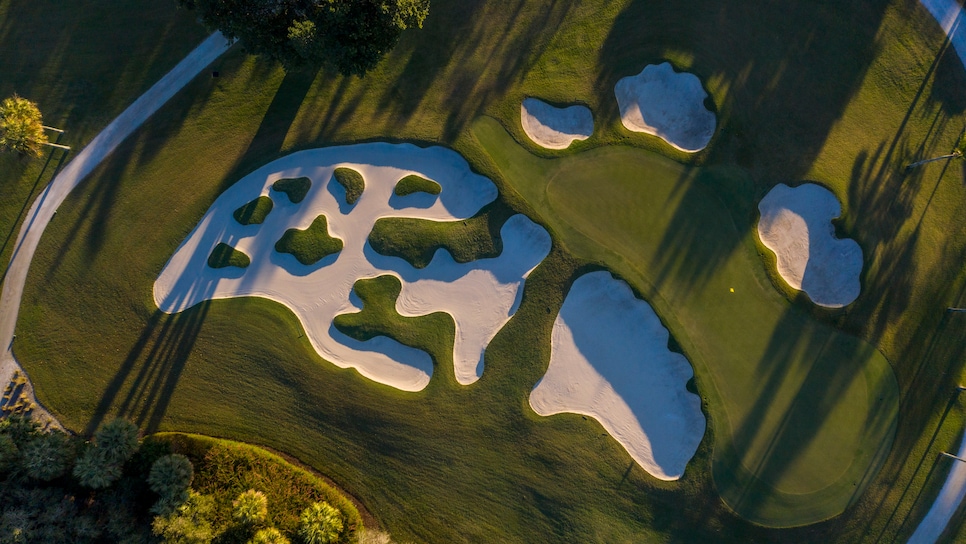 2 / 5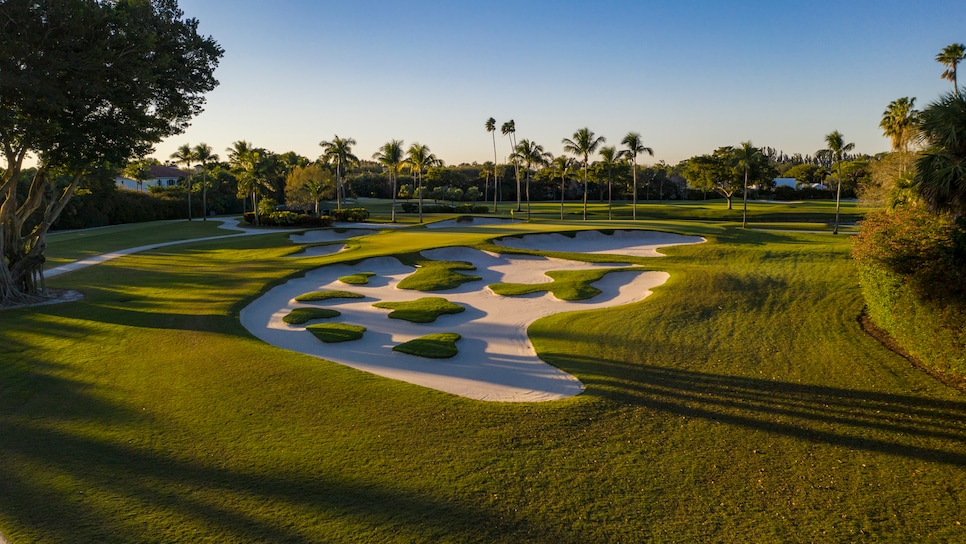 3 / 5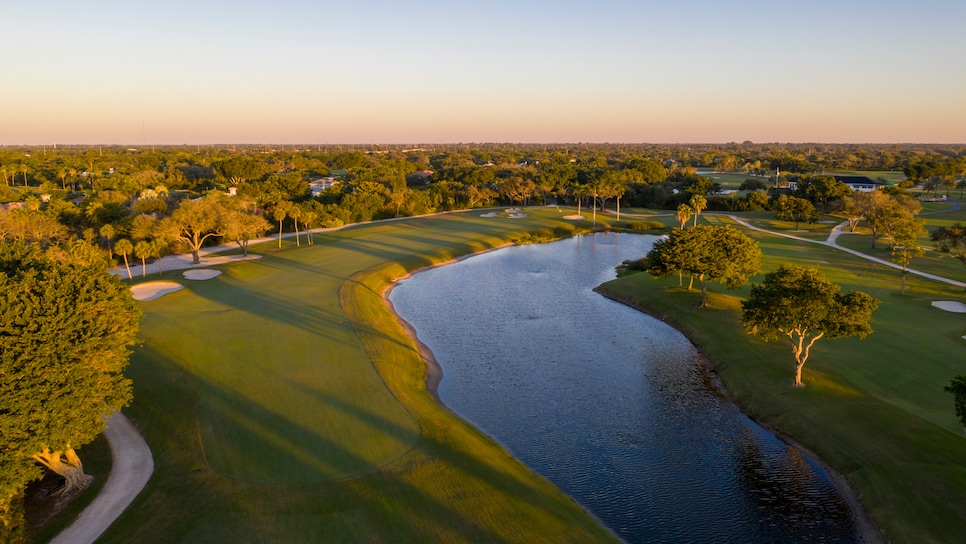 4 / 5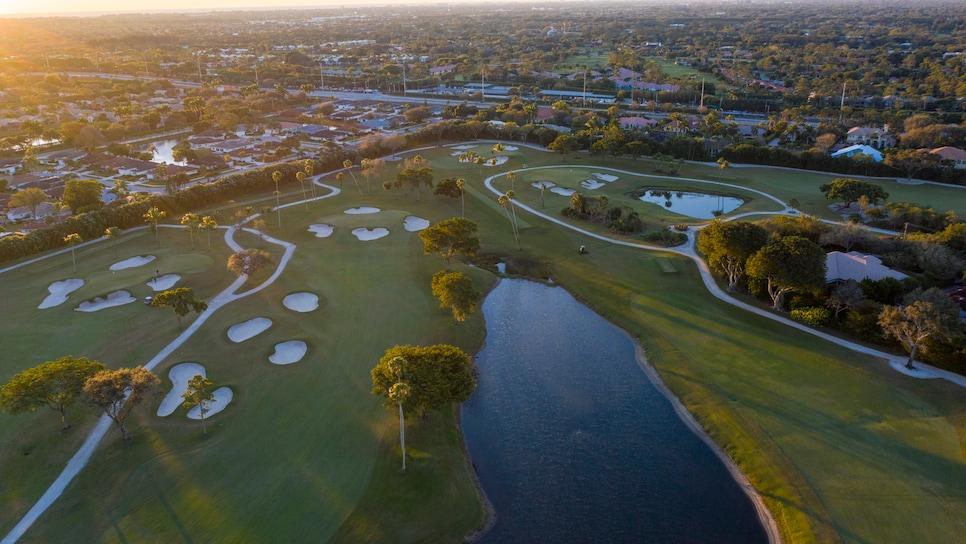 5 / 5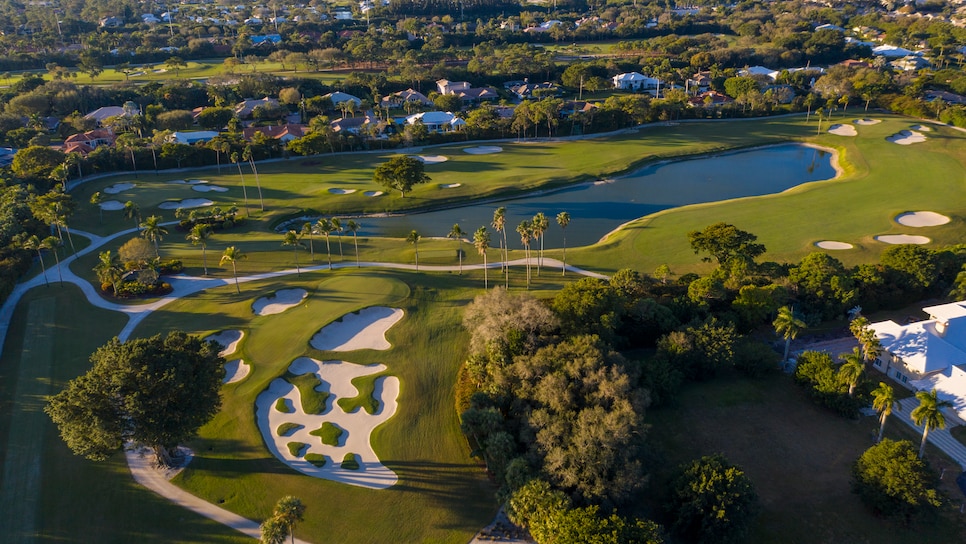 Overview
Pine Tree might have been one of Dick Wilson's most intellectual designs. At other places like NCR and Coldstream in Ohio, or Deepdale and Meadow Brook in New York, he had beautiful, uncompromised land to work on with mature trees and gentle movements. Pine Tree was vacant of nearly any defining feature other than flat Florida scrub, and everything there had to be first imagined, then built. The holes circle the site in coupled pairs, touching numberous lakes and canals. Wilson's bunkers, over 120 of them, their depth and zagged edges recently restored by Ron Forse and Jim Nagle, set up play, defending prime fairway positions and forcing acute aerial approaches into deep, strongly defended greens. Playing Pine Tree is equal parts visual treat and tactical exam.
About
Designer
Dick Wilson/(R) Bobby Weed & Scot Sherman/(R) Ron Forse
Awards
100 Greatest: Ranked for 30 years from 1969-'92, 1995-'98 and 2003-'04. Highest ranking: No. 57, 1989-'90.
Second 100 Greatest: Ranked for six years from 2013-'18. Highest ranking: No. 158, 2013-'14.
Best in State: Ranked inside the top 5, 1977-'91, 1995-'97, 2003. Ranked 10th, 2011-'12. Ranked inside the top 10, 1993, 2001, 2005, 2009-'10. Ranked 11th, 2013-'14. Ranked 15th, 2015-'16. Ranked inside the top 15, 2007. Ranked 16th, 2017-'20. Ranked 20th, 2021-'22.
Panelists
Ratings from our panel of 1,900 course-ranking panelists
100 GREATEST/BEST IN STATE SCORES
Reviews
1 / 7
Review
"The golf course was in pristine condition. I didn't see a blade of grass on the fairways or greens out of place. The bunkers were so good, it almost wasn't a hazard. The rough was inconsistent, but the fairways had plenty of roll. Aside from the exquisite bunkering and design of the par-3 13th along with the need for a precise drive on the finishing hole, leaving an approach shot to an elevated green over water, the remainder of the course was unremarkable. Most holes were straight or had subtle doglegs. The greens, although big, did not have a lot of tilt and only a few putts moved more than a cup. That being said, I would be hard pressed to find more than one hundred courses across the country that are in better condition."
Read More
2022
2 / 7
Review
"Enjoyable old school Florida golf experience. Pine Tree doesn't have much land movement but found the strategy to be captivating throughout. A lot of the greens are perched up and surrounded by bunkers placing an emphasis on high approaches into the greens."
Read More
2018
3 / 7
Review
"Excellent condition and a fair test of golf."
Read More
2018
4 / 7
Review
"Great place to play golf. A real players facility. Lots of bunkers. Make sure your bring your sand game. There is a sense of Sam Snead everywhere in the clubhouse. New greens are very firm."
Read More
2018
5 / 7
Review
"Great course. Some of the best bunkering I have seen. In April 2018 greens were new and hard."
Read More
2018
6 / 7
Review
"One of Dick Wilson best design Greens are elevated and well protected It is a good course to improve your bunker play Sam Snead has been a member there for many years"
Read More
2018
7 / 7
Review
"Better than average Florida layout. Great conditioning and a decent test of golf."
Read More
2018
Readers
Collection of reviews from our readers
There are no reader ratings yet
Reviews
There are no readers reviews yet. Be the first to write a review.