Hammock Beach Golf Resort & Spa: Ocean Course
Palm Coast, FL •
1 / 1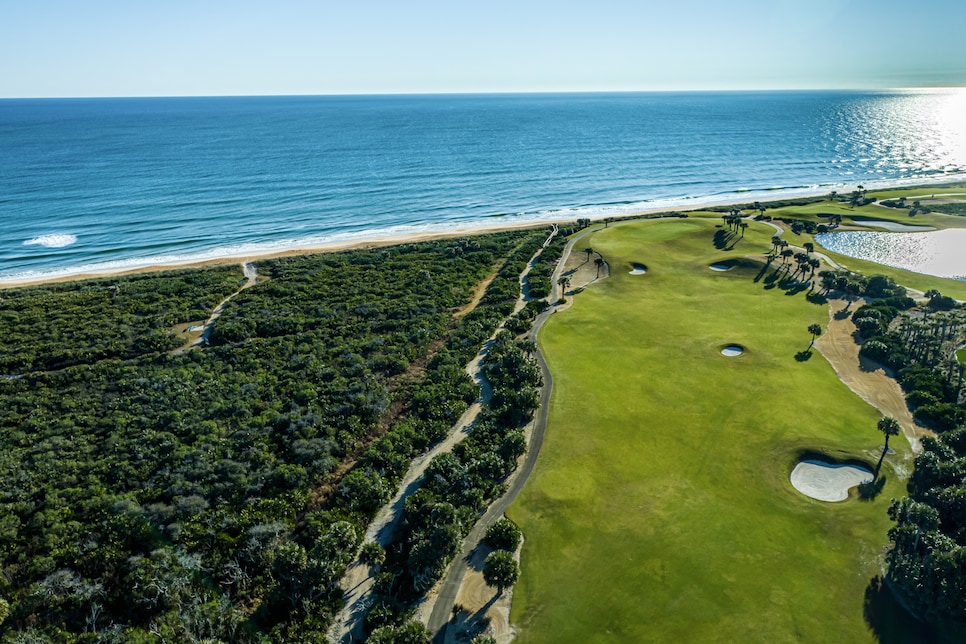 Overview
This scenic Jack Nicklaus-designed South Florida track has six holes that play along the Atlantic Ocean, with a challenging four-hole finishing stretch nicknamed "The Bear Claw." The course, which hosted the 2003 U.S. Women's Amateur Public Links, is one of two at the resort and features a classic Nicklaus design: generous fairways and well-protected greens.
About
Designer
Jack Nicklaus, ASGCA
Awards
100 Greatest Public: Ranked from 2005-'14. Highest ranking: No. 38, 2011-'12.
Best in State: Ranked 12th, 2011-'12. Ranked inside the top 15, 2007-'10. Ranked inside the top 20, 2005. Ranked 24th, 2013-'14. Ranked inside the top 25, 2003. Ranked 43rd, 2021-'22.
Panelists
Ratings from our panel of 1,900 course-ranking panelists
100 GREATEST/BEST IN STATE SCORES
Reviews
1 / 5
Review
"Really good course that builds to a climax with the last 5 holes. Lots of fun. In good shape. Nice distinctive holes with none being really like the other."
Read More
2021
2 / 5
Review
"Typical older Nicklaus design with wide fairways but very difficult green approaches. Ocean visible on only 5 holes; most holes are inland."
Read More
2021
3 / 5
Review
"Beautiful course with six holes on the ocean."
Read More
2021
4 / 5
Review
"Fun course with some great ocean front holes. Not as demanding as many Nicklaus courses."
Read More
2019
5 / 5
Review
"Beautiful holes right on the Ocean. Great condition and fun to play."
Read More
2018
Readers
Collection of reviews from our readers
There are no reader ratings yet
Reviews
There are no readers reviews yet. Be the first to write a review.