1 / 6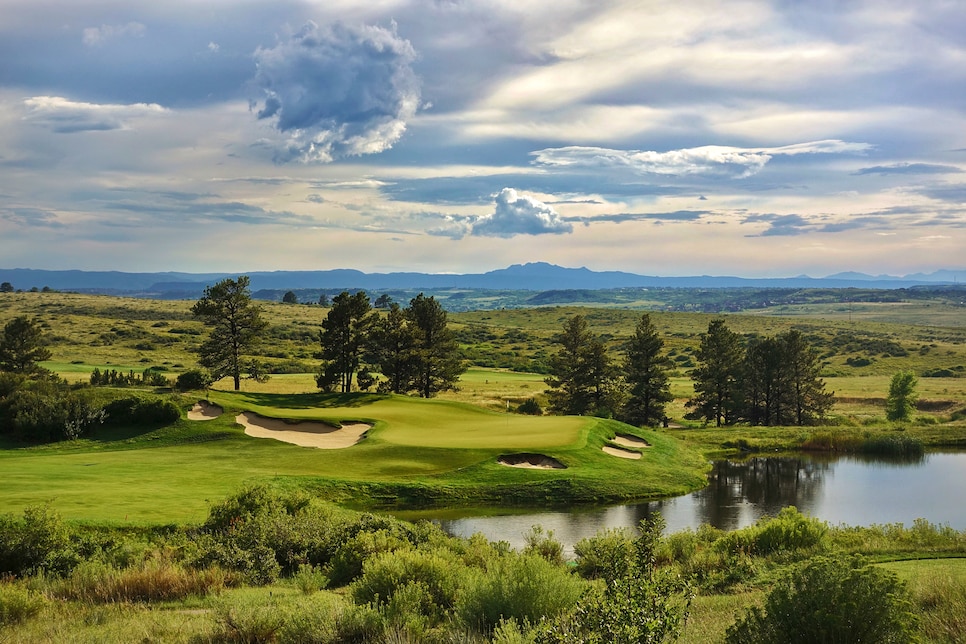 2 / 6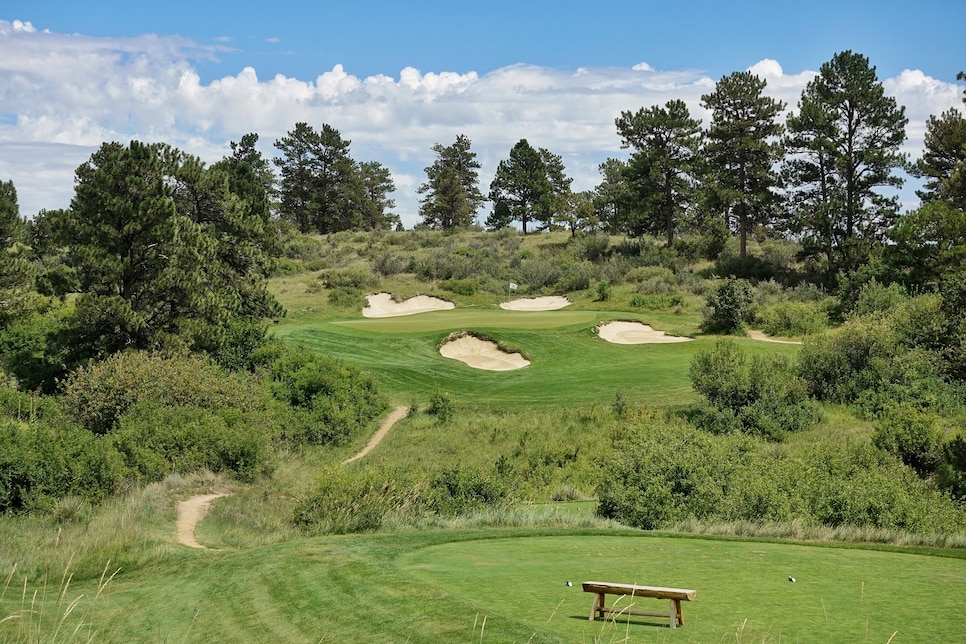 3 / 6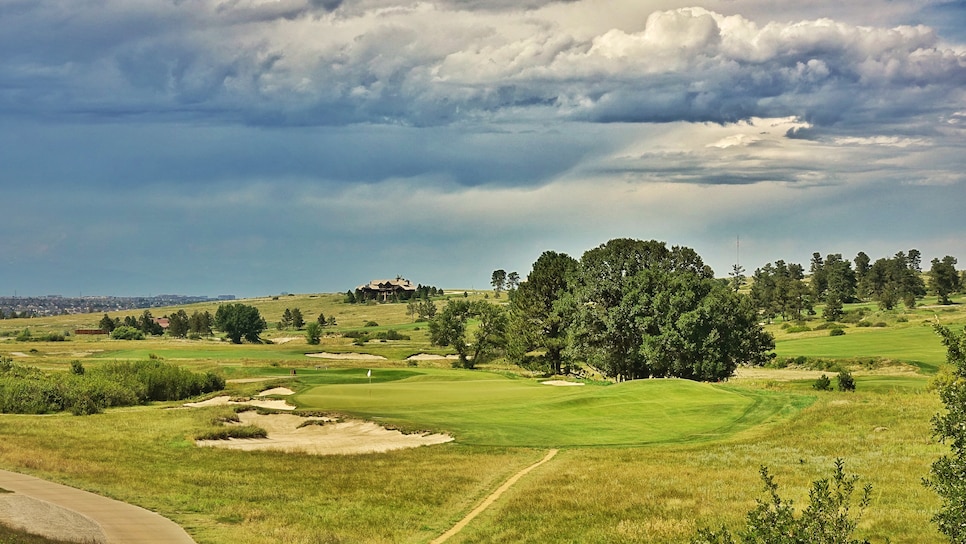 4 / 6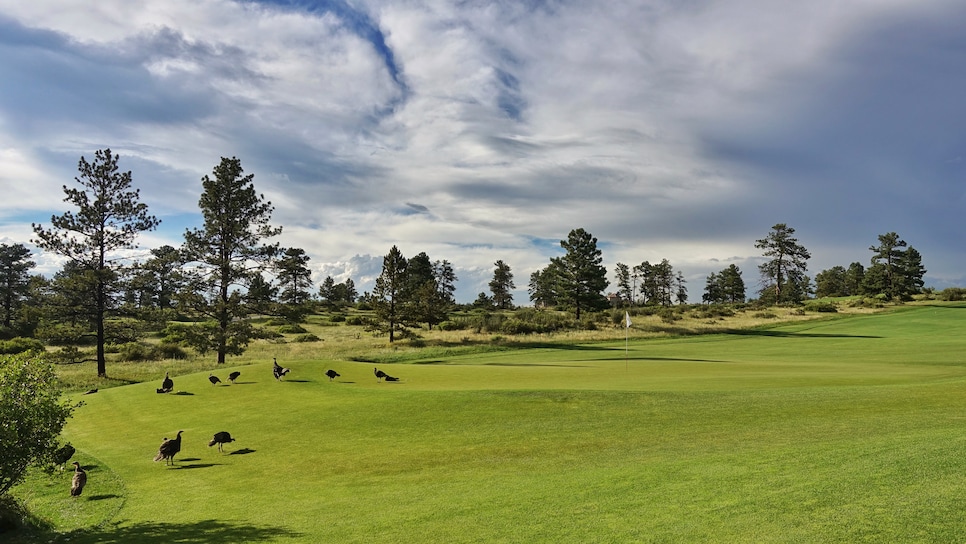 5 / 6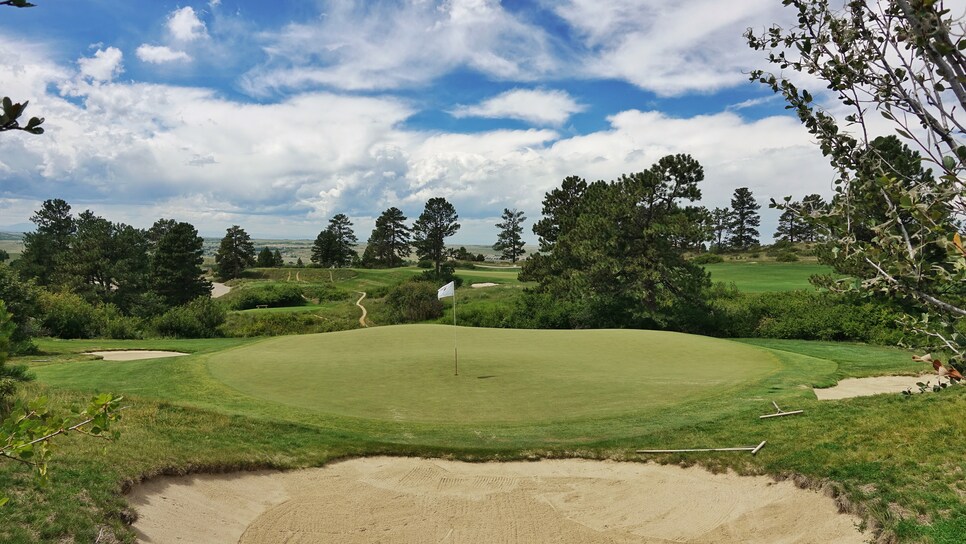 6 / 6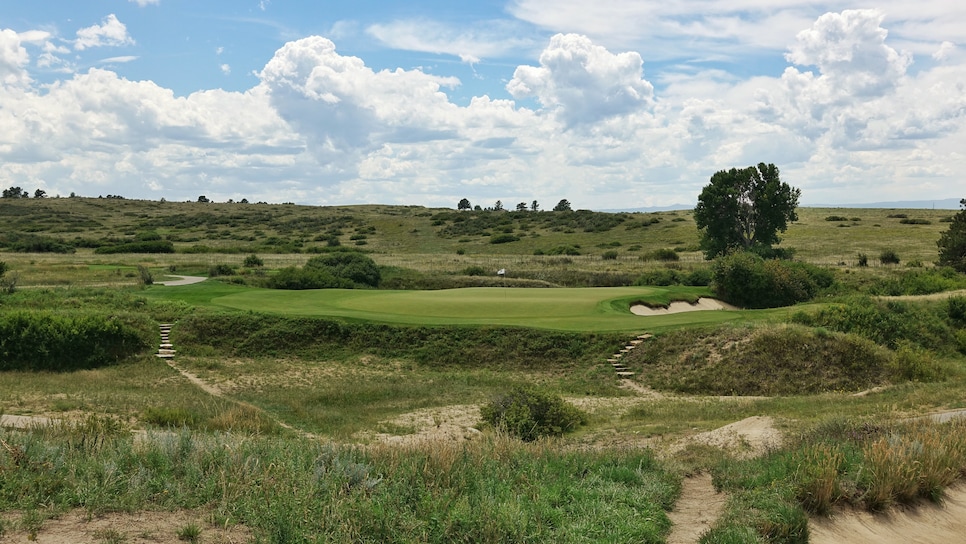 Overview
The par-4 10th at Colorado Golf Club, playing downhill off the tee to a green hanging on a slope, with the Colorado Rockies in the far distance, has not a single bunker. Yet it sets the tone for what may well be Coore and Crenshaw's finest example of how to massage a great golf course from topography that many would have considered ordinary. These designers made this stretch of Front Range southeast of Denver extraordinary. They ran fairways across sagebrush hills that are dotted with pines. They positioned greens on buttes and the far sides of barrancas. Colorado G.C. is a second-shot course where seemingly generous landing areas can result in awkward hanging lies for approach shots to greens that run left or right or even away from the direction of play. The massive par-5 fiirst is one of the most exciting first holes in a time zone known for exciting opening holes, and it's followed by a short cross-ravine par 3 benched into a hillside like its inspiration, the second at No. 23 Prairie Dunes. In 2019, the course hosted the USGA Mid-Amateur.
About
Designer
Bill Coore, ASGCA/Ben Crenshaw
Awards
Second 100 Greatest: Ranked since 2013.
Highest ranking: No. 111, 2017-'18.
Best in State: Ranked fourth, 2013-'24. Ranked fifth, 2011-'12.
Panelists
Ratings from our panel of 1,900 course-ranking panelists
100 GREATEST/BEST IN STATE SCORES
Reviews
1 / 9
Review
"Beautiful mountain backdrop on the west-facing holes as well as the holes working north and south. Contours of the green complexes provide great challenge while being fair if one plays to the correct sides of a hole location. Bunkering throughout the course was challenging and aesthetically pleasing while also providing risk/reward scenarios as you play towards both fairways "
Read More
2022
2 / 9
Review
"Beautiful golf course in pristine shape with a true sense of place in the Colorado foothills. Excellent risk/reward options presented by Coore "
Read More
2022
3 / 9
Review
"One of Coore and Crenshaw's best. The back 9 in particular is fantastic."
Read More
2021
4 / 9
Review
"Colorado Golf Club has some wonderful land and moments on the golf course. However, some of the holes, particularly on the front nine, are maintained in too narrow a manner. This is a very good course by Coore "
Read More
2018
5 / 9
Review
"Fun Coore/Crenshaw course that you could play every day and never get bored."
Read More
2018
6 / 9
Review
"An aesthetically beautiful course that's fun to play. What makes it really special is grabbing a drink after your round and heading to the par-3 course, one of the best in the country."
Read More
2018
7 / 9
Review
"Great layout but the wind can make or break your experience (and day). Excellent caddie program and unbelievable clubhouse."
Read More
2018
8 / 9
Review
"I admit it, I love Coore/Crenshaw courses. They a brilliantly routed and the greens are generally inventive and demand accurate iron shots to get close to the pins. This course is no different."
Read More
2018
9 / 9
Review
"Great Coore and Crenshaw golf course. Walking a great golf course with a caddie on the bag is how the game should be played. Food, service and clubhouse were excellent."
Read More
2018
Readers
Collection of reviews from our readers
There are no reader ratings yet
Reviews
There are no readers reviews yet. Be the first to write a review.