Palm Desert, CA • Private
1 / 5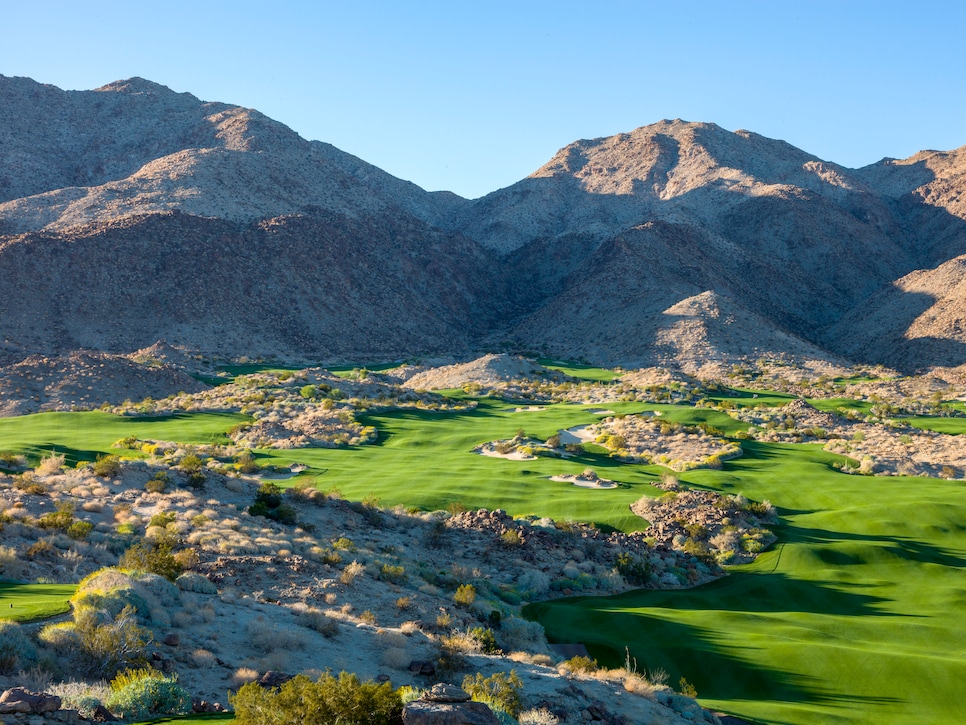 Courtesy of Evan Schiller
2 / 5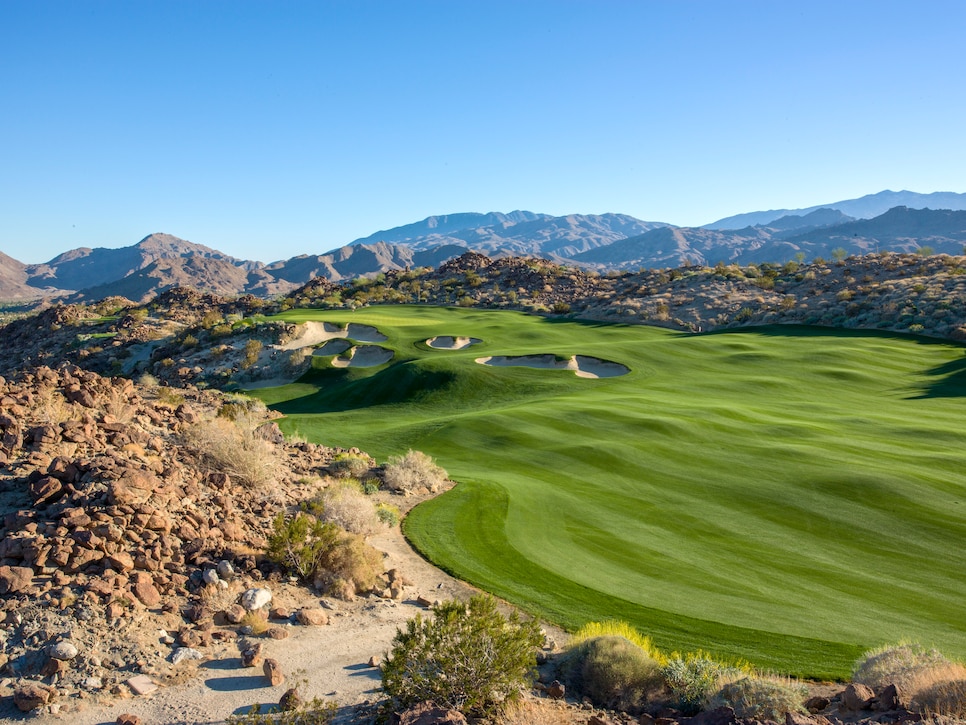 Courtesy of Evan Schiller
3 / 5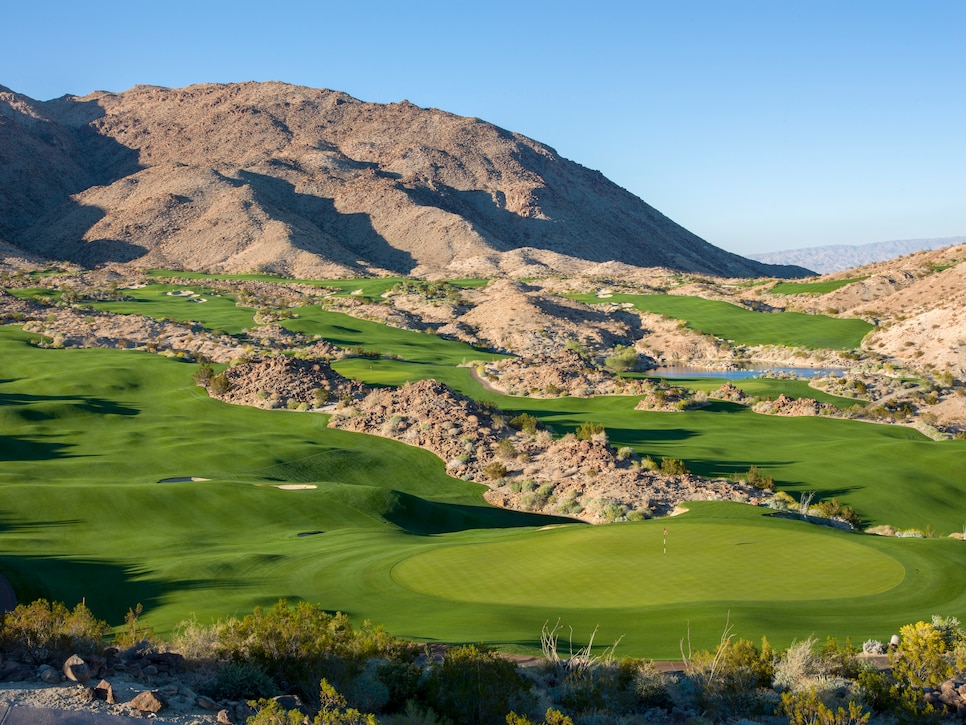 Courtesy of Evan Schiller
4 / 5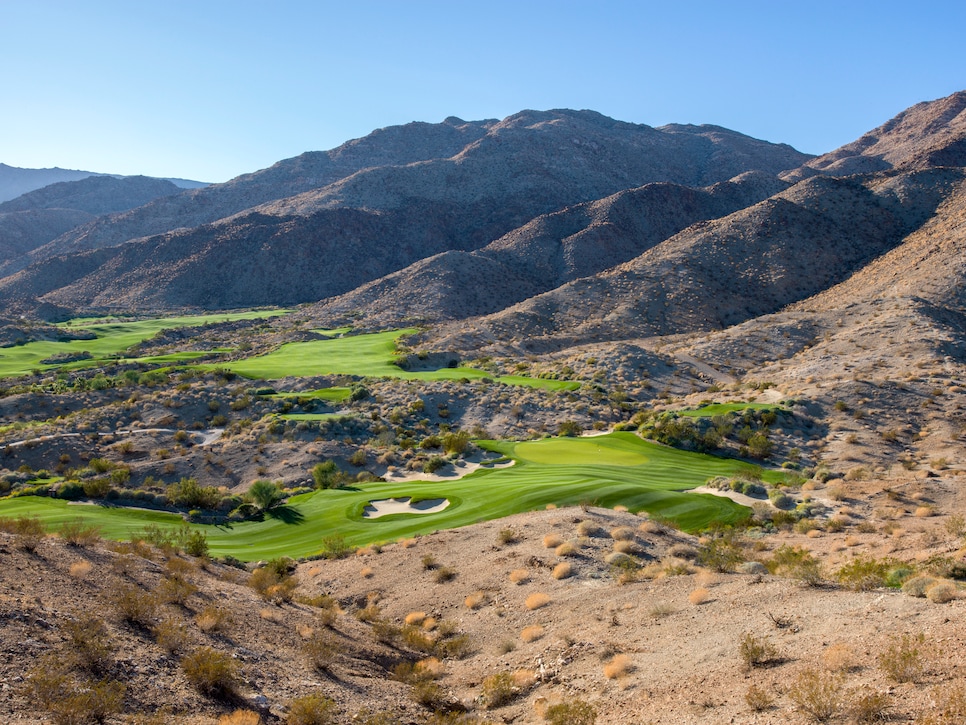 Courtesy of Evan Schiller
5 / 5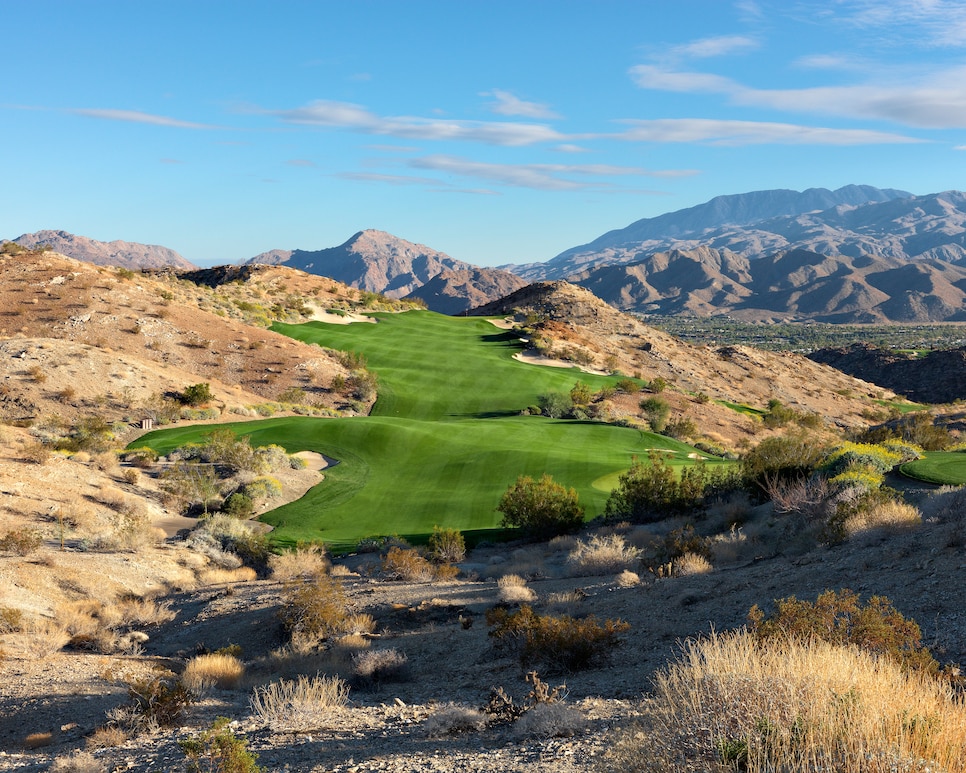 Courtesy of Evan Schiller
Overview
Stone Eagle is the most remarkable course in the golf-heavy Palm Springs market. It sits atop a rocky plateau, a thousand feet above the Coachella Valley but still thousands of feet below the peaks of the adjacent Santa Rosa Mountains. When Tom Doak first walked the site, he said, "I thought this must be what the surface of Mars looks like: rocky, rugged and red." Given the luxury of routing an 18 without any homesites, Doak did his lay-of-the-land best to create a faux links high above the desert floor by tucking fairways into creases of the land and positioning shots to play over low ridges into bold greens that mimic the rugged topography. At Stone Eagle, Doak used hillsides of rocks and boulders the way Old Country architects used sand dunes. The only difference: sand is soft, rock is not.
Awards
Second 100 Greatest: Ranked from 2013-'16 and 2019-'22.
2023-'24 ranking: 122nd.
Previous ranking: 125th.
Highest ranking: No. 111, 2019-'20.
Best in State: Ranked 14th, 2017-'18. Ranked 16th, 2019-'24. Ranked 17th, 2021-'22. Ranked 20th, 2015-'16. Ranked 23rd, 2011-'14. Ranked inside the top 25, 2007-'10.
2023-'24 ranking: 16th.
Previous ranking: 17th.
Panelists
Ratings from our panel of 1,900 course-ranking panelists
100 GREATEST/BEST IN STATE SCORES
Reviews
1 / 8
Review
"Fantastic Tom Doak designed course. Incredible conditioning. Beautiful scenery. Don't pass up the opportunity to play here."
Read More
2022
2 / 8
Review
"This course is spectacular, on par with The Quarry here in the area. Also built into a mountain, Tom Doak uses the terrain and elevation to create visual illusion. There are only a couple of true blind shots but a number of holes where you can't see the drop off in the fairway, so knowing where to hit it and executing that are key. As impotant as that is, the shots into the huge greens with so much undulation are more important. Hitting it to the proper part of the green for that pin location is key. There is not a shot on this course you can not concentrate."
Read More
2022
3 / 8
Review
"An excellent mountain course in the desert. Doak did a great job here."
Read More
2018
4 / 8
Review
"This is one of the most stunning courses in the desert. Tom Doak designed this roller coaster of a course in some difficult terrain. It is one of his best and least known."
Read More
2018
5 / 8
Review
"Great course, beautiful backdrop. Course plays very firm and fast. Precise shotmaking required."
Read More
2018
6 / 8
Review
"This is a unique design with lots of elevation change. I thought it was fun and memorable."
Read More
2018
7 / 8
Review
"Great bunkering, wonderful greens, amazing achievement of earth moving"
Read More
2018
8 / 8
Review
"Stone Eagle is a bit of a sleeper in the area but the Tom Doak design is a stunner. The course seems to evolve right out of the mountainous terrain and sometimes it is hard to remember you are here to play golf instead of just looking at the panoramic views. If you like beautifully framed, elevated tee shots then this course is for you, don't let the generous fairways fool you and bring your "A" game. One hint: hit it where the caddy tells you!"
Read More
2018
Readers
Collection of reviews from our readers
There are no reader ratings yet
Reviews
There are no readers reviews yet. Be the first to write a review.