Betting Analysis
Zozo Championship picks 2023: Why Xander Schauffele will silence the haters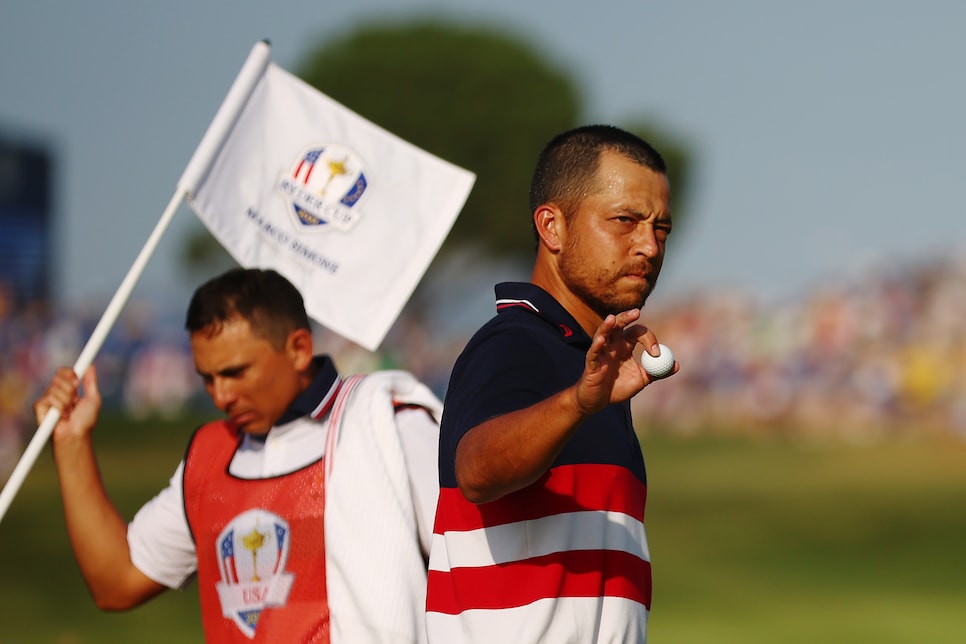 Maddie Meyer/PGA of America
After an ugly performance in Rome, not to mention some ugly rumors, you'd think nobody would touch Xander Schauffele with a 10-foot pole this week at the Zozo Championship. You'd be mistaken.
A few of our experts are betting on a big Xander bounce back, something he is in desperate need of. Despite another solid season on tour, Schauffele has now gone over 15 months without a victory. It's about that time for the X-man, isn't it?
Scroll down for our full analysis and best bets for the 2023 ZOZO Championship.
ZOZO Championship picks 2023: Our Experts' Outright Predictions
Anonymous Caddie Picker of the week: Sungjae Im (14-1, DraftKings) — This course favors absolute flushers, and Sungjae has to be at the top of that list. He's also been over in Asia, finishing runner-up last week on the KPGA Tour and taking down the team side of the Asian Games in China. The pressure will be off, and he should be playing free here outside Tokyo.
Pat Mayo, DraftKings/Fantasy National, Mayo Media Network analyst: Min Woo Lee (16-1, DraftKings) — Fresh off a win on the Asian Tour a week ago, Min Woo is already at an advantage over the field with time zone adjustment in Japan, and his skill set sets up quite well for the course: elite off-the-tee, with massive upside on and around the greens. Generally, the thing that holds him back is his iron play, as we've seen extreme down turns on that front sporadically, but he enters striking it well enough at the moment to give him a shot at his first PGA Tour win.
Brandon Gdula, FanDuel/numberFire managing editor: Xander Schauffele (7-1, FanDuel) — Schauffele is a fair value at 7-1 this week, per my simulation model, and that's kind of rare this week with the no-cut event. He's got two top 10s here in three starts and is the field leader in strokes-gained/tee-to-green over the past 50 rounds, via datagolf.
Rick Gehman, data scientist and RickRunGood.com founder: Keegan Bradley (22-1, DraftKings) Bradley enters this week as the defending champion but has also tacked on a T-7 and T-17 in his other two trips to Japan. His ability to drive it long and straight will be critical this week but it'll be a complement to his much improved putting. Bradley has gained at least 1.5 strokes putting in six of his last nine starts, per the RickRunGood.com golf database. Throw in a perceived Ryder Cup snub and Bradley is ready to scorch the field.
Stephen Hennessey, Golf Digest dep. managing editor: Xander Schauffele (7-1, FanDuel) — A lot has been made of Collin Morikawa's victory drought, but Xander hasn't won since his July 2022 run of wins in Scotland and Connecticut. Xander has three starts at Narashino Country Club, including a T-9 last year, closing with a 65. I think it's worth taking Xander at this short number in this field. His all-around game and length on the par 5s can be separators this week.
Christopher Powers, Golf Digest staff writer: Keegan Bradley (22-1, DraftKings) — Playing the "he's motivated" narrative game is a dangerous one, but if anyone can actually come through on that, it's Keegan. Plus, the numbers are there too. Bradley has been among the most consistent players on tour since winning here last year, and I fully expect him to hit the ground running in Japan after some quality time off.
Andy Lack, RickRunGood.com and Inside Golf podcast: Xander Schauffele (7-1, FanDuel) — Last we saw Xander Schauffele, he was disappointing for the U.S. Ryder Cup team while his loquacious father was bemoaning about the corresponding lack of financial compensation. Luckily for Schauffele, the Zozo features an $8.5 million purse, the largest of the Fall swing. With family ties on his mother's side to Japan, the Zozo has always been a meaningful event for the seven-time PGA Tour winner. While he has never possessed a legitimate chance to win, Schauffele has two top-10 finishes in three appearances at Narashino and should be fully comfortable adjusting to the time difference. For what it's worth, Schauffele also won the Olympic Gold Medal in Tokyo in 2021 on a golf course not all that dissimilar from this one. While he did not play his best golf in Rome, in his last stroke-play event, Schauffele stormed up the leaderboard at East Lake en route to a second-place finish where he gained over a stroke in all four major categories, including 7.4 strokes on approach.
Past results: It's Fall Swing time. Our panel finished the 2023 playoffs strong, with our anonymous caddie cashing on Viktor Hovland to win the BMW Championship at 16-1. Before we turn the page to 2024, we still have a few events left in the autumn months, giving our experts a chance to build on the strong 2023 season. Stephen Hennessey already has us off to a hot start, correctly predicting Sahith Theegala's win at the Fortinet Championship (16-1).
ZOZO Championship picks 2023: Sleepers/Dark Horses Who Could Win
Caddie: Nate Lashley (200-1, FanDuel) — Lashley's in the same category as Sungjae—absolute flushers, and he's been playing sneaky good golf in 2023. This price is a bit questionable with only 78 players in the field.
Mayo: Joel Dahmen (70-1, DraftKings) — The brief break between playoffs and swing season seems to have done wonders for Dahmen's game. After posting no finish better than T-41 last season, he's reeled off consecutive top-15 finishes to open the Fall Swing, including gaining 10 strikes on the field between driving and approach in Vegas a week ago. If he can turn the putter around on these greens, there's no reason Dahmen can't build off his T-16 at this site a year ago.
Gdula: Lee Hodges (90-1, FanDuel) — Hodges holds top-30 tee-to-green stats and putting stats, giving him a good balanced profile to keep him in contention in any field. He's not super long off-the-tee, which isn't ideal this week, but has the overall game to surprise at a long number.
Gehman: Cameron Champ (50-1, DraftKings) — One (really) bad round for Champ last week sank his chances of winning but he was still able to post a T-18, his second straight top-20 finish. The game has been trending for a while, as he's gained strokes ball-striking in seven of his past eight, but he's recently found the flat stick—notching 5.91 strokes to the position in his last eight rounds. Now he heads to Narashino Country Club where he finished eighth last year and it should allow him to maximize his strengths.

Hennessey, Golf Digest: Cameron Champ (50-1, DraftKings) — Champ finished eighth here last year and is off to a hot start to the fall, a T-9 and an 18th finish the past two weeks. His top-10 finish last year came amid a stretch where he missed three cuts before and after—so he'll enter with a ton more confidence, knowing this is a great place that matches his ball-striking prowess.
Powers, Golf Digest: Callum Tarren (80-1, FanDuel) — Tarren has never played in the Zozo but his stats suggest that Narashino should be a perfect fit for his skill set. He's been a plus approach player in seven of his last eight starts and he's gained 6.2 or more strokes tee-to-green in four of his last eight. He also fancies (little English term for you) Bentgrass greens. He's burned me more times than I can count in the last few months, but I've got a good feeling about him this week.
Lack: J.J. Spaun (55-1, FanDuel) — J.J. Spaun will always hold a special place in my heart due to his win at the 2022 Valero Texas Open at a number four times the size of this one, and I always believe he possesses the upside to strongly outperform his expectations. Spaun is coming off a solid ball-striking performance at the Shriners where he gained 2.6 strokes on approach, and he is one of the better overall ball-strikers in this field. With a top 25 at Narashino already under his belt, expect Spaun to build upon his momentum this week and continue his strong play this Fall.
ZOZO Championship picks 2023: Players We're Fading
Caddie: Eric Cole (28-1, BetMGM) — I don't mind all the hype and people picking Cole to win in some of these weaker fields in the fall. But this field contains some bonafide stars. I don't think this course quite suits Cole's game the way some other courses do. It'd be a pass for me.
Mayo: Collin Morikawa (11-1, DraftKings) — It's a heavy price to pay for someone who hasn't won in almost two years, at a venue where he's never been particularly sharp.
Gdula: Min Woo Lee (16-1, FanDuel) — Lee's a great golfer – but his iron play has been pretty subpar lately, even for a field like this. He has the distance and short game to put pressure on fields but is a bit overvalued at this number.
Gehman: Rickie Fowler (14-1, Caesars Sportsbook) — The sour effort at the Ryder Cup is one thing to worry about for Fowler, but I'm even more worried about his play at the end of last season. His putting magic dried up and he lost strokes putting in three straight for the first time since early 2022. His driver has put him in plenty of awkward positions and the rest of his game hasn't been strong enough to save him.
Hennessey, Golf Digest: Rickie Fowler (14-1, Caesars Sportsbook) — Rickie did not look good at the Ryder Cup, battling some sort of illness. I'd imagine that's taken a little out of his preparation and might cost him a chance at a course where he nearly broke through last year, but I'd rather go with the players coming in with better vibes.
Powers, Golf Digest: Beau Hossler (35-1, DraftKings) — Been playing well of late but c'mon now. I wouldn't like him at 100-1 against this field.
Lack: Sungjae Im (14-1, DraftKings) — Sungjae Im is a fine player, but he does not remotely possess the win rate to justify this price. Sungjae currently sits below players such as Hideki Matsuyama, Rickie Fowler, and Keegan Bradley in the market, who all have higher finishes at Narashino and have won more recently. This is a remarkably expensive offering on a player with a negligible contention rate over the past calendar year.
ZOZO Championship picks 2023: Matchups
Caddie: Callum Tarren (-110) over Ben Griffin (PointsBet) — Callum is one of the best ball-strikers that nobody talks about. This is partially a vote of confidence for him, but also a fade of Griffin, who still must be feeling the effects of the disappointment at the Sanderson.
Mayo: Joel Dahmen (+110) over K.H. Lee (DraftKings) — Obviously, I like where Dahmen's game is currently at, and Lee may be a bit of fool's gold this week. Despite two top-15 finishes in his last three starts, he was able to overcome average ball striking Vegas with an outlier chipping and putting week, and that was just a week after losing strokes across the board in Jackson.
Gdula: Keegan Bradley (-105) over Cam Davis (FanDuel) — Both Bradley and Davis are great tee-to-green players right now. The differentiation is Bradley's putting, so I'll side with him in this one.
Gehman: Takumi Kanaya (+100) over Emiliano Grillo (Bet365) — Grillo's game is slumping right now and he's a far cry from his DNA—losing strokes from tee-to-green in four straight. Kanaya has been crushing the Japanese Tour, earning four top-seven finishes in his last seven starts – including a win. He's also finished T-7 and T-53 in his two starts at this event.
Hennessey, Golf Digest: Keegan Bradley (+100) over Rickie Fowler (DraftKings) — A battle of the winner and runner-up from last year. Keegan's got ultimate motivation this week off his Ryder Cup snub, whereas I mentioned Rickie's tough week in Rome. This is a very favorable matchup for Keegan.
Powers, Golf Digest: Eric Cole (-110) over Beau Hossler (DraftKings) — Was on Cole two weeks ago, which went horribly. Hopped off last week and naturally he tied for second. Can't figure him out. Let's roll with him here against Hossler, my fade, who is tough to trust at a tight tree-lined course like this one.
Lack: Eric Cole (-110) over Beau Hossler (DraftKings) — This price on Eric Cole is simply too cheap, as he is a far superior player to Beau Hossler in nearly every metric. Cole is coming off a third-place finish at the Shriners, his second top four in three starts this Fall, where he gained over six strokes on approach and six strokes around the green. He now travels to another Bentgrass course where his elite iron play and prowess around the greens should be extremely useful. Hossler, on the other hand, is a far less reliable ball-striker, particularly with his irons. Narashino is a second shot golf course through and through, and Cole's approach advantage will be accentuated. Don't overthink this one.
Matchup Results from the Shriners: Lack: 1 for 1 (Cole –120) over Hossler); Hennessey: 1 for 1 (Suh (+100) over Griffin); Caddie: 1 for 1 (Spaun (-130) over Hoge); Gehman: 1 for 1 (Poston (-110) over Grillo); Mayo: 1 for 1 (D. Thompson (-110) over Higgo); Powers: 0 for 1; Gdula: 0 for 1
Matchup Results from this season (Wins-Losses-Pushes): Powers: 25-19-2 (up 5.55 units); Lack: 21-14-1 (up 4.4 units); Hennessey: 25-19-2 (up 4.32 units); Caddie: 23-19-4 (up 2.25 units); Gehman: 24-20-2 (up 1.91 units); Mayo: 20-21-2 (down 1.84 units); Gdula: 19-26-2 (down 8.54 units)
ZOZO Championship picks 2023: Top 10s
Caddie: Tom Hoge (+450, DraftKings) — It's a lot of course for Hoge, but at the end of the day you want solid flushers with your irons, and that suits Hoge's game.
Mayo: Adam Svensson (+360, DraftKings) — Opening with back-to back top-20 finishes to kick off the swing season, the Canadian has returned to his usually strong ball-striking ways, yet the putter hasn't quite caught up yet. He hasn't been bad with the flat stick, but he's just treading water. Turn that up a notch and he's firmly in the mix.
Gdula: Rickie Fowler (+150, FanDuel) — Fowler's FedExCup Playoffs were a little underwhelming due to a cold putter. The irons and driver were on point, though, and he sets up as a top-10 value this week.
Gehman: Adam Svensson (+360, DraftKings) — Very few golfers are trending like Svensson who has three straight top-18 finishes and four such finishes in his last five. He's relied heavily on excellent ball-striking, gaining 1.5 strokes in that category for seven straight events. Now the putter is starting to heat up and Svensson is on the verge of some really good finishes.
Hennessey, Golf Digest: Keegan Bradley (+210, DraftKings) — It's Keegan Bradley snub week. He loves this course, so this seems like a great price.
Powers, Golf Digest: Aaron Rai (+360, DraftKings) — Rai went a little quiet after his hot mid-summer stretch on the PGA Tour, but he's come on strong again of late, with a T-2 at the BMW PGA Championship last month and a T-28 last week at Shriners.
Lack: Adam Scott (+230, DraftKings) — It's difficult to have a hard stance on the type of player that Adam Scott is at this stage of his career. Once one of the best ball-strikers in the world, Scott has largely gotten by on the strength of his short game and putter in his early forties. With that being said, there are still a number of golf courses on tour where we can expect the Australian to be a major threat, and Narashino is one of them. Scott has a tremendous track record on narrow, tree-lined Bentgrass courses with smaller greens, and I expect him to work his way into contention by Sunday afternoon in Tokyo.
Top-10 results from Shriners: Gdula: 1 for 1 (Beau Hossler +360); Everybody else: 0 for 1
Top-10 results from this season: Gehman: 13 for 46 (up 19.6 units); Gdula: 11 for 46 (up 5.4 units); Lack: 9 for 36 (up 1.9 units); Hennessey: 8 for 46 (down 0.6 units); Powers: 6 for 46 (down 4.4 units); Caddie: 10 for 46 (down 6.23 units); Mayo: 8 for 43 (down 7.9 units)
ZOZO Championship picks 2023: One and Done
Gehman: Hideki Matsuyama — Don't overthink it: Hideki might be the third- or fourth-best player in this field, and he has the best course history. He's gaining over 2.5 strokes per round in 12 rounds at Narashino Country Club, per the RickRunGood.com golf database—the best of anyone in this field. That has translated to a win and a runner-up finish in three starts.
Previous weeks: Shriners: Tom Kim. Sanderson Farms: Eric Cole. Fortinet Championship: Stephan Jaeger.
Hennessey: Keegan Bradley — It's gotta be the perfect week to take Keegan, who loves this course, has the motivation and probably won't be a top option for you in 2024.
Previous weeks: Shriners: Adam Hadwin. Sanderson Farms: Eric Cole. Fortinet Championship: Stephan Jaeger.
Powers: Hideki Matsuyama — He's at home, he's well-rested, and he's played well here in the past. Like Rick said, no need to overthink this one.
Previous weeks: Shriners: Tom Hoge. Sanderson Farms: Eric Cole. Fortinet Championship: Akshay Bhatia.
Pat Mayo is an award-winning video host and producer of long and short-form content, and the host of The Pat Mayo Experience daily talk show. Mayo helped create the golf stats and research website Fantasy National along with the Race for the Mayo Cup One and Done contest. Mayo won the 2022 Fantasy Sports Writing Association Daily Fantasy Writer of the Year and is a finalist for three FSWA Awards in 2023 (Best Podcast, Daily Fantasy Writer of the Year, Golf Writer of the Year). His 27 FSWA nominations lead all writers this decade and are second-most all-time. Follow him on Twitter: @ThePME.
Brandon Gdula, managing editor and analyst for NumberFire, a FanDuel daily-fantasy analysis company, recently won the 2018 FSWA Golf Writer of the Year. Gdula also co-hosts the DFS Heat Check podcast. Follow him on Twitter: @gdula13.
Rick Gehman is the founder of RickRunGood.com and the RickRunGood YouTube Channel, is one of the industry's leading experts on golf DFS and gambling. Gehman is co-host of the First Cut Podcast and appears regularly on the Pat Mayo Experience golf podcasts. Follow him on Twitter: @RickRunGood.
Andy Lack is a PGA Tour writer and podcaster from New York City who now resides in Los Angeles. He hosts Inside Golf, a twice weekly podcast focused on the PGA Tour, betting, daily fantasy, golf course architecture, and interviews, as part of the BlueWire podcast network. As well as contributing to Golf Digest, Andy is also a data analyst and writer for RickRunGood.com, where he covers PGA Tour betting and daily fantasy. He came to Golf Digest's betting panel after previously writing for Golf.com, the Score and GolfWRX. In his free time, Andy can likely be found on a golf course. Follow him on Twitter: @adplacksports