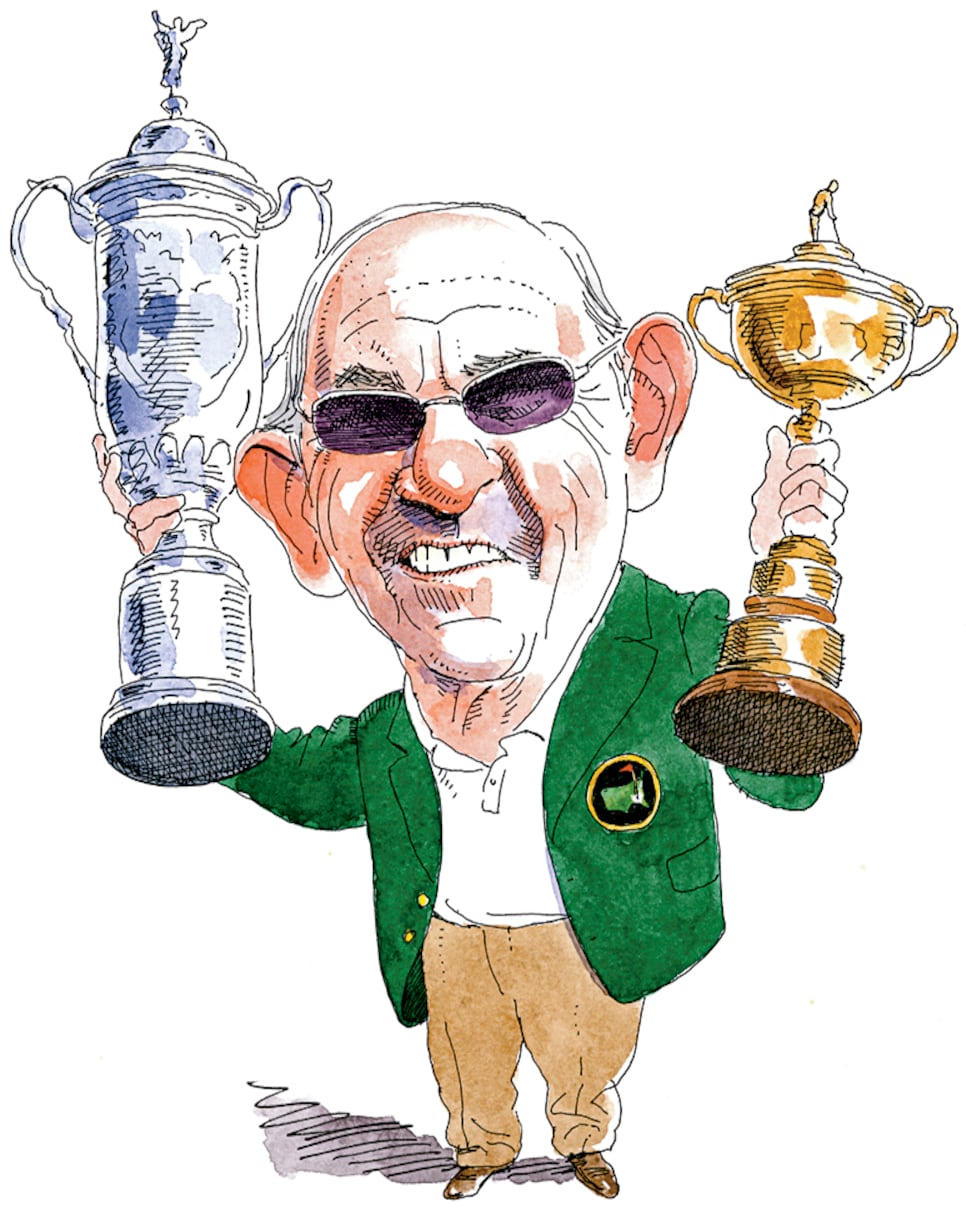 Illustration by Joe Ciardiello
(Editor's note: Yogi Berra passed away on Sept. 22, 2015. This is a Q&A with the Yankees legend that ran in the April 2010 issue of Golf Digest.)
Lawrence Peter "Yogi" Berra, 84, played in 14 World Series with the Yankees, and won 10. Both are a record. Berra and his wife, Carmen, live in New Jersey and recently celebrated their 61st wedding anniversary. For once telling reporters, "I'm afraid to pick up the phone, someone might be on the other end," Fred Couples is often referred to as the Yogi Berra of golf. Berra still plays four days a week and he says it's fair to compare a caddie to being a catcher.
What was your first memory of golf?
I guess that's when I got to the big leagues. After my first season I played with Stan Musial, Red Schoendienst and Joe Medwick in St. Louis.
How was Stan's golf game?
He was good. Schoendienst and Medwick were also very good players. Mickey Mantle was a very good golfer, but we weren't allowed to play golf during the season, only at spring training. Casey Stengel said we could play if we had the day off or something. As soon as the season started, "Pack 'em up," he'd say. "And if we catch you out there playing golf, it will cost you 200 bucks." And 200 bucks was a lot of money back then.
What was your first annual salary when you came up to the big leagues?
This year you served as the first Classic Ambassador of the Bob Hope Classic. Did you ever play with Bob Hope?
Oh, yeah. When I first played in it. I played with him and with President Ford. It was a great honor to be asked to represent Bob Hope.
Did you ever see President Ford hit anybody in the gallery?
No, I didn't. He was a pretty good golfer. He was a wonderful man. He did a lot for charity.
In years of playing in pro-ams, did you ever hit a member of the gallery?
Not that I know of. If I did, I didn't hurt 'em.
What do you love about the Palm Springs area?
Heck, it's beautiful out there. And you have all of those courses to choose from.
What's your favorite U.S. city?
I liked St. Louis, when they were in the American League, because that was going home. I had all my family and friends there. Detroit was another good one -- it was a good ballpark to hit in.
Do you wish you could've had a career hitting at the new Yankee Stadium?
I would take my chances there.
You might have made more than $5,000 per year.
If you weren't a baseball player, what would have been your career of choice?
Probably working in a brickyard.
You've seen a lot of changes in the airline industry. What's your biggest complaint about getting on a plane today?
It's not that bad. I'm automatic because I have this new knee. I tell them that I'm going to go right through and that I'm going to ring the alarm. Then I go to the corner so they can check me out.
Have you ever done an annual buddies trip?
I get asked a lot, but I have so many charity events ... No kidding. Almost every Monday I have a charity thing. I like that. I do. I like the ones where we play the ball of the longest hitter.
If I gave you a choice between Pebble Beach, Pinehurst or Pine Valley, where would you choose to play?
Pine Valley, because it's right up here where we live. That's a beautiful course but you got to stay out of the traps and the woods.
When you're around tour pros, what's the most common question you get asked?
It depends. A lot of them are baseball fans. I enjoy playing with them. I hope they enjoy playing with me, but I might ruin their game.
Are you a member at a club?
Montclair Country Club in New Jersey. They have 36 holes, which is nice, because you can take your pick.
How many rounds do you get in per week?
I have a sore back. I can get in three or four times per week, but I can't play four days in a row or I would've stayed playing in the Bob Hope.
What was your lowest handicap?
I was a 10 handicap at one time.
Do you remember a best round?
It was a 76. I should remember where, but I don't.
Do you have any hole-in-ones?
One, but it was in my own golf tournament, and that doesn't count. I have a tournament to benefit my museum and I played the same hole with every group. I hit enough balls and one went in.
Who's in your ideal foursome, dead or alive?
I have a lot of people. No kidding. I don't care who I play with. I really don't. I go out to have fun. If I shoot good -- fine. If I don't -- tough luck. I enjoy it. It's a good exercise. I ride a cart but I like to walk a little bit, too. With this new knee I don't mind the hills, as long as I don't hit a ball up there.
Is there a course you've never played but that you'd still like to play?
I've played a lot of good courses: Pinehurst, Merion. I played golf in Ireland at Lahinch and all of those places. Heck, I played Jack's course, Memorial, with Gil Hodges when it first opened, but I've never played the Old Course at St. Andrews.
Are you a bigger fan of Jack or Arnold?
I'm a fan of all of them. Arnold and Jack are both great guys.
Which one did you follow more?
I didn't know much about golf growing up. I got to know them when I started playing the game. I've never had Jack as a partner. I've had Arnold as a partner a couple times. I've had Fred Couples as a partner. It's amazing they put up with us.
If Tiger and Phil were in the final pairing of the Masters, which one would you root for?
I'd like to see a good match. That's too tough to choose.
Tiger is chasing Jack's record of 18 majors and Derek Jeter is chasing your record of 10 championships. Tiger has 14 and Jeter now has five. Will both records eventually go down?
I can't comment on Tiger catching Jack, but Derek has a little ways to go still to catch me.
Would you say a catcher is like being a pitcher's caddie?
I would say that. They pay attention to the catcher. I always told them, "I'm in the game more than you are. I'm back there and I know what's going on."
If you were Mickelson's caddie, how would you coach him through the last few holes of a major?
Oh boy. That's tough. I know he has had some good ones and some bad ones. The only thing you can do is to tell him to trust himself. He might tell me to go to hell. [Laughs.]
Do you watch a lot of golf on TV?
Oh yeah. There are a lot of new guys, boy. They're hitting the hell out of that ball. I wish they had that technology when I could play.
If you had a three-foot putt for your life, would you putt it, or would you call someone like Tiger to putt it for you.
Well, Tiger's not bad. *[Laughs.] *I might call him.
If you could win the Masters, U.S. Open or be a part of a winning Ryder Cup team, which would you choose?
You're famous for saying, "It's not over until it's over." But golf might be the exception. If a guy gets in the clubhouse with a much better score than the other players left on the course and they can't catch them, in fact, it's over before it's over.
Oh yeah, it's over, that's right. Pretty good.
Have you ever seen a putt come up short and go into the hole?
No. I've never seen that. *[Laughs.] *That's me. Never up, never in.