News
World Golf Hall of Famer Roberto De Vicenzo, first Argentine to win a major, dies at 94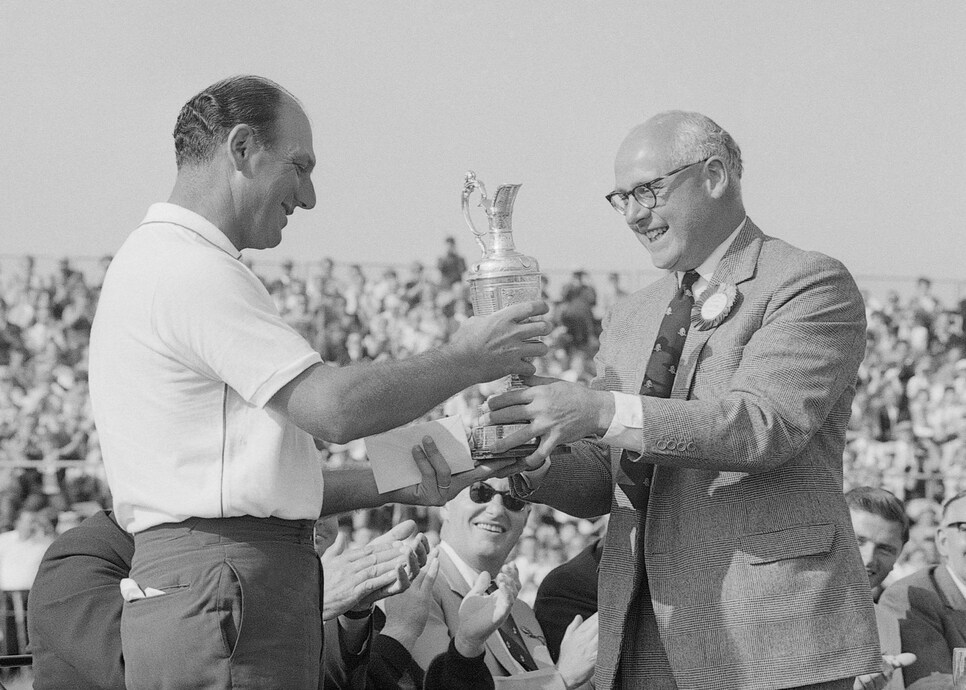 Argentinian star Roberto De Vicenzo, a British Open winner more widely known for signing an incorrect scorecard that might have cost him a Masters victory, died on Thursday. He was 94.
De Vicenzo is a member of the World Golf Hall of Fame, to which he was inducted in 1989 on the basis of 231 international victories, including eight on the PGA Tour, his victory in the 1967 British Open and his win in the inaugural U.S. Senior Open in 1980.
But it was at the 1968 Masters that he made the news for which he is most remembered. He and Bob Goalby completed 72 holes tied for first, but De Vicenzo, who had shot a 65 in the final round, signed a scorecard that added to 66. A 4 was entered as his score on the 17th hole, yet he had made a birdie 3.
"What a stupid I am to be wrong here," he famously said, one of sports' most enduring quotes, though usually it is shortened to, "What a stupid I am."
De Vicenzo said in an interview with ESPN Radio that when countryman Angel Cabrera won the Masters in 2009, it "brought a few tears to my eyes … because I would have loved to have that jacket myself as well."
He likely would have won with greater frequency in the U.S. had he elected to travel more.
"Of course, part of me would have liked to have won more major championships and been more famous," De Vicenzo told Golf World editor Jaime Diaz in 2006. "But my character is more comfortable where I have no obligation. I was not like Palmer, or Nicklaus or Gary Player. I wouldn't like to be Tiger Woods. Their life has been one of work, of sacrifice, of leaving many beautiful things in life behind to dedicate to success. Yes, I played all over the world. But more in my own time."
On the European Tour alone, De Vicenzo won the French Open, the German Open, the Dutch Open, the Spanish Open and the Belgian Open, in addition to his British Open title at Royal Liverpool. In the latter, he defeated Jack Nicklaus by two shots to win the claret jug.
"When somebody passes it's a sad thing," Nicklaus said on Friday. "Roberto De Vicenzo was not only a great golfer, but he was a great friend. I think the last time I was with Roberto we were in Argentina, and it was only about three or four years ago, I think. And we were with him and he always talked about how he said, I'm stupid, because what he did at the Masters that one year. He still talked about it, 40 years later he still talked about it.
"He was a nice man, nice player. We had only one time that we came down the stretch playing against each other, which I guess was the British Open in '67, I believe. That hole I ended up losing to him. I think he birdied 17 and I did not birdie 17. And then I didn't birdie 18. I think I may have bogeyed 18. But I don't really know what to say except that I think he represented his country. He represented the game of golf. He was one of the really good guys."
Cabrera paid homage to De Vicenzo via Twitter on Friday.
The translation: "A great sadness of Roberto de Vicenzo! No doubt Argentina and the golf today are mourning! Thank you for both master!"
According to golf writer David Mackintosh, a longtime friend, De Vicenzo began to decline a few weeks ago after falling and fracturing a hip. A fixture for decades on the course and the practice tee at his home club, Ranelagh GC in Buenos Aires, De Vicenzo in the last few years had stopped playing golf. "Roberto was goodness," said Mackintosh. "All the way through. Everyone loved him."