News
With dissolution of Phil-Bones partnership, trying to dissect what went wrong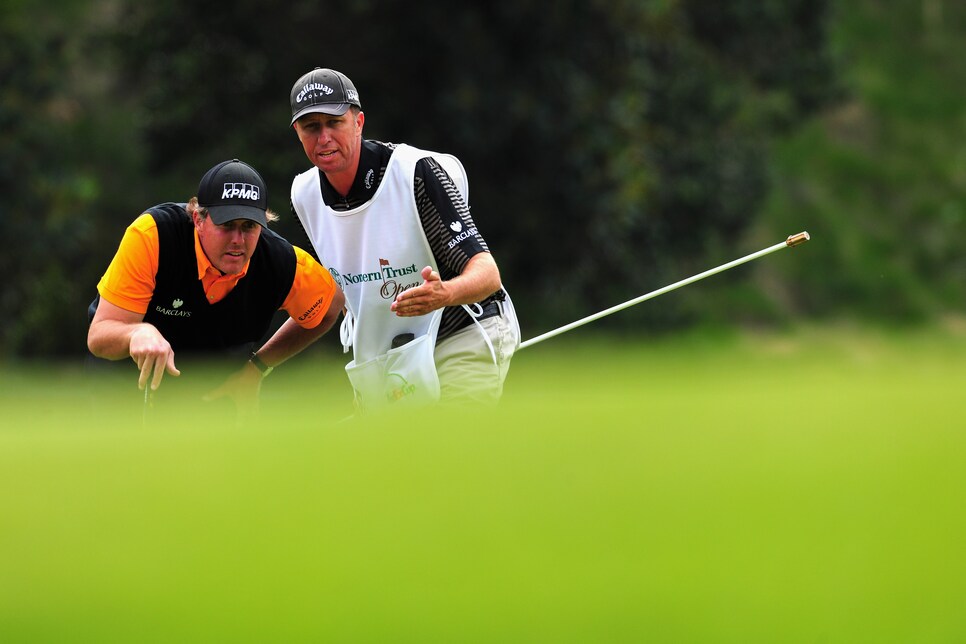 Photo By: Stuart Franklin
Late on Tuesday afternoon, I handed my phone to Mike "Fluff" Cowan, the veteran caddie for Jim Furyk, so he could read for himself the email that had arrived an hour earlier from Jim "Bones" Mackay. Addressed to a clutch of veteran writers, it was a statement of his breakup with Phil Mickelson. The missive contained a statement from Phil, too. I asked Fluff what he made of it. As I watched his finger scroll up and down, I watched for a reaction beneath his bushy mustache
There wasn't much. Fluff handed the phone back and shrugged.
"They didn't really say anything," Fluff said, moving back alongside Furyk's bag on the range at TPC River Highlands.
Which is true. No reason for the breakup was cited beyond the obligatory, "We felt it was time for a change." There was no hint of rancor or even mild tension. The two repeated the familiar terms of endearment they had often expressed toward each other. From Bones there was gratitude ("I'm grateful I was around to witness so much of Phil's career"), good wishes ("I wish Phil nothing but the best"), and even humor ("I did not use my 'veto' this year").
Phil was even more effusive. "[Bones] has been one of the most important and special people in my life since the day we met and I will always be grateful for everything he has done for me," he wrote. There was assurance that their friendship would remain intact.
Let's face it: When your next-door neighbors go through a divorce, you're inclined to wonder why.
It's natural to wonder if some sort of interpersonal cataclysm precipitated the breakup. Had Phil's expectations of Bones' time, scheduling and preparation become too licentious? Was there a compensation issue? Was there a drip-by-drip erosion in confidence, Phil pulling too many wrong clubs at Bones' behest, or the opposite—Phil consistently ignoring Bones' advice and accumulated wisdom, and it getting under the caddie's skin? It's all speculation, but let's face it: When your next-door neighbors go through a divorce, you're inclined to wonder why. Phil and Bones together constituted the most famous player-caddie relationship of the last 25 years. Enquiring minds may not be entitled to answers, but we can wonder why without guilt.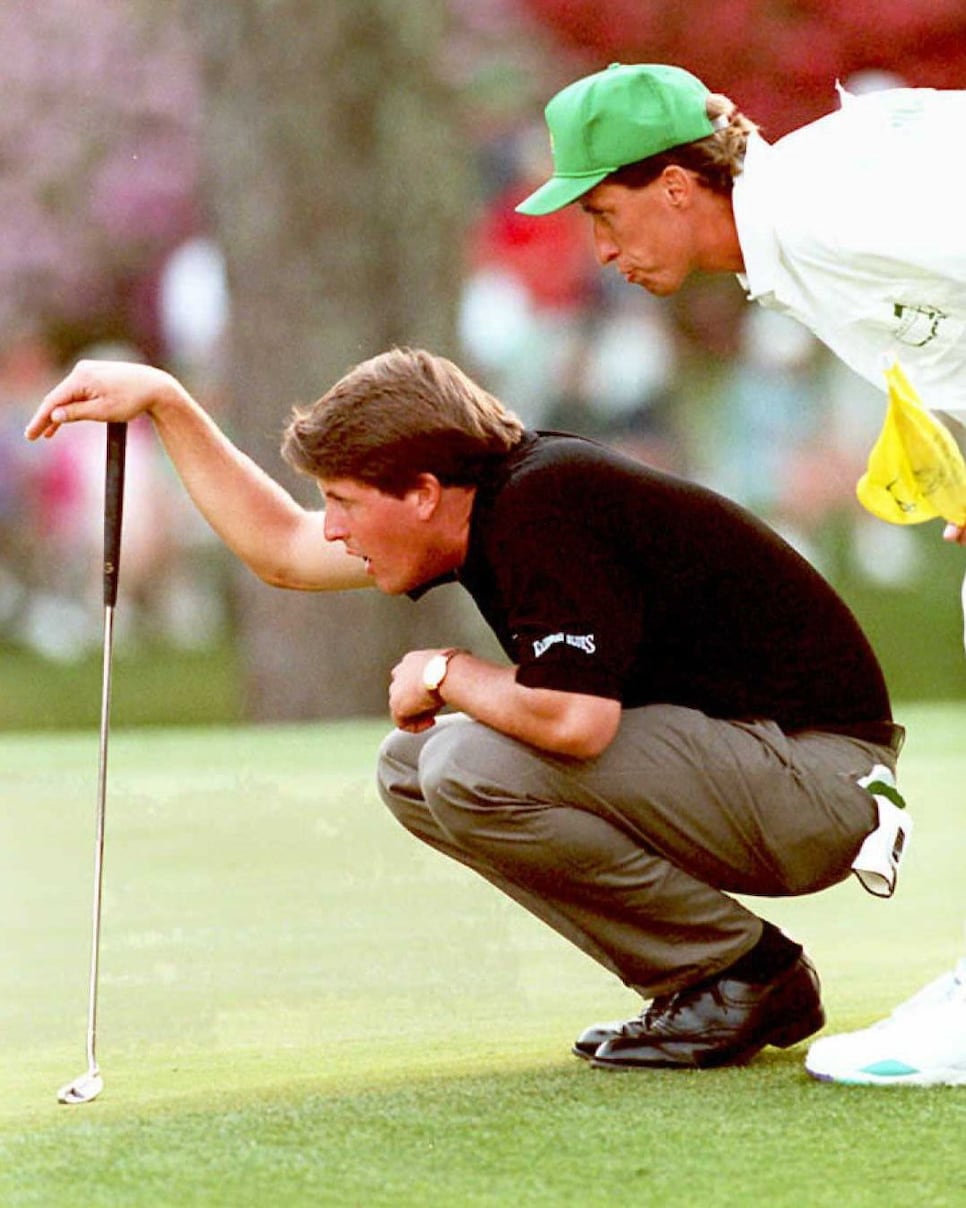 I texted Bones asking for a brief phone call and a little illumination. He responded—bless his heart for that--that he preferred to lay low for a while. There were a couple of other sentences that to me conveyed a mood of dejection and some hurt. Bones was in Phil's wedding, and vice-versa. Bones was at Phil's World Golf Hall of Fame induction when Phil issued a tribute to Bones from the lectern that brought the looper to tears. It was Bones, not Phil, who wept when Phil won the British Open in 2013. In Bones, Phil had a promoter, confidante, cheerleader and apologist. There was 100 percent loyalty of a kind seen only among papal assistants, political aides and Grateful Dead fans. From the time Bones picked up Phil's bag at the 1992 Memphis Open, there never was a single instance of criticism either way. It was unreal that way. It was a marriage with no ups and downs, just an unbroken plane of mutual fandom.
So what happened? There were rumors of tension at Colonial, and again at Memorial, but nothing substantive. Fluff Cowan asserted he had no clue there was trouble in paradise, which, tied in as he is, says something about the surprise of it all. Fluff is an institution, having worked for Peter Jacobsen for 18 years, Tiger Woods for three, then Furyk since 2000. All he could do was offer an observation on player-caddie relationships in general.
"After all these years I still don't know why they end," he said. "There's never a pattern, though I'd say there are more players who let caddies go than caddies letting players go. Sometimes the player gets in a bit of a rut. He wants a new face to look at."
Phil certainly saw the face of Bones a great deal. Mickelson has played in 563 PGA Tour events in his career, almost all of it with Bones present. At an average of four days a whack—missed cuts offset by pro-ams and team events—that's 2,252 days, or roughly eight solid years of shoulder-to-shoulder contact. When you pull submarine duty with another human for that long, small tics can sometimes be elevated to grounds for assault. Or at least a firing, as Fluff alluded to.
I asked Fluff if the breakups can be revitalizing to the player and caddie. "In my case, no," he said. "I was with Peter for 18 years. I went to work with Tiger because he was doing things that were blowing my mind. It was a business decision but you better believe, it was hard."
Short term, it's hard to see how the breakup could benefit either man. Phil will have his younger brother, Tim, in tow for the remainder of the year. This alone is an indication of the suddenness of the breakup, for Tim, formerly the men's golf coach at Arizona State, is Jon Rahm's manager at Lagardere Sports. Aspects of that job can be delegated, but it's a demanding post with a long learning curve. It's fair to assume Tim, 39, didn't accept it with the intention of being his big brother's caddie. Tim is an excellent player who has played in a lot of U.S. Mid-Amateurs. He knows how Phil's game and his mind works but is he the equal of Jim Mackay? We have our doubts. Phil is an old campaigner who is probably less dependent on the caddie than in his early years. Experience goes a long way. But Bones had skill and insights that few caddies have ever had. In this peculiar stage of Phil's career, where he's effective but less of the big-engine player he once was, there are fewer opportunities ahead.
As for Bones, certainly he could prosper going forward. At age 51 and with two knees replaced last October, his wisdom and touch could be just what the right young player—say, Tony Finau—needs to go to the next level.
Bones has a way about him. When Phil faced that shot off pine straw for his long approach to the par-5 13th hole at the 2010 Masters, Bones twice tried to call him off. But when Phil insisted on going for it, Bones shifted gears and adopted a "you got this" tone that probably gave Phil the added grain of confidence to actually pull the shot off, which he did. Bones was not perfect; what Phil fan wouldn't like to have seen Bones take whatever club Phil was holding when he decided to go through the trees with his second shot on Winged Foot in 2006, and break it over his knee? He wasn't always successful at protecting Phil from himself. But Bones straddled a fine line in that regard and generally was superb at directing Phil to the proper wheelhouse. From reading greens to wiring yardages to pulling clubs Bones knew—make that knows—Phil's game better than anyone.
The duration of the Phil and Bones partnership always seemed the lone and happy repudiation to the notion that no player-caddie relationship is eternal. In truth, they at best never go without interruption. Tom Watson and the late Bruce Edwards were together for 16 years, until Edwards left to caddie for Greg Norman. Three years later, Edwards returned to Watson.
With a friendship as deep as Phil and Bones, don't rule out an eventual reunion. If there's one thing they learned from all those years working together, it's the final score that matters.