News
Willie McRae, legendary Pinehurst caddie who carried for U.S. presidents and tour pros, dies at 85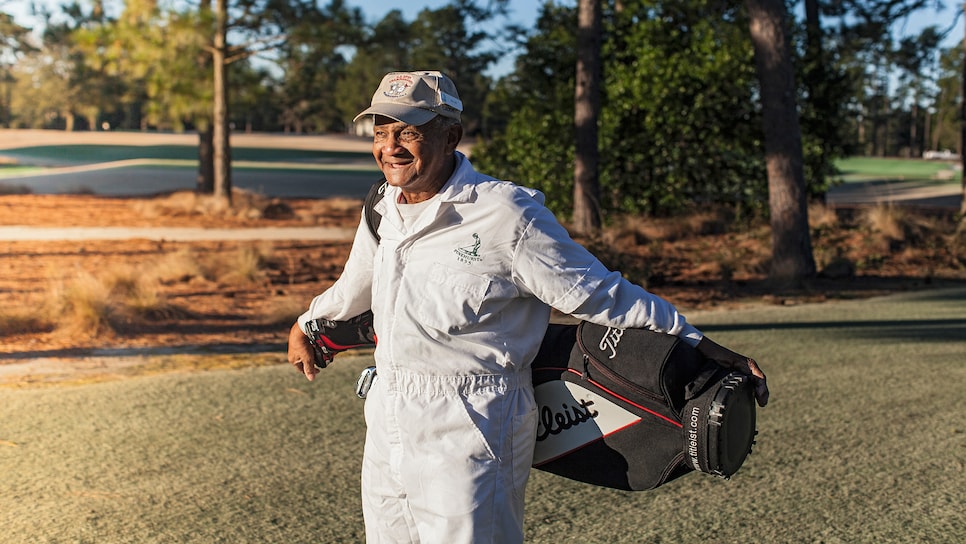 The question was simple, and the answer was life-altering. "Would you want to try to caddie at Pinehurst?" Willie McRae's daddy asked his boy in the spring of 1943. "Oh yeah, I'd like that," replied a wide-eyed 10-year-old who admitted afterward he didn't really know what he was getting himself into.
So began one of the most endearing relationships in all of golf, Pinehurst and McRae. In turn, the man became one of the resort's enduring figures, a regular looper for nearly 75 years, carrying the golf bags of U.S. presidents, Hollywood celebrities and dozens of marquee tour pros, not to mention the thousands of everyday golfers who made their way to the sandhills of North Carolina to play the fabled No. 2.
On Sunday, officials at the resort posted that McRae had passed away that morning. No cause of death was mentioned for the 85-year-old.
"He's one of the many parts that make up the fabric of Pinehurst," former Pinehurst president Don Padgett II told Pinehurst.com. "He cares dearly for the place, he's proud to have been a part of it, he loves it and has a great deal of gratitude for being able to spend all these years here. And it has always shown in the way he has treated people."
It was only last fall when McRae made a concession to age, agreeing to step back from caddieing on a daily basis. Still, he cringed at describing it as "retiring."
"It makes you feel like you're somebody," McRae described his profession when he spoke during an interview with Golf Digest last November. "That's one of the greatest things, you know. You meet so many nice people. You would never meet the people if you were on a job. This is one of the best jobs you can really have. I started and I enjoyed it. Thank God for it."
McRae's first day on the job was May 18, 1943, his father having convinced the caddie-master that the youngest was responsible enough. Pinehurst's owner, Robert Tufts, and architect for the famed No. 2 course, Donald Ross, confirmed that themselves shortly after McRae started looping, as he carried for the pair that summer.
In the early days, McRae made $1.75 for two bags, along with a 50-cent tip. He gave his mother his earnings, but kept the tip for himself to spend on candy or another treat.
A three-time winner of Pinehurst's annual caddie tournament, McRae left briefly to serve in the U.S. Army in the 1950s at Fort Dix (among his assignments was to be captain of the golf team). While there, he would team with another military man, Earl Woods.
McRae's expert knowledge of No. 2 made him a highly sought-after loop. When the 1951 Ryder Cup was played there, he caddied for Jack Burke, Jr., as the Americans defeated Great Britain, 9½-2½.
Over the years, McRae caddied for the likes of Arnold Palmer, Ben Hogan and Johnny Miller. He also carried clubs for four U.S. presidents.
"Ford was a nice guy," McRae said. "The one that was in there that nobody liked, Nixon, he was a real nice guy. A whole lot better than people say."
McRae couldn't estimate how many rounds he carried clubs on No. 2, but it had to stretch into five figures. So what was the thing most golfers got wrong about the place?
"It all depends where the pin is," said McRae, who was inducted into the Carolinas Golf Hall of Fame in 2016. "You've got to know what part of the greens to hit to. A lot of them holes, you're better off hitting short of the green and chipping up. I love hearing people say, "Oh, Donald Ross got me." Well, Donald Ross didn't get you. He's been dead for years. It's you that did it."
In his later years, McRae resisted some of the modern caddie amenities. Asked if he used a rangefinder, he noted: "I did for a little while, but somebody took it, and I'm not going to spend $375 for no range finder. If I don't know it by now, I'm not going to know it."
Could he walk the course blindfolded? "I can't walk it now. Drive it blindfolded? Maybe."
McRae's legacy at Pinehurst took on a different dimension when other family members followed in his footsteps and went to work there. His son, Paul, became a long-time instructor at the Pinehurst Golf Academy, and his grandson, Darick, became a full-time caddie at the resort in 2001.
"Dad taught me patience," Paul McRae told Pinehurst.com. "Also, to learn how to listen to people. You can learn a lot of ways to help someone if you just listen to them. And that goes for more than golf."