The Loop
Why it might be time for Rory McIlroy to hire a putting coach
SPRINGFIELD, N.J. -- Rory McIlroy likes to practice his putting alone, often using a mirror for alignment and eye position. But it also might be time he get some help for that area of his game.
It was just one round, but Thursday at Baltusrol the four-time major winner and two-time PGA champion hardly looked the part on the greens -- taking 35 putts, including seven missed putts from 12 feet or closer -- on his way to four bogeys, zero birdies and a frustrating 74 in the opening round of the PGA Championship.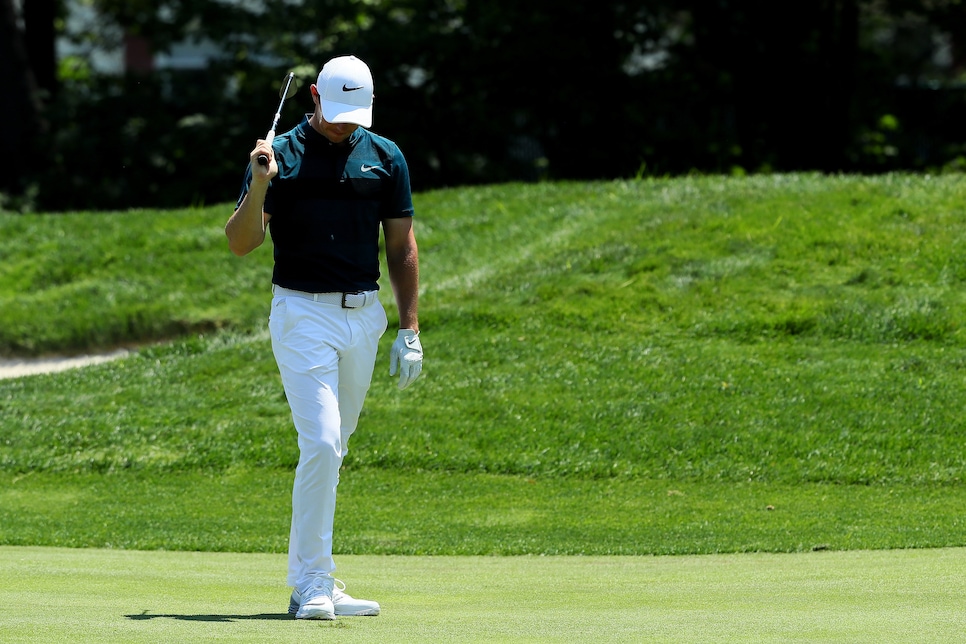 Afterward, McIlroy said he couldn't remember the last time he played a round without posting a red number. The answer: The third round of this year's Masters, where he began that day one stroke off the lead before shooting himself out of contention with a 77. That round, too, was plagued by poor putting.
"I'm happy with my game from tee-to-green," he said Thursday. "[I'm] driving the ball as well as I have, ever, I think. Iron play feels good. Just when I get on the greens, it's just a different story.
"I'm struggling with the pace. I think you saw out there, there was a couple of putts from quite a short distance that I left short. That's the thing that sort of surprised me all week actually. They look much quicker than they are. They look much quicker than they putt. … So I just need to be a little bit more aggressive, a little bit more free flowing with my stroke because when I did hit a couple by, I was able to hole the ones coming back. Maybe just need to be a little bit more assertive with it."
McIlroy's has flashed other inconsistencies at times this season -- ball-striking, wedge play -- but a near constant in recent months has been his struggles with the shortest club in his bag. Though he ranks a solid 61st in strokes gained/putting, it's the short misses that have haunted him. He is 187th on putts inside 10 feet on tour this season. It's why, earlier in the year, he switched to a cross-handed grip only to abandon it three months later.
It's also why in 15 starts this year, the 27-year-old Northern Irishman has just one victory. He hasn't exactly played terribly with eight of those finishes in the top five, but rounds like the one he had Thursday are the reason he doesn't have more victories, particularly in golf's biggest tournaments.
"I know my game is there," McIlroy said. "I just have to keep giving myself chances."
In 2012, 2014 and 2015 he had plenty and converted them. Those were McIlroy's best years on the PGA Tour, with nine victories, including three majors, during that span. Not coincidentally, those too were his best years with the putter.
He was working with putting guru Dave Stockton at the time. The two would see each other only a few times a year but the impact was significant.
After ranking 145th in strokes gained/putting during his rookie year in 2011 (the two began working together in May of that year), he improved to 82nd the following year. In 2013, McIlroy struggled with an equipment overhaul before bouncing back the following year with a season for the ages that included victories in the year's final two majors and a World Golf Championship event in between. That season, he was 41st in putting.
Thursday, it didn't take long for McIlroy to lose confidence in the flatstick. After missing a tricky 12-foot left-to-right slider for birdie on his first hole, the par-4 10th, he missed another chance from just seven feet on the next. McIlroy's head dropped and his shoulders slumped, and he never recovered. He went on to bogey three of his next four holes and failed to birdie the par-5 17th and 18th holes.
"I feel like if I had of holed one of those first two, it might have been a different story the rest of the day," McIlroy said.
Instead, it was an all-too-familiar one of late.
McIlroy added that he would likely be back later in the evening to work on his putting and again before his Friday afternoon tee time. Before he does, it wouldn't be the worst idea to pick up the phone.