News
Why is it so hard to make a good golf movie?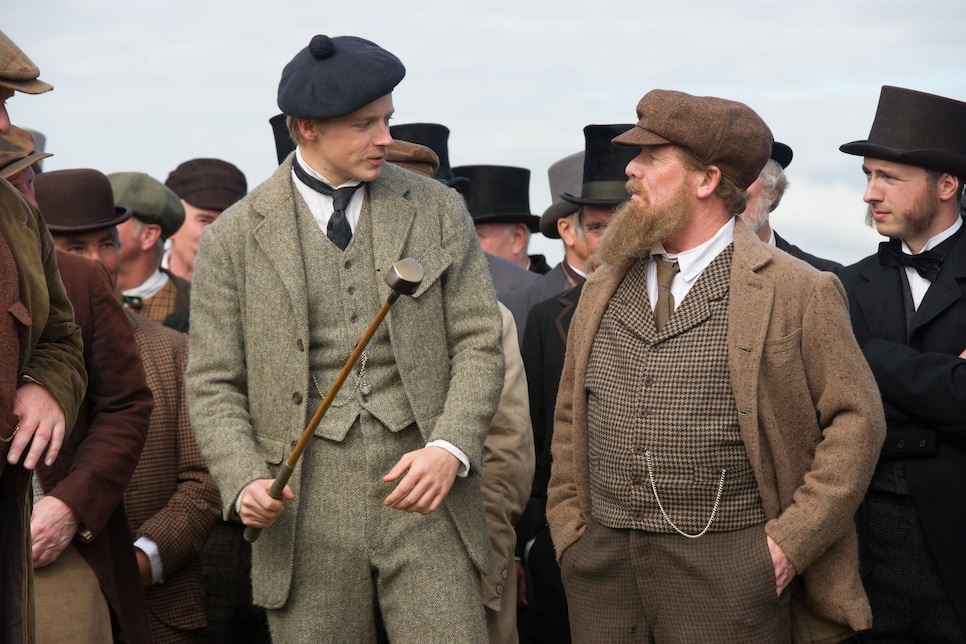 Photo By: NEIL DAVIDSON LOUISE BEATTIE
The movie "Tommy's Honour," based on the relationship between Old and Young Tom Morris that premiered last week, has been mostly well received. Splitting the difference between a dismissive take in the New York Times (in which the opening words are "redolent of damp wool and dour personalities") with a couple of glowing ones, the emerging consensus is of an earnest and beautiful cinematic effort that might be a tad slow.
My own reaction included admiration for the respect the filmmakers had for their subject (as portrayed in Kevin Cook's 2007 award-winning book) and their commitment to the undertaking. To best recreate the playing conditions of the late 1800s, the production built two holes on a seaside Scottish cow pasture, constructed a replica of the Royal & Ancient clubhouse and featured costume detail evocative of "Downton Abbey." From the opening shot of an aerial camera panning the craggy St. Andrews coastline, the film is lovingly made.
Movies are both enormously important in shaping our culture and enormously hard to make. Movie reviewing, in defending that high bar, can be unforgiving. There are very few points given for a good try.
Golf movies have it especially tough. They raise a red flag commercially, which is why there have been so few of them and why getting them made can be such an ordeal. The conventional wisdom is that even the best backstory will be hampered by the weight of a game that to the general audience is arcane and lacks much action. As the director of "Tommy's Honour," Jason Connery (son of Sean), told Golf Digest's Max Adler in February, "The big mistake is to make a film about the game, when it's so much more interesting to make it about the people who play the game."
Golf has had a hard time bringing out its best qualities. Even though other sports have more physical action to fall back on, I would argue that golf on screen doesn't have to be dull.
Maybe that's right. But while there are plenty of tried and true human themes in "Tommy's Honour"—a strained but loving father-son relationship, the suffocating inequities of class and a tragic love story—the setting is the gray, dour, thick-brogue'd town of St. Andrews many decades before it acquired the patina as a golf mecca. It's not a dynamic environment, and by deemphasizing the playing of the game in his story telling, Connery is compromising a main point of differentiation and entering the highly competitive turf of more internally driven dramas. "Tommy's Honour" is good, but it isn't "Moonlight."
I happen to like sports movies, especially when the playing scenes get the details right and convey a thrilling sense of physical genius. As a kid, I loved Burt Lancaster showing off his real athletic skills in "Jim Thorpe—All American." "Hoosiers" worked so well in part because of how it authentically portrayed the coach/player dynamic in practice and game scenes. Recently, "Creed" captured the fearsome aloneness of boxing with restrained but intense realism.
Golf has had a hard time bringing out its best qualities. Even though other sports have more physical action to fall back on, I would argue that golf on screen doesn't have to be dull. The buildup of a player conceiving and playing a shot can be cinematic. The constant inner turmoil competitive golfers must manage can be conveyed. Where golf movies have fallen short is because many of the filmmakers, whatever their technical abilities, have lacked a close feel for the game.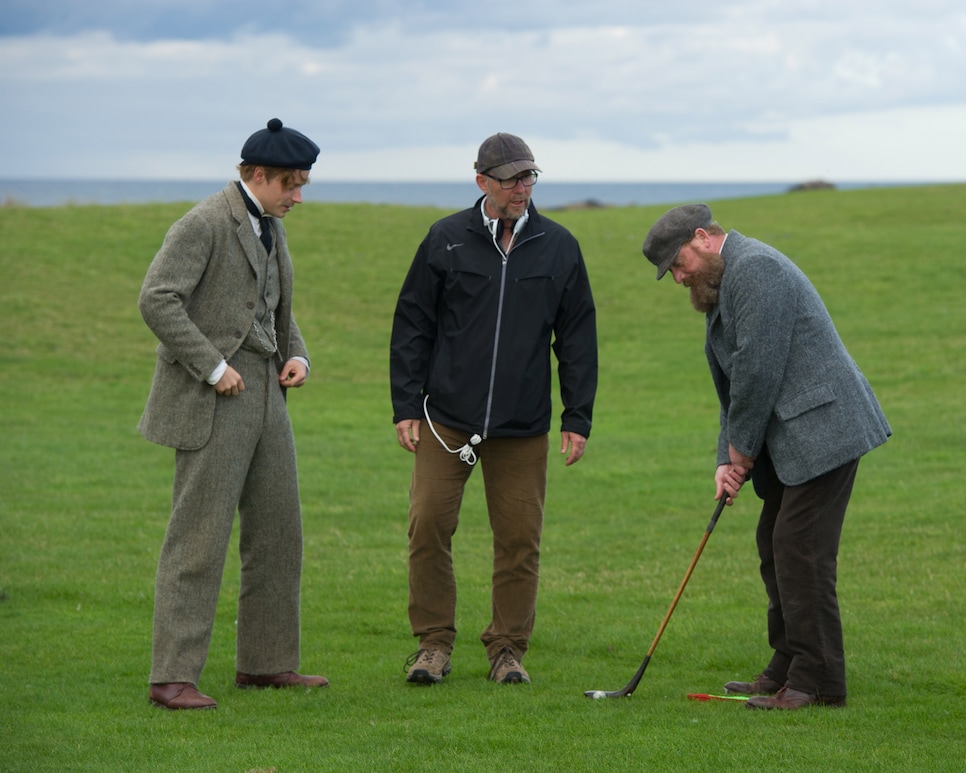 NEIL DAVIDSON LOUISE BEATTIE
Because a good golf swing is such a sublime thing—and a bad one is painful to watch on the big screen—golf movies walk a tight rope when it comes to authenticity. A flowing, battle-tested action is impossible to fake. Matt Damon couldn't do it in "The Legend of Bagger Vance," and Jim Caviezel failed in "Bobby Jones: Stroke of Genius." Kevin Costner worked very hard with instructors in preparation for "Tin Cup," but ultimately all the skills he brought to giving Roy McAvoy the external swag of the gifted was undone by a swing that was studied and stiff.
Not that a good swing alone is enough to make a golf movie work. Jeremy Sumpter, the lead in "The Squeeze," has the repetitive, well-timed move of the plus handicap he is, but that authenticity couldn't overcome a story that was too thin. In "Seven Days In Utopia," Lucas Black truly looked like a player, but the movie, even with Robert Duvall in a key role, got too weighed down in homilies.
Humor can be the great eraser of flaws in sports movies, as well as an illuminator of inside truths, but "Tommy's Honour," though droll in spots, is overall lacking in this area. "Slapshot," "North Dallas Forty," and "Major League," are examples of sports classics that remain watchable for the laughs alone.
Humor is the reason "Caddyshack" is regarded as the best golf movie. But the humor has deep roots in the totems of the game. The zen "na-na-na-na" putting scene with Ty Webb, the fantasy "Cinderella story" vignette with Carl Spackler, the yips from Judge Smails, the suffocating pressure Danny Noonan has to handle. Golfers take that reality seriously, and they laugh when it's spoofed.
But so far, capturing the correct blend of authentic action and soul in a golf movie has proved elusive. The closest all-around try at a great golf movie is "The Greatest Game Ever Played." Shia LaBeouf as Francis Ouimet did a good job with the swing, and the family dynamic was even more compelling than in "Tommy's Honour." The director, the late Bill Paxton, didn't play, but he grew up in a family of golfers and hung around Shady Oaks when Ben Hogan practiced there and understood Hogan's legend.
Paxton got the best depiction ever of a professional golfer on film from actor Stephen Dillane, who played a Harry Vardon, bringing out the supreme outer control and inner desperation that the English icon displayed in late career. "You're going to be Alan Ladd in 'Shane,' " Paxton said he told Dillane in recruiting him for the role, evoking one of the screen's most multi-layered heroes.
Scottish actor Jack Lowden played Young Tom Morris as a prodigy for whom good golf were an easy given. But Lowden's swing, learned in a few short weeks before the film, is too ragged despite some impressive speed to look convincing. Young Tom would have been more interesting if given more of a chance to convey the mental and physical difficulty of championship golf, especially after he perennially carried the crown of Champion Golfer of the Year. In the end, the audience isn't allowed to sufficiently admire Young Tom as a golfer.
Still, even as the search for the first great movie about our sport continues, "Tommy's Honour" advances the cause. Golf can be proud.