Gender Neutral
Why all 137 Hot List winners work for women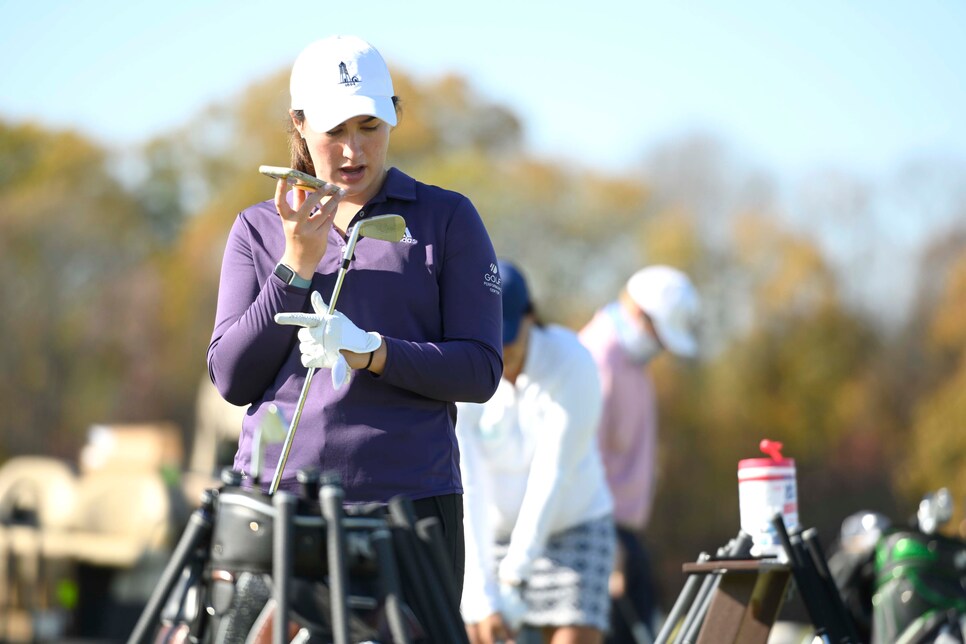 We don't mean to be flippant, but because we believe so strongly in the value of clubfitting and because manufacturers have greatly expanded their selection of lofts, shafts and head styles, every club on the Hot List can work the same for a female golfer as it will for a male golfer with the same specs. We know this from the women golfers on our panel and because fitters tell us frequently that female golfers are vastly better served today than in the past.
"Many of our female students fit nicely into men's irons and drivers," said Nick Clearwater, vice president of instruction at GOLFTEC, the nationwide instruction and fitting chain. Clearwater believes the typical women's-flex shaft is too weak for women players who can swing their 7-irons at 50 miles per hour or faster. "It's quite rare for a female to be fit into shafts softer than an A-flex [senior flex]."
For perspective, a study by Foresight Sports revealed that the average LPGA Tour player carries her 7-iron 145 yards, and the average female-recreational player hits a 7-iron 65 to 115 yards. Conversely, the average male-recreational golfer hits his 7-iron 115 to 155 yards. This suggests two things: First, female golfers, like their male-golfer counterparts, shouldn't be narrowly classified. Second, maybe some of us shouldn't be carrying 7-irons anymore.
Given the right fitting scenario, golf clubs are gender neutral. "There is nothing inherent about a 'players iron' that makes it only for a man," says Jason Fryia, owner of the Golf Exchange stores in Ohio and Kentucky, a Golf Digest 100 Best Clubfitter. "In reality, very few men and women fit into that iron anyway. We absolutely sell more pre-configured women's sets to our female customers than we do players irons, but we also don't hesitate to fit a female who is a better golfer into any club that achieves her goals. Manufacturers do a good job offering custom options to fit a variety of skill levels."
But strength is a consideration. Many women should focus on clubs that offer lighter head weights, says Bob Kitchen, owner of the Maple Hill Golf Center in Grandville, Mich., a Golf Digest 100 Best Clubfitter. "If you're just putting a light shaft in a heavy head, that won't work for women," he says.
The pre-configured set for those with slower swings is the smarter option. Though not part of our Hot List evaluations, these holistic collections of woods, irons, wedges, putters and even bags provide a full-service approach to many average female and male golfers. They address the challenges of higher launch with larger heads, wider soles and lighter, more flexible shafts and are a great option for beginners. We believe if you can't fly an 8-iron onto a green and have it stay there, maybe one of the complete sets listed here is a better choice: Callaway Reva, Cleveland Bloom, Cobra F-Max Airspeed, Ping G Le2, TaylorMade Kalea 3.0 and Tour Edge Moda Silk.
However, women should still consider the latest technology featured in this issue. Some tips for any player, female or male, who might be speed-, distance- or trajectory-challenged:
Woods: Loft is your friend. Many drivers on this year's Hot List can be adjusted to lofts of more than 13 degrees. Start there and go lower only if your clubfitter demonstrates that you would benefit from less loft. You will want to look at higher-lofted fairway woods and hybrids, too. If Dustin Johnson has played a 7-wood, we're thinking it's also worth your consideration.
Irons: Consider starting your set with the 6- or even the 7-iron. You will get better distance gaps with fairway woods and hybrids in the lower lofts. The 5-degree gaps in modern short irons will properly space your yardages. You might even need fewer than 14 clubs.
Wedges: Seek graphite shafts that match your irons for more control over the scoring clubs.
Putters: A 33- or even 32-inch putter with a properly weighted head might be best for producing consistent strikes.
But our larger point is that the right clubs from driver to putter are described in these pages, regardless of whether you are a new player, an ambitious veteran, a struggling 90s-shooter or a top-flight amateur—man or woman.