The Loop
Why Adam Scott, not Jordan Spieth, has the worst choke in a major this century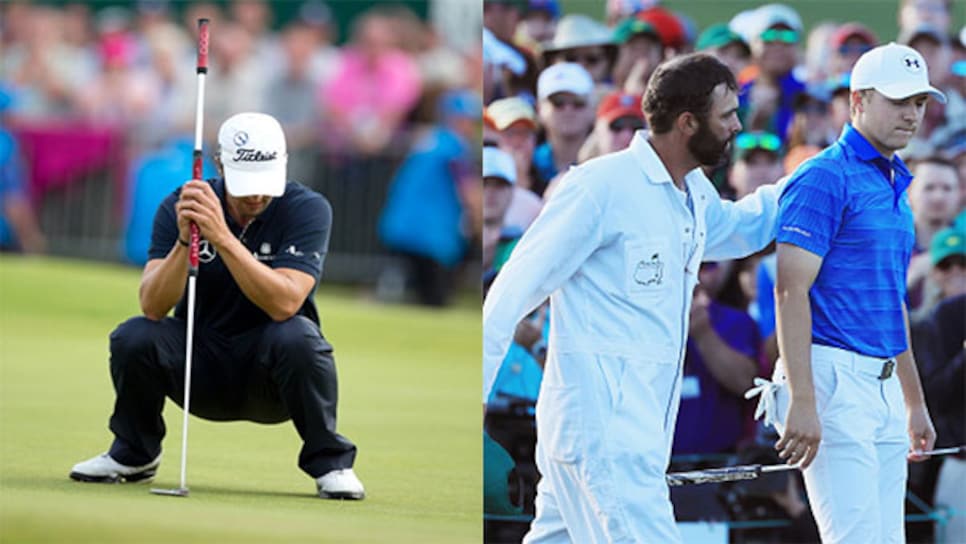 Think Jordan Spieth's back-nine collapse at Augusta National earlier this year is the worst choke at a major this century? Turns out, it's not even the worst in the past four years. At least, according to one news outlet.
This week, The Economist released a new system for analyzing golf tournaments, specifically, the odds a player has of winning one at any given time during the event. Dubbed the Economist Advantage in Golf Likelihood Estimator (EAGLE -- get it?), this evolving database can be used as a tool to predict tournaments, but also break down the results of past ones.
Enter Spieth. The 22-year-old star had a five-shot lead as he made the turn in the final round of this year's Masters. The tournament was a foregone conclusion -- until it wasn't. Spieth bogeyed 10 and 11 before hitting two shots into Rae's Creek on No. 12, walking away with a disastrous quadruple bogey and finding himself trailing in the tournament for the first time all week. Danny Willett went on to claim the green jacket and everyone else was left trying to remember a worse recent collapse.
Enter EAGLE -- and Adam Scott. According to the model, the Aussie's runner-up at the 2012 Open Championship was even more stunning. With a four-shot lead with four holes to play at Royal Lytham, Scott bogeyed in to lose to Ernie Els by a shot. According to EAGLE, Scott had a 98.6-percent chance of winning before that closing stretch. Ouch.
Among majors since 2001 (EAGLE only goes back that far for now), Scott's collapse ranks No. 1. At 95.5 percent, Spieth is No. 2. And Kenny Perry's loss at the 2009 Masters rounds out a top three that no golfer wants a part of.
How does EAGLE do it? The system is heavily based on a player's Official World Golf Ranking, along with the par and distance of the holes remaining in a given event. The Economist has been extremely thorough (running more than two BILLION simulated holes), but it admits the model is still very much a work in progress, in particular trying to figure out how to factor in streaky play and individual players' tendencies .
Which leads to the 145th Open Championship, the first tournament where EAGLE is being presented as the event unfolds. Through 36 holes, EAGLE has Phil Mickelson and Henrik Stenson as the overwhelming favorites (of course), with both players hovering around a 32-percent chance of winning. There's a big drop-off to No. 3, Soren Kjeldsen, at 6.2 percent. That doesn't seem like much, but it's significantly better than the man he's tied for third with on the leader board, Keegan Bradley (4.7 percent).
For the record, The Economist used its new system to make three pre-tournament bets on Bubba Watson, Jim Furyk and Jeung-hun Wang. Why? Because EAGLE's projections differed greatly from the higher odds being offered by betting parlors.
Watson and Furyk made the cut on the number, and Wang went home for the weekend. Like we said, EAGLE is a work in progress.