News
What you need to know as the NCAA Women's Championship heads into the final round of stroke play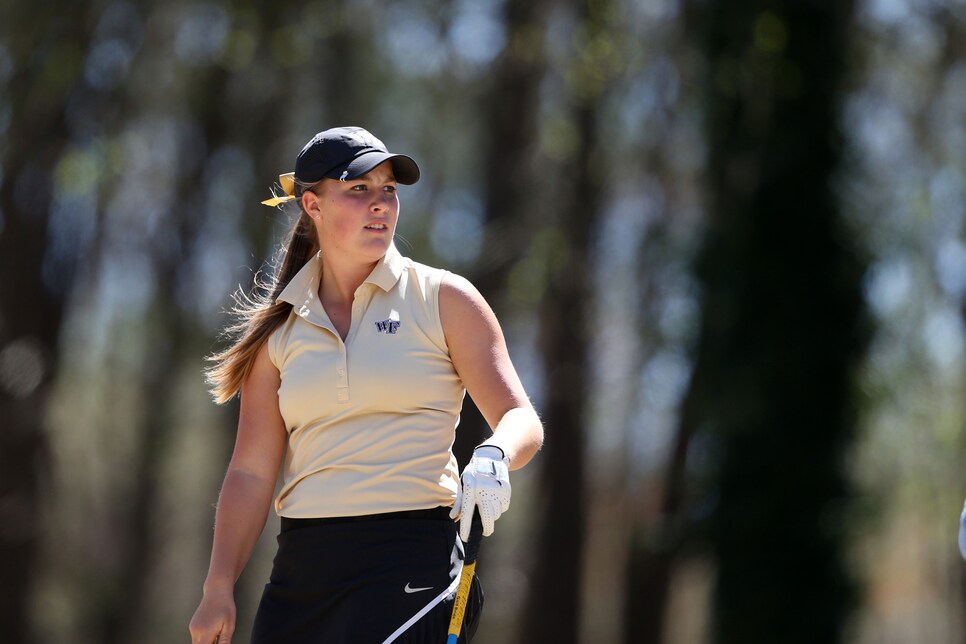 Teeing off early on Sunday at Karsten Creek Golf Club, the schools out front at the 2018 NCAA Women's Championship had a chance to wrap up their third rounds not long after noon. They could then take one last deep breath as the race for the national title begins to get real.
Call it the calm before the sprint.
Through 54 holes in Stillwater, Okla., just one team is under par—Alabama having shot a tournament-best four-under 284 on Sunday to get to two-under 862 for the championship. The Crimson Tide are well positioned to be among the top eight teams at the end of play Monday, when stroke play ends and the schools advancing to match play are decided. Mind you, this should not be surprising considering Bama was ranked No. 1 by Golfstat entering the week.
Indeed, the Golfstat rankings are holding fairly strong through 54 holes. Five of the eight schools inside the cut line on Sunday night—UCLA in second place at six over, USC in fifth, Duke in sixth and Stanford in seventh—are ranked among the top eight. And No. 2 Arkansas, No. 7 Furman and No. 8 Texas are all within eight strokes of eighth place, giving them the chance to get back inside the match-play cut with a successful closing round.
Suffice it say, Monday could be rather manic.
Alabama and UCLA are the lone schools that will get to play Monday without much pressure (don't tell them that, of course). With eighth-place Kent State at 27 over par, the Crimson Tide and Bruins are 29 and 21 strokes inside the eighth-place cut off, their match-play chances fairly certain.
"You've just got to get into match play," said Alabama women's coach Mic Potter. "It's always good to be the No. 1 seed, I think, and it's good for me to be able to sleep tonight. Other than that, I just think any time you can build momentum and build confidence, it helps and it's good."
Arizona (16 over) and Northwestern (18 over) have an 11- and nine-shot cushion on Kent State, giving them a little margin for error. USC (21 over), Duke (25 over), Stanford (26 over) are the other schools inside the top eight, but their places are far from locked up.
Only the top 15 schools advanced to the final 18 holes of stroke play, a cut that meant defending team champion Arizona State was heading home early. The Sun Devils stumbled to a 26-over 314 score in the first round, too large a deficit to make up.
In addition to cutting the field down to the final eight schools, the NCAA individual champion also will be decided on Monday. Wake Forest's Jennifer Kupcho, runner-up at the 2017 NCAAs at Rich Harvest Farms, shares the lead with Alabama's Cheyenne Knight at seven-under 209. The duo are one stroke ahead of Arizona's Bianca Pagdanganan and Ohio State's Jaclyn Lee. Seven players are within seven strokes of the lead.
Kupcho (top photo) began this year's championship with a seven-under 65, the low round posted by anyone in the 132-player field. A second-round 74 was followed by a Sunday 70. The key for the Demon Deacon junior has been to use the driver sparingly and be certain to be in the fairway off the tee.
"I think I was just more relaxed," Kupcho said of her improvement on Day 3 compared to Day 2. "After shooting 65, you just have so much pressure to live up to that. So after yesterday's round, I was able to just go out there and play my game."
"I think she [Kupcho] has a really good chance of winning," said Wake Forest women's coach Dianne Dailey. "When she gets her game face on, she's focused and really goes after it. She's so capable, I think she has an excellent chance. I think she's thinking about last year and she wants to make up for that."
The disappointing fact that Wake Forest failed to finish inside the top 15 schools after 54 holes, might help Kupcho's individual cause. She'll be playing as an individual on Monday and can focus solely on trying to win medalist honors.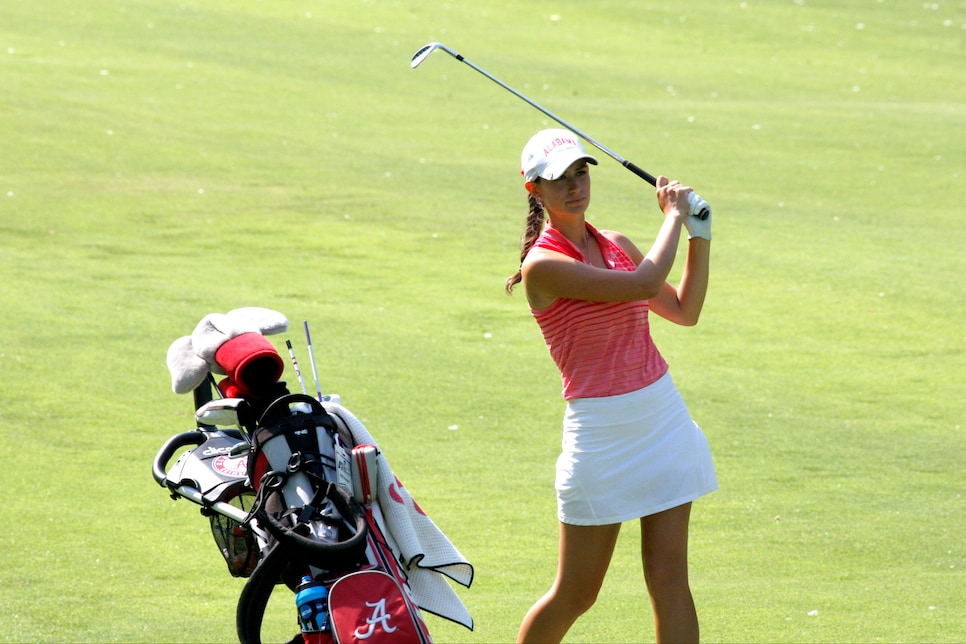 Todd Bell/University of Alabama Sports Information
Conversely Knight, a junior from Aledo, Texas, who posted rounds of 70-69-70, has the team competition still front and center in her mind.
"We've been preparing all year to make it into that final match on Wednesday. At practice we'll say little things like, 'All right, this putt is for the national championship,' and little things like that. The past year, we've been working for this moment and to get that top seed, too. All my years we've been the top-ranked team coming into nationals and haven't performed. It's as simple as that. I think this year we recognized we're the No. 1 seed, again, and we need to prove that we're the team to beat out there."