News
What Muirfield Village can learn from Pinehurst about hosting back-to-back tournaments
Editor's Note: Course superintendents are the unsung and (mostly) invisible heroes of our game. But when two events are held in consecutive weeks on the same course, these humble, hard workers are suddenly flung into the spotlight. With Muirfield Village hosting the PGA Tour's Workday Charity Open and the Memorial Tournament in back-to-back weeks, we wanted to hear from someone who has already mastered this unique challenge. As you'll find out below, the job gives you a PhD in dealing with the unexpected.
I've been working at Pinehurst Resort in North Carolina for more than 28 years, and for the majority of my time here, I've worn a hat. The sun is strong, but if I'm being honest, that's not the only reason I have to wear one.
The truth is, I have a few grey hairs starting to show. I know, I know—it happens to everyone. But what makes me different from some of the others with the same fate, I think, is that I can pinpoint the exact day the greys arrived: May 16, 2014.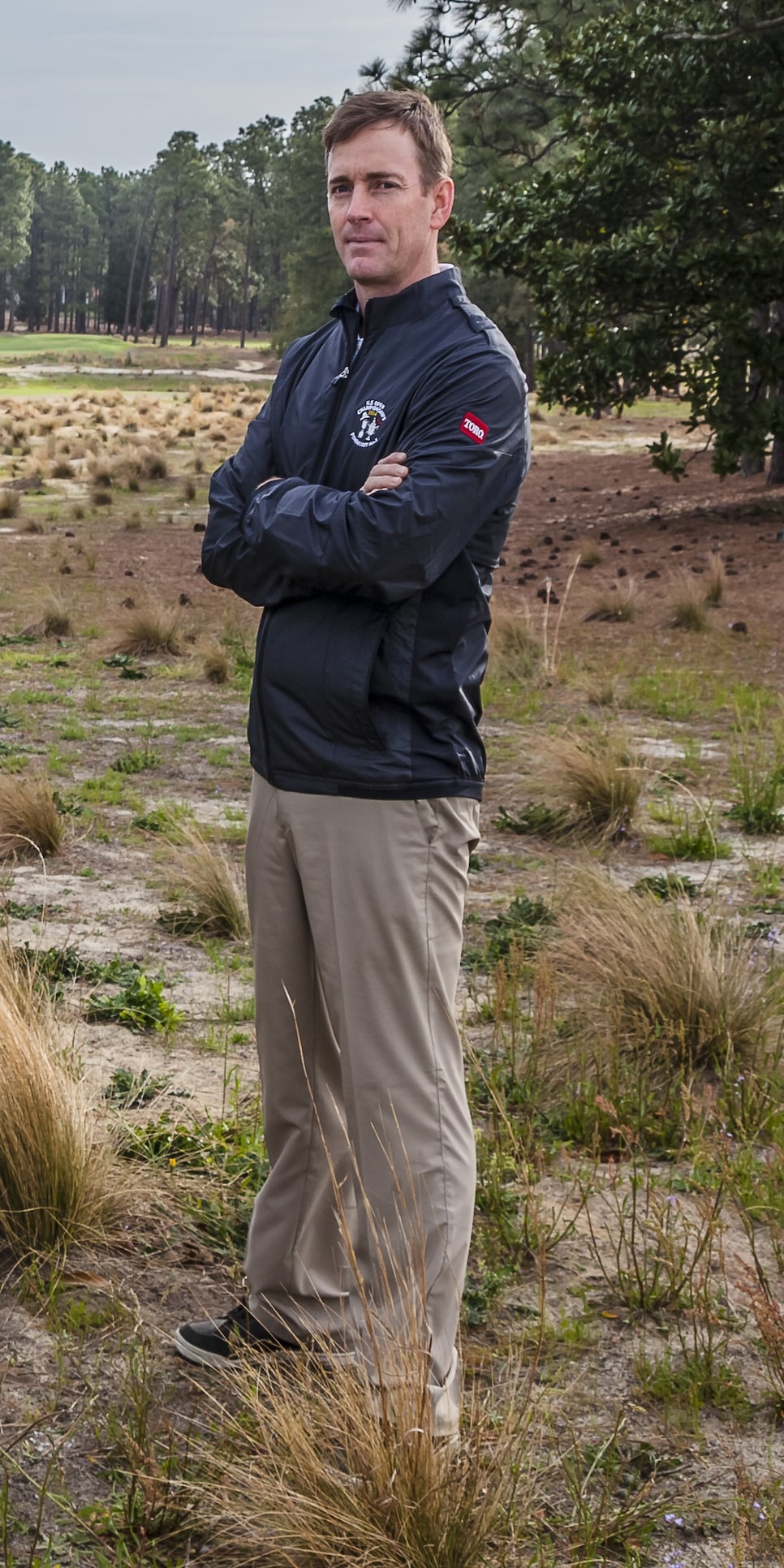 Kevin Robinson poses at Pinehurst No. 2 back in 2014, when the course hosted back-to-back men's and women's U.S. Opens. (John Gessner/Pinehurst Resort)
You may recall that the USGA awarded Pinehurst No. 2 the 2014 men's and women's U.S. Opens. Our team had to prepare the venerable track for two major championships in consecutive weeks. As superintendent, I knew we would do everything in our power to make the course a tough and fair test.
Throughout the beginning of the year, the weather was cooperating. As part of the Bill Coore and Ben Crenshaw's restoration of No. 2 in 2010, the fairways were firmer, faster and even a little brown. Rough had been replaced by native areas, and by mid-May of 2014, these hazardous strips of sand and wire grass looked exactly the way Donald Ross had envisioned them more than a century ago.
I'll always remember that day in May, because that was the last time it rained in Pinehurst before the men's U.S. Open, the first of the two events. When it didn't rain for a few days, we thought it was an anomaly. But as the days progressed, we realized we were dealing with something a bit more drastic.
So, yes. An unprecedented drought plus an unprecedented major setup equals stress … and a few grey hairs.
During the lead up to the men's championship, our team spent thousands of hours trying to do the best with what Mother Nature offered. It was a bit demoralizing, but the folks on our staff are tough. They're also a patient bunch, so even as the practice rounds passed without a single drop, and the first round was dry, there was hope that we'd get some kind of break.
It was Thursday night after the men's opening round, and I was with our crew sitting in the maintenance shop, marveling at Martin Kaymer's five-under-par 65. Out of nowhere, there was a loud white noise, making it almost impossible for us to hear each other. Everyone stopped and stared.
I looked over at John Jeffreys, the current superintendent on No. 2, and Alan Owen, the superintendent on Pinehurst No. 4. Their eyes said exactly what we were thinking: Let's go! I grabbed a flashlight. John, Alan and I piled into a golf cart. We drove into a monsoon.
I'll never forget circling around the 14th green, shining a light in a few bunkers and collection areas and seeing them shine, nearly full of water. That night, we received more than an inch (2.5 centimeters) of rain in around 45 minutes, almost half of what we normally get over the entire month of June. It was inspiring to watch our crew, volunteers from Pinehurst to Australia (I can never say thank you to these selfless individuals enough!) and the USGA work all night, lugging around massive pumps and hoses to make the course playable by 6:45 a.m. While it's never easy to handle that amount of rain, looking back, I guess you could say it was a welcomed sight given what we had been through.
I think about those two weeks a lot—about what an honor it was to be the superintendent for two of the biggest tournaments in the world. So when I heard that Muirfield would be hosting two PGA Tour events in a row, a bunch of memories from 2014 came rushing back, that night in the maintenance shop being one of the most vivid. Sure, there will be questions about setup and playability at Muirfield Village, especially when more than 150 players are taking divot after divot. But you'd be surprised at how malleable a course layout can be.
Mike Davis, the head of the USGA, knew a few things were going to have to change week over week, so he closely monitored how the men and women were chipping and putting during their practice rounds. Before the men's tournament started, he came to us and said, "Let's make the players think around our greens. We don't want them to only chip or only putt each time they're greenside." To put that plan into action, we cut the grass at a few different lengths, which forced the players to hit a variety of shots. Mike set it up in a similar way for the women, whose imagination around the greens was remarkable to watch.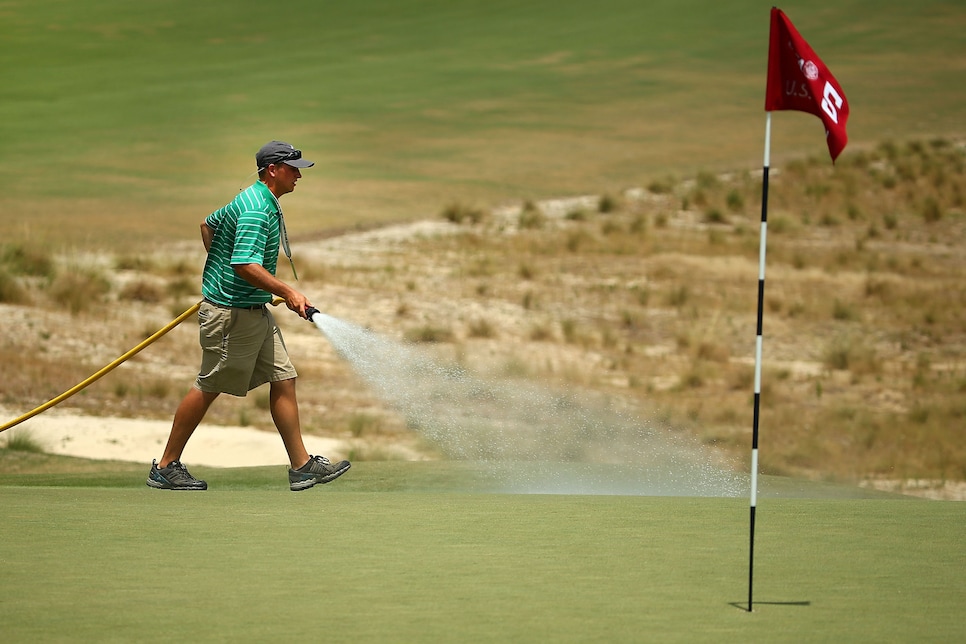 A member of the grounds crew waters Pinehurst No. 2 during a practice round prior to the start of the U.S. Open.
Streeter Lecka
Of course, a lot of folks worried that the women would be playing out of the men's divots. It's a valid concern, but we were never going to set up the course to let a good shot get penalized like that. Our goal was to make sure the women were hitting the same irons into the green as the men were, which meant bumping the tees up a little. Their drives would end up flying beyond the men's landing area. To me, that's the type of creativity and meticulous detail needed to make back-to-back tournaments a success.
Many people think maintenance staffs are just there to spray chemicals or get in the way of the golfers, but that couldn't be further from the truth. The crew up at Muirfield will have to adapt to changing weather, find eight pin placements per hole and constantly change up the teeing grounds. The course will take on a significant amount of foot traffic, and in order to stay up to PGA Tour standards, they'll have to work double time to keep the greens rolling true.
My suggestions to the fans over these next two weeks? Cherish the tournaments. Pay attention to all the nuance and thought that goes into making the course playable. How does the grass length change? Where do they move the tees? How do they handle the divots? Without fans, how thick will the rough be? If it rains, how do they manage the water levels?
Oh, and if you hear any stories about a superintendent in Ohio going grey … well, just tell 'em to come down to Pinehurst.
Kevin Robinson is the golf course maintenance manager for Pinehurst Resort, overseeing all 10 courses at the North Carolina facility.