News
But What If The Ball Had Missed The Stick?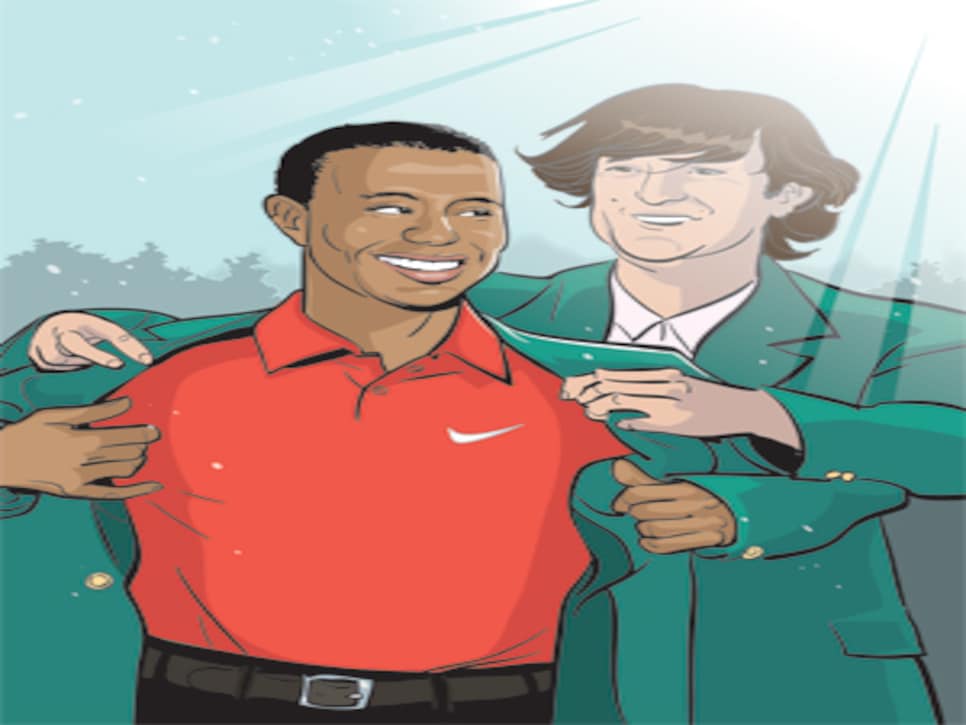 The smile was back as 2013 Masters champion Tiger Woods adjusted the sleeves on the green jacket Bubba Watson had just slipped on him inside Butler Cabin following a rainy Sunday afternoon at Augusta National GC. There was no hiding the joy that the now 15-time major champion was feeling having resumed -- finally -- his march on Jack Nicklaus' record, even if the toothy grin also contained its fair share of relief.
With CBS cameras rolling, and new girlfriend Lindsey Vonn somewhere in the room celebrating on Twitter, Woods went back and forth with Masters chairman Billy Payne about his two-stroke victory over Adam Scott and Angel Cabrera (which wasn't really that close) and how it felt to end his winless streak in majors dating back to the 2008 U.S. Open. Arguably, though, Woods' most arresting comment came after Jim Nantz asked if there was a moment in the tournament the golfer felt was the turning point.
"I think my third shot at the 15th on Friday," Woods responded. "I hit a nice little soft 60 in there. It was so perfect that for a second I got nervous it might hit the flagstick. Who knows then … maybe it does something crazy like bounce in the water."
It didn't, of course, the ball stopping six feet from the cup and setting up his fourth birdie in 11 holes to give him the outright lead. Awash in confidence, Woods then birdied 16 and made pars on 17 and 18 for a five-under 67 that left him with a seven-under 137 after 36 holes. For the next two days the media reminded him of all his weekend woes at majors since Torrey Pines. But this time Woods had too much going for him on too familiar a stage to let victory slip away.
The rest, as they say, is history. Spared any bad breaks in the year's first major -- think of the spectacle had his ball actually gone in the hazard and he needed to take a drop -- Woods set in motion a series of events that shaped the remainder of the 2013 season, directly and indirectly impacting several of the game's most notable figures.
In hindsight, the person most grateful for Tiger's triumph may have been Fred Ridley, chairman of the Masters competition committee. The focus on Woods helped deflect criticism Ridley was receiving for the biggest rules controversy of the tournament: the one-stroke slow-play penalty given Chinese amateur Tianlang Guan during the second round. Any number of dawdlers make a comfortable living on the PGA Tour. How could a 14-year-old middle-schooler become the one to take the fall for five-plus hour rounds?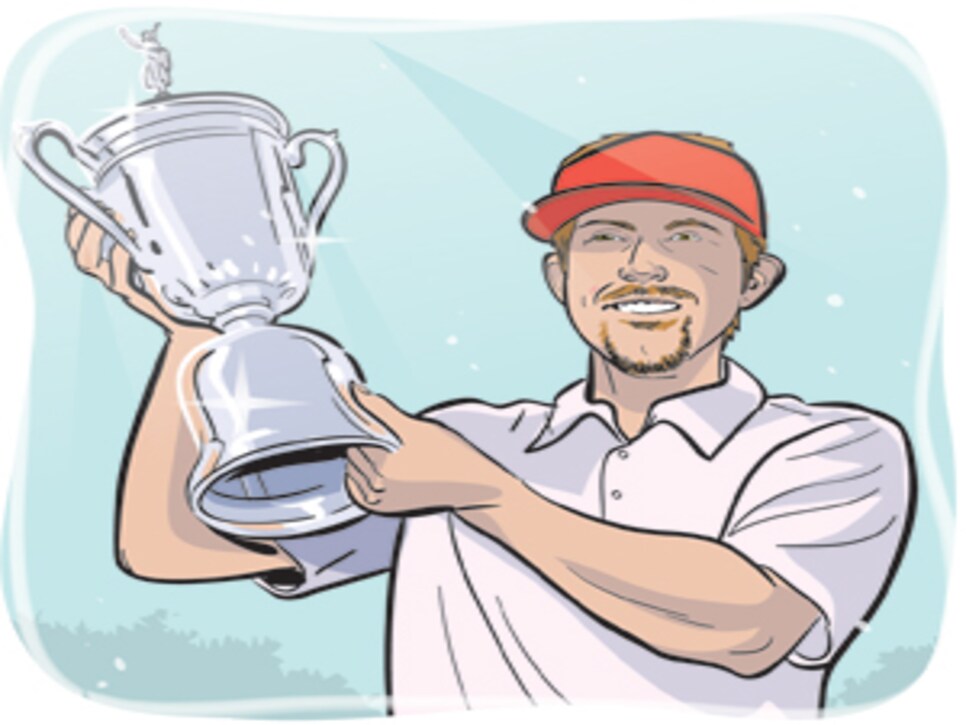 "Remember the line, 'While we're young?' They seemed to take it too far," quipped former PGA Tour rules official David Eger to a reporter shortly afterward, noting how he watched it all play out on TV at home and considered calling an official he knew was working at Augusta to see if Ridley might talk to Guan after the round and clarify what happened before his scorecard was signed.
Sadly the penalty caused Guan to miss the cut by one stroke, his four-over 148 now 11 back of Woods. The youngster awkwardly stuck around Augusta National that weekend, but his dejection -- and the subsequent scrutiny of his play -- caused him to change his plans for staying in the U.S. (despite rumors he had sponsors' exemptions lined up in a handful of PGA Tour events) and instead return early to China.
Officials with the USGA and R&A also owed Woods a thank you for becoming a helpful distraction. In May the governing bodies jointly announced formal approval of the proposed rule change that would prohibit the anchored putting stroke. An upset PGA of America president Ted Bishop continued to voice his opposition to the ban, but with Woods on the record as being against the use of belly/long putters, and Scott nearly making it four of the last six major winners to use one, the USGA/R&A had additional cover.
Had Scott become a first-time major champion at Augusta, one could argue it just might have inspired a host of other young players without major titles. Woods' win instead fueled just one: Hunter Mahan, who had become a friend while sharing time with instructor Sean Foley. The 10-year pro was among a group of thirtysomethings, including Justin Rose and Jason Dufner, who many felt were ready to break through in golf's premier events. Mahan, however, had extra incentive to get a move on: His season was going to be interrupted with the arrival of a new child in July. Fearful his career's own biological clock was ticking, he became more diligent in his practice.
"I took a lot of encouragement from Tiger," Mahan said. "He sent me a fantastic text after the Masters. He said, 'Your time is coming soon.' "
In hindsight, Mahan's one-stroke win in the U.S. Open after a final-round 70 wasn't a surprise. Soft conditions from early week rain didn't leave fabled Merion GC as defenseless as feared, and Mahan's ball-striking prowess gave him an edge. Rose, the eventual runner-up, could have forced an 18-hole playoff (à la Ben Hogan in 1950) with a birdie on the 18th but his 4-iron approach from the fairway ran through the green and he had to settle for a par.
"I actually had a dream last night that I was going to win," Rose admitted sheepishly. "Then I saw my ball on 18 near the Hogan plaque and thought maybe that was karma. But it wasn't meant to be."
From there, attention shifted to Muirfield for the British Open, where a year-old storyline boiled over. When Scott came into the press room Monday, he was barraged with questions about the collapse in the final round of the Open the previous year. As the soft-spoken Australian had done in several interviews since bogeying Lytham's final four holes, he insisted the experience strengthened his resolve rather than shattered it. Yet skeptical scribes wondered when, if ever, Scott might be a major champion.
By contrast, Woods' pre-tournament presser was much more congenial, the world No. 1 noticeably more relaxed now that the burden of questions about when he'd win another major had lifted. A T-32 at Merion wasn't the follow-up to his Masters win he hoped, but he was rather self-assured (read: cocky) about his prospects at Muirfield given the baked-out conditions. "It's feels a lot like Hoylake," Woods said.
As it turned out Woods needed his driver slightly more often than in 2006 -- three times rather than once. But once again he earned the title of champion golfer of the year with rounds of 69-69-70-71.
Standing beside Woods when the R&A's Peter Dawson handed him the claret jug was Phil Mickelson, who had won the previous week at the Scottish Open and thought he had finally found the trick to playing links golf. Despite a magnificent final-round 66, he fell two shy of Tiger. "It might have been the best round that nobody will remember but me," Lefty said. "On the bright side, at least I was runner-up at a different Open."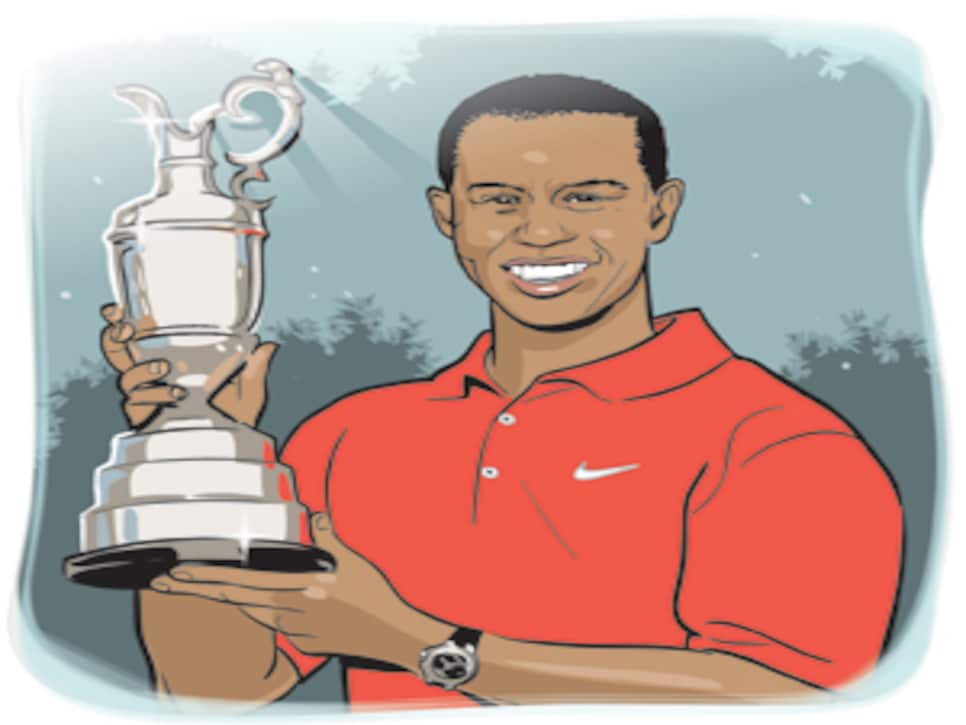 Although Inbee Park already had won three majors on the year, her pursuit of the women's Grand Slam was quickly overshadowed by Woods' quest for his third in 2013. As it turned out, Woods was never a threat at the PGA Championship, finishing T-40. Yet he had a hand in determining the winner nonetheless. Three days before play started at Oak Hill, he was chatting with Jim Furyk on the practice green and offered him -- to the amusement of some of his PGA Tour brethren -- a putting tip. "A little adjustment in my stance," Furyk revealed. "Don't worry, I know it really came from Stricker."
During Oak Hill's final round Dufner looked like he would join Mahan in becoming a first-time major champion as he had a masterful day tee to green en route to a Sunday 68. But Furyk avenged his 2012 Ryder Cup showing by making clutch birdie putts on the 12th and 14th holes, then spectacularly holed a 35-foot downhill, can-you-believe-that, par-saving putt on the 18th to win by a stroke after Dufner bogeyed the last two holes.
(Amusingly, Dufner stole some of Furyk's spotlight. Waiting for the trophy ceremony, the runner-up along with his wife, Amanda, plopped themselves on the ground beside a row of spectators. Photographers quickly snapped the couple in the familiar pose, the image again going viral and reviving the "Dufnering" craze.)
Winning the PGA secured Furyk a spot on the Presidents Cup team, bumping Zach Johnson from the top 10 in the points standings into the 11th spot. The result created agita for Fred Couples regarding his U.S. captain's picks. He ultimately went off the standings, picking Johnson and Webb Simpson (No. 12), with rookie sensation Jordan Spieth becoming the odd man out. "I know Jordan has had an amazing season," Couples explained. "He'll have plenty of these in his future."
Johnson justified the pick by winning that week at the BMW Championship, while Furyk's confident putting helped him earn four points as the Americans routed the Internationals.
Woods' year was not without controversy. At the BMW he was involved in his own rules imbroglio during the second round. Woods was adamant his ball hadn't moved behind the first green when he touched a stick nearby, but rules officials felt a video showed otherwise and gave him a two-stroke penalty for not replacing the ball.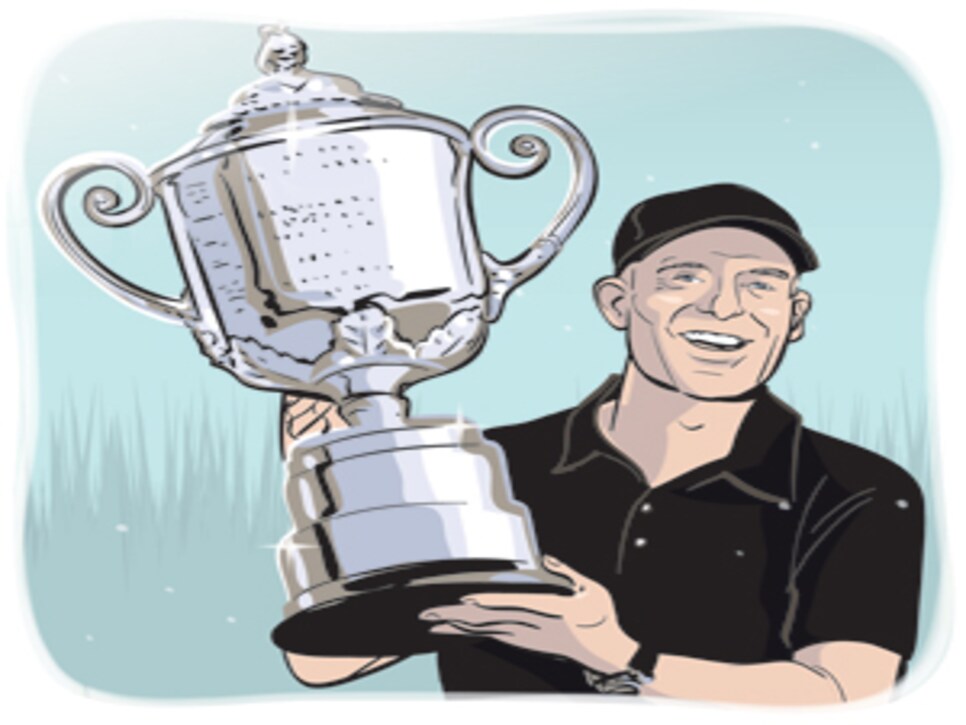 The next morning Woods did something those closest to him later confided might not have happened had the pressure of his major victory drought lingered. "After watching it again, I realized I was wrong," Woods told the press. "I didn't think it moved in real time, but after seeing it, well, obviously it did."
It didn't put a damper on a year that began while playing a practice round with then World No. 1 Rory McIlroy in Abu Dhabi. "He'll bounce back. Rory's just got to stick to his process," Woods said in a Golf Channel interview with Brandel Chamblee prior to hosting the Northwestern Mutual World Challenge.
During the Woods/Chamblee 15-minute sit-down, their relationship having thawed after Woods' BMW mea culpa, the now 16-time major winner took stock of what the difference was in 2013.
"The last few years there has been an anxiousness on my part, on the media's part, on everyone's, to analyze whether I could return to the way I played in the 2000s," Woods said. "At some point, though, I realized it didn't really matter. What was important was that I was still capable of great golf. When I finally stopped letting comparisons get in the way, it freed everything up."
Chamblee closed by asking Woods to recall the Friday afternoon in April, the second round of the Masters and the great approach shot at the 15th. "Have you ever wondered," Chamblee went on, "how different a year it might have turned out if you hit that flagstick like you feared? What if your ball did go in the water? Then what?"
The silence lasted four seconds before Woods smiled and said, "I can't even imagine."