Takeaways
Mickelson back to 'old' self, Woodland makes some surprising admissions, and Rahm's cut streak ends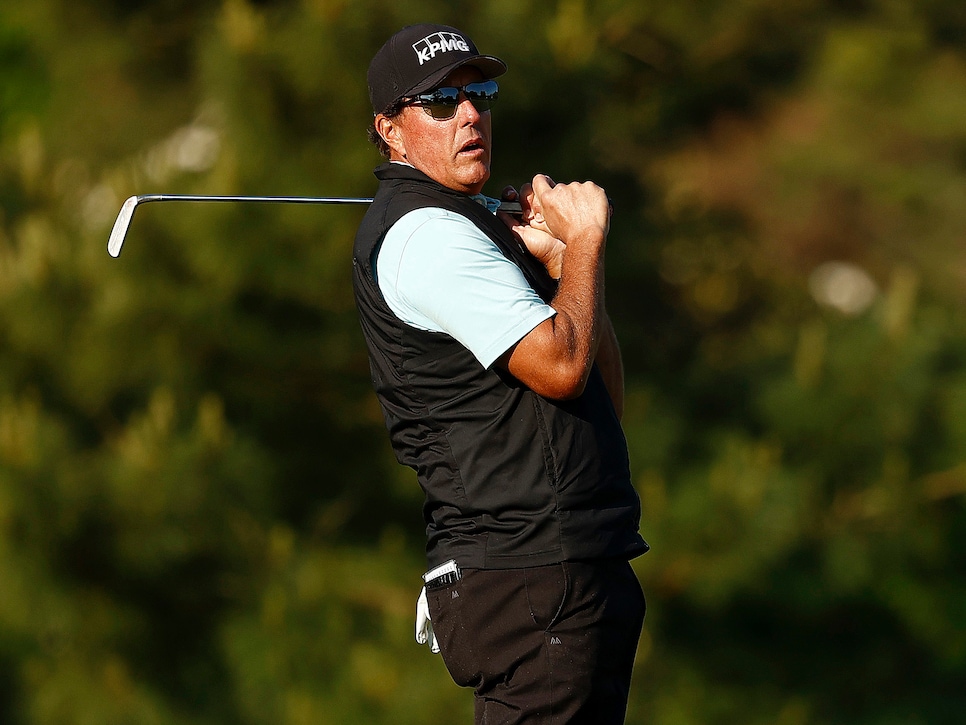 Phil Mickelson reacts to a missed putt on the fourth hole during the second round of the 2021 Wells Fargo Championship.
Maddie Meyer
Phil Mickelson looked to his old self on Thursday at Quail Hollow. Hitting bombs, holing birdies, treating par 5s like they're par 4s, holding court like a high school quarterback recalling the game-winning drive in the state final. On Friday, Mickelson looked like his old self, the one who's not so much holding court as is hanging on to what fleeting time remains on the PGA Tour.
But in spite of an 11-shot difference from Thursday to Friday, that time will extend into the weekend in Charlotte as Mickelson remains in contention at the Wells Fargo Championship.
"I don't know," Mickelson said about the change from Thursday to Friday. "I hit a lot of good shots on the front nine, I didn't make any putts and turned in even. Then the back nine I made—I just—I just wasn't sharp."
We fall back on a cliche, if only because it's true: One of the hardest things to do in golf is follow up a great round. This is especially true at Quail Hollow, a course that will facilitate its share of red but can be a bully to anything less than good. And in Round 2, Mickelson, well, wasn't good. He hit just seven greens on the day and had two self-admitted mental blunders coming in. The first came at the par-5 15th, where he pulled his approach and followed up with two poor wedge shots, leading to a bogey on the third-easiest hole of the week. He compounded the error by hitting into the water on the par-3 17th, continuing the struggles Mickelson expressed last week regarding a lack of focus during his rounds.
"I think kind of an example of what I've been talking about is like on 17, we're standing over the ball and I'm changing my mind and I'm changing the shot, moving the clubhead a little bit and it just, instead of backing away and kind of refocusing, I just kind of hit it and I'm not really kind of aware of what I'm doing," Mickelson said. "So, I've got to fix that and work on it."
Given the gap between the two performances, it's fair to wonder what's in store for Phil over the next two days. Friday was more indicative of what Mickelson has shown this season: 121st in birdie average, 196th in bogey avoidance, 175th in strokes gained. Yet the soon-to-be 51-year-old is just three shots out of the lead, at a tournament where he owns a runner-up, two thirds and 10 top-10 finishes. While it's easy to think what a win would do for Phil—chiefly, bestow enough OWGR points to qualify for the U.S. Open in his hometown of San Diego—first comes Saturday, a day that has not been kind to Mickelson this year (159th Round 3 scoring).
"I'm excited to be in contention heading into the weekend, and I know I'm playing well. So that will be a big thing for me, to be present on each shot because I threw two shots away on 15 and two on 17, and that ultimately, things I've been doing and I just can't keep doing that," Mickelson said. "And I'm optimistic for the weekend."
No matter what form of self shows up for Phil this weekend, it will make for an entertaining show.
Three other takeaways from Day 2 at the Wells Fargo Championship.
Woodland showing signs of life
Matt Wallace, Patrick Rodgers and Gary Woodland share the lead at the end of Round 2 at six under. The display continues a solid trend for Wallace, who's posted top-25 finishes in three of his four starts heading into North Carolina. For Rodgers, Thursday and Friday have shaken the cobwebs from his game (four cuts in the last five outings).
However, it's the major winner that's the surprising name of the trio. Woodland broke 70 just four times in his last 23 rounds heading into the week and ranked 149th in the FedEx Cup. The 2019 U.S. Open champ has been dealing with injuries the past two seasons that have zapped his prowess and vitality. Yet, according to Woodland, it was last weekend's missed cut at the Valspar Championship that has spurred his showing at Quail Hollow.
"Last week was pretty much rock bottom for me," Woodland said. "Golf course that I've had success on, won on and went out and played absolutely miserable, missed the cut. Made a change, went back, talked to Butch [Harmon] on Saturday, worked with him over the phone. And then Pete Cowen was in town working with Rory, so Pete came down and we worked in person on Sunday. Went back to really set down and seeing what I've been doing the last year compared to what I was doing three, four years ago when I was hitting it well. Saw the difference visually and then we kind of tried to get back to that."
Woodland continued that he got into some bad habits in trying to manage his hip issues. But, while saying his health and swing feel great, he shed light on what really has been holding him back.
"Confidence has gone way up, which I did not have really in the last year. Even when I had good rounds, I haven't been confident," Woodland said. "I can lie to myself and tell myself I was excited to be there, but I haven't been excited to play, to be honest with you, for the last year. It's nice. Last weekend was a big deal for me. Came here this week, I feel great all week. The golf course is amazing this week, I love this place. So, it's exciting right now and I'm excited for the future as well."
Clearly that conviction is working. He's gained nearly six shots on the field in tee-to-green and three strokes in putting this week while racking up 10 birdies. His 69-67 puts him in position for his first win since his Pebble Beach triumph two summers ago.
To be fair, Woodland hasn't been in the wilderness this entire span, logging a T-6 last month at the Valero Texas Open. Conversely, after capturing a major, a player is no longer judged by top-10s. And though a victory would mean a heck of a lot, Woodland is already seeing the big picture, which could lead to big things.
"If you're playing great, if you're playing well and you're confident, that's a good thing to keep rolling," Woodland said. "Where I've been, I haven't been excited to get out to a golf course in a long time so it's been different this week. I'm excited to be here and excited to play coming up."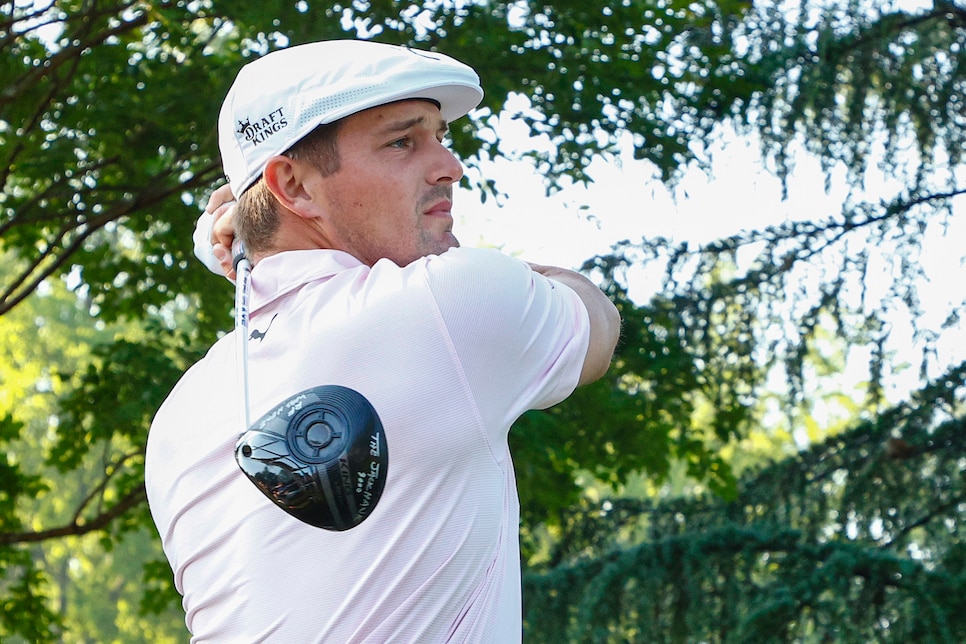 Bryson DeChambeau plays his shot from the 11th tee during the second round of the 2021 Wells Fargo Championship.
Jared Tilton
Through 33 holes Bryson DeChambeau was holding steady. His even-par score wasn't spectacular, especially against the rest of Friday's morning wave making a move up the board. But with two of Quail Hollow's easiest holes remaining—the par-5 seventh and very gettable par-4 eighth—DeChambeau had a chance to vault into contention.
Instead, the reigning U.S. Open champ barely made it into the weekend.
DeChambeau's 339-yard drive cleared the seventh's left-side bunkers, leaving just 183 yards in, but he flared his approached into the pond that guards the green. His drop from 82 yards followed suit, zipping off the green and into the water. While his second drop was just off the green, his sixth from 18 feet left five feet and change for double, which DeChambeau failed to convert. For those scoring at home, that is a triple-bogey 8, nearly three-and-a-half strokes higher than the field average.
To his credit DeChambeau bounced back with a birdie at the eighth, but the damage was done. For the week, Bryson lost nearly seven strokes to the field in approach, last among those who made the cut. Luckily for Bryson, a late collective stumble by the field brought those at two over into the weekend. But DeChambeau would need something special to be more than an afterthought heading into Sunday.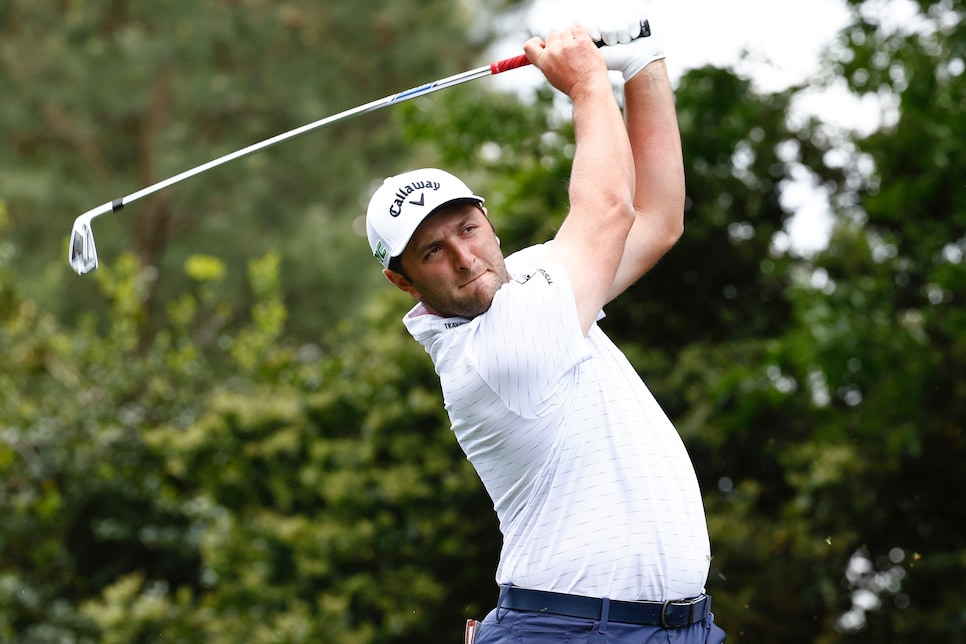 Jon Rahm plays his shot from the sixth tee during the second round of the 2021 Wells Fargo Championship.
Jared C. Tilton
Rahm misses first cut in 11 months
Without looking at his results, has Jon Rahm had a good year? Feels like he's been a tad off, yes? Except a fact-check shows how wrong those sentiments are, as the Spaniard entered Charlotte with nine top-10s in his last 11 starts. Granted, some of those are of the backdoor variety, and he really hasn't contended, truly, late on a Sunday since October's Zozo Championship. Still … nine top-10 finishes in his last 11 starts! His stats tell a similar tale: fourth in SG/tee-to-green, eighth in scoring, 12th in the FedEx Cup. It's a testament to Rahm that an "off" season would be a career year for anyone else.
Alas, an opening-round 76 put Rahm in a deep hole at Quail Hollow, and though he battled with four birdies and an eagle Friday afternoon, he was undone by five bogeys (including his last two holes) and a par at the par-5 15th.
It is Rahm's first missed cut in 329 days, his last MC coming at the tour's 2020 season restart at the Charles Schwab Challenge, and ends his tour-best streak of 22 consecutive cuts made. At this point we are contractually obligated to remind the audience that Rahm comes up just short of the PGA Tour record for most consecutive cuts made, with Tiger Woods narrowly hanging on to the mark at 142 weeks.