The Loop
A LOT happened at the Web.com Tour Championship. Here are 9 things you need to know
The Web.com Tour Finals concluded with the Tour Championship on Sunday and finalized who will be playing where next season. Twenty-five golfers earned their PGA Tour cards for 2014-15, joining the 25 who had already done so by their finish on the Web.com Tour's regular season money list. Those heartwarming tales were just part of a story that had plenty of heartbreak as well. Here are some of the highs and lows from Sunday's finish at TPC Sawgrass.
-- Derek Fathauer didn't need to do anything last week, having already locked up a PGA Tour card through his regular season play, but that doesn't mean his Web.com Tour Championship win wasn't important. In addition to the $180,000 check he earned for his first professional title, Fathauer finished first in the Web.com Tour Finals (the four-event postseason series). That means he is fully exempt on the PGA Tour next year and will make his first appearance at the Players.
-- Adam Hadwin will also have the same privileges as Fathauer next season based on finishing first on the Web.com Tour combined money list from the regular season and postseason. Coincidentally, Hadwin was a teammate of Fathauer at the University of Louisville from 2004-2008. Sounds like a pretty good Cardinals squad.
-- Carlos Ortiz missed the cut in his final three events of the season, but he might be the Web.com Tour graduate most likely to succeed on the PGA Tour next year. Ortiz's playoff performance had no bearing on his status for next season after a third Web.com Tour win of 2014 ensured him an immediate promotion to the big leagues next year. The 23-year-old Ortiz is the first player since Michael Sim to win three times on the developmental tour in one year, and is just the fifth Mexican player to earn his PGA Tour card.
-- Eric Axley, a former PGA Tour winner won't be fully exempt like the Fathauer, Hadwin, and Ortiz, but he's relieved to have any status at all. After missing a five-footer for par on the final hole, Axley waited for nearly four hours to see if he would get his card. He did, barely, finishing No. 50 on the Web.com Tour's priority list.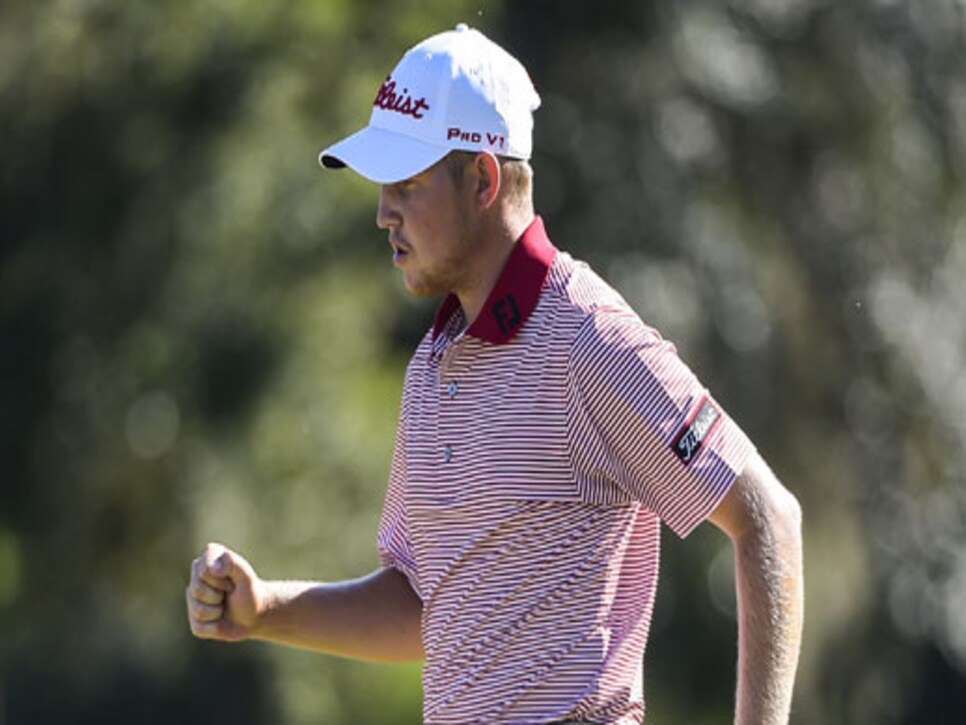 Zac Blair had a big week at TPC Sawgrass.
-- From the highest of highs to the lowest of lows, Roberto Castro is feeling a little different than the first four guys mentioned. After finishing No. 135 on the FedEx Cup points list, Castro finished a slim $31.66 behind No. 50 Eric Axley on the Web.com Tour Final's money list. That difference means instead of a return trip to the PGA Tour, Castro, who tied a Players Championship record with a 63 in 2013, will now have to earn playing status on the Web.com Tour at Q School in December.
-- Travis Bertoni is also feeling a bit blue today after narrowly missing out on earning his PGA Tour card. Instead of talking about what happened to the 30-year-old journeyman, why don't you just watch:
It doesn't get much more brutal than that.
-- Back to happier things, Arnold Palmer is one proud grandpa today. Sam Saunders' strong playoff run (T-4, T-16, T-12, and T-7 at the Web.com Tour Championship), means the King's grandson will be a PGA Tour member for the first time in 2014-15. In 22 career events on the PGA Tour, Saunders has two top 25s.
-- But no one came up bigger in the season's final event than Zac Blair. The recent graduate of BYU had missed four straight cuts and was No. 118 on the Web.com Tour's priority list until his solo second at TPC Sawgrass vaulted him 107 spots. Blair was one of six golfers to play his way into the tour's top-50 priority list.
-- Oh, well, maybe one player came up bigger. After stumbling with a Saturday 75,Nick Taylor needed a low final round to finish in the top 50 on the priority list. He responded with a 63 -- the low round of the day by three shots -- to earn his PGA Tour card for the first time. Clutch!