Amateurs
Americans happy to take a 7-5 halfway lead, but know the Walker Cup is far from over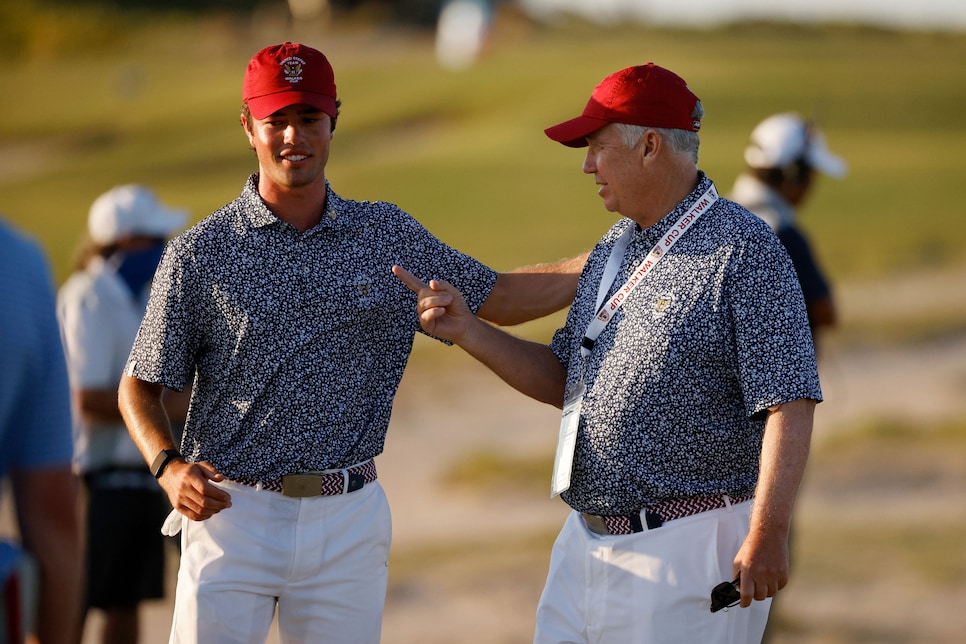 Cole Hammer celebrates with captain Nathaniel Crosby after winning his match against John Murphy during Saturday's afternoon single session.
Cliff Hawkins
JUNO BEACH, Fla. — It's not often a two-day competition can be called a battle of attrition. But it's hard to describe the 48th Walker Cup as anything but that … and we haven't even reached Day 2.
Saturday's double-session, 11-hour marathon at Seminole Golf Club saw the unprecedented format change of allowing alternates to compete as regular members of the U.S. and Great Britain & Ireland teams and players be moved in and out of the lineup with as little as 20 minutes to spare before their starting times.
The good news is that the stomach bug that's left the biennial matches under the weather—15 players have received medical attention this week as well as both captains—has been an equal opportunity disrupter. And so while the Americans ended the day with a 7-5 lead, the potential for a dramatic Sunday at the famed Donald Ross course remains.
"It's just amazing we're playing at all," said an exasperated U.S. captain Nathaniel Crosby. "And I feel the U.S. is very fortunate to have a narrow lead going into the second day."
After the morning foursomes matches ended in a 2-2 tie, there was a bit of optimism thanks to the fact that the two captains laid out singles lineups that would mean all 10 members of the original rosters would play a match on Saturday. Maybe, finally, hopefully both sides would be healthy enough to let the golf become the main story.
But that was short-lived.
First, GB&I captain Stuart Wilson had to pull British Amateur champion Joe Long, the highest ranked player on the visiting team, from his match against Quade Cummins. (Marty Lamb would prove up to the challenge, winning 2 and 1.) Then U.S. Amateur champion Tyler Strafaci fell ill on the driving range just minutes before his match against Ben Jones was set to play. Enter William Mouw, who rallied to win, 4 and 3, over Ben Jones.
Thankfully, Saturday singles did bring some positive stories. Pierceson Coody, who two nights before was getting IV fluid at a local hospital, was back to his old self, playing in first match against Alex Fitzpatrick. The 21-year-old junior at the University of Texas beat the GB&I standout, 2 up.
"It was really frustrating," Coody said of missing the morning session, although it did allow him to sleep in until 9 a.m. and eat his first meal in nearly two days. "Ever since I started my college career, this is all I wanted to be able to do. Not to be able to go out this morning was a tough thing."
"I'm not going to lie, it's been hard," said Cole Hammer, one of three Americans who were on the winning U.S. team in 2019 at Royal Liverpool. "We were starting to drop like dominos. But we rallied around each other and told ourselves we were going to put out the best guys and get the job done."
The 21-year-old junior at Texas did just that, winning his morning foursomes match with Davis Thompson, then beating John Murphy, 3 and 1, in afternoon singles.
Joining Hammer as a two-point winner for the Americans was Ricky Castillo, who took down GB&I's Ben Schmidt, 5 and 3.
Another big point came in the afternoon from Mouw, who only had about 20 minutes to warm up on the range after learning that Strafaci couldn't go.
"I was talking with my caddie in the caddie yard and got a call from [team manager] Robbie [Zalzneck], and he says, 'Hey, William, I need you down by the range. I need to talk to you.' So I went to the range and saw Ty was struggling a little bit, and first my concerns were on Ty to see how he was doing, and he was struggling a little bit, and he said, 'You know what, I don't know if I'm going to be able to play the afternoon, would you mind taking my spot,' and I said, 'Yeah, I'm ready.' "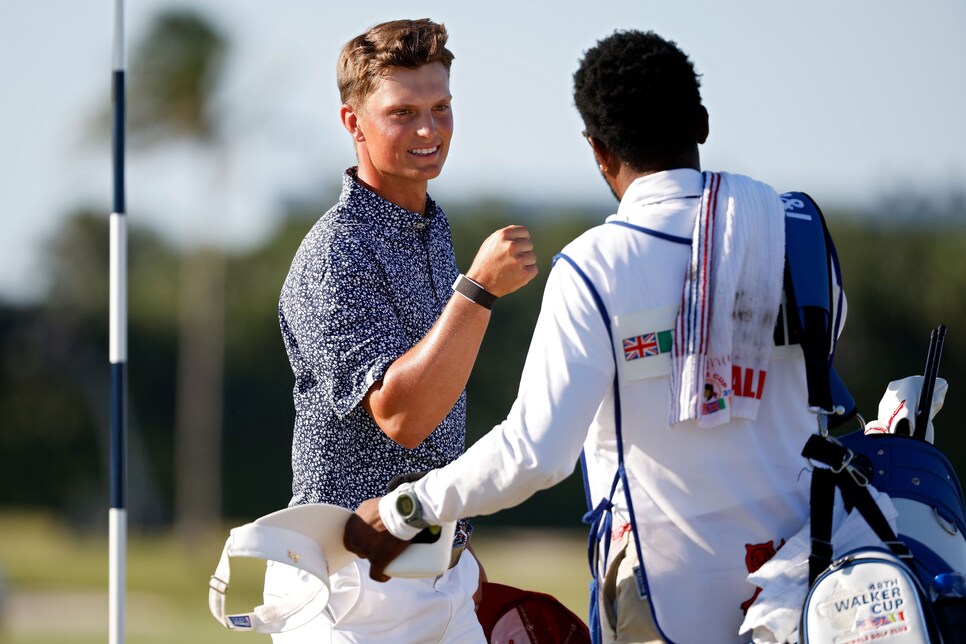 William Mouw had about 20 minutes to get ready for his afternoon singles match after being a late substitute for Tyler Strafaci. Mouw still pulled out the win to help the U.S. take a 7-5 lead at the end of play.
Cliff Hawkins
Like Coody, Mouw was down and out on Thursday night but well enough to play twice on Saturday, the singles victory making up for a lost match in foursomes.
How the teams adjust now is unclear. Crosby says there won't be any big speeches Saturday night to rally his players. ("I have no Knute Rockne [in me]," he joked.) Rather he'll just encourage them to get something to eat in their rooms and then get to bed.
"Hopefully we'll wake up and everybody is healthy," Crosby said.
Wilson, too, was straightforward when asked about the task his visiting team now faces in trying to become just the third GB&I squad ever to win on U.S. soil
"Obviously I thought all the guys fought really hard. I think we're disappointed to be behind," Wilson said. "The singles this afternoon was very, very close to finishing the day at 6-all, but unfortunately didn't quite go our way towards the end there. But we've got an extra two points to play for tomorrow, and we still feel like we're very much in it."