The Loop
Waialae CC was the setting for the worst golf video game man has ever known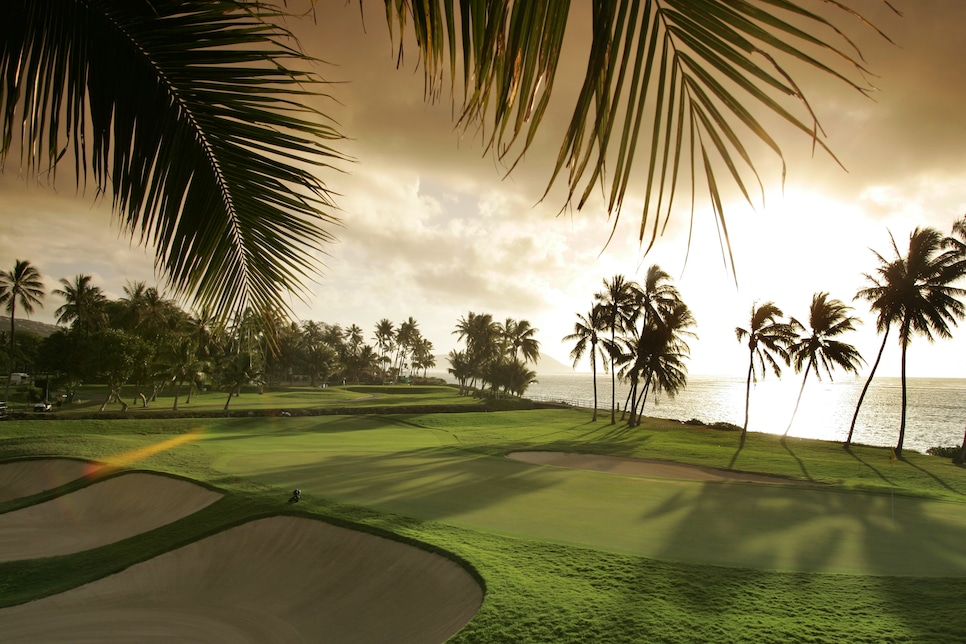 Golden Tee, Tiger Woods PGA Tour, Hot Shots. All on different video systems, emitting from separate eras, but each with an argument for the best golf video game of all time.
Not on this list is Nintendo 64's Waialae Country Club: True Golf Classics. With good reason; it's an abomination. Arguably the worst sports game ever produced.
On the surface -- thanks to increasingly realistic visuals, complex storylines, range of difficulty and interactive play -- it's easy to sneer at video games of the past. Yet, overwhelmingly, there's a genuine appreciation and nostalgia for the electronic diversions of old.
That sentimentality is seen on the market, as buying a 1980s or '90s video game can cost the same price as a just-released product. Retro-themed arcades are becoming a trend on the bar scene. Hollywood tapped into the reminiscence last summer with the movie Pixels.
This includes the sports realm as well. The popularity of Tecmo Bowl, NBA Jam, NHLPA Hockey '93 -- you know, the one where you can make Gretzky's head bleed -- spans across generations.
For golf, Golden Tee is the holy grail. The game has seen dozens of iterations since its inception in 1989, yet the basics of the game has remained strikingly true to the original's. Bars across the world are stocked with this game, and its popularity has brought the game to new devices.
Unfortunately, despite sharing similarities to Golden Tee, Waialae Country Club missed the mark. Where did things go wrong?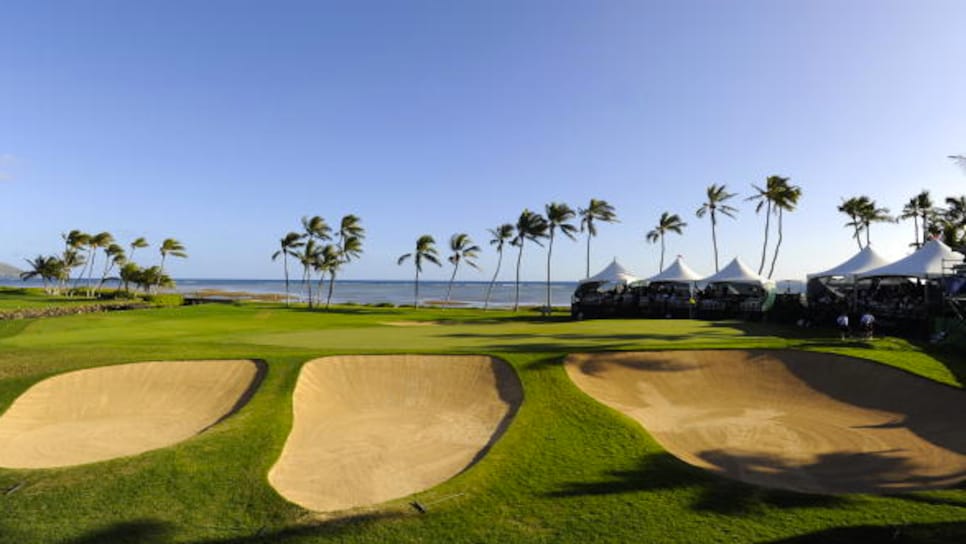 For starters, the scenery, or lack thereof. Host of the Sony Open on the PGA Tour, Waialae C.C. is an exquisite layout from Seth Raynor and his disciple, Charlie Banks, sprawling across the isle backdrop of Honolulu, Hawaii. Though it flaunts its own characteristics thanks to 83 bunkers draped by monkey pod and kiawe trees, Waialae serves as a testament to other great courses. The 10th at Waialae is an homage to St. Andrews' Road Hole; the eighth, a nod to North Berwick's Redan Hole. Raynor and Banks also added elements from the National Golf Links of America, and France's Biarritz Course.
Not that you would ever know it from Waialae Country Club. The video game fails to give the course scenic and idiosyncratic justice. Simply put, each hole looks the same. I'll never forget playing Waialae in the maintenance shed at my local course during a rain delay in high school. When the superintendent discovered what course was supposed to be represented on screen, he shook his head.
"I've played there twice. That's not Waialae."
The greenskeeper was not alone in his judgment. Here's what video game reviewer IGN had to say about Waialae:
"Maybe its because T&E Soft (the production company) is trying to release what is essentially a first generation title so late in Nintendo 64's life, but this game looks dated. What should be a high-resolution game with motion-captured players and polygonal backdrops is instead unfortunately a bitmap-infested, unimpressive blur with 2D backdrops that flicker endlessly. To make matters worse, the framerate is far from smooth. The Nintendo 64 is capable of so much more."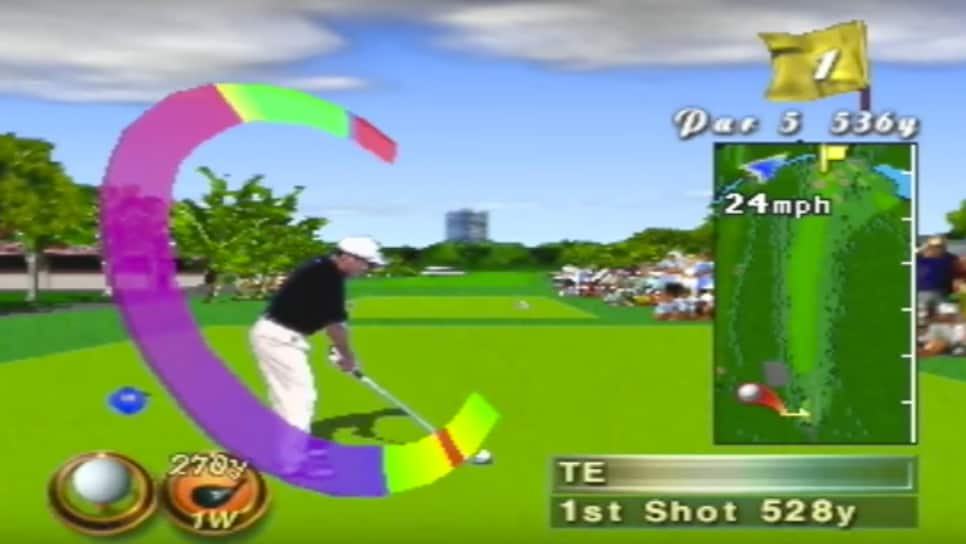 Let's briefly shelve that the visuals were not, ahem, up to par. The game falters on another major front: You can only play at Waialae C.C. Perhaps this shouldn't be a shocker, give the name of the game is Waialae Country Club. But this makes it extremely repetitive and stale. Even country-club members venture to different courses for the variety. Hell, the game could have been at Augusta National, and you'd get bored. (OK, bad example. You'd never get tired of Augusta National. But you get the point.)
The gameplay proved another pitfall. I suppose if you're going to err on making the game too easy or difficult, you'd take your chances on the former. But there's a difference between a primitive joystick and "so easy your 80-year-old grandmother can play" controls. Not that we have anything against grandmothers playing video games; most gamers are simply looking for a tad more difficulty, that's all. Instead, within five minutes, the user has figured out everything they need to know about the game.
Worse, in terms of ambition, the game's objective -- winning the "Waialae Open" -- can be accomplished within the first day of play. After that, the only purpose is for multi-player action. Which can be problematic; due to the game's uncomplicated nature, matches usually end in a tie.
I'd be remiss in failing to mention the soundtrack. You're introduced to music that's intended to represent the tropical, laid-back paradise of Hawaii, but, in reality, sounds like warped tones you'd hear in a Saw horror flick. Plus, the synchronization of golf sounds, like an old American-dubbed karate movie, are way off. The ball is seconds in the air before the contact radiates from the speakers. It's a small annoyance, but one that you never quite hurdle.
Seriously, watch these shots and tell me the lack of harmony doesn't mess with your head:
As for the commentary? Well, back to IGN: "Real golf is known for its boring commentary and Waialae captures the overall experience perfectly." Ouch.
You couldn't even customize your character's appearance in gender, race, style, equipment. This game offered bupkis.
Sadly, it cannot be categorized in a "so bad it's good" fashion. That type of label -- see Gigli or "We Built This City" -- preserves "art" in culture. In an odd sense, because it falls short of those standards, Waialae will be consigned to oblivion.
Which is why I'm writing this post. No one should forget the boredom suffered by thousands at the hands of this video game. There should be monuments erected to the monstrosity, places where people can go and think on its sins, with "NEVER AGAIN" bronzed in plaques.
The PGA Tour's best will be on Waialae's grounds this week. But never, ever forget that Waialae, the game, was the worst.