News
Veteran Lido Competition entrant shows his Alister MacKenzie acumen with winning 2018 design
In the realm of golf course design, there are no absolutes. But there are a few truisms, and one of the most fundamental is that all golf holes are variations of other golf holes. Which explains why the same basic design concept, offered by the same guy, can win two separate golf design contests.
Back in 2011, David Hoekstra, the pride of Pella, Iowa, won the Lido Design Competition—the annual golf design contest co-sponsored by Golf World and the Alister MacKenzie Society—with an entry based roughly on the par-4 14th at Augusta National. This, of course, is understandable, since the object of the contest is to create imaginary holes that reflect the design philosophy of the late, great MacKenzie. While the entry from Hoekstra featured an Augusta-like wide green of exaggerated contours, unlike Augusta's 14th, he protected his green with several bunkers and dunes. He also expanded his fairway into two distinct landing areas, each providing an optimum angle of approach depending upon the location of the flag that day.
As it turns out, a second Hoekstra design is this year's winner of the Lido Competition. And on the face of it, it's arguably the same hole: a short par 4 with an overly wide fairway divided into distinct landing areas leading to a wide green guarded by dunes. But upon closer examination, it's a far different hole, a far more refined design, less expansive in its dimensions than his 2011 winner yet offering just as many playing options using, this time, a diagonal green.
"This is a lovely golf hole," said David Dale, the Santa Rosa, Calif., golf architect who served as the 2018 Lido Judge. "This is one hole where a split fairway actually works. There's a deck on the right, or you can drive to the lower elevation, which shortens the distance but forces play up over a front left bunker. Do you want to be hitting a longer iron from up top or a shorter iron from down below, at a more awkward angle?"
"I really love the green," Dale added. "It's a friendly green, with ridges that can feed the ball to different spots, but the whole thing is still cuppable. It's not a big hole, but it looks like a fun, exciting hole. People would talk about this hole long after playing it."
Dale selected Hoekstra's design from 70 entries, submitted from the U.S., Canada, Great Britain, Australia and Finland, and from among 17 finalists. Among them was the first-ever entry by a PGA Tour pro, Zac Blair, a noted golf course architecture junkie.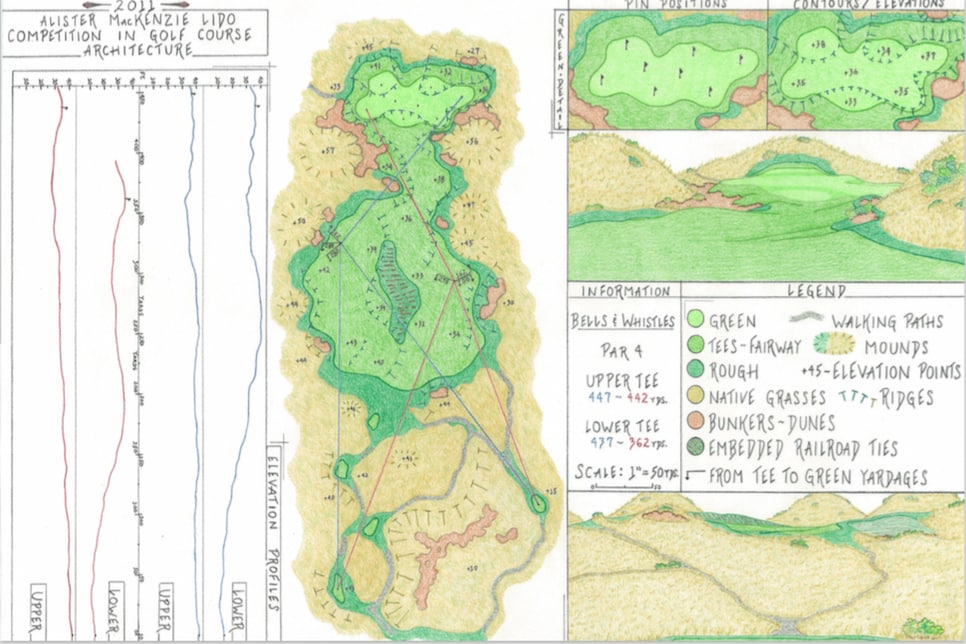 Hoekstra, now 36 and the machine shop manager at Vermeer Manufacturing in Pella, dubbed his 2018 design "High and Low" to highlight the upper-right, lower-left nature of his proposed fairway, but also to emphasize that the hole can be played with both high and low golf shots.
"I've now played enough MacKenzie courses to know that you don't have to be perfect off the tee," Hoekstra said recently, "but you still need an ideal angle to the green in order to score well. I created undulations around and on the green to help reach certain targets by bump-and-running the ball, if you can use them. But at the same time, I didn't want to discourage golfers who prefer playing through the air."
For his effort, Hoekstra was awarded the $3,000 grand prize from the MacKenzie Society and another $2,000 in travel expenses to assist his attendance at the Society's annual meeting this August in England. Hoekstra plans to attend with his wife, Jessica.
The 2017 Lido winner, Bryan Orellana of Fort Wayne, Ind., had a design selected for second place this year, while third went to Robert Hoye of Dover, Mass.
Hoekstra is the third person to have won the Lido Competition twice, following Bo Links of San Francisco (2007 and 2008) and Cameron Hurdus of Ventura (2012 and 2016). He's also finished as the runner-up twice, in 2009 and 2014, each year's competition judged by a different golf architect. Clearly, Hoekstra possesses some talent in the conceptual aspects of golf design, and he continues to dream of someday breaking into the business. Somewhere there is a golf course architect needing fresh ideas who ought to give Hoekstra a call.