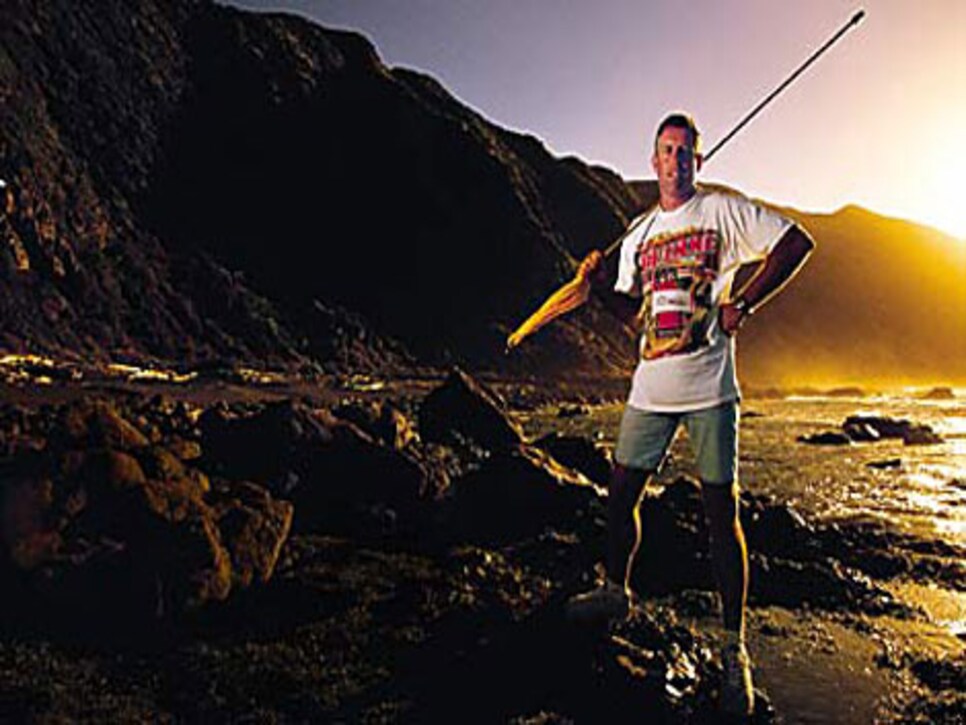 Williams loves his native New Zealand, making about 10 trips back each year when he's not caddieing for Tiger Woods. Here he's at Paraparaumu Beach, 10 minutes from his home.
Steve Williams had planned to be retired by now, racing cars in his beloved native New Zealand. But then Williams got an offer he couldn't refuse: Would he like to caddie for Tiger Woods?
Williams had worked for some high-profile players, like Greg Norman and Raymond Floyd. But Tiger clearly has emerged as the world's No. 1 golfer, and Williams has contributed to that success.
"Without Stevie, I might not have won the 2000 PGA Championship," says Woods. "The 12th hole at Valhalla on Sunday, the wind changed and Stevie called me off the shot, telling me to hit it harder than we'd planned. He had the guts to do that." And Tiger had the respect to listen to him.
Williams was once a pretty good golfer, until he left home for Europe at age 15 so he could become a professional caddie. His parents thought he would get homesick, but Williams never looked back.
Player-caddie relationships on the PGA Tour can be all business, yet Woods and Williams are seen off the course, too. Williams has always avoided Tiger's limelight — "I'm just a caddie; I don't hit any shots" — but in a series of interviews, he talked about where he came from, where he's going and what he has learned from caddieing for the best player in the world.
Golf Digest: Has Tiger ever thrown down a ball on the range or during a practice round and said, "OK, Stevie, let's see what you've got"?
Steve Williams: You mean, me hitting it? Oh, I guess it's happened, but he's out there to get his work done, and so am I. It doesn't accomplish much if I'm the one hitting balls.
Have you ever played golf with him?
Twice, I think. On the Saturday in 1999 before the Showdown at Sherwood that Monday against David Duval. And once where Tiger lives, at Isleworth in Windermere [Fla.]. He gave me four shots a side, and I think we each won nine holes.
That Showdown at Sherwood in prime time got a little sticky for both of you. Tell us the story.
It was a hot August night outside Los Angeles, and we're in that against Duval. The caddies were told to put long pants on, and I thought that was ridiculous. Even though we were playing late in the afternoon and into the evening, it was real hot.
The PGA Tour official said to us, "If you don't put on pants, you [Tiger] aren't playing."
So Tiger says, "Then I ain't playing."
Then the official said, "If you aren't playing, then you aren't going to play the PGA Tour."
Tiger said, "Good. I'll go play in Europe."
Tiger played. I wore shorts.
Could caddies be treated better?
Some tournaments treat us well, some not so well. I've caddied all over the world, and there's probably less regard for caddies in America than anywhere else. A lot of places over here, we're lining up for sandwiches and portable toilets during tournaments. There are no facilities for us.
'The talk was that Tiger had fired Fluff, and all the caddies were buzzing about who might get that job--a job to kill for.'
How did the caddie career begin?
I was a 2-handicap when I was 13. I thought about trying to be a pro golfer, and that being a caddie would help me learn. But when you become a caddie, you basically give up golf, and that's what I've been since I was a kid. I started caddieing when I was 6 or 7 and really enjoyed it. Plus, I used to get good feedback from the people I caddied for. At that time, I wanted to grow up to be either a stock-car driver, a player on our national rugby team in New Zealand, the All Blacks, or a caddie.
I wound up doing two of three, which isn't bad. All but rugby.
And when you told your father you wanted to be a professional caddie ...
He didn't think much of it. Same with my mother. And, of course, to make any real money as a caddie, you had to go abroad. You can't do it in New Zealand or Australia. So, at 15, I told them I was leaving home. I had saved up some money from working in a butcher shop for two years, so I could afford to take off.
Butcher shop? What about school?
School was of no interest to me. I would take the train, just like I was going to school, but then the guy who was the butcher, Allan James, would pick me up and take me to his place, where I did whatever I had to do, whether it was making sausages, washing floors or cleaning up the bones.
How did you get away with that?
Well, every so often I would get expelled or suspended. Then my dad would give it to me, bar me from the golf course for a week and tell me to go to school. Which I would do for about a week, then go back to what I was doing.
There was only one subject in school that I was good at — mathematics — and I figured out that I had saved about $20,000 by the time I was 15, doing all sorts of odd jobs, including caddieing.
What were some of your other jobs?
I used to pick mushrooms and then sell them on the side of the road. It sounds like I was working all the time, but I had heaps of fun. Hanging around the golf course with mostly older people, I learned things that I couldn't possibly have learned from school. Grown-ups I caddied for, if they went and got drunk, they trusted me to drive them home. And I was just a kid.
Where was your mom on all this?
We would argue once a week. She would tell me, "You will get an education, you will finish high school and you will go to university." My dad was more lenient. He could see a little of himself in me. When I told my parents I was leaving for London, they thought I would be back right away.
So you went to Europe to be a caddie.
I knew some of the pros from New Zealand and Australia, so I had a few contacts. Back then I think the pay was like £50 a week and 5 percent of your player's winnings. I lived on the run, from tournament to tournament, but I loved it. I knew I'd done the right thing.
What do you like so much about the job, and why are you so good at it?
It's fun and it's outdoors. I'm a perfectionist. At the end of the week, I always look back at what I've done and think about what I could have done better. Just like the players do. Of course, you could do the best job possible, but it's still up to the player to hit the ball.
What have you learned from being around Tiger?
I always thought I was very committed, but working for him, I've seen another dimension. My racing has actually improved since I started with Tiger. One reason is that I'm stronger; I don't get as tired. I've always taken care of myself, but he introduced me to weightlifting.
I never went into a gym before Tiger. And I'll never forget the first time I went in with him: World Cup in Malaysia, 1999, I go lift weights. He puts me through a routine, and I feel great — gee, this is nice. Next morning, I woke up and I was so sore I couldn't lift my toothbrush to my teeth. We get in the car to go to the course and he asks me, "How do you feel?" I said, "Oh, great." No way I was going to admit that I was sore.
We go out on the course, and I have to hold the flag when he's putting. I hold the stick with my right hand and put my left behind my back. Well, I was so sore. I had to use my right hand to get my left hand behind my back. It hurt both arms to do it, of course, and he obviously saw me in pain. So, going back home in the car he says to me, "Stevie, a little too sore to handle that flag today?"
Absolutely. We know how he works on his mind. You don't see how he works on his body. I have. He beats me by about four strides in the sprints. He gets me at 100 and 200 yards, but anything longer than that, I'll get him. He's dynamic off the marks; that's where he beats me.
Some players might hit more balls, some players might lift more weights or run more miles, but all around, I can't see anybody working harder than Tiger. All that preparation has to be one reason he's so good under pressure. He thrives on it. Last December at his Williams World Challenge, when he's got a million things going on as host, Tiger was on the range until dark. He and Vijay Singh. The only ones. And they finished first and second. Before that, in Palm Springs — I think we came in from China or Japan; we'd been to both places — it's two days before the Skins Game. Everybody's gone, but he's out there hitting balls until the sun goes down over the mountains. Not only dark then, it's cold in the desert.
People say he's got all the shots. Where do you think he gets them? By doing them over and over. Maybe that's why we get along so well. We both work hard, we're both confident in what we do. If Tiger asks me what I think, I'm going to tell him. I've never told him or any other guy I'm working for what I think they want to hear.
Of course. I make mistakes all the time. On the Saturday at the Williams, I said 7-iron, he was thinking 8-iron. He hit 7-iron over the green. Should have hit 8-iron. He bogeyed the hole. I told him after the round that I gave him the wrong club. It's his decision in the end, but he's great when I screw up. It's not that I'm not trying. He knows that.
Tiger probably trusts you as much as anyone in the world.
One of the reasons Tiger is so successful is that he surrounds himself with good people. They all know when to have fun, starting right with Tiger, who is very, very funny. It's too bad the public really doesn't see the side of him the people in his inner circle see. But those same people, including me, know when to get down to work. Then it's all business.
But there was that time during the 2000 British Open at St. Andrews when he had to hit from the hay on No. 17. All of a sudden, you both broke out laughing. What was so funny?
Can't repeat what I said. Just a joke there, just a joke. Part of being a good caddie is keeping your golfer at ease. You have to be able to relax together, and that doesn't mean any lack of respect by the caddie. On the contrary — that's part of what makes the relationship work. The golfer is the boss. You adjust to his habits.
Can you help Tiger with his swing?
Well, I'm certainly not qualified like Butch [Harmon], because I'm no coach, but if I spotted something, or if Tiger asked, yeah, I would speak up. I have a clear picture of his mechanics and his demeanor when things are going well, so I have some idea of what things look like when they aren't. Which isn't often.
Tiger has one leg up on the 2002 Grand Slam with his Masters victory. Some critics called it boring.
I don't know about that. It wasn't easy for Tiger or any of the other guys, because of the weather all week. But there's no question in my mind that on Saturday, when Tiger had to finish his second round in the morning, then play an entire third round in the afternoon, the fact that he's in such good physical shape was a big reason he played so well. He was, what, eight under for 26 holes?
A lot of observers thought he might have won it Thursday.
He shot 70 when he could have shot 74. I've seen him do that a lot. He just does not give in. And when other players say he doesn't make mistakes, they're right. I don't spend a lot of time with statistics, but I saw one on his win at Bay Hill before the Masters. Of the 20 top guys on Sunday for the fourth round, he was the only one who didn't make a bogey on the back nine. There you go.
Any chance you and Tiger could become too close? Norman said that's what happened between you two.
I learned from my mistakes. It's an instinctive thing. Nothing written. You just know where your boundaries are. Tiger has his plane to take him wherever he goes, and I know I can go with him anytime I want. He's that way. But I choose not to go that often.
Norman said he tried to get you back.
Yeah, when I was with Raymond [Floyd]. Greg and I are good friends still. That's nice of him to say he made a mistake by letting me go, but I made a few mistakes with him, too. I basically got fired because I got too close to him and his family. Maybe I chatted back at him too much and shouldn't have. He won the Chunichi Crowns in Japan in 1989 with me on the bag. Next week, he fired me.
I stayed in Japan, and he found out where I was staying. I have no idea how. He called me on the phone. Short conversation. No complaints from me. He and [wife] Laura treated me like a son.
How did the Tiger job come about?
I was caddieing for Raymond on the senior tour, and I enjoyed it. Anyway, at Doral in '99 the talk was that Tiger had fired Fluff [Mike Cowan], and all the caddies were buzzing about who might get that job — a job to kill for. Butch came over and asked me if I would be interested.
I was quite shocked. I said, sure. Butch had already talked to Raymond, asking permission to talk to me, which I thought was very good on Butch's part. Raymond said no problem, which was good of him, too. I heard there were a few names in there. Tony Navarro was one. He caddies for Greg and Charles Howell III.
Butch gave me Tiger's phone number, and I called him. After Doral, I drove up to Orlando to see him. I already knew him a bit. We talked about what he likes and what he doesn't like, and we made a deal. It's been very good for me. I don't ever discuss the financial arrangement
I have with Tiger or any other player I've worked for, but I'll say this: If I could make the same amount of money I'm making with Tiger working with a player I didn't like or didn't get along with, I wouldn't do it.
Not really. I'm never late, and he's never late. I told him I like a guy who works hard, and that I don't like to get knocked around.
Are you surprised Tiger can play so well with everything going on around him?
You see that when you play with guys who haven't played with Tiger before. Like Joel Edwards said after a round in Canada: "Man, I didn't realize it was that crazy around Tiger."
When you caddied for Norman, it was always busy around him. But nothing like Tiger's situation.
No. Every time Tiger is out there I have to pan the crowd whenever possible. It's just part of my job. I'm like a marshal. Every hole, every shot, I'm looking for cameras, cell phones, all the stuff that can be a distraction. Overseas, the security isn't usually as strict as it is in the States. Here, people are so obsessed with getting autographs. That's where manners go out the window. When you hear "please," it's very rare. It's usually "gimme this" or "gimme that," and with the parents right there. Meanwhile, the nice kids who genuinely want an autograph get trampled by the rude people.
I don't worry for Tiger's safety, because the PGA Tour security guys do a great job. If I had to, I'd drop the bag and go after someone. We had one guy in L.A. who had a camera. He kept shooting pictures. Finally, I grabbed it and tossed it to a security guy. It fell on the ground and shattered. Never made it to the security guy.
You have no problem coming off as the bad guy?
Not at all. Tiger certainly can't step up to the ropes and take a camera away from some fan and toss it. I'm perfectly comfortable doing that.
Tiger needs to get away from it at times. Do you?
Oh, yeah. For all he has to do, he's really organized. He doesn't muck around, and I'm the same way. I see a lot of caddies hanging around the practice range some days, waiting for their guy to arrive to hit balls. Tiger is like clockwork. We can get all our work done on days before a tournament by 1 in the afternoon, and the rest of the day is free. A lot of other caddies are spending the whole day at the course because their players aren't as efficient.
How do you spend your off-time when you're on tour?
I don't run with the other caddies. I get along with them all, don't get me wrong, but I don't go to the bars at night and watch baseball games. Only American sport I really like is basketball. Your football, it's a TV game. Too slow. Our rugby is on for 80 minutes with no ads. I'm on the phone a lot back to New Zealand, talking to my girlfriend [Kirsty Miller] or friends about racing, or my foundation. I like to work out a fair bit.
Are you recognized in public?
Away from the course, in the States, nobody knows me. I would never be mistaken for being involved in golf. I don't dress in golf clothes. Racing clothes, maybe. I've had offers to do TV commercials. No thanks. But I don't fault the guys who do feel comfortable keeping a higher profile.
You don't sign autographs, do you?
I get asked, but no, I don't. When I'm asked, I say, "Thanks for asking, but I'm just a caddie." I believe that. People think I try to keep a low profile because that's what Tiger wants. I was that way before Tiger. Raymond never asked me not to talk to the press. Or Greg. And I don't talk to you guys very much. Not because I don't like you or don't trust you. Thing is, after a round, I don't feel right commenting on how Tiger played or what clubs he hit. Tiger makes himself available for those questions.
You've had offers as a middleman.
Oh, yeah. I don't have much problem giving away a ball or something to people who help us out each day. The danger there, of course, is if other people see you giving Tiger's glove to someone as a gesture of thanks, then everybody will want something. One guy came up to me in Dallas. He had Ryder Cup balls from Spain and Boston. Tiger played in both, and the guy asked me to get Tiger to sign golf balls. I said, "Tiger doesn't sign golf balls." He said, "What would it take?" I said, "He doesn't sign golf balls." He offered me 10 grand. No way. Most requests to use me to get to Tiger, I cut those off before they start.
Does money mean a lot to you?
No. Until recently, I had the same car for 20 years, a Ford Laser. I've got three trucks, but I need them for where I live, which is on about eight acres, including two tomato houses that have about 7,500 plants. My dad told me when I was 19, "If you're making some money now, do something with it," and I did. I bought a house on the water in Auckland. Still have that, and it's probably quadrupled in value. People joke about how I'm the second-leading money-winner on the PGA Tour. But people think too much about money, especially you folks in the American media.
In January, Tiger played in the New Zealand Open at Paraparaumu Beach, the course where you grew up. Did the commotion about Tiger's appearance fee — reportedly $2 million — eventually blow over?
One of the pros from New Zealand, Greg Turner, had his mind set on criticizing it, and he kept it up during the tournament. I spoke to him once, but he still thought everything wasn't right. He saw no value in having Tiger play in New Zealand. He complained about the ticket prices, the security, the whole scene.
I stay out of the business of what Tiger's appearance fee was, but I know he didn't have to go to New Zealand to make that kind of money, whatever it was. He could make money sitting at home. That's why I took his playing golf in my home as the ultimate compliment, an expression of friendship. We raised $82,000 at a dinner that Tuesday night for my foundation. Tiger got up and spoke. He also gave a clinic, and my foundation had 36 kids from throughout the country there. If he didn't want to do it, he certainly didn't have to. It was beyond the call.
What did it mean for him to come to your home?
We're a small country, New Zealand. Muhammad Ali came there, but not to fight. Jack Nicklaus has been down there to fish, but nobody like Tiger ever went there to play golf.
Did you manage to get him into one of your race cars?
Because of the rain, the race I had planned to be in at the local track got called off. So we went to another course two hours away. He and I sat on the pace truck and went around on that. He watched a couple of races. I think he had a great time. I just wanted to show Tiger what I do when I'm home.
What kind of cars do you race?
I guess in the States you call them late-model cars. Basically, the car has to resemble a production car. I own a Mustang and a Thunderbird. I have a couple guys who look after them, one full-time, and only I drive them. I'll race maybe 30 nights a year at different tracks. There's prize money, maybe up to $5,000 for first in a feature event. You never make as much as you spend on the upkeep — at least I haven't — but it's my hobby. When you have a car going sideways on a dirt track and you're hanging onto the wheel, that's a real rush. You're a split-second from being out of control.
You ever crashed? Been injured?
Oh, yeah. My parents think I'm crazy — again. My mother might go to a race, but she can't actually watch.
Does Tiger think what you do in your other life is dangerous?
No doubt. He's never tried to talk me out of it, though.
You probably spend more money than any of the caddies, because you're going back and forth to New Zealand so often.
I've never really added up my expenses for a year, but I take maybe 10 round trips from the States to New Zealand, and that's about $3,000 each — your money, business class. It adds up, yeah.
__Born:__Dec. 29, 1963; Wellington,
__Residences:__Auckland, New Zealand; Sunriver, Ore.
__Height/weight:__6-feet-1 ½, 205 pounds.
__Pros he has caddied for:__Tiger Woods, 1999-present; Raymond Floyd, 1988-'99; Greg Norman, 1980-'88. Other pros Williams has caddied for include Ian Baker-Finch, Bob Charles, Wayne Grady, Michael King, Noel Ratcliffe and Peter Thomson.
__Special interests:Car racing, rugby.
When you're home, do you keep track of golf events?
I don't, and I'm almost embarrassed when I get back in the routine on tour, because I have no idea who won. I don't know who to congratulate the next week when I show up on tour. I don't watch TV, and when I listen to the radio, it's music, not sports.
Will this be your last job?
No question. I was going to quit after 2000. Then I got the job with Tiger in 1999. That changed things. I love life in New Zealand. I love to caddie, too, but there will be a time when I go home to my passion, which is racing.
Are you comfortable talking about Tiger now versus Greg Norman when he was at his peak?
Nope. I don't like to compare players.
OK, let's try this: Greg admits that after a while, the drag got to him a bit, having other interests. Do you see a day when Tiger gets tired of all this?
Not really. First of all, he's got that inner circle of people — like Mark Steinberg, his agent, and Greg Nared, his Nike rep — who do such a good job that Tiger can concentrate on playing golf. Plus, he really loves to play. I can't answer what a wife and children will mean to Tiger.
Have you and Tiger ever had a fight?
No. When he's not playing, and I'm home, we talk once a week. He actually cares about me. At the end of every round, whether he's done well or not, he always says, "Thanks." That really impresses me. There's no doubt about who's in charge, but he doesn't make a big thing of himself. When he asks me to go to dinner with him, I know he wants me there, and I go. I know I'll have fun.
What has been the high point so far?
I really don't get too wrapped up in stuff. No question, the British Open at St. Andrews, winning that was special. I love the course, and my best caddie friend, Fanny Sunesson, was there. I was sitting in the stands when the player she was caddieing for, Nick Faldo, won the Open there [1990], and I was thinking what it would be like to do it at the home of golf, with all those people in that amphitheater sitting around the 18th green. I don't get choked up normally, but I got emotional that day. That was as good as it gets.
Also, winning Augusta last year to make it four majors in a row was terrific. To have your game peak for the right four weeks for the four majors, that's amazing. Also, between the third and fourth major, you're talking August to April. He had to hear all that stuff for that amount of time about whether he could do it.
Is there one act of kindness Tiger showed you that really hit home?
He had a difficult putt on the 17th hole of the final round in the 1999 PGA Championship at Medinah, the day he and Sergio Garcia were fighting it out. Tiger's putt was an eight-footer he needed, and he made it by hitting it firm, left side. He won, and that Christmas, he sent me a picture with him holding the trophy, signed, "Nice read on No. 17, Stevie." That meant a lot.