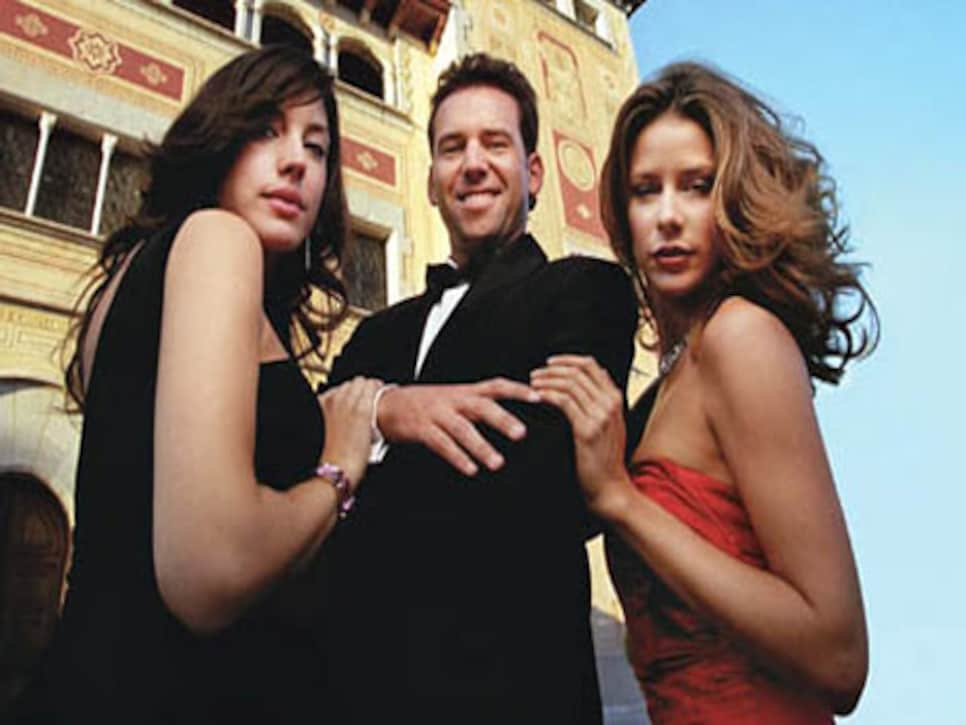 After another Ryder Cup victory but still missing a major, Garcia is enjoying life and its challenges
There are pictures of Sergio Garcia everywhere at Club de Campo del Mediterráneo in Borriol, Spain, the course where he learned how to play golf. On a wall near the dining room, there is a snapshot of Garcia when he really was El Niño: "Campeón de España, Infantil Absoluto, 1992." Not far from there, he's smiling with another trophy: "Campeón de Europa, Amater Absoluto, Sergio Garcia Fernández, 1995." (Fernández is mother Consuelo's maiden name.) Near the reception desk, there are medallions from Sergio's numerous worldwide victories.
But best of all for members, Sergio himself is there, back to his roots as usual for the holiday season after a year of globe-trotting. He blends in because, as he says, "I've been here since I was a baby. I'm not treated like I'm special. I am not special." At age 27, however, Sergio is a world-class player, albeit one who endured a winless 2006. But he doesn't seem vexed, especially when he recounts another Ryder Cup rout of the United States during which Garcia was Europe's engine.
He has not claimed a major championship yet, but in an extensive interview, Garcia leaves no doubt that the Ryder Cup means as much to him as any individual honor. He talks about his warm emotions, his occasionally chilly putter, his pursuit of Tiger Woods, and relationships with fellow players, a few of whom aren't enamored of his animated style.
"I am what I am," Garcia says. "I love golf, I love my life, I love my family and friends." He also reveals that, a few years ago, he contemplated giving up golf, but only briefly.
"It's a crazy game I picked," he says. "But a beautiful game."
Golf Digest: Well, you and your fellow Europeans staged another Ryder Cup blowout last September. Have you come down from the clouds yet?
Sergio Garcia: It was great, wasn't it? At least for us. But it was very exhausting. We did a lot of celebrating after it was over, of course, even more than was on TV. I don't know how late everybody else went, but Morgan and I were done about 12:30 on the Sunday night, or Monday morning. Went to sleep.
That would be Morgan, as in Morgan-Leigh, Greg Norman's daughter.
Correct. We've been going out for a while.
That's between Morgan and me.
You knew Elin Nordegren before she met Tiger. Did you ever go out with her?
I knew her through Jesper Parnevik, but we never went out, not on a date. We did go out for some drinks when I was dating a friend of hers, but when we went out, it was the three of us. That was like 2001.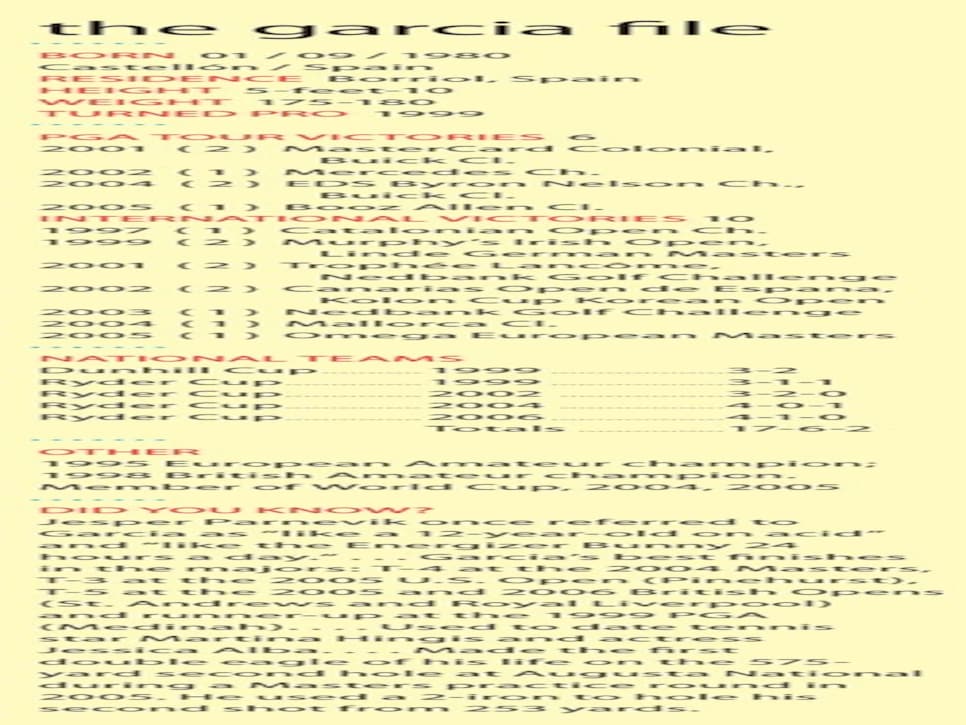 Does that mean what I think it means? I will say she's the best I have felt being with so far. We met in Denver last year, at the International. She was with Greg. He organized a dinner at the house where they were staying, and she was cooking—she's a chef. We exchanged phone numbers, and here we are.
So, which eligible bachelor gets married first, you or Adam Scott?
Could be me. I heard he broke up with his girlfriend. Henrik Stenson got married. So did Justin Rose.
Of the players on tour, who do you get along with best?
Luke Donald. I'm friends with a lot of guys. Adam, Trevor Immelman, Chris DiMarco, Tim Clark, Davis Love, Ernie Els, Retief Goosen, Henrik. But the one I hang out with the most if we're both at a tournament is Luke. We enjoy each other's company. He's a little quieter than I am, but when we play together, he loosens up. When he passed me on the World Ranking, I got a text message from him: Hi, No. 9. This is No. 8.
Jose Maria Olazabal, of course, is great to be around. And Miguel Angel Jimenez, a very different guy. You have dinner with him, you'll have some laughs. I'll tell you another one: Retief. People don't think he has much to say, but if he trusts you ... funny.
Could you imagine yourself in a ponytail like Jimenez?
No. I'd like to have longer hair, but mine just doesn't grow. That's what happened with our little contest last year [with Scott and Clark]. We had a bet that we wouldn't cut our hair. Clean up the sides maybe, around the ears and sideburns, but not actually cut it. They both broke down the same day at the Players Championship. I think it was $100 each. They thought I cheated, but why would I cheat my friends over a thing like hair? Over anything.
Would you like to be closer to Tiger?
The level of my game, you mean?
Definitely. He's a great, great player who has done some amazing things. As far as personally? I don't need to be, no. I don't think it's necessary for all of us to be buddies. And not being good friends with someone doesn't mean you're enemies. Whether it's golf or writing, you have friends and then you have friends friends. Friends who are like family. I can count my close friends on two hands, which is good, I think. That's a lot. Some are at home in Spain, others are elsewhere, and some are in golf.
Tiger and Phil Mickelson don't appear to be dinner companions.
I don't think so. I think you can be rivals like they are and still be friends, but I don't think it's necessary.
*Does it seem as though the American media and American fans think there are only two players in the world? *
They're great players, obviously, but it does sometimes seem like, when we're playing in the United States, that what some of the other players might do is not as important.
Do you enjoy competing head-to-head against Tiger?
I always enjoy going against the best.
Yes, at the moment he is.
Could you see yourself knocking him off as No. 1?
Hopefully, yes. Not at the moment, but someday. That's what you work for. That's why you practice.
During the 2002 U.S. Open at Bethpage, you firmly implied that Tiger was getting preferential treatment. You played in bad weather and said if he had been scheduled during that time, the round would have been suspended because of who he is.
That was in the heat of the moment. I said if he had been on the course, they would have called it. We'll never know. I played and didn't play well, and maybe I should not have said what I said. But what's past is past.
Last August, you and several other players were amazed when Tiger hit a ball that landed on the roof of the Firestone Country Club clubhouse during the WGC-Bridgestone Invitational. Yet the clubhouse was declared to be in bounds, and he got a drop with no penalty.
A lot of us were surprised. Even Tiger said his ball should have been O.B. It didn't even stay on the roof. It bounced over and almost went across the street, to the other course from the one we were playing. I was eating lunch at the time, watching on TV with a bunch of guys.
Did you choke on your sandwich?
No. My life does not depend on that. The ruling was made, the clubhouse was not O.B., and you move on.
How do you determine when to give your opinion and when to bite your tongue?
I'm learning how to cool down. At the same time, if people ask me a question, I want to say what I think, not what I think people want to hear. If I say something I don't believe, then I'm not being myself. But there are times when, if you go against the current, you get killed. You say something and people read it, and you get beat up for it. So, you have to decide whether it's worth the energy.
__After the 2002 Ryder Cup at The Belfry, Jim Furyk was quoted as saying the Americans were defeated by "11 gentlemen and one little boy." He didn't care for how you handled yourself. __
Look, no matter what I do, I never try to hurt anybody or show anybody up. He does things I don't like, but I don't let it bother me. That was my first win in a Ryder Cup. That was the most important thing I'd ever done in golf to that point. I was 22, I was very excited. I try to respect everybody, and I hope that works the other way, too. If somebody on the American team makes an important putt and gives it a fist pump like I do, I'm not going to say he shouldn't do that. Tiger gives fist pumps all the time. So does Jim. I don't criticize them for that.
__After the Ryder Cup last year in Ireland, it was reported in Europe that some of the Americans were upset that you and your partner, Olazabal, were "jabbering in Spanish." __
Really? I didn't hear that one. I don't know who that would be on their team. On Friday morning, we played David Toms and Brett Wetterich. On Saturday morning, we played Phil and Chris DiMarco. The other two matches, I played with Luke. When I played with Luke, we talked in English. But if I'm playing with Jose and we're lining up putts, why wouldn't we line them up in Spanish? We're both Spanish, aren't we? I didn't really notice that we were bothering anybody. And if we did, I don't really care.
How would you define yourself and your emotions?
I'm not a robot. I try to be open, I try to be friendly, but I don't kiss anybody's ass. What you see is what you get. If somebody does something wrong to me with no reason, then that person doesn't deserve my time. I have a long memory. We all do.
During last year's U.S. Open, you overheated a bit and were thinking about throwing your driver away.
Second round. I hit a bad drive on No. 14. I wasn't doing too well, and I was trying to make something happen so maybe I could make the cut. Anyway, I hit my tee ball on No. 14 into the woods. So I asked a rules official near me, "If I throw this driver over those trees, will I get fined?" He said, yes, I probably would. Then he said, "Why don't you donate it to charity?" I said, fine, good idea. So I gave it to him. I hit 3-wood on 15, 16 and 17, then a 5-wood on 18. I wasn't planning to hit driver there anyway.
Did you share that strategy with Mickelson?
The shoe story? ... Oh, the shoe story. That was at the World Match Play at Wentworth in 1999. It rained a lot weeks before in London, and I was wearing very short spikes. Throughout the practice rounds, I was slipping. Then when I played Retief, he was up by two holes and missed the fairway on his drive at No. 15. I knew I needed a good ball off the tee. But I slipped again, hooked it into the trees, and so I took my right shoe off, threw it ahead of me and kicked it.
What about that scar over your right eye? More emotions?
No, I've hit my head in the same place three times. Can you believe that? First time when I was young, about 5, I was fooling around with my brother, Victor. He pushed me, and I hit my head on the edge of a table. Another time, maybe only four weeks later, I slipped on the carpet and ran into more furniture. Last time was at the golf course when I slipped and banged into a wall. Three different accidents, same exact place on my head, four stitches each time for 12 stitches overall. Weird.
When you're paired with Tiger in the final round, as you were last year in the British Open at Royal Liverpool, trying to win your first major, and Tiger being Tiger, might you try too hard?
I wouldn't say so. I tried hard. I always try hard. I got off to a poor start, and that was that. I put myself behind the eight ball. At the same time, people don't realize that on Saturday morning, I had no chance of winning. Then I shot 65, so on Sunday morning I had a chance. No matter who you're chasing, to come from where I came from to have a chance of winning, that's what you play for. I didn't have a great Sunday.
A lot of people gave you grief for what you wore in the final round, a yellow-on-yellow outfit.
I don't care. If I feel like wearing that again, I will. I don't apologize for my clothes. There are a lot of bad dressers in golf, and I don't think I'm one of them. There are a lot of bad dressers in every business.
Why are you looking at me like that?
[Laughs.] I didn't mean you. . . . Maybe. But I'm pretty sure I didn't shoot 73 and lose the British Open last year because of what I was wearing.
If you had one major championship to win, which would it be?
The British Open. All the history, plus it's the first major I ever played, in 1996. I think it's the best one. It's where golf started. Everybody knows about it, and the crowds are unbelievable.
Even going back to the house after the final round last summer, I had chills, I had goose bumps. Walking down the 16th hole, people were cheering and clapping for me. Of course, they were cheering for Tiger, too. But I was out of it by the eighth hole. Still, walking down the 16th, it was so loud, my caddie, Greg Hearmon, turned to me and said, "You know, if I didn't know better, I'd think we were winning this tournament." It was amazing, the way they treated me Sunday. All week.
Are people who don't compete at that level, including those of us in the media, able to understand the rush you get?
Probably not. We all want to win, but only one guy can. Still, the thrill of competing, of being in the hunt, is what we're about. I was asked after the last round there, "Are you disappointed?" Yes, I was disappointed, but like I said before, there is a joy to that experience. It's an honor to participate. It's fun. Like my dad [Victor] said, if you're in 50th place, if you're not in it, you don't have a chance to be disappointed.
This year's British Open is at Carnoustie, where you shot 89-83 in 1999 and left the course in tears.
Yeah, but it was a good learning experience. Until that time, everything in my golf was nice; everything was happy days. I won two weeks earlier at the Irish Open; I tied for second the week before at Loch Lomond. I felt Carnoustie was not fair. A lot of guys had a difficult time. I've heard this time it will be a lot better. But it was tough, and when it was over, yes, I went to my mother and cried.
Is that the last time you cried about golf?
No, I've had a few wet ones at the Masters.
What does the Masters mean to you?
It meant more at the beginning, but it's kind of gone down a little bit the last few years because they use too many tricks at Augusta National. Not so much the greens, not making it longer all the time. More the setup. They cut the fairways into the grain so you don't get any roll. The whole front nine is firm, then you get to the 10th hole, and all of a sudden the fairway is soft and you get a mudball in that valley. You hit a perfect drive, but then you can't control your second shot. I still like the course, but I'm more suited for the British and U.S. Opens.
When you don't win, most people blame it on your putter. Do you?
Sometimes, not always. In the last few months of last year, I improved. Of course, there was a lot of room for improvement.
__But after the Ryder Cup, the Americans were talking again about how "Sergio makes everything." __
I wish I heard that every week. But I didn't make everything. I've missed my fair share of four-footers at Ryder Cups. But it does seem easier at the Ryder Cup for some reason. Usually, when I don't putt well, it's about pace. If I get the ball to the hole, I just get it there. It's all about confidence. If you're not comfortable and you have a 15-footer, then you're afraid of hitting it four feet by. You're thinking you don't want to three-putt, which is not a good thought. It's weird. Sometimes you can stand over a 60-footer and think you're going to make it. Sometimes, you stand over a four-footer and you can't see it going in.
A lot of fans wonder how a 27-year-old world-class player could struggle with confidence.
But it happens to everybody. In your football, you can have an unbelievable quarterback who has a couple of bad games all of a sudden, and he loses confidence. That's the beauty of the mind. And that's the beauty of golf. If you write a couple bad stories in a row, you probably won't be as confident when you sit down to write the third, right? Some days, you feel good. Other days, it's just not there. No way to explain it.
But, meanwhile, you can step up to the tee and hit the driver blindfolded?
No, not always. Sometimes, you want to take the driver and throw it over the trees at Winged Foot. But again, that's the beauty of golf.
Are you into the physical-fitness craze?
I work out a little bit. I do a little bit of everything. I did some weights last year, and added about 16 pounds. I used to weigh about 158; now I'm almost 180.
I'm stronger than I used to be, but I don't want so much muscle that I get tight. I still stretch. Golf has changed a lot. You have to be in good shape because more athletes are playing golf. Tiger does it right. He's very strong, but very flexible.
Were you ever told you were too small to make it?
When I was young, until about 16 or 17, I was very short. I really didn't start growing until after that [Garcia is 5-feet-10]. I didn't think much about it, but you do see your friends, and you wonder why they're all bigger, taller. That's why I developed that lag in my swing, to develop more power.
You do generate quite some distance for your size.
I'm definitely not the longest hitter out there, but I've always been above average. Plus, I've been fortunate with my accuracy.
How far did you get in school?
Through grade 12, which is high school. I was better at golf than books. I was good at math and English and science, not so good at what we call letters. You know, literature.
Did you consider majoring in golf at an American college?
I thought about it. I thought about going somewhere in Florida, but I had won the European Amateur when I was 15 and the British Amateur after that, so when I was 18 or so, I didn't think college would help me that much. As an amateur, I played 28 pro events and felt I belonged. If I felt out of place, I would have known it. So, I turned pro in 1999. After four years of college, I would have been 23, and maybe I would have lost my turn.
Fans in America wonder where all their young golfers are now. I don't know the answer, but I feel amateurs in the States don't get to play enough pro tournaments. So when they turn pro, they're almost starting from scratch. In Europe, if you're decent, it seems like you play more pro events and fit in sooner.
Do European players who don't go to college have an advantage in worldly experiences?
Definitely, there are things you can't learn in a book, in a school, when you go out on your own like so many of us do. You make more mistakes, but that's not bad, if you learn from your mistakes. It's a more independent way than playing on a college team. I don't say it's right or wrong, but I'm happy with the path I chose. Even during hard times, I'm glad I did what I did.
Hard times, such as losing in majors?
Harder than that. A hard time is getting to a point where I thought about doing something else. That was at the end of 2002, going through to part of 2003. I was putting badly, and my swing was starting to fall apart. I was losing control of the ball.
I thought of going back to school, maybe even trying to play soccer professionally.
__Play soccer professionally? You mean you just show up at Real Madrid and say, "Here I am"? __
No, no. Not that easy. I would have gone to a smaller team and tried. Maybe left forward, or midfield. I wasn't depressed. I was frustrated. But my parents, who are so supportive, grabbed me. What are you doing? You thinking about quitting? For a while, I did. After Los Angeles and the Match Play in 2003, I was so bad, I thought about taking three months off, maybe more. I was hitting shots I hadn't hit in a long time. But my dad took me aside, and we started changing my swing. I tightened it up.
Was that still during the period when you were gripping and regripping the club?
No, that was before. What we did with the swing change, ever since I was young, I had that lag I talked about before. Mainly what we changed was to bring the swing on line more at takeaway. I used to take it more outside. Quite a bit on the beginning, then laid back with the club pointing a lot left, then the lag to get it back on plane. The change felt really inside at the start, but it was actually on line. It took a few months to feel comfortable. Toward the end of 2003, it felt like I was hitting it nicely. At the American Express in Atlanta, that's where it really came together. No more thinking about a soccer career.
A question you've probably never been asked: Why are the Europeans so successful at the Ryder Cup?
That's not a new question, but it is a difficult question because I know how much the Ryder Cup means to me and how much it means to the rest of us. I don't know how much it means to the American team. It might mean as much to them as us, but there's no way I could really know. I don't believe that they don't care, that's for sure. I'm sure they want to win.
How much does it mean to you? Several of your teammates say you're made for the Ryder Cup.
To me, the Ryder Cup is right up there with the majors. I haven't won a major, but I don't think winning the Ryder Cup would even be under the level of a major. It might be tied.
I love playing team events. I loved playing soccer as a kid. I still do. I love getting together with my colleagues, getting to know them better, opening up to them, becoming like one even for that short period of time. I went to the Ryder Cup at Rochester in 1995. I didn't play. I was there for the junior Ryder Cup. I remember going to the international pavilion, seeing all those people from different countries, English and German and Spanish people singing and laughing. And that was besides the golf itself. From that moment, I thought, *This is for me. *
Can you explain why, with all the major victories won by the Americans, they don't fare better at Ryder Cups?
It's something for them to look into and figure out. And if I had the answer, I don't think I'd tell them. [Laughs.] Nobody likes to lose. They did everything to prepare for last September. They took the whole team to the K Club weeks before the matches. You can't say they weren't interested.
I only know we enjoy the whole week. Not just the matches. The whole week. The dinners, the clowning around, signing autographs, posing for pictures with the crowd, the ceremonies, everything.
You might be onto something, because one of the drawbacks often cited by the Americans is all the functions, all the other stuff that doesn't pertain to golf.
Well, maybe that's part of it then. Maybe we have more fun with the entire event than they do.
Do you have to have fun to win, or win to have fun?
I think you have to have fun to win. The more you get into it, the easier it is to loosen up, and the looser you are, the better you play. If your partner misses a shot, you just laugh and encourage him and move on. You don't give him a look. It's not like we're not nervous, either. Of course we are. What's that they say? It's the third-biggest event in sports after the Olympics and World Cup. But we joke around and try to make each other as comfortable as we can.
It was speculated in 2004 that the pairing of Tiger and Phil didn't bother the Europeans at all. True?
Yes. I have to say putting Tiger and Phil together put a lot of pressure on them. They pretty much had nothing to gain and a lot to lose. We were glad to see the pairing, definitely. We knew if we beat them, it would be a big boost for us and a downer for them. And the crowd. It was only one point on the scoreboard, but more than one point mentally, if you know what I mean, for their team and their fans. Everybody was expecting them to win, maybe big, maybe by 5 and 4, something like that. And then after they lost the first match, they were together again. And they got beat again.
__You said after it was over that it was especially "sweet" beating the Americans because it gave them a dose of their own medicine. __
What I meant was they win so many majors, it's sweet to beat them at this. A European hasn't won a major since 1999 [Paul Lawrie, British Open]. But it would feel the same if we played the International team, like the Americans do in the Presidents Cup. We would still come together as one, play hard and play to win. When I say it's "sweet" to beat the Americans, that doesn't mean I don't like the Americans or America. I love it over there—the fans are unbelievable to me. I play half my schedule over there. I bought a home over there. I don't buy houses in places I don't like.
Instead of all this talk about team chemistry, could it be you're just better?
We have been the last few years, fortunately. But our biggest problem, I think, was one they didn't have. Who is going to sit out? We were very deep. On Friday morning, Luke, Henrik, Paul McGinley and David Howell didn't play. That's pretty good, to be able to do that. But one thing Woosie [captain Ian Woosnam] did really well was, he played everybody every day. Nobody sat out an entire day. So nobody could get down.
You're learning for when you become captain, aren't you?
Whoa! I'm 27. That's a long way away. At the moment, I don't even think about it. I'm not serious enough yet. [Laughs.]
You went the entire year of 2006 without a win. Surprised?
Surprised and disappointed. I had a really bad stretch there for about 2½ months. I had some chances, though, otherwise. I don't consider it a bad year. I finished the year No. 11 in the World Ranking, after starting No. 6. I could have won three at least, but didn't.
When you have a winless year, does it wear on you?
Not at all. One week that bothered me was the Volvo Masters at Valderrama in October. I really wanted to win there, and if I had made par on the final hole, I would have been in a playoff [with Jeev Milkha Singh]. But I made bogey and finished a stroke back. Another second place. That stayed with me a few days, but I know where I'm going and how I'm going to get there.
It seems like you've been around forever. Do people sometimes forget that you just turned 27?
It has been a while, hasn't it? I appreciate the fact people expect me to win, because I expect me to win. That's how you're measured, fortunately or unfortunately, by how much you win, especially majors. For my age bracket, I've done some good things. Besides Tiger, who's a little older, I think I've done as well as most everybody else, maybe a little better.
You realize you're in the entertainment business, don't you?
Without the fans, we're nothing. It doesn't take much to sign autographs for a few minutes after a round, because you can make a lot of people happy. Not just a kid, the kid's parents.
Did anybody do that for you?
I was never much for autographs, but I have asked a couple of soccer players. And at the Dunhill Cup a few years ago, I asked Michael Jordan to sign a couple golf balls. For me and my brother. To see Jordan walking inside the ropes at the Ryder Cup in Ireland, that was cool.
Did your dad want you to pursue a golf career?
Yes. He didn't push me, but he saw I had some potential, and he wanted me to give it a try. My mother, who met my dad through golf, encouraged me, too. I don't remember Dad ever sitting me down for the big talk, but he did tell me if I wanted to do something in golf, I would have to work hard, practice, concentrate. Mellow conversation, though.
Didn't you break 70 at age 12 on your home course?
I don't remember. I shot 34 or 35 when I was 10, when we played nine-hole events.
Is that when you knew you were good?
I just played and knew I loved it. When I was 13, I won a tournament against guys twice my age. Maybe that's when it hit me I had a chance of doing something. I did dream, but at that age, I dreamed about playing soccer and tennis for the rest of my life, too.
And you wound up playing tennis against Martina Hingis?
We went out for about 8½ months. She was hurt at the time, so I might have won a couple games. Maybe 6-2.
What does Seve Ballesteros mean to you?
Obviously, he helped make the sport much bigger in Spain than it was. When I started to play a lot, he was still playing well. Plus, my dad knew him from Madrid. They were caddies. Then Seve became big and Dad became a golf pro.
Do you remember meeting Seve for the first time?
In 1995, Spanish Open at Madrid. My dad set it up, introduced me, we played a practice round. He was nice to me. I was 15. Nervous. I didn't ask many questions.
Talk about Byron Nelson. You won his tournament in 2004.
I wish I could have gotten to know him better before he passed away. Growing up, I didn't know a lot about golf history. Like I said, before Seve, golf was not big in Spain. To win Mr. Nelson's tournament and have the pleasure of going to the champions dinner and hearing his stories, it was an honor. He was still so sharp in his 90s, so many details.
When you finished your rounds there, you always came to see Nelson at his seat beside the 18th green, removed your hat and went to your knees.
Where did you learn that?
My parents brought me up that way. To older people, you talk to them at eye level, never looking down. If anything, especially with a man like Mr. Nelson, you look up. He was nice to me. He was nice to all of us.
You probably have more money than you ever imagined. Do you know your net worth?
Sort of, but I'm not going to tell you. Money is not that important. I invest some in real estate, energy companies, and I like my cars. I have a car at my place in Switzerland, a duplex. I have a car at my house in Orlando, Lake Nona, but I'm never there, maybe three weeks a year. And I have two cars here at home in Spain, where I spend 2½ to three months a year. I like Mercedes, and I like to go fast. You don't want to drive with me. That long and winding road up the hills from Castellón to the golf course? My brother and I enjoy that road.
What's the fastest you've ever gone?
Just under 300 kilometers an hour [about 185 miles per hour] at a racetrack. You don't want to drive with me there, either.
You do beer commercials in America, but do you drink?
Not a lot. If I go to dinner, I might have two or three beers. Or a glass of wine. But I've never been drunk, wasted, even after a big win. You see people who go out and get smashed, and they wind up screwing up the night for everybody else they're with. They throw up, you have to take their car keys, no good. I don't need to drink to have fun.
What about this soccer team you own?
From the little village, Borriol, which is right next to Castelló;n. I'm the president. El Presidente. I'm a big cheese. [Laughs.]
I didn't actually put any money in and buy the team, but I help them meet their expenses. If I play a round with someone, maybe I can help get sponsors for the team. Or if I get an appearance fee somewhere, I can put that toward the team. I don't have an office or a desk, but I do make decisions. And if I feel like it, I go over there and kick the ball around with the players at practice. El Presidente.
__Are you most comfortable when you're home in Castellón? __
This is where I was born. I have my roots here, I have my family here, I have a lot of friends here. I've been around since I was a baby, so if people see me walking down the street, it's no big deal because they're used to seeing me. And I don't have to play golf when I'm at home to keep busy. I might come home after the season and not play golf for weeks. For Christmas, we went to Switzerland. The whole family: Mom and Dad, my brother, who just turned 30 and my sister, Mar. Mar, like the sea. No golf there.
If you ever let me go from this interview, tonight I'm going into the town of Castellón to watch Barcelona play soccer. A few friends, a couple beers, some dinner.
Meanwhile, as much as you love home, you love to travel.
I do. China, Japan, the States. I love being around other cultures. I'm lucky enough to be able to fly privately most of the time. Also, I'm lucky because I can fall asleep easily. If I have a 12-hour flight, I have no trouble sleeping. And, even when I'm on the road, I see a lot of my family. They travel quite a bit, especially my dad, who is the only coach I've ever really had.
Do you think you'll ever get tired of this?
Maybe when I get married and have a family golf will not be as important as it is now.
But golf, as important as it is, doesn't run your life, does it?
Golf has given me everything, and I'm thankful for that. But I also enjoy being around people away from the course. I'm single, but I'm not lonely, and I'm not alone very often. I could not isolate myself in a bubble, me and my clubs on the practice range. That would not make me happy, and one thing I am about my life is happy.
You play golf to live, not live to play golf?
I love the game, I love to compete. But sometimes I read or hear people say if Sergio Garcia did this and that, he could win more or win majors or be better than he is. I don't even know what "this" and "that" is, but maybe I don't want to do "this" and "that," even if it would mean that I could win 25 majors, or 15, or 10. Maybe I would rather win five or four or three or two and keep having the life I have. If you told me I could win many majors by being "golf" all the time, by never kicking the soccer ball around again, by never playing tennis, by never hanging out with my family and friends, no. Not for me. That would not make me happy.