pga tour
Texas driving range pro Monday qualifies for Valero Texas Open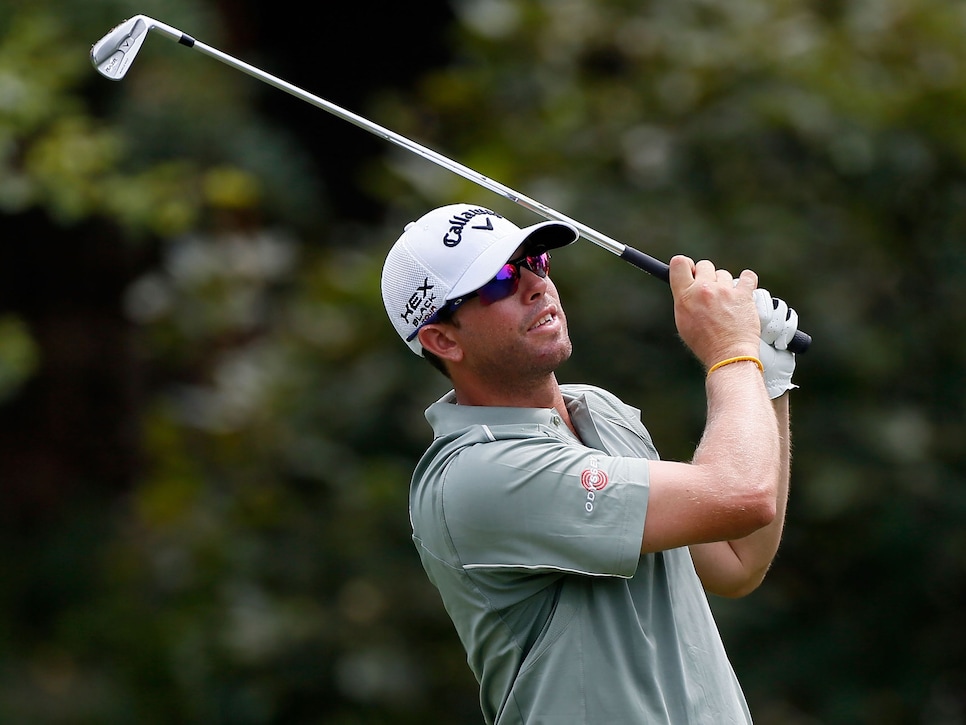 J.J. Killeen hits a shot during the 20212 True South Classic.
Sam Greenwood
J.J. Killeen had his first press conference in a decade late Monday afternoon. It was conducted from inside his car somewhere in Kerrville, Texas, selfie-style, of course.
"Well, that was nails," the sunbaked, stubbled 39-year-old former Nationwide Tour Player of the Year-turned-Twitter personality said after Monday qualifying for this week's PGA Tour stop, the Valero Texas Open. "Credit to me. Playoff season, my goodness. Super fired up to get in."
Then the West Texas Driving Range Pro (his Twitter handle) with the cult following really turned up the self-deprecating humor that's helped make him wildly popular and so entertaining in social media circles.
"Family support obviously is awesome," he continued. "My son told his teacher his mom has two jobs and his dad has zero, so it will be cool for him to watch me. Hopefully I can make a cut and he'll think I actually have a job this week."
One big step is already out of the way.
Killeen shot a five-under 67 to tie for fourth in the Monday qualifier at the Club at Comanche Trace. Then he beat Blake Elliott on the second extra hole to survive a 2-for-1 sudden-death playoff to earn the final spot in the field this week at TPC San Antonio.
Getting through means his first start on the PGA Tour since the 2015 Valero and first on any major tour since 2016. It also led a string of congratulations and well wishes on Twitter.
"Just playing in a tournament that isn't on a Monday," Killeen told Golf Digest when asked what the best part of the small victory is and what it means to him. "It's cool. My wife has seen me play a bunch of tournaments, but my kids haven't and all the Lubbock folks where I live I don't think they ever thought I was a professional golfer."
But to know Killeen as a social media sensation is to only know a sliver of his story, or the man.
In college, Killeen, who was born in San Diego, was a solid if not standout player at Texas Christian University. Though he didn't win any tournaments, his success was in his consistency, playing in 50 tournaments over four years for the Horned Frogs and netting a half-dozen top-10 finishes and 16 top-20s. In 2005, his senior year, he was named Conference USA Golfer of the Year and became just the third athlete in school history—in any sport—to play on four conference championship teams.
Things moved slower once he reached the pros, though.
After bouncing around mini tours for a couple of years, Killeen finally landed on the Nationwide Tour (now Korn Ferry Tour) in 2008. Once there, his progression was steady but unspectacular, with seven top-10s sprinkled across three seasons. And in 2010, he missed getting his PGA Tour card by a single stroke, shooting a two-under 70 in the final round of the six-round final stage of Q School at Orange County National and back to the minors it was.
But then it happened: In 2011, Killeen won twice on the Nationwide Tour, in back-to-back weeks, at the Utah Championship, where a final-round 65 led to a four-stroke victory, and again at the Cox Classic, where he held on to win by one. He finished the year as the circuit's top money-winner, banking just over $414,000, was named Player of the Year and bound for the PGA Tour.
The stay wouldn't last, though.
In 33 starts in 2012, Killeen had just one top-10 and nearly as many missed cuts (16) as made (17). His best finish was an eighth place at the True South Classic (now the Sanderson Farms Championship) but he finished the season 145th in the FedEx Cup standings and lost his card.
The following year, he made the cut in just 10 of 20 starts on the Nationwide Tour. The grind that tour life is had also taken its toll. Following two shoulder surgeries, Killeen found himself at a crossroads in 2014 and weighing career options: continue to chase the dream or pursue a new one.
With a wife, 10-year-old daughter and six-year-old son at home and the often lonely and unforgiving world of tour life looking less appealing, he opted for the latter. Killeen and some childhood buddies launched 4ORE!, a Topgolf-style entertainment facility in Lubbock, Texas, in 2017. He also dipped his toes in other business ventures and started teaching, too, which in part led to his desire to create a presence on Twitter.
"I teach so much such, there's a communication component to that in general," he said. "[Twitter] has helped me with that. Teaching is also so serious; a lot of what we do on Twitter is beer or booze-related, or with common household appliances that have a similar motion to things in golf. A lot of it has application. And it's just been cool interacting with different people. Plus, Mondays wear you out."
Still, Killeen never gave up on the tour entirely and over the last two years has tried his hand at upwards of two dozen Monday qualifiers on the PGA Tour and Korn Ferry Tour. On a couple of occasions he came close to breaking through before finally doing so this week, which naturally led to a final parting thought in his one-man press conference.
"I think it might be a great night to have my first-ever cerveza," Killeen deadpanned. "Maybe I can win and make magic happen."
In some ways, it already has. Cheers.