News
U.S. Women's Open 2020: Nelly Korda easing into major after back injury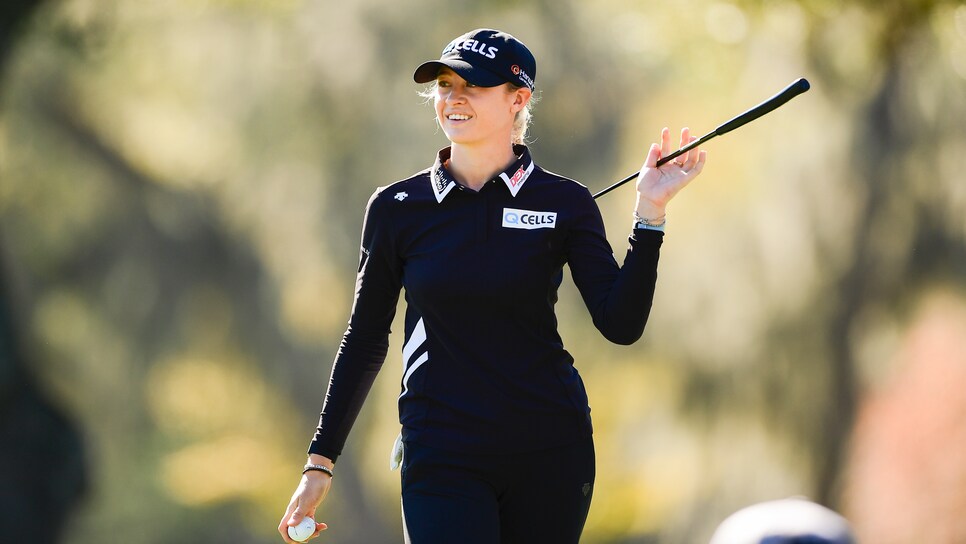 Nelly Korda walks off a green during her Tuesday practice round at the U.S. Women's Open.
Robert Beck
HOUSTON—By Nelly Korda's standards, 2020 has been a good year. She's held her position as the third-ranked player in the world, nearly won the LPGA's second major of ,the year, the ANA Inspiration, before getting beat in a playoff, and had two other top-5 finishes.
But a back injury forced her to withdraw from October's KPMG Women's PGA Championship prior to her second round and she hasn't played since, leaving some to wonder—Korda included—what's in store for the year's final major.
"I just did something stupid," Korda said of the previous injury on Tuesday at the U.S. Women's Open, where she'll make her first start in two months this week at Champions Golf Club. "I tried cracking my back and my back went into spasm.
"I wanted to take it slow until I was 100 percent. This year it's a funky year, too, so I didn't want to come back too early and kind of aggravate it again."
Which is why the 22-year-old, three-time LPGA Tour winner took an uber-cautious approach to her way back. She didn't start practicing again until just 12 days ago and on Monday played 18 holes for the first time since the Women's PGA. Tuesday, she played just nine holes before walking another nine and chipping and putting.
Getting back in the rhythm of competition isn't the only adjustment she's had to make this year, either. Just before the AIG Women's Open in August, she changed coaches, going from David Whelan to Justin Sheehan. The move was prompted by Korda's desire to improve her putting, which had slipped.
Sheehan also got Korda, an elite ball striker, back to hitting her natural draw and launching her irons higher. He laid out a plan to improve her practice habits, too.
Still, add it all together and naturally there's some uncertainty about the week ahead as Korda sets her sights on trying to win her first career major.
"You kind of don't know what's going to happen," she said. "Your feel is not 100 percent there. Like [Monday] when I was putting, I was hitting them like 10 feet by, and I was, like, my feel is definitely not there right now."