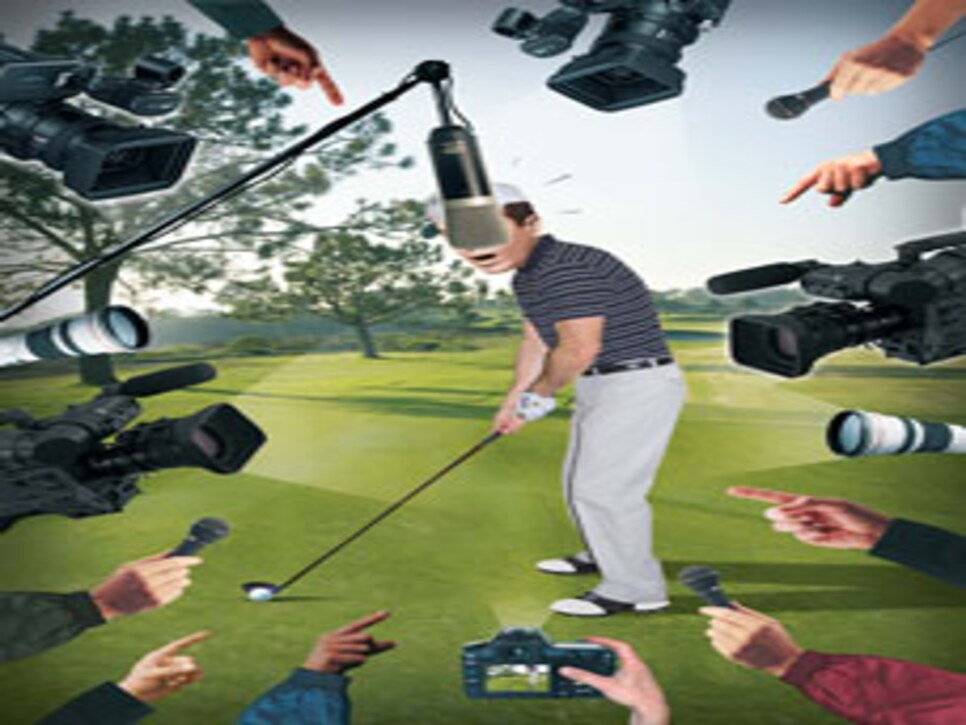 After his practice round at the Accenture Match Play Championship, Colin Montgomerie was double-timing it toward the locker room when the question brought him to a halt. What would an average golfer, someone with an 8- to 10-handicap, shoot from the same 7,643-yard championship tees at Torrey Pines South Course near San Diego under the playing conditions that the world's best players will face in the U.S. Open a few days later?
A grin came across his face.
"That's a very good idea, to have an amateur experience what we have to go through," Montgomerie said of Golf Digest's U.S. Open Challenge in which four amateur golfers, three of them celebrities, will play the Open course with cameras recording every shot and NBC announcers, including Johnny Miller, critiquing it all. The event, sponsored by Golf Digest, the USGA and NBC Sports, will feature one contest winner, selected from 56,374 entries, playing on June 6 with Grammy Award-winning singer and actor Justin Timberlake, NBC "Today" show co-anchor Matt Lauer and Dallas Cowboys quarterback Tony Romo. A gallery of a few hundred will follow them, and NBC will televise it in a one-hour special at 2 p.m. EDT on June 15, leading into the network's final-round coverage of the U.S. Open.
"But what will he score?" Monty asked, still grinning. "Let's say he's a 7 [the five contest finalists had Handicap Indexes from 4.7 to 8.0]. He'll be so nervous with the cameras rolling. That will cost him five shots. So there's 12 shots right there, including his handicap. He's already up to an 83 before he starts trying to play. He'll never get near 100. I wish him the best of luck."
Monty wasn't the only one who took pleasure in contemplating the fate of our contest winner and the three celebrities playing with him. We asked more than 20 of the game's top players to assess what our amateurs can expect when they tee it up from the tips at Torrey, and specifically whether they thought breaking 100 is a possibility.
"I don't see it happening," Tiger Woods told us, reaffirming his statement from last year's Open, when he said a 10-handicapper wouldn't break 100. "Especially if the setup is like it was at Oakmont last year. No way. People don't realize how thick the rough is, and how difficult it is controlling shots. I know Matt [Lauer] and Tony [Romo] are good players, but until they experience it, they have no idea."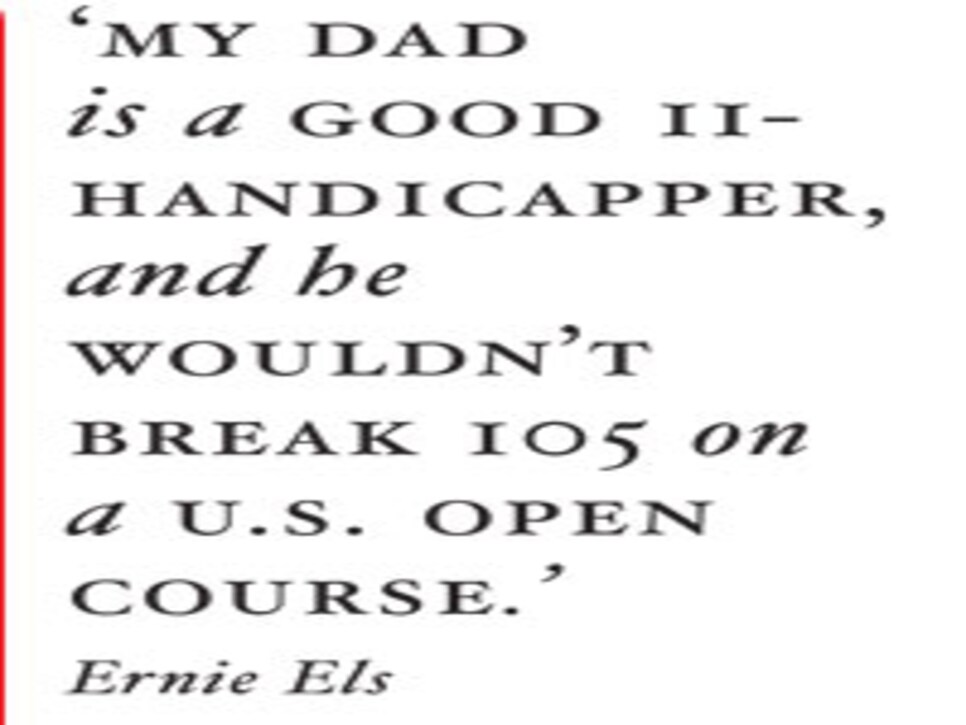 Woods, and almost every tour player we spoke with, loved hearing that a recreational golfer will get to (have to?) endure golf's toughest test. "I think it'll be fun -- and interesting -- to see what happens," says Woods.
Not one tour player thinks the contest winner's experience will be, um, pleasurable.
"You're really doing this?" asked Padraig Harrington. "He's going to play the Open course? He won't be able to think straight."
After considering that the amateur will be playing the same course that he'll play less than a week later, Harrington added, "Tour pros can shoot in the 80s on an Open course. What does that say for a 7-handicap?"
Adds Phil Mickelson, who grew up playing the South Course: "The key is going to be whether the depth of the rough and the speed and firmness of the greens and the pin placements meet true U.S. Open conditions. If they do, there's no way he can break 100."
When told of the challenge, Ernie Els immediately thought about his father, Neels. "That's a good idea, but I must tell you, my dad is a good 11-handicapper, and he wouldn't break 105 on a U.S. Open course. I can't wait to see what these guys will do."
Though most pros said that course conditions on the date our group will play, the Friday before U.S. Open week, won't entirely simulate U.S. Open toughness, all of them said it will be ridiculously difficult for an average single-digit handicapper.
"I don't know if they'll have spotters out there, but they better have a lot of balls in their bag," says Hunter Mahan.
Adds Steve Flesch: "It'll be like five hours of root canal. It's hard enough for any amateur to play a tour course from where we play, much less a U.S. Open track."
And let's not forget, players said, someone who plays to a single-digit handicap at their home course will be far from a single-digit golfer on a U.S. Open course.
"What kind of single-digit handicapper?" asked Fred Couples. "There are some I know who make a lot of birdies. I can also see a guy shooting 110."
"We see it in pro-ams all the time," says Robert Allenby. "If they say they're a 6, they're usually a 14. It's going to be a lot of fun watching this."
When told of the contest, Arron Oberholser and his caddie had to hold back laughter.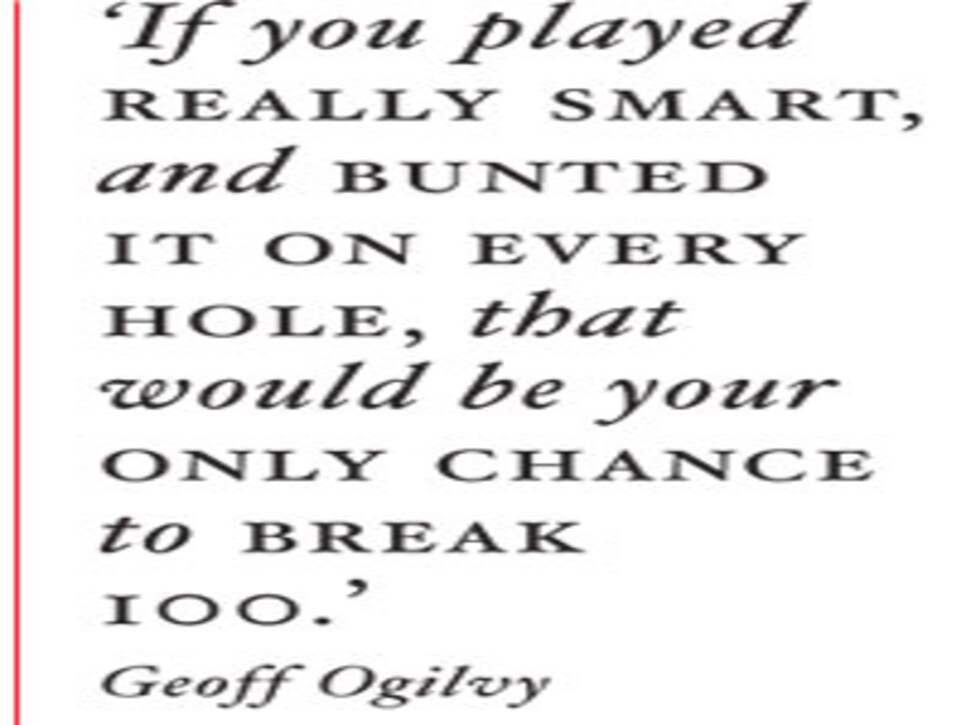 "You've gotta be kidding me," said Oberholser. "Does this guy have any idea what he's getting himself into? First of all, they aren't used to the speed of the greens. I don't care what club you play at. Even Augusta doesn't keep their greens that fast year-round. The greens are sloped and firm. So now you've gotta think about where you're going to land the ball to make it stop. Then worry about how to keep a putt from rolling off. And there are no gimmes out there." So, what strategy might yield the lowest score?
"If you played really smart, and bunted it on every hole, that would be your only chance to break 100," says Geoff Ogilvy. "That, and keep your chip shots below the hole."
Adds Zach Johnson: "If they hit 5-iron [off the tee] on every hole, there's a chance of breaking 100. But the chances are pretty slight."
And finally, from Scott Verplank: "A legit single-digit? If he plays for bogey on every hole, he would barely break 100. Drive it straight and lay up on his second shot, it might be possible. But it won't be much fun to play like that."
Swing coach Butch Harmon summed it up best: "It's going to be the greatest golf experience of his life ... and he'll be miserable every step of the way."