Equipment
U.S. Open 2022: Brooks Koepka benches golf balls and driver for other brands ahead of major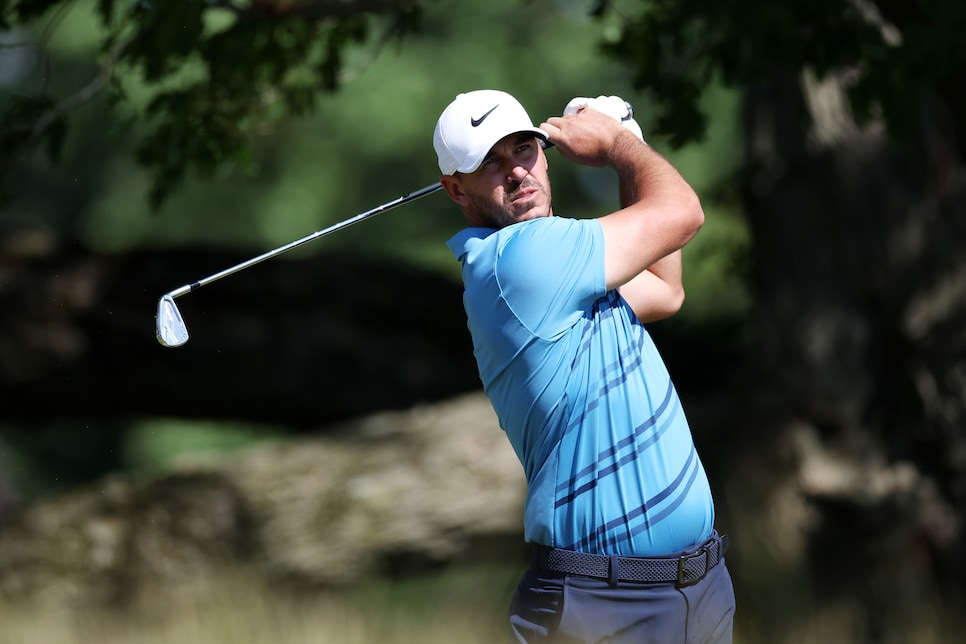 Brooks Koepka plays his shot from the sixth tee during a practice round prior to the 2022 U.S. Open.
Rob Carr
Brooks Koepka, two-time U.S. Open champion, was seen on Tuesday at The Country Club using a driver and golf balls other than those he's been using from the company he signed an endorsement deal with last year, according to multiple reports from Golf.com and Golfweek.com.
Koepka, who signed an endorsement contract last November with Cleveland/Srixon, was using older models of other companies' driver and golf balls, the reports said. Those changes included a TaylorMade M5 driver, which Koepka used to win the PGA Championship in 2019. He also was seen hitting shots at the short-game area using a 2017 version of the Titleist Pro V1x, a ball he put into play in winning all four of his major titles.
Koepka had switched to the Srixon Z-Star XV ball and the ZX7 driver, which he debuted in The Match exhibition he won over Bryson DeChambeau shortly after inking the deal.
In a statement, the company said it was aware of Koepka's change, saying the current Srixon ball and driver "are not a perfect fit, yet." A company spokesperson declined to release details on whether Koepka's contract requires him to play specific clubs or balls.
"To work through this adjustment period most efficiently, we decided to focus our energy on fitting Brooks into the next generation Srixon driver and golf ball prototypes that will debut on tour in the near future—products developed with Brooks' input and needs in mind. While we get this organized in the next couple months, Srixon is temporarily allowing Brooks to use his previous driver and ball. Of course, he will continue playing Srixon irons and Cleveland Golf wedges. Both parties are fully committed to the partnership, and we are confident Brooks will be back in a Srixon driver and golf ball soon."
Koepka, who has had a Nike shoe and apparel contract for much of his pro career, had been an equipment free agent for several years. He used a number of TaylorMade drivers and played a Titleist ball.
Koepka is scheduled to begin play at the U.S. Open Thursday afternoon.