News
Tom O'Toole's next big gig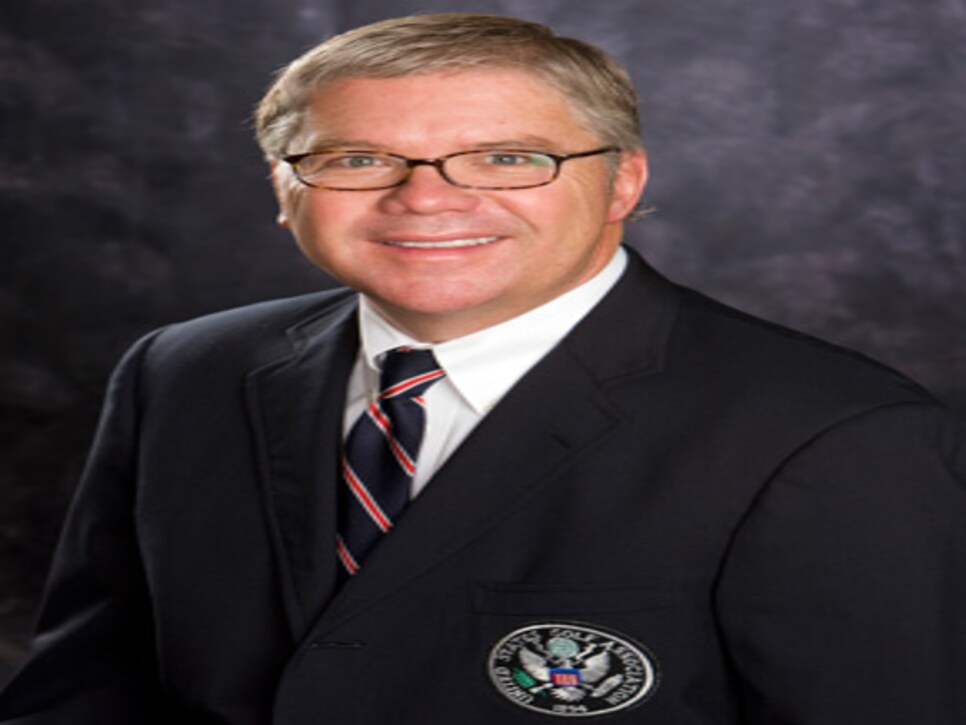 Tom O'Toole is set to become the 63rd USGA President.
PINEHURST, N.C. -- Thomas J. O'Toole Jr. doesn't remember not being around the game of golf. His parents first put a club in his hand when he was about 5, and it has remained there ever since.
In 1978, at 21, he caddied for fellow St. Louis native Jim Holtgrieve in the U.S. Open and looped for him in many USGA events, including when the future Walker Cup captain won the inaugural Mid-Am in 1981.
Somewhere during that time, O'Toole decided he wanted to devote a large part of his life to the governing body. And that he has.
The 56-year-old lawyer has worked as a rules official at more than 125 USGA championships, including every U.S. Open since 1990. He's ruined shoes spray-painting hazard lines, and he's wielded a hammer pounding in boundary stakes.
On Saturday, he takes over as the 63rd president of the U.S. Golf Association.
"That certainly has been my journey, and I like to say it's not been any more than that," O'Toole said in an interview with GolfDigest.com before assuming office. "It is not a better journey, it is just my journey."
Still, it is one that's reassuring for many at the USGA, including executive director Mike Davis, who has worked closely with O'Toole for more than two decades.
"People send me notes saying, 'You have finally reached your dream,' and my response is always that I never contemplated this path," O'Toole says. "But I did fall in love with this game at a young age, and to get to be involved with the game in a governing position at this level after falling in love with the game as a young kid is a big blessing."
O'Toole, who helped found the Metropolitan Amateur GA in Missouri, takes over at an interesting if not crucial moment for the USGA. When the USGA and R&A proposed a ban on the anchored putting stroke late in 2012, it found surprisingly strong -- and annoyingly public -- opposition from the PGA Tour and the PGA of America.
Both bodies eventually accepted the ban -- although the PGA of America still wants to delay the Jan. 1, 2016 imposition for recreational players -- but leaders at each also made it clear they want a bigger seat at the table when it comes to rules changes, long the sole turf of the USGA and R&A.
"We think it is important to take this initiative now," O'Toole says about anchoring. "Governing is not easy. Sometimes you make hard decisions. I'm optimistic and absolutely focused on implementing what we published on Jan. 1 of '16."
O'Toole feels the USGA is on the right path, not just with anchoring but in opposing bifurcation and in taking on strategic initiatives involving pace of play, sustainability and protecting the overall health of the game.
"We got to continue to do all those things while staying focused on the two primary things we decided on in that room in December of 1894 [when the USGA was founded]." O'Toole says. "To conduct the best championships possible and to write and interpret the rules the best we can."
O'Toole follows the mercurial two-year presidency of Glen D. Nager, which included the anchoring ban, the "While We're Young" pace-of-play initiative, a highly successful U.S. Open at Merion and a $1.1 billion 12-year TV deal with Fox.
But Nager also angered USGA insiders with the way he treated outgoing TV partners NBC and ESPN in those negotiation, and later with his failed bid to radically change the organizational structure of the USGA.
Multiple sources told Golf Digest that, among the changes Nager proposed was bypassing O'Toole, who had been on the USGA executive committee for six years, as president. Instead, there was near unanimous rallying behind O'Toole and Davis.
"I'm a big boy," O'Toole says about the attempt on his presidency. "That subject was raised by [the Board recently], and I marveled at how much they are looking forward and are not impacted by where we have been. I'm humbled about this opportunity, this privilege to serve the game in this capacity and to serve with theses people that have supported me."
The kid with those starter clubs, the caddie, is now the USGA president. As O'Toole says, it's not necessarily a unique journey, just his journey. But it is one rich in the love of golf. And this is a good time for some of that at Golf House.