News
USGA gives Ernie Els, Jim Furyk special exemptions into 2018 U.S. Open at Shinnecock Hills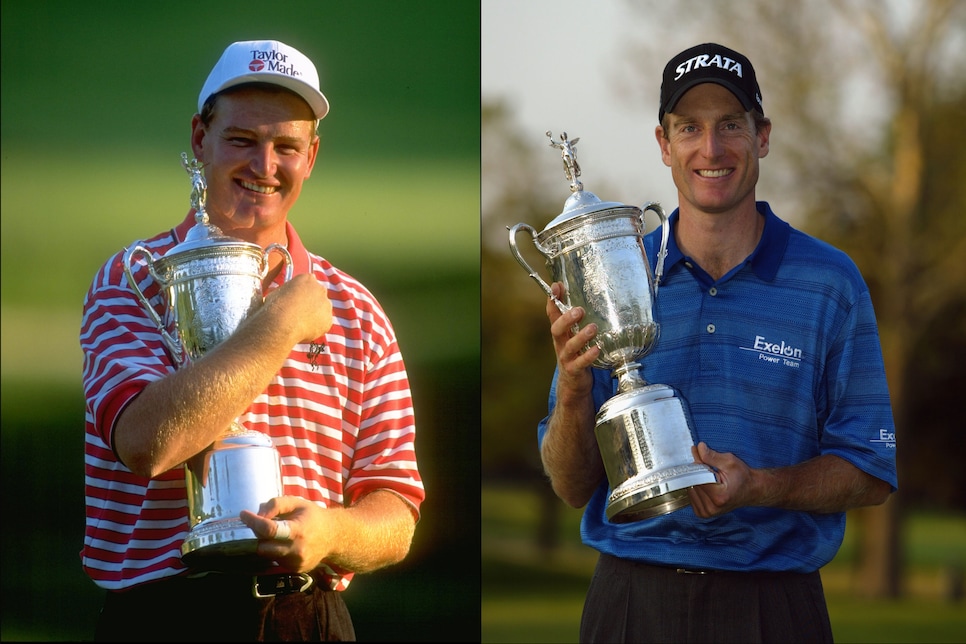 It was Father's Day 2017, and Ernie Els had just finished his fourth round at Erin Hills, the 90th of his U.S. Open career, fully aware that it might just have been his last.
"I'd love to continue," Els said while sitting outside the clubhouse, having just signed for a closing 74 en route to a T-55 finish, "but if it doesn't happen, it's been 25 years. How many guys can say they've played in 25 U.S. Opens?"
On Wednesday, Els learned he'll get to play in a 26th at Shinnecock Hills, the USGA having given the 48-year-old two-time winner a special exemption into this summer's championship.
Els wasn't the only former champion to receive good news from the USGA as Jim Furyk also received an exemption. The 2003 winner had played in 23 previous Opens, including the last 22 straight.
"Getting to play in another U.S. Open at a historic course like Shinnecock Hills really gets my competitive spirit flowing," said Furyk, who is trying to balance spending time recovering from a shoulder injury to play on the PGA Tour in 2018 with responsibilities his this year's U.S. Ryder Cup team captain. "I've had great success in my many trips to the U.S. Open and winning one is a highlight of my career."
Indeed, Furyk's record in the national championship is better than many people give him credit for. In addition to his victory at Olympia Fields, the 47-year-old has three runner-up finishes (2006, 2007 and 2016) and three other top-five performances (1996, 1997 and 2012). In 23 starts, he has missed the cut only three times. Last year at Erin Hills, he finished T-23 and had yet to earn a spot into the field for Shinnecock Hills.
Els, too, has a standout history at the U.S. Open. Besides his wins at Oakmont in 1994 and Congressional in 1997, he finished second in 2000, third in 2010 and in the top 10 a total of 10 times.
"It's a thrill, and I'm very grateful to the USGA," said Els, who on Tuesday was formally introduced as the captain of the 2018 International Presidents Cup team. "Obviously, the U.S. Open means a lot to me. This is kind of where it all started, you might say."
The USGA had handed out special exemptions into the U.S. Open 52 times in the past, beginning with Ben Hogan in 1966. The last time the USGA handed one out was to to Retief Goosen in 2016. Before then, Tom Watson and Vijay Singh received exemptions in 2010. Only one player—Hale Irwin in 1990—has gone on to win the U.S. Open after being given a special exemption.