News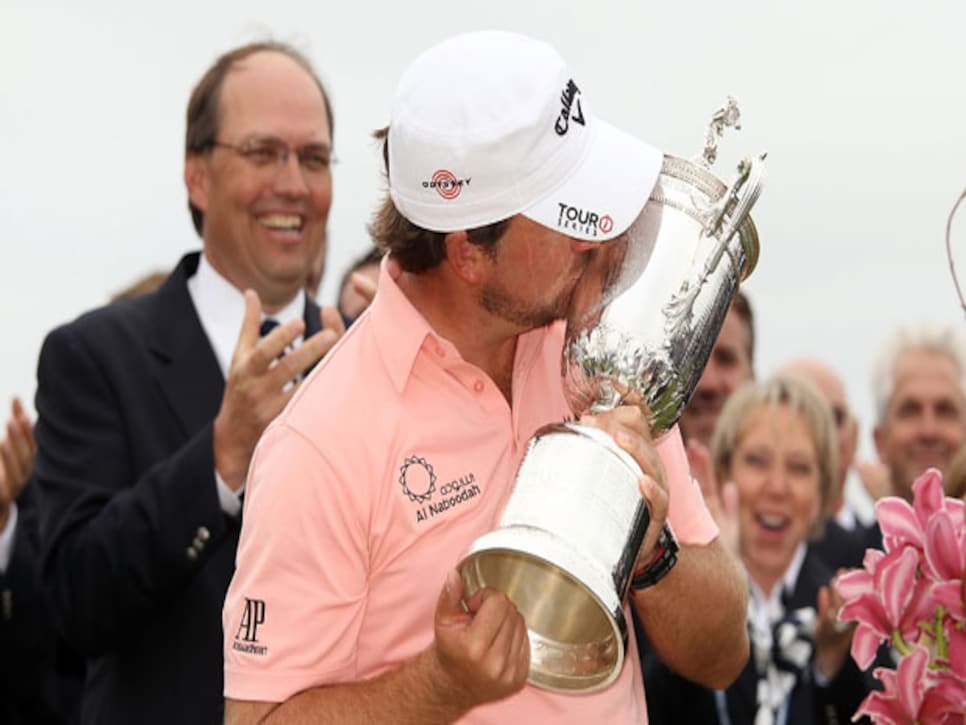 McDowell made par on the last hole to secure the victory.
PEBBLE BEACH, Calif. (AP) -- In a U.S. Open with golf's biggest stars on the leaderboard, it was Graeme McDowell who played like one.
McDowell seized control after a shocking collapse by Dustin Johnson, then failed to get flustered with Tiger Woods, Phil Mickelson and Ernie Els lined up behind him. The 30-year-old from Northern Ireland wasn't perfect, but he was good enough.
He closed with a 3-over 74 to become the first European in 40 years to capture the U.S. Open, getting an embrace on the 18th green from his father.
"You're something, kid," Kenny McDowell said, speaking for thousands who watched this unlikely Open unfold along the Pacific coastline.
It was a final round no one expected.
Johnson took a triple bogey on the second hole to lose all of his three-shot lead, and a double bogey on the next hole ended his hopes. Three of the biggest stars of this generation were right there, ready to continue the lineage of great champions at Pebble Beach, only to play far below their expectations.
McDowell made only one birdie -- an eight-foot birdie putt on the fifth hole -- and his final round was the highest score by a U.S. Open champion since Andy North in 1985.
No matter. It added up to a one-shot victory over another surprise contender, Gregory Havret of France, who shot 72.
"I can't believe I'm standing with this right now," McDowell said, posing with silver trophy. "It's a dream come true. I've been dreaming it all my life. Two putts to win the U.S. Open. Can't believe it happened."
Woods couldn't believe it, either.
Poised to end six months of bad publicity over a shattered personal life, he bogeyed five of his first 10 holes and took himself out of contention with a 75.
Els and Mickelson hung around a little longer, and both had opportunities, but neither could capitalize.
Els had a brief share of the lead on the front nine but came undone along the coastal holes -- including one stretch of bogey-double bogey-bogey -- and never quite recovered. His hopes ended when he missed his target with a sand wedge on the par-5 14th and took bogey, then missed a four-foot birdie putt on the 15th.
He closed with a 73 to finish alone in third.
Mickelson, with another great chance to end a career of disappointment at the U.S. Open, holed a birdie putt from just off the green on the first hole, then didn't made another birdie the rest of the day. He also shot a 73 and tied for fourth with Woods, missing a chance to supplant Woods at No. 1 in the world.
Woods made only two birdies, but was more troubled by his mistakes.
"I made three mental mistakes," Woods said. "The only thing it cost us was a chance to win the U.S. Open."
Even so, nothing compares with what happened to Johnson. The 25-year-old American looked so unflappable all week, and came apart so quickly. On the final hole of a round he won't forget, Johnson missed a two-foot birdie putt and wound up with an 82. It was the highest closing round by a 54-hole leader in the U.S. Open since Fred McLeod shot 83 in 1911.
McDowell finished at even-par 284 and ended 40 years of questions about when a European would capture America's national championship. England's Tony Jacklin was the last one, in 1970 at Hazeltine.
McDowell had to work harder than he imagined.
Even under overcast skies and a stiff breeze, the course was as firm and dangerous as ever. Davis Love III, with a 71, was the only player among the final five groups who matched par.
"I can't believe how difficult this golf course was," McDowell said. "No matter how good you play ... good golf got reward, and bad golf got punished really badly."
McDowell got into the U.S. Open by narrowly getting into the top 50 in the world at the deadline to avoid qualifying. He wound up with his first victory in America to go along with five European Tour victories, most recently the Wales Open last month at the home course for the Ryder Cup in October. He is sure to be part of the European team now, moving up to No. 13 in the world.
Only the best have won a U.S. Open at Pebble Beach -- Jack Nicklaus, Tom Watson, Tom Kite and Woods in 2000 by a record 15 shots. Lanny Wadkins won the only PGA Championship played on this fabled course by the sea.
McDowell might not have the pedigree, but he sure had the game.
"To play steady and to withstand some tough holes the way Graeme did and to come out on top, he played some great golf," Mickelson said. "It was a wide-open tournament. Many guys had a chance. And it made for kind of an exciting U.S. Open, I thought."
It didn't sound like one.
The gentle waves lapping the shore almost made more noise than the gallery, with so few birdies to cheer on a day that was more about survival. McDowell had a three-shot lead as he walked down the 10th fairway, and from there it was a matter of hanging on.
"You go chasing and you'll make bogeys," McDowell said.
Mickelson gave it one last try when he fired at a dangerous pin on the right side of the 16th green. It came up just short and buried in the deep grass, and when the Masters champion heard the groan, he said to caddie Jim Mackay, "I took a chance, Bones. Didn't pay off."
Els played the par-3 17th in 5-over par for the week, including a bogey from the bunker on Sunday. Needing an eagle on the 18th to have any chance, he came up woefully short and to the right in a bunker.
None of this would have been possible without Johnson's collapse, which was simply spectacular.
He had a three-shot lead and was in the middle of the fairway at No. 2 with a wedge in his hand after a 343-yard drive. When he walked off the green at No. 4, he was three shots behind, a six-shot turnaround in three holes.
-- From thick grass on the edge of a bunker, he chopped at it left-handed, then nearly whiffed right-handed, and, when he finally chipped it to three feet, he missed the putt and took triple bogey. His lead was gone.
-- With a driver on the par-4 third, he pulled it so far left that it disappeared into a cluster of trees behind the 16th greens. Fans heard it, but didn't see it. The five minutes allowed for the search ended, and seconds later, someone cried out, "Found it!" Too late. He went back to the tee, hit into a fairway bunker and made double bogey.
-- Trying to drive the fourth green, it went right into the hazard along the ocean for a bogey.
Three holes into the final round, the U.S. Open was wide open, setting up perfectly for the three biggest names in golf -- Woods, Mickelson and Els -- to seize the moment.
To most everyone's surprise, none of them did.