News
U.S. Open 2019 live blog: Gary Woodland holds off Brooks Koepka to win the U.S. Open, his first major title
U.S. Open Sunday is one of the most anticipated days of the golf season. Father's Day coincides with the conclusion of our country's national championship—surely a highlight for any golf fan. This year is no different, with Pebble Beach playing host to the finale of its sixth U.S. Open in history.
Gary Woodland has his first 54-hole lead in a major of his career, leading Justin Rose by just one stroke. Woodland, who owns three PGA Tour wins in his 10-year career, also has just two top-10 finishes at majors in his career. He hasn't played that way this week—making just two bogeys over the first 54 holes. But J-Rose, the 2013 U.S. Open champ, is right on his heels. As are two four-time major champions, Brooks Koepka and Rory McIlroy. Who will join the illustrious group of Jack Nicklaus, Tom Watson, Tom Kite, Tiger Woods and Graeme McDowell as U.S. Open champions at Pebble Beach? We'll find out in a few hours.
9:30 p.m.: Two putts?! GARY ONLY NEEDED ONE! Woodland BURIES one from 30 feet to card a 69, enough for a three-shot victory at the 119th U.S. Open. What a putt, what a finish. It's Woodland's first major title, and his fourth career victory. What an incredible week for the 35-year-old from Kansas. He's displayed all the talent in the world in his career, but has never had the wins to match. This win rectifies that in a BIG way.
9:27 p.m.: Woodland lays up, then finds the green. He can three-putt to victory if he wants (he'll two putt).
9:19 p.m.: Let's take a look at Woodland's chip on 17, which is easily the shot of his life:
We'll be watching that one for a long time. At 18, he safely plays an iron into the fairway. Woodland now gets to live every pro's dream: walking up the 18th at a major with a two-shot lead.
9:13 p.m.: Koepka's putt almost caught the right edge. Alas, it did not. Par for a three-under 68 to get in the house at 10 under. With Woodland at 12 under and just 18 to play, Koepka's three-peat dream is all but dead.
9:11 p.m.: Oh nooo. Brooks stubs his chip, though it still rolls out enough to give him a look at birdie. On a scale of 1 to 10 though, it was probably a 5. At 17, Woodland pulls off a 10 out of 10 shot to tap in range. It's over, folks.
9:07 p.m.: Wow. Woodland shows some nerves with his worst shot of the day, maybe even the week off the 17th tee. A hard block to the right that actually still hit the green but rolled off the back right edge. Going to be a wicked chip back toward the left pin.
9:05 p.m.: Koepka hits an absolute ROPE into the 18th green and he begs for it to sit. It was too good, rolling over the back of the green. Chip-in potential for sure, and it looks like birdie at worst. It still might not be enough.
9 p.m.: Koepka laces a 3-wood at the 18th down the middle of the fairway. That's the go zone.
Back at 16 (yes, Woodland and Rose are almost a hole and a half behind), Woodland finds the green and two putts for another par. Pars may be all he needs to close this one out.
8:52 p.m.: Another good roll from Koepka at 17, but he misses on the left side. Another par. Birdie or bust at 18 for Brooks.
8:48 p.m.: Koepka makes his par at 16, then finds the putting surface at the 17th with a beautiful high fade. Safe to say he needs one here or at 18, possibly both, to feel good about his chances. Back at 15, Woodland juuuuust misses birdie. That would have just about ended it. He'll take a par to stay at 12 under, two clear of Koepka.
8:40 p.m.: Woodland gets up and down for his birdie, one that feels like it might win him the tournament. Still a lot of golf to be played, but that was massive. At the 16th, Koepka finds the green in two, but he's got 30 feet left for birdie.
8:32 p.m.: At 15, Koepka blocks his driving iron well right but then hits his approach on the green and pulls off a gutsy two-putt to stay at 10 under. In the 14th fairway, Woodland goes for the green in two and damn near knocks it on, his ball just rolling off the left side. Looks like a sure-thing birdie coming up, which would give him a two-shot edge on Koepka with four holes to go for Woodland. Koepka has just three to play. What an aggressive play with the tournament on the line.
8:20 p.m.: Woodland comes up inches short of chipping one in for birdie at 13. A par keeps him at 11 under, one up on Koepka. He's also now three clear of Rose, who missed his 11 foot par putt to fall to eight under. Feels like that's all she wrote for the Englishman.
8:18 p.m.: Koepka pulls his third left of the 14th green, but hits a great chip close and saves his par to stay at 10 under. Rose's second at 13 was short and right, which seems to be his miss today. But he continues his incredible sand play by splashing one out that nearly catches the right edge. It rolled out a bit, leaving him with a longer par putt than he was hoping for.
8:13 p.m.: Oh boy. Woodland hits a woeful drive in Adam Scott territory on the 13th, though his stayed in bounds. He actually got a decent lie out of it and took dead aim at the flag, his ball just rolling over the back of the green. He's showing absolutely no fear right now.
Up at 14, Koepka's drive finds the right rough and he safely hacks it back out into the fairway to set up a wedge in.
8:06 p.m.: Woodland settles for bogey and drops to 11. Rose, with a chance to stay within one, misses a short par putt and falls back to nine under. That could be a huge dagger for Rosey. Koepka is now alone in second.
8:03 p.m.: Woodland does about as good as he could have, flopping one on and watching it roll well past the hole. Long par putt coming up. Rose was actually in the bunker, and he played a beauty to a few feet. He could be within one with a par. Up at 13, Koepka takes his two-putt par and heads to the 14th tee.
8 p.m.: Couple of poor tee shots from the leaders at No. 12, Rose's coming up short and in the high grass surrounding the front bunker and Woodland's missing well right and finding some thick rough. If anyone can save par, it's these two, but they'd probably sign for bogeys from where they are.
At 13, Koepka hits a remarkable shot over the lip of the bunker that finds the putting surface. He'll have 16 feet left for birdie to get within one.
7:55 p.m.: Rose had 10 feet left for par and, you'll never believe it, he made another one. Guy has been unreal on the greens this week. Up at the 13th, Koepka finds a fairway bunker down the right side.
7:54 p.m.: Woodland's putt just slips by and he settles for another solid par. Yawn.
7:50 p.m.: Both Woodland and Rose miss the fairway at 11, and Rose hacks a wedge up the left side of the green that just rolls through. Woodland muscles one high that lands softly and funnels back right toward the hole. Instead of grinding for par he has a 13-footer for birdie coming up. Insane shot.
Koepka came up short in the bunker at the 12th, a guaranteed bogey for much of the field today, including Koepka. He did nearly hole it from the sand for birdie, but couldn't get it to stop and it rolled out some 10 feet past and he missed his par putt. He's back at 10 under.
7:40 p.m.: Woodland finds the green with his second at the 10th but had 46 feet left for birdie. He hits a great putt that rolls just a few feet past the hole and cleans it up for par. Rose hit another approach short and right, then came up eight feet short of the hole with his chip. No problem for th Englishman though, as he rolls it in for his 37th.. THIRTY SEVENTH one-putt this week. Just ridiculous. He's two back.
7:35 p.m.: Koepka smartly lays back at the eighth, and by lay back we mean he hit a 283-yard iron shot, then hit one to nine feet and drained the birdie putt. He's one back of Woodland. We got a BALL GAME!
7:25 p.m.: Woodland's eight-footer misses on the low side. He makes his first bogey of the day and drops to 12 under, still good enough for a two-shot lead. Rose two-putts for his par.
7:23 p.m.: After a two-putt par at the eighth, Woodland hits a poor drive down the left side at the ninth, forcing him to take his medicine and hack one back into the fairway. From 170 yards out he puts his third to about eight feet. He's made some ridiculous par saves this week, and this one might take the cake if he pulls it off.
Rose wound up bogeying No. 8, but he bounced back with a superb approach into the ninth and has a great look at birdie from 17 feet. He and Koepka remain three back after Koepka makes another par at the 10th.
7:06 p.m.: Koepka makes it look easy with his third, chipping it to a foot. Big par save there.
7:03 p.m.: The Woodland train keeps on rolling at No. 8, where he hits the fairway then finds the green and has a look at birdie. Rose's second was short and right, and he'll have work to do for par.
Up at the ninth, Koepka is beginning to appear human. After ripping a drive down the left side of the fairway he blocks his approach right of nine green and will need some more short-game magic to save par.
At the 13th, Adam Scott's comeback bid may have just ended. The Aussie hit one out of bounds to the right, a seemingly impossible miss on that hole. He ended up making double, dropping him to seven under, now six back with just five to play.
6:52 p.m.: Brooks Koepka's second shot at 8 ended up in the hazard in the really, really thick stuff. You or I would've taken a drop out of there—Koepka was able to get a little club on it to hit it back in to the bunker. Koepka gets that up and down to save his bogey, which puts him 3 back of Woodland's lead.
Woodland's tee shot at the short par-3 seventh sailed into the back bunker. He hit a decent sand shot to 7 feet, and hits a strong putt to save his par. Wow. He keeps his bogey tally to only two through the last four days. Just remarkable.
6:48 p.m.: The guy who's been making birdies with machine-like regularity just made one of the oddest miscues of the day so far. From the middle of the fairway on the ultra difficult eighth hole, Brooks Koepka came up way short—and his ball appears to be in the hazard. We'll see what kind of shot he has.
6:44 p.m.: Justin Rose had a great look at eagle at No. 6 after his fairway wood hit the slope and rolled up to about 20 feet. He misses it high but it'll be a great look for birdie from 3 feet. He converts it to trim Woodland's lead to 2. Woodland parred the hole, despite being right in front of the green in 2. He semi-bladed his chip shot and couldn't make the 16 footer for birdie.
6:33 p.m.: Brooks Koepka throws another dart at a pin—this one at the iconic seventh hole. Koepka's wedge spins back to about 12 feet, so he'll have a look at his fourth birdie in his first seven holes.
6:30 p.m.: Brooks Koepka will be disappointed with a par at the par-5 sixth hole, the only time he hasn't birdied it all week. Koepka's errant second shot found the greenside bunker, and he couldn't get up and down, so he settles for just his second par of the day (to go with his four birdies). Koepka's still 2 back.
6:21 p.m.: Oh my ... Justin Rose's birdie putt at the par-4 fourth hole just rimmed out and did about a 180. That's cruel and unusual—that putt looked good the entire time. Rose stays three back of Woodland and in third, behind Koepka, who's in the fairway at the par-5 sixth.
Xander Schauffele and Adam Scott, playing in the same group, are definitely feeding off each other. They're each 5-under today through their first 10 holes—to get to 8-under. That's still five back of Woodland. But they're making their presences known on Sunday at Pebble Beach.
6:13 p.m.: Brooks Koepka might not be human. That's now FOUR birdies in his first FIVE holes—and he stays within two of Gary Woodland. What an unbelievable start. These first stretch of holes at Pebble Beach are gettable. But this is nearly perfect golf—aside from the poor drive at 2—and he negated that with the up-and-down there. WOW!
6:08 p.m.: Gary Woodland converts the short putt at the third hole to make it back-to-back birdies, extending his lead to three shots now over Justin Rose and Brooks Koepka. Koepka's made three birdies in four holes and he's still only made up one shot on Woodland. Woodland's off to a really strong start.
Rose nearly converted his longer birdie putt at the third hole but comes up just shy. That was right in the heart—just another revolution of the ball, and that would've found the center of the cup.
6:03 p.m.: Sure enough, Brooks Koepka converts the birdie at 4 to open with THREE birdies in his first FOUR holes. How good is that? The par save at the second hole was really other-worldly. And the approaches at 1, 3 and 4 were unbelievably good.
Gary Woodland, though, sticks his approach at No. 3 to about 6 feet for a great chance at a birdie. Justin Rose's approach sails about 30 feet beyond the pin.
6:01 p.m.: The Koepka Klinic continues at the fourth hole, as he puts his approach from the fairway to about 8 feet above the hole. A converted birdie there would get him within two of Gary Woodland's lead.
Henrik Stenson and Jon Rahm both continue to lurk—they make birdies at the seventh hole to get to 7-under, five back of Gary Woodland.
5:54 p.m.: As Brad Faxon just said, the field is officially on notice. Brooks Koepka just tapped in an easy birdie at No. 3 after a tremendous approach to get to 9-under. But just minutes later, Gary Woodland converts on an unlikely birdie at the second hole to extend the lead. He's up to 12-under to keep the margin on Brooks Koepka to 3 shots.
Louis Oosthuizen just made his second birdie of the day, this one at No. 4, to get to 9-under, tying him with Koepka.
Justin Rose makes a bogey after his approach from the fairway at No. 2 finds the right greenside bunker. That's a bad unforced error, and even the unreal scrambling that J-Rose has exhibited can't bail him out there. He's now 10-under and 2 back of Woodland.
5:41 p.m.: J-Rose converts on the straight-forward birdie look to tie Gary Woodland's lead. Game. On.
Brooks Koepka is making an adventure of the second hole—but it ends in a 4 on the scorecard. His drive went so far right—it would've been out of bounce during the AT&T Pebble Beach Pro-Am. He hit a squirrely second from a bad lie into some deep rough in front of the bunker, but got fortunate with the lie, and was able to chop it out from about 100 yards out to 6 feet. And of course, Koepka rolled in the machine-like par. Just unreal—this guy truly has nerves of steel.
5:35 p.m.: Justin Rose's opening approach from the fairway is tight at No. 1—about five feet for a birdie to tie Gary Woodland for the lead. Woodland puts his second shot to about 14 feet—a solid start for the 54-hole leader.
5:33 p.m.: Rory McIlroy's outside chances at threatening the lead have gone out the window. Rory is going to make double bogey at the second hole—the result of his drive finding a TERRIBLE lie above the left fairway bunker.
5:28 p.m.: Brooks Koepka converts the opening birdie at the first hole to get within three of Gary Woodland. You know the final group, getting ready to tee off, were able to see that from the tee.
5:24 p.m.: Brooks Koepka and Chez Reavie are now on the course—and they both have great looks for an opening birdie. Koepka is about 10 feet below the hole, and Chez has about the same distance hole-high left.
5:18 p.m.: Wow—Francesco Molinari chips in for birdie at No. 8 to get to 4-under through his 8 holes. He joins Xander at 6-under, currently T-5.
2010 Open champion Louis Oosthuizen starts his final round in ideal fashion with a long birdie on the first hole. Louie is now 3 back of Gary Woodland.
5:15 p.m.: Xander Schauffele is officially on the first page of the leaderboard and within outside striking distance. Xander rolls in a birdie on 5, after birdies on 1 and 4, to get to 6-under. The talented young American is officially lurking.
4:58 p.m.: Jon Rahm had made birdie at the first hole to start his round, but he's found trouble with his approach at the second hole. His ball comes to rest deep in the left greenside bunker. His out rolls out to the fringe, so he'll have a tough 20 feet to navigate for an unlikely par save.
2016 Open champion Henrik Stenson had also made birdie at the opening hole to get to 5-under, but he's struggling like Rahm at the difficult second hole. He had to chop out from the fairway bunker, so he's scrambling for a par just like Rahm to remain at 5-under.
4:37 p.m.: Viktor Hovland is having a great Sunday at the U.S. Open, making the turn in 4-under 31 to remain around the lead.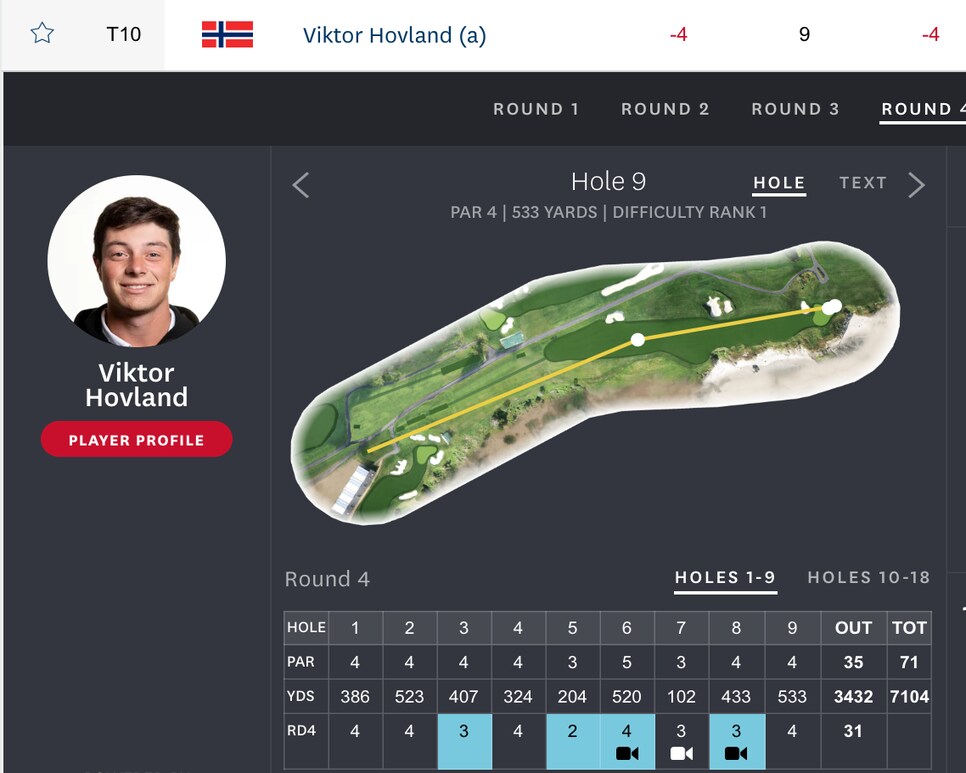 4:32 p.m.: Phil Mickelson wraps up his U.S. Open with a birdie, it's just not the type of birdie he imagined he'd be holing here at Pebble Beach. Phil completes a final-round 1-over 72 that puts him at 4-over for the tournament. Of course, still searching for his first U.S. Open, he had his sights on Pebble Beach. But it wasn't to be for Lefty—13 bogeys, a double bogey and a triple bogey were too much to overcome on the week for Lefty.
4:29 p.m.: Francesco Molinari is making a late charge on Sunday—birdieing the fourth hole to get to 3-under for the day, moving to 5-under overall, which is good for T-7. Molinari might be a few strokes outside striking distance to seriously threaten the lead, but he can make a couple more birdies on 6 and 7 to get closer to the lead.
4:14 p.m.: Moving in the opposite direction of Hovland and Horschel is Tiger Woods. Tiger just bogeyed the par-5 sixth hole, which has played as one of the easiest holes all week, to fall back to 4-over. Tiger looks like he's ready to get on the plane back to his bed in Florida.
4:06 p.m.: Just like Horschel, Victor Hovland is 4-under through his 7 holes. The 2018 U.S. Amateur champion, right here at Pebble, continues to impress in this U.S. Open. Hovland is currently T-9—showcasing the great game he's put on display all week. Hovland will turn pro next week at the Travelers Championship.
3:35 p.m.: Billy Horschel is making a sneaky run early on Sunday to vault up the leader board. Horschel's 4-under through his first seven holes, and he's now T-14 at 3-under overall. Billy Ho just poured in a 37-footer at the iconic seventh hole to get to that number. Yep, there are some low rounds to be had!
3:21 p.m.: That's a bogey-bogey start now for Tiger Woods to get his round underway. Tiger actually chipped from the front right portion of the green, as the collar blocked him from getting to the hole. He chipped up to about 6 feet and missed the putt. In the stat sheet, that'll look like a three-putt, and on the card, it'll be another bogey. Tiger is +2 for the tourney now.
On the opposite side, we saw the round of the morning thus far from Marcus Kinhult, who just finished his round. He proved there are birdies to be had out there.
3:12 p.m.: Rickie Fowler started the week one off the lead with an opening 66. That was followed by a 77, which is why Rickie isn't amongst the leaders on the weekend. But he did register an early highlight on Sunday:
3:06 p.m.: Tiger makes an opening bogey, as his chip from in front of the green came up about 16 feet short. Tiger now finds himself 12 back of Gary Woodland.
2:56 p.m.: Tiger Woods kicks off his final round at the first hole, hitting an iron shot that just rolls into the first cut of rough. Alongside him, Marc Leishman's shot just rolls up against the collar. Both players are even-par, so they'll be non-factors just 11 shots back. But there's a lot to play for—world-ranking points and some serious money. Plus, of course, prestige.
FOX just put up a graphic that kind of tells the story of Tiger's week at the U.S. Open. The field is 42-under on holes 1 through 7 this week, whereas Tiger is even-par. You have to take advantage of those easier opening holes to score well at Pebble Beach. And Tiger hasn't done that this week.
2:45 p.m.: Just over half the field has now teed off in their final rounds, and what we've seen from the early action is that there some low scores out there. Swede Marcus Kinhult had the round of the morning going thus far, sitting at 5-under through his first 15 holes. And Bryson DeChambeau just made a big-time birdie at the eighth hole to get to 4-under for his round. Bryson is 1-under for the tournament, good for T-23. There are a bunch of under-par rounds thus far ... a product of the benign conditions for another day at Pebble Beach. The players have gotten lucky with the weather all week.
As we get ready for the next couple of groups to get started—here's a really interesting look at the final-round hole locations, as they compare to February's AT&T Pebble Beach Pro-Am. Of course, the pro-am is a completely different animal, with the biggest difference being the fairway lengths and rough height. But here's how the hole locations, differ, too:
Here are the last three hours of pairings for Sunday at the U.S. Open:
11:23 a.m. -- Rickie Fowler, Alex Prugh
11:34 a.m. -- Nick Taylor, Shane Lowry
11:45 a.m. -- Haotong Li, Viktor Hovland (a)
11:56 a.m. -- Tiger Woods, Marc Leishman
12:07 p.m. -- Jason Day, Tyrrell Hatton
12:18 p.m. -- Jim Furyk, Matt Fitzpatrick
12:29 p.m. -- Hideki Matsuyama, Patrick Cantlay
12:40 p.m. -- Scott Piercy, Francesco Molinari
12:51 p.m. -- Dustin Johnson, Brandon Wu (a)
1:02 p.m. -- Nate Lashley, Abraham Ancer
1:13 p.m. -- Adam Scott, Xander Schauffele
1:24 p.m. -- Byeong Hun An, Matt Wallace
1:35 p.m. -- Henrik Stenson, Jon Rahm
1:46 p.m. -- Graeme McDowell, Danny Willett
1:57 p.m. -- Chesson Hadley, Matt Kuchar
2:08 p.m. -- Rory McIlroy, Louis Oosthuizen
2:19 p.m. -- Chez Reavie, Brooks Koepka
2:30 p.m. -- Justin Rose, Gary Woodland