News
U.S. Open 2018: What the stats don't tell you about Jason Day heading into Shinnecock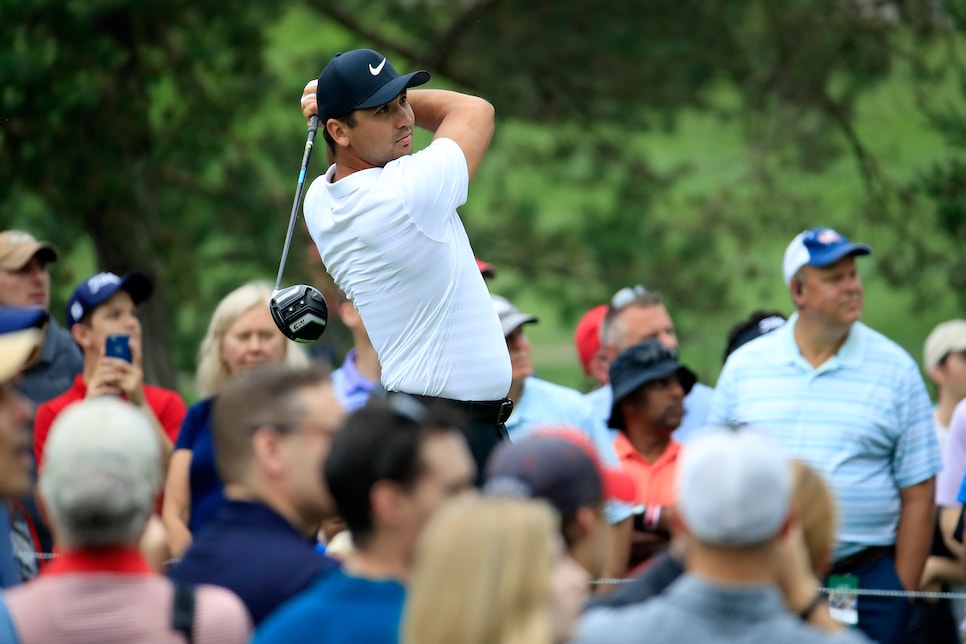 There's a player in the field this week with five top-10 finishes at the U.S. Open in his last seven starts. He's a major champion, a former World No. 1 who boasts 16 worldwide wins including two already this season, and more than $42 million in career earnings in all. And he's just 30 years old.
Surely, a player like that would be the favorite this week, right?
That player, if you haven't figured it out yet, is Jason Day, and no, he's not. He's not even that close to being the favorite. Most of the odds have him floating around the back-end of the top five.
What's the reason for the apparent lack of love heading Day's way in the betting markets? You could speculate on some intangible reasons, but sticking to the course itself, the explanation seems to be reasonably straightforward: People are concerned over his accuracy, and some of his baseline stats back them up. So far this season Day is …
• 93rd in Driving Accuracy
•110th in Greens in Regulation
•177th in Strokes Gained/Approach
Those numbers are alarmingly low, and it makes sense that they're scaring people away. But there's also evidence to suggest they're not as bad as they look.
Fellow Golf Digest contributor Shane Ryan highlighted a few weeks ago that the strokes gained metric can often have a sample size problem, and that's seems to be working against Day's numbers here.
Day's strokes gained averages depend on a tiny amount of measured rounds relative to his peers (just 21, 12th fewest on the PGA Tour). Taking a cursory look through his round-by-round SG numbers, and you can see problems start to arise.
So far this season, Day has lost an enormous -8.069 on the field with his approach shots, but almost 60 percent of those shots (-4.733) came in the final two rounds of the Memorial two weeks ago. Had those final two rounds mirrored something similar to the field's average, his strokes gained/approach would land him inside the top 100—a jump of more than 70 places from just two rounds.
Day has clocked slightly more rounds for his GIR numbers (though at 43 rounds, it's still in the bottom 20 percent on tour). His current 65-percent GIR average pretty much mirrors his career numbers, but the important thing to keep in mind here is where Day has maintained those numbers.
The Australian tends to keep a tough schedule, which means he can't run up the score on his GIR numbers at less-intensive events. That may depress his overall ranking, but it also means there's remarkably little variance between his overall and U.S. Open averages, where everyone hits fewer greens. The only two exceptions were in 2012—when Day was just 22—and last year, when Day missed the cut during a very atypical Open at Erin Hills.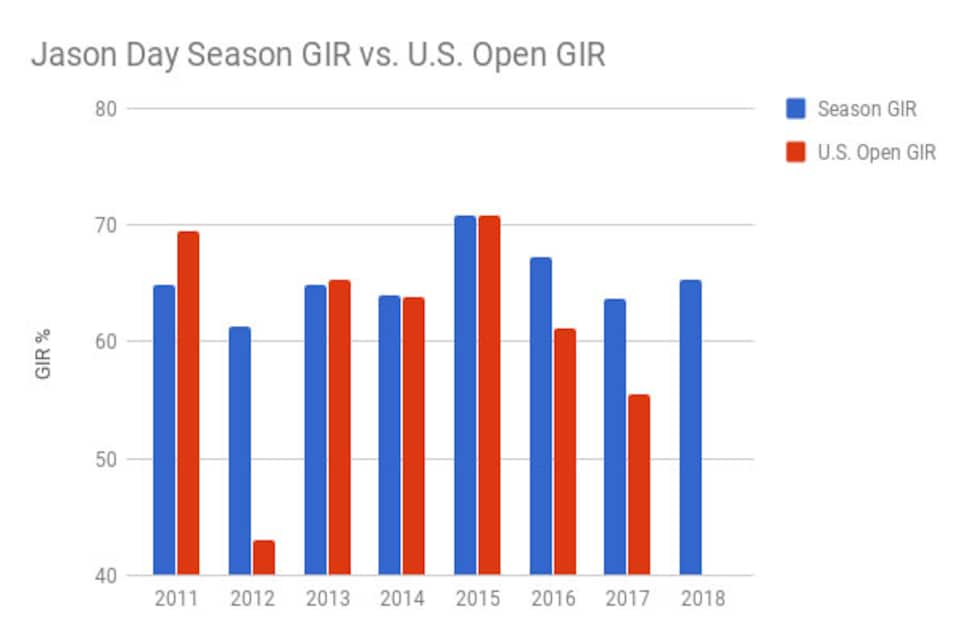 The sample size simply isn't big enough to draw anything meaningful from Day's strokes gained ball-striking numbers, and his low GIR numbers haven't precluded him from playing well at U.S. Opens in the past. If ball-striking is the one thing holding you back on picking Day this week, maybe now you can sleep a little easier.