News
U.S. Open 2018: Phil Mickelson will have to live down his actions—and words—at Shinnecock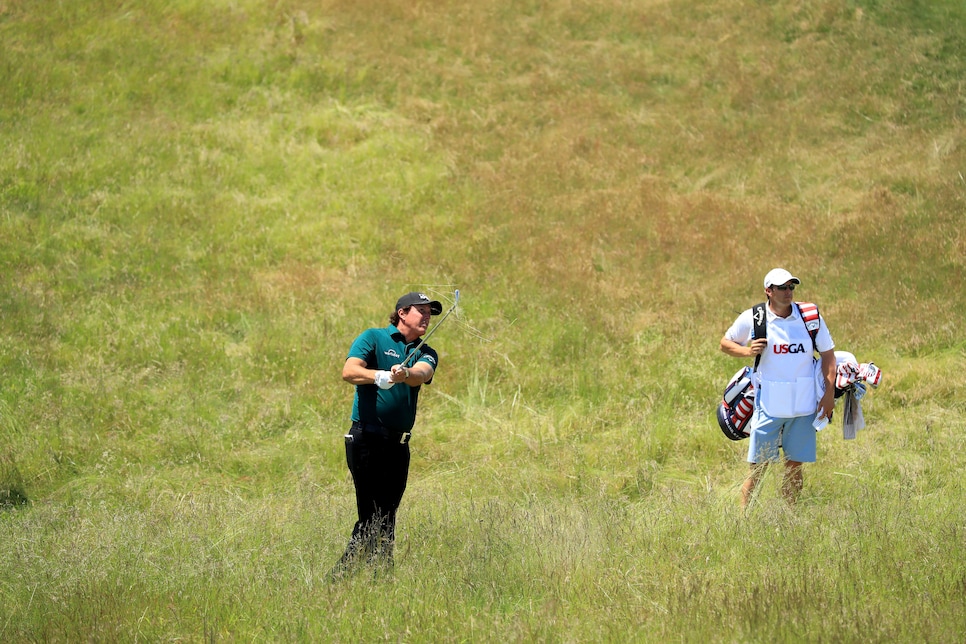 David Cannon/Getty Images
SOUTHAMPTON, N.Y. — Phil Mickelson has long been a master of spin, with his wedges and his words. But Saturday at the U.S. Open, he flubbed the latter big time with a preposterous explanation that rang more hollow than a cavity-backed iron.
The only thing more absurd was what actually happened.
Faced with a slick 18-foot putt on the par-4 13th at a baked out Shinnecock Hills, Lefty sent his bogey attempt racing past the hole. Before it could trundle off the green and down the hill to who knows where, the newly turned 48-year-old ran after it like there was a special on Mizzen+Main button downs. Cutting it off at the pass, he whacked it back toward the cup before it had stopped moving.
Somewhere, John Daly must be smiling. He did the same thing, albeit without running to save the ball from tumbling into oblivion, in the same tournament in 1999 at Pinehurst, a move done on purpose in protest of the USGA's setup of the No. 2 course that afternoon. At least he fessed up.
America's sweetheart, on the other hand, yukked it up with playing partner Andrew (Beef) Johnston, despite taking a 10 on 13 en route to shooting 81 on Saturday, and strode around the joint like he was simply smarter than everyone else, including the USGA.
"It was going to go down into the same spot, behind the bunker," the birthday boy said, trying to tie a bow around his dubious actions. "I wasn't going to have a shot. I don't know if I would have been able to save a shot or what not, but I know it's a two-shot penalty, hitting a moving ball. I tried to hit it as close to the hole as I could to make the next one and you take the two shots and you move on.
"I don't mean disrespect by anybody. I know it's a two-shot penalty. At that time I just didn't feel like going back and forth and hitting the same shot over. I took the two-shot penalty and moved on. It's my understanding of the rules. I've had multiple times where I've wanted to do that, I just finally did it."
But in doing so it was an act of disrespect, goes against the spirit of the rules and it provided an example of how not to conduct oneself at his age or anyone else's. This was give-up stuff, unprofessional and pure nonsense. The explanation straight from the principal's office.
Daly? Sure. But this is Mickelson, an ambassador of golf and World Golf Hall of Famer, the same guy who once looked at Arnold Palmer and said I wanna be like that guy. Thumbs up? Try two thumbs down.
"Toughen up," Mickelson said at one point to those offended by what he did. Ironic from someone who hit the ball while it was still moving to avoid having to play a tougher shot.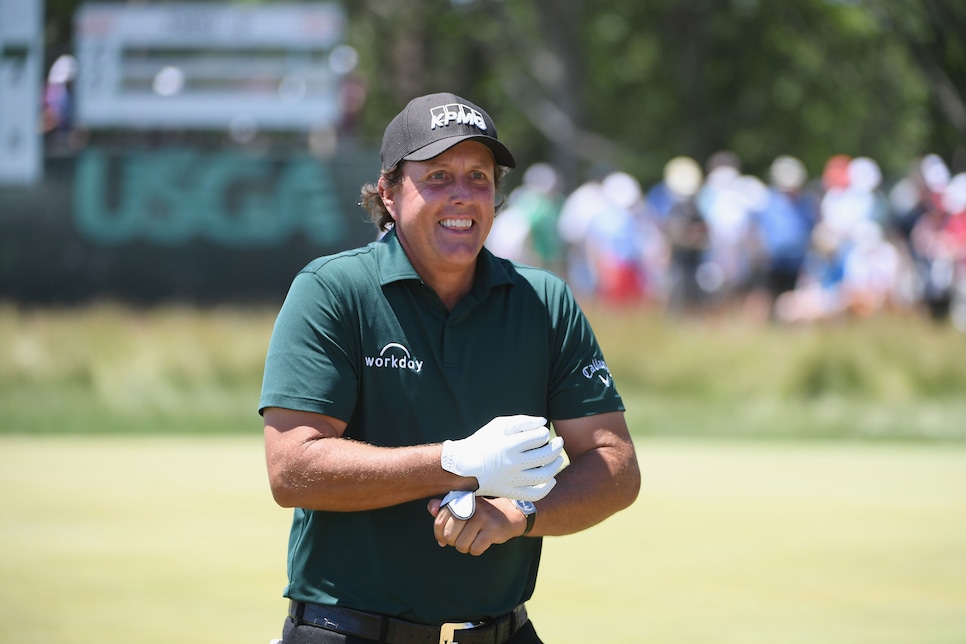 Ross Kinnaird/Getty Images
One could easily theorize it was also Mickelson's backhanded way of slapping USGA chief Mike Davis for another course set up that in his eyes had yet again gone too far. After all, Davis & Co. were the ones left fielding questions well into the night while Phil presumably enjoyed a bottle of red somewhere nearby. You clean up the mess.
It wouldn't be the first time. Mickelson has a history when it comes to wanting to send a message. Just ask Tom Watson, Rees Jones or the tax collectors in his home state of California.
In the end, though, Mickelson's actions—and words—made him look lamer than those button downs, rather than the smartest guy in the room.
"I don't believe he really knows that rule," the USGA's former chief executive David Fay said on Fox of Mickelson. "I think his explanation made things complicated. I would've thought long and hard about it and after hearing everything I've heard I would've lobbied for disqualification."
Davis & Co. could have, too, under Rule 33-7, which says a penalty of disqualification may in exceptional individual cases be waived, modified or imposed if the Committee considers such action warranted.
They didn't, even though they should have.
In short, Rule 14-5 was applied because Mickelson took a swing at a moving ball and that's that.
Except it isn't, no matter how anyone spins it. Mickelson didn't cheat. He cheated the system. And that's the problem.