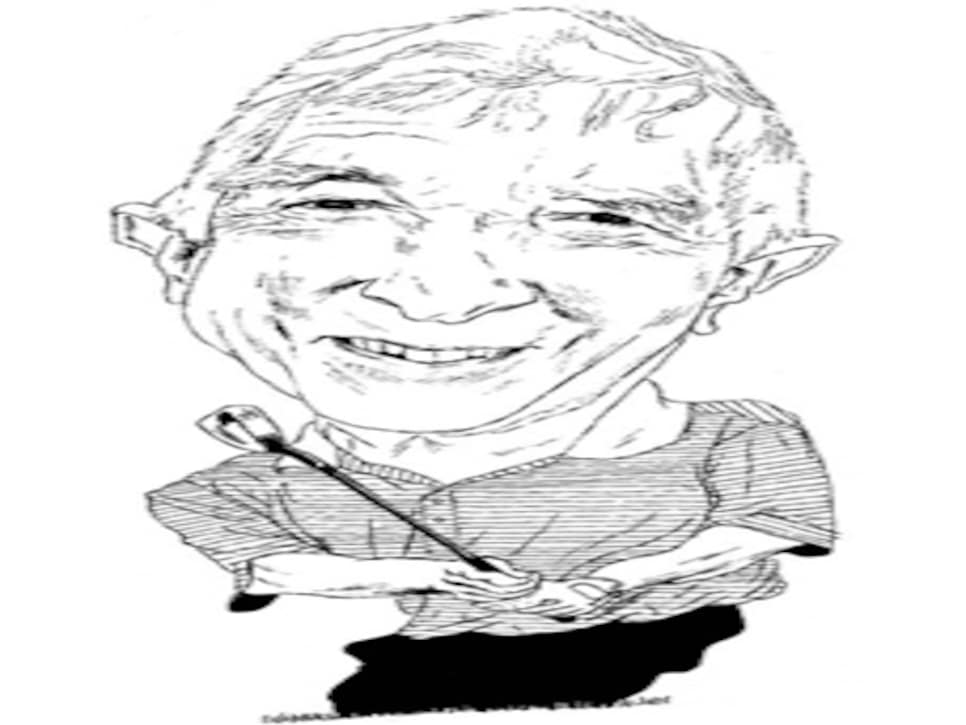 'Basically, I want to be alone with my golf'
If golfers were allowed to vote for the Nobel Prize in literature, John Updike would have won it in 1991, when The New Yorker published his short story "Farrell's Caddie." Farrell is an aging American businessman on a golf holiday in Scotland. He is assigned a gnarled old caddie named Sandy, who at first seems stubbornly out of sync with Farrell's mediocre game but gradually and almost magically manages "to release him from his stiff, soft, more than middle-aged body." Under Sandy's tutelage, Farrell begins to strike the ball with unaccustomed skill. As he does, it becomes evident that golf is a lens through which Sandy can see more than his swing. " 'Ye'd be better leavin' 'er,' " he counsels at one point, out of nowhere. Farrell thinks he must have misheard. " 'Yer missus,' Sandy clarified, passing over the 8-iron." Later, after Farrell has made his first birdie of the trip, Sandy says, " 'An' steer clear o' th' MiniCorp deal. They've laiveraged th' company tae daith.'"
Updike was a so-so player but an ardent and contented one. He had a regular group at Myopia Hunt Club, north of Boston, and his rounds with those men were among the happiest times of his life. Appropriately, he came to play golf by way of his imagination. Long before he'd actually swung a club (in an aunt's yard, at the age of 25), he was captivated by the golf stories of P.G. Wodehouse, and he "had no trouble, for some reason, in picturing the verdant scene as the Oldest Member sits on the terrace of the mythical Marvis Bay Golf and Country Club." He was hooked without hitting a ball.
Updike helped me with my game. I began playing even later in life than he did, and my wife was as appalled as if I'd taken up human trafficking. But she was a lifelong Updike fan -- during childhood summer vacations on Martha's Vineyard, she would look for him on Lucy Vincent Beach and then spread her towel within sight of his, hoping that she would later discover, in one of his novels or short stories, a description of a gloomy adolescent girl reading an Agatha Christie novel and working on her sunburn -- and when she sneered at my obsession I reminded her of Updike's. By looking at golf through his eyes, finally, she was able to forgive me for the men's member-guest.
"Somehow, it is hard to dislike a man once you have played a round of golf with him," Updike wrote in this magazine. I can think of exceptions, but I know what he meant, and so do you. Golf humbles all golfers, even the superstars, and the humbling improves and deepens them, as well as creating a bond. And Updike on the page was as generous and sympathetic as Updike on the course. You could say, in fact, that he wrote like a golfer -- unlike (for example) Norman Mailer, whose books are all forehand topspin and overhead smashes and jumping over the net. For Updike, as for Farrell's caddie, the game was a window onto things both laughably small and unnervingly large: "Golf's ultimate moral instruction directs us to find within ourselves a pivotal center of enjoyment: relax into a rhythm that fits the hills and swales, and play the shot at hand -- not the last one, or the next one, but the one at your feet, in the poison ivy, where you put it."
SELECTED EXCERPTS FROM UPDIKE'S ESSAYS IN THE PAGES OF GOLF DIGEST:
THE TROUBLE WITH A CADDIE
Basically, I want to be alone with my golf.
I don't mind my partner and opponents being there -- they are, in a sense, part of the necessary scenery -- but to have a couple of youthful (usually) strangers also in attendance turns the game into a mob sport. My golf is so delicate, so tenuously wired together with silent inward prayers, exhortations and unstable visualizations, that the sheer pressure of an additional pair of eyes crumbles the whole rickety structure into rubble. What is the caddie thinking? keeps running through my mind, to the exclusion of all else. And, How he must hate me! Or perhaps, with that last foozled 3-wood, I have passed into a netherworld beneath his contempt. My wish to please the fellow becomes obsessive and counterproductive, one of golf's magic maxims being that the harder you try, the worse you play.
Imagine writing a poem with a sweating, worried-looking boy handing you a different pencil at the end of every word. My golf, you may say, is no poem; nevertheless, I keep wanting it to be one.
Of the last caddie in my experience, I learned, as we strode along together that (a) he had a degree in business administration and was looking for a job in the depressed Massachusetts market; (b) he had been up until 3:30 the night before, drinking; (c) his girlfriend had once read one of my books; (d) he wanted me and my partner to win the match so he could carry our bags for another day of the tournament; and (e) he expected to receive rather more in payment than the posted fees declared. When I mentioned the $20 a round that was the official charge, he couldn't suppress a laugh right in my face. So, in addition to my golf worries I had to shoulder concern over his job prospects, his state of fatigue and hangover, his girlfriend's literary life and his tip.
The caddie's tip, indeed, approaching as inexorably as one's own death, and sooner, becomes a ruinous preoccupation. I have never had a caddie over 14 years of age who did not look disgruntled when he was paid. Under 14, they are still financially innocent and grateful for anything green. But in Ireland once, after a round in a gale that mixed snow with a driving rain, I saw a pack of snarling caddies rebel and attack the leader of our golf tour, who stuck to his proposed gratuity at the risk of his life. The caddies in Scotland and Ireland are not preambling their careers; this is their career; pursued day after plodding day under a dark cloud of Celtic stoicism and alcoholic vapors. Nevertheless, an ancient wisdom lurks in those crinkly eyes that have smilingly watched so many visiting Yank and Japanese foursomes come to grief in the venerable bunkers and grassy dunes. All an American caddie's eyes hold is the glaze of a childhood spent staring at television. At first, he gives you an 8-iron for 150 yards, as if you are Fred Couples; by the end of the round, he is handing you a 3-iron and telling you to punch it. Until my knees buckle I will carry my bag; golf is one misery that doesn't necessarily love company.
The truth is, I wish golf were half as popular, the way it was when I took up the game 30-odd years ago. For in those decades, in the area where I live north of Boston, the number of public golf courses has increased not at all, and courses that used to be a breeze to play have become simply hellish.
I was lucky enough to have been allowed to join, before the boom became quite so thunderous, a private club. It had been a relaxed sort of place -- a shaggy old layout where Willie Anderson had won an Open or two when Teddy Roosevelt was president (of the United States, not the club). You could walk the 18 without seeing more than two or three houses peeking in at the edges, and scarcely more than that number of other golfing groups. The same guy who cut the lawn in front of the veranda was the greenkeeper, and the sun and the chinch bugs were pretty much allowed to have their way with the verdure, and the underground pipes installed in the days of Bobby Jones had become pure ferric oxide, but, on balance, who terribly cared? On a balmy summer day, there was still nothing in the world to come between you and par except your own ineptitude. Golf's gift to the spirit is space, and the space in this case was organically designed and blessedly, blissfully underpopulated.
Alas, progress has found us out. The old course is a treasure, and the secret is out. Golf is booming, and yet something has gone from the game, something of naturalness and ease.
Golf used to be kind of a breather, and it has become more and more hard-breathing.
I confess that I have gotten so caught up in the gimme game that, rather than risk missing a four-footer, I have asked my partner to putt out so that I could slap my now-meaningless putt triumphantly away. I have even inwardly prayed that my opponent sink his long putt so that the testing one in front of me would no longer matter. I want my putts not to matter becomes the bottom line, and if this isn't the formula for golf gutlessness and the crunch-time yips, then Jack Nicklaus never won a major.
December always holds some mild-enough days. The foursome, thinned perhaps to a mere threesome or twosome, meets by the boarded-up clubhouse, exhilarated to have an entire golf course to itself. There are no tee markers, no starting times, no scorecards, no gasoline carts -- just golf-mad men, wearing wool hats and two sweaters each, moving on their feet. The season's handicap computer has been disconnected, so the sole spur to good play is rudimentary human competition -- a simple best-ball nassau or 50-cent game of skins, its running tally carried in the head of the accountant or retired banker in the group. You seem to be, in December golf, reinventing the game, in some rough realm predating 15th-century Scotland.
The last swing feels effortless, and the ball vanishes dead ahead, gray lost in gray, right where the 18th flag would be. The secret of golf has been found at last, after eight months of futilely chasing it. Now, the trick is to hold it in mind, all the indoor months ahead, without its melting away.
Golf camaraderie, like that of astronauts and Antarctic explorers, is based on a common experience of transcendence; fat or thin, scratch or duffer, we have been somewhere together where nongolfers never go.
NEVER TO SLEEP, ALWAYS TO DREAM
One is never tired while playing golf. Afterward, yes, and beforehand, very possibly, but while the score is mounting and the tees and fairways and greens are passing underfoot, fatigue is magically held at bay. I have flown overnight to London, taken the morning commuter plane from Heathrow up to Edinburgh, and driven several hours through a winding chain of villages to a golf course, delirious with jet lag. But once I stepped with my group of groggy Yanks onto the springy turf of the first tee, a rejuvenating exhilaration set in, dissipating fatigue as does the sun the mists of morning. We frisked around like a pack of schoolboys, and only after the 18th hole, in the creaking leather armchairs of the clubhouse bar, partaking of lulling liquors, did we feel our years again.
And in this country, too, the after-effects of a short night's sleep and a premature arising are suspended during play. How can this be? The answer can only be that golf is so entertaining and various in its challenges that the life-giving spirit is wholly engaged; weariness finds no cranny whereby to enter.
MY INNERMOST SWING THOUGHTS
The difficulty is, all swing thoughts decay, like radium. What burned up the course on Wednesday has turned to lead on Sunday. Yet it does not do to have a blank mind: The terrible hugeness of the course will rush into the vacuum, and the ball will spray like a thing berserk. A swing thought is the golfer's equivalent of the rock climber's Don't look down. With it, we reduce the huge circumambient room for error to a manageable somatic circumference. The score, the stakes, the beer in the clubhouse should all be ousted by some swing thought -- which is a swing thought in itself.
IS LIFE TOO SHORT FOR GOLF?
How much of my life had I spent playing golf, and could I now estimate, as my life draws near to its final accounting, whether this fraction had been ill spent? Compared with many golfers, of course, I have not spent much time at it at all. For my first 25 years, when many a country-club lad and lassie were honing their skills and toasting their noses on a sun-drenched links from March to November, I invested not a minute in the pastime, instead spending long hours failing to guess the murderer in mystery novels, learning how to draw with pen and ink without smudging, and mastering the nuances, in the company of other adolescent idlers, of such unprofitable sports as box hockey, roof ball, pinball and single-basket basketball. At the age of 25, I took up golf, figuring that, now that I was a freelance writer, I should do something with my afternoons.
My afternoons, back then, seemed freer than now, though the time I spent trying to cover blank paper is much the same -- about three hours a day. But in those days there was less mail to answer, the phone rang less often, there were no speaking engagements to fulfill, fewer proofs to ponder, fewer favor-seekers to placate -- much less marginalia, that is, to the text of my vocation. I had small children and worked at home and needed now and then to get out of the house. Golf was a sport one could play alone and practice alone. My once-or-twice-a-week golf games have been islands of bliss in my life, and my golfing companions, whose growing numbers now include a number of the dead, more dear to me than I can unembarrassedly say. Somehow, it is hard to dislike a man once you have played a round of golf with him.
For the hours and days it has taken from me, golf has given back what Ralph Waldo Emerson would call a new me, a life enhanced, lengthened into a new dimension.