News
Unlocking the promise of Latin American golf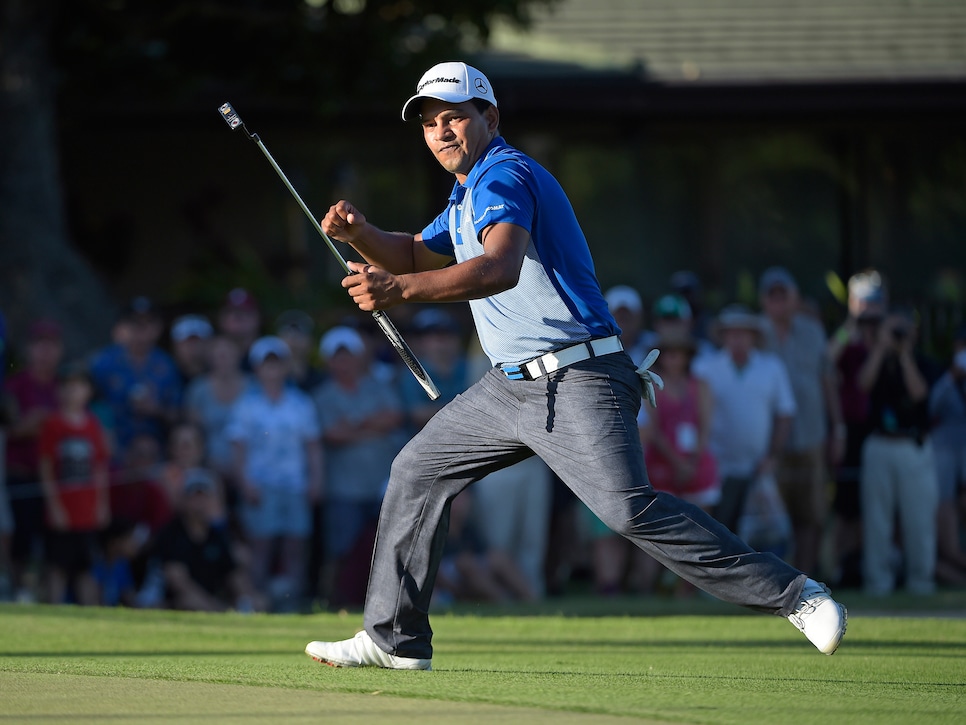 For a long time, Latin American golfers—especially men—habitually underachieved competing as professionals in the United States. Despite self-made swings that made them distinctive and often brilliant players, the best from Central and South America usually saw the demands of arduous travel and cultural displacement erode the competitive edge needed to excel on the PGA Tour.
But with the successful establishment of the Latin America Amateur Championship, the second edition played last weekend at Casa de Campo's Teeth of the Dog, the PGA Tour has finally become more of a promised land for the best players from that part of the world.
It hasn't been that way for the best from the vast region. Roberto De Vicenzo of Argentina won an incredible 231 tournaments worldwide, with the 1967 British Open the highlight, and only six on the PGA Tour. Countryman Angel Cabrera has won two majors, the 2007 U.S. Open and the 2009 Masters, but only one other time on the PGA Tour, the 2014 Greenbrier Classic. His mentor, Eduardo Romero, and Vicente Fernandez of Chile each had significant success on the European Tour and Champions Tour, but never won a PGA Tour event.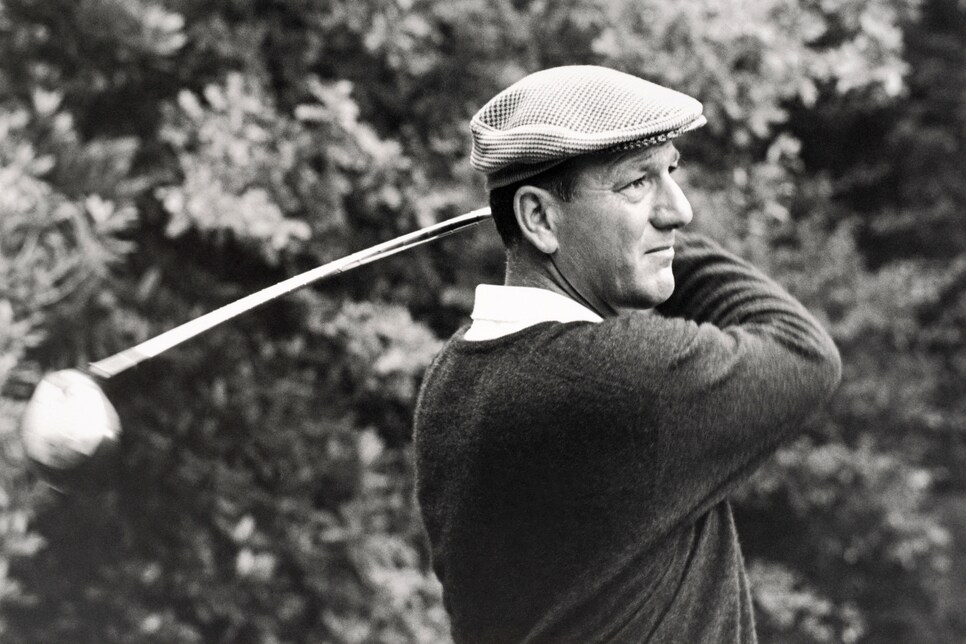 All four came from similar backgrounds: poor boys who became caddies at private clubs on the rich side of town, who developed self-taught games with a few hand-me-down clubs, who turned professional as teenagers and scrambled desperately on local and international tours to make a living. And after financial success came, each found it harder to make the personal sacrifices needed to live in America and play regularly on the PGA Tour.
De Vicenzo, now 92, noted in a 2006 Golf Digest article that in the 1950s and 1960s the expense of going to America was a deterrent, along with amphibious landings required on the leg from Buenos Aires to Sao Paulo. "I was not like Palmer, or Nicklaus or Gary Player," De Vicenzo said. "I wouldn't like to be Tiger Woods. Their life has been one of work, of sacrifice, of leaving many beautiful things in life behind to dedicate to success. Yes, I played all over the world. But more in my own time."
Each case is individual, but it's instructive that Puerto Rico's Chi Chi Rodriguez, a natural-born American citizen who began caddieing to escape the sugar fields and would serve in the U.S. Army before turning pro in 1960, was comfortable living and competing in the United States, winning eight times on the PGA Tour and 22 times on the Champions Tour. Victor Regalado, still the only native-born Mexican to win on the PGA Tour, grew up in Tijuana and often played in San Diego.
Some Latin American players for whom the United States was truly foreign have had brief bursts of success on the PGA Tour. Carlos Franco of Paraguay won four times from 2000-'04, then fell off. Argentine José Coceres won twice in 2001 but not again. More recent tour winners—Andres Romero of Argentina, Camilo Villegas of Colombia and Jhonatton Vegas of Venezuela—haven't lived up to earlier projections.
However, a new pattern for the best Latin Americans began to emerge with Villegas and Vegas, each following the example set by future Hall of Famer Lorena Ochoa of Mexico by attending American colleges on golf scholarships. After graduating from Florida and Texas, respectively, Villegas and Vegas each prepared for the PGA Tour through the Web.com Tour, as did Carlos Ortiz of Mexico, who attended North Texas. Meanwhile, Emiliano Grillo, 23, of Argentina, the winner of the season-opening Frys.com Open, left Buenos Aires for the IMG Academy in Bradenton, Fla., following the path of the LPGA's Julietta Granada of Paraguay, who won the 2004 U.S. Girls' Junior.
However, the winner of the Sony Open, 37-year-old Fabian Gomez of Argentina, is more of a throwback. The ex-caddie, who now has two PGA Tour victories, was mentored by Coceres and did not attend school in America.
There's no doubt more good young players will be coming down the pipeline. The developmental PGA Tour Latinoamérica—established in 2012 and offering about a dozen events a year—will be an important feeder. And for younger players in more formative years, so will the Latin America Amateur Championship. Which is what its organizers, the R&A, the USGA and Augusta National Golf Club, had in mind.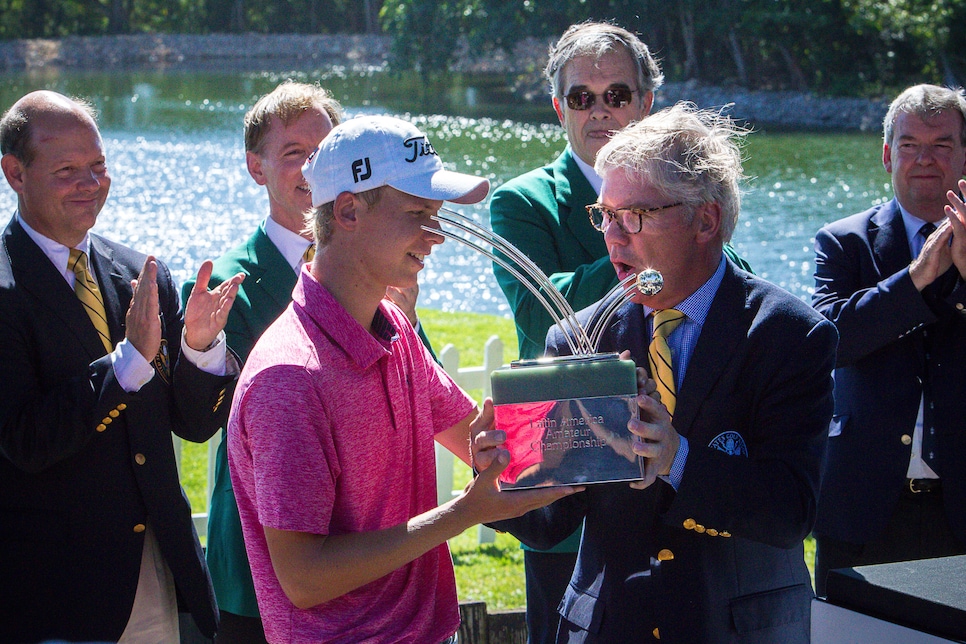 The event invites at least two players from 29 countries and territories in Central and South America to play, based on the World Amateur Golf Ranking. The winner—this year it was Paul Chaplet, a 16-year-old from Costa Rica—receives an invitation to the Masters, exemptions for the U.S. Amateur and British Amateur, and exemptions to final qualifying for the U.S. Open and British Open.
Tellingly, of the 107 players in this year's LAAC starting field, 67 have ties to colleges in the United States, and many of them are currently competing for their school.
Like golf in the Rio Olympics, the LAAC has strong support among advocates for growing the game globally. Tweeted Villegas last week, "Thrilled to see another Latin American Amateur taking place this week. It's a great opportunity for kids to see that golf is a possibility!" Augusta National chairman Billy Payne, also the prime mover behind the Asia-Pacific Amateur Championship, said last year, "We believe [the LAAC] will be motivating to current and future generations of golfers and, one day, create heroes that will inspire others to give the game a try."
It's the psychology that will make a difference. When Cabrera won at Oakmont in 2007, Silvia Bertolaccini, who won four LPGA events from 1974 to 1984, said: "In Argentina it was always hard for a young player to know he was actually good enough. We have always been very much on our own, and unless a person has a great natural self-confidence, it's very normal to have doubts. For a long time we have all been telling Angel that he is really, really good. But I don't think he really believed us."
We are rapidly approaching a day when young Latin American golfers will know on their own exactly what good enough is. Which will give them a better chance at greatness.
Editor's Note: This story first appeared in the Jan. 18 issue of Golf World.