From the magazine
Shattered: Stories from the University of the Southwest golf program's tragic van accident
In March, a van carrying members of the University of the Southwest golf team collided with a truck driven by a man with meth in his system. Nine people died. These are their heartbreaking tales.

THE SEARCH FOR MEANING begins at the end. It has to begin at the end. ¶ Along the side of Farm-to-Market Road 1788, a dusty stretch of nothingness in Andrews County, Texas, there is little to the palette but a cacophony of browns and yellows, dead grass, rocks, pebbles, scraps of tire tread and muffler drag. In the distance, some unattended oil pumpjacks are protected by barbed-wire fencing. It is dry and hot—91 degrees—and the smell is a blend of fumes and desolation.
The two-lane stretch of roadway is long and poorly marked, but after some stumbling around, you will see it. First, the patch of excessively blackened pavement, marked up by the spray-painted numbers and etchings of law enforcement. Then, a few feet away lies the vigil.
Two months have passed, but the still shiny blue crucifix—a crudely constructed pair of metal bars affixed to a pole of barbed wire— draws you in. At its base are a bouquet of blue, white and red artificial flowers and a tipped vase holding dead sunflowers. Seven small photographs are taped to the front alongside the names. You stare because you don't know what else to do. The faces are young and smiling and optimistic. The eyes are bright. The photographs were plucked from the University of the Southwest website: official images from the men's and women's golf teams. For a moment, however fleeting, you marvel at the life before you. You marvel at the potential.
THE SEARCH FOR MEANING takes you here. It has to take you here. You are Justin Pasitney, 22, sitting across from a reporter inside the clubhouse of the Edmonton Petroleum Golf & Country Club, a middle-of-nowhere spot in Spruce Grove, Alberta. You have agreed to this interview because—well, the weight. It is heavy, oftentimes overbearing. It suffocates you. It beats on you. Not the weight of guilt, per se, but the weight of what if. What if you had been in the van?
In the lead-up to the March 15-16 TankLogix Invitational in Midland, Texas, you and nine other members of the University of the Southwest men's team visited Rockwind Community Links near your campus in Hobbs, N.M., and played five rounds to determine which six would travel. On the final day of qualifying, you were neck and neck with a freshman for the final spot. However, Tiago Sousa, 18, was no ordinary freshman. A skinny kid from Picota, Portugal, Sousa arrived in Hobbs knowing nothing about anything. So you became a mentor to him. "My little brother," you would say with a wink. Although he didn't have a license, you let him drive your Chrysler 200 around the university parking lot, and even though you're a health nut, three or four times a week you took him to the nearby Wendy's for his favorite food—the Big Bacon Cheddar Cheeseburger. You watched as he completed a Rubik's cube in less than a minute. You answered his questions—and the newbie asked an endless string of questions. "Most curious person I've ever met," you say.
When, on the 18th hole of the last day of qualifying, you made a 20-foot putt to nail down the coveted sixth slot, you turned toward a dejected Tiago and said, warmly, "It's yours. You go." He didn't want to. It didn't seem right. He hadn't earned it. But you were a senior, 80 percent checked out of the collegiate golf world. You had been playing golf for the past 18 years, ever since your dad introduced it to you on the fairways of Edmonton, and though you still like golf, you no longer love golf. Not like Tiago.
So you insisted—"Tiago, I mean it!"—that he take the team van to Midland. You would stay home and follow his progress on your phone.
"Just play your best," you told him. "Nothing less than your best."
Now you are sitting across from a reporter, and you are sobbing.
THE SEARCH FOR MEANING takes you here. It has to take you here. You are Jennifer and Greg Zinn. Your marriage ended in divorce two years ago, but now it is March 26, 2022, and you are together inside Grace Church, in Arvada, Colo. You have decided that the grimness of a traditional funeral doesn't suit your quirky, weird, fun, adventurous 22-year-old son, so, a mere 10 days after the accident that took his life, you tell everyone who plans to attend that no suits or ties will be allowed. No frowns, no anger, no talk of the tragedy, no discussions of the way it transpired. This will be a celebration of Jackson Zinn's life. Period.
Some lamps and couches are set up in the front of the church, living-room style, and you call people up to share their stories. They're so good. Jackson, as a senior at Ralston Valley High, is remembered winning the Bobby Jones Award for character—then later that same day hanging on for dear life to the back of a golf cart (as friends tried to shake him loose), falling off, landing on his head and suffering a concussion.
JUSTIN PASITNEY MADE A 20-FOOT PUTT TO WIN THE COVETED SIXTH SLOT. HE THEN TURNED TO A DEJECTED TIAGO SOUSA AND SAID, WARMLY, 'IT'S YOURS. YOU GO.'
Another recalls Jackson—a handsome kid with cavernous dimples—being mistaken for Jordan Spieth at a sports bar, and then signing an autograph for an adoring fan. Still another notes Jackson's ridiculous fake Russian accent, and another tells of Jackson imitating Star Wars characters.
Although it's precisely how you want the event to be, you catch yourselves looking for your son in the crowd, looking for those dimples, and being hit with the reality that he is not here.
THE SEARCH FOR MEANING takes you here. It has to take you here. You are Haydan Stone, father of one of five members of the women's golf team at the University of the Southwest. You are the one who urged your oldest daughter, Laci, to take up the game. At Nocona (Texas) High, she had been one of the better volleyball and basketball players. But you love golf, and you wanted her to love golf, too. You bought her clubs and dragged her out to the nearby course, and during the pandemic, you and your oldest child played nearly every day. She had begun to cherish the sport as you do. "Maybe," you'd tell her, "you can play in college. Maybe … "
It wasn't that you were ignoring your other two children. It's just that, well, you were 18 when Laci was born. Your wife, Chelsi, was 17. You were babies raising a baby, and when everyone in Nocona said you were doomed to fail, you took it personally. You turned down a track scholarship to Abilene Christian to accept a job at an oil rig. You proposed a month after Laci's birth, found a house, made ends meet. "We were fighters," you say. "We were determined to make it work—for our daughter."
On the night of Friday, March 18, you are inside the embalming room of the Jerry Woods Funeral Home in Nocona, standing above a table, staring down at a large, black zip-up bag supposedly containing the lifeless body of your baby girl. One of the employees makes sure you are ready for this, makes certain this is the sight you wish to see—and at 8:17 p.m. he pulls down the flaps.
It's Laci's face, Laci's hair, Laci's eyes, Laci's lips.
But it's not the girl who belted Whitney Houston songs during karaoke at the top of her lungs, not the young woman whose TikTok feed (name: @Lacistoner) is a weirdly eclectic series of poses and lip syncs, not the young woman who—while taking a biology test as a sophomore at Nocona High—had her Quizlet app start speaking aloud to the entire class. "Man," says Hank Ulbig, her friend, "she was so embarrassed."
It's not the Laci who lit up a room, who could burp the loudest, hug the tightest, love the most passionately.
The Laci before you is merely a shell, but you need to see it.
"It makes it real," you explain. "There's nothing to hide behind."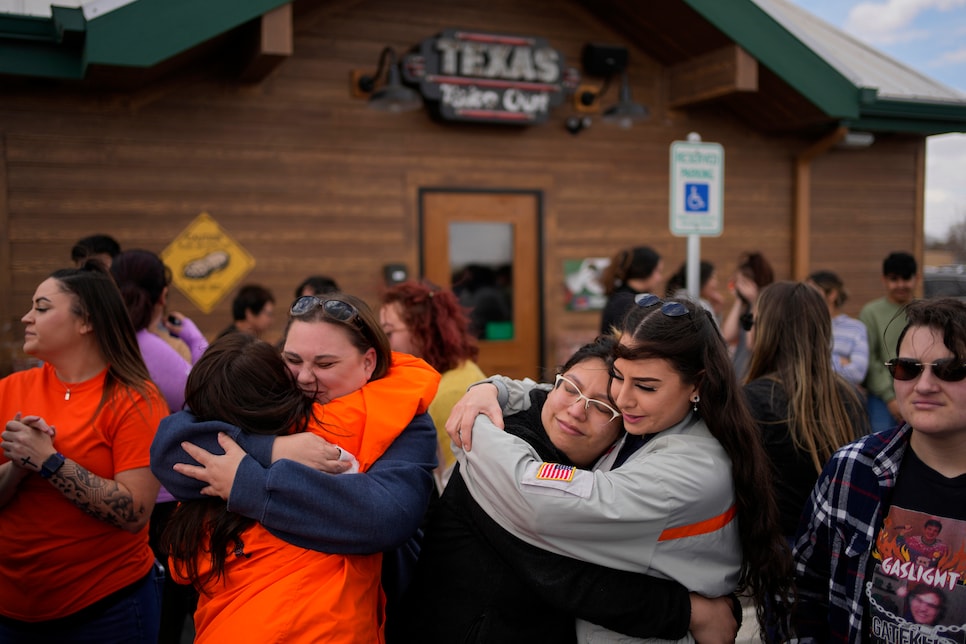 Two days after the crash, 150 people turned out to honor Jackson Zinn at Texas Roadhouse in Hobbs where he worked. Photograph by AP/John Locher
John Locher
THE SEARCH FOR MEANING takes you here. It has to take you here. You are June James, and your son is the head coach of the University of the Southwest men's and women's golf teams. It is Wednesday, March 16, about 7 a.m., and the sun peeks through your bedroom blinds. As a longtime assistant principal at Killeen (Texas) High, you are enjoying the casualness of a week of spring break. You wake up, brush your teeth, tend to your dogs, Roxie and Lacey.
Then your phone makes a noise: Ping. It is a text from Jimmy Hammond, a criminal-justice teacher at your school. Only it makes no sense. At least it isn't making sense in the grogginess of the moment.
"I just heard about Tyler. I am so sorry for your loss."
You read the words again and again. Then you snap out of it and frantically call Hammond, ask him what the hell he's talking about.
"Oh, my God," he says. "You don't know … "
You begin to think about the night before. You texted your son from a high school baseball game, heard nothing. Texted him again. Nothing. Then again. Nothing. But that was surely Tyler just being Tyler. He was talking with one of his players or checking out the latest PGA Tour results or giving some putting advice. Maybe he was busy driving the team van—an inglorious requirement of an inglorious job.
He's in his first season as a college head golf coach, and although his team—a seven-year-old NAIA program—isn't exactly overflowing with future Tigers and Phils, he treats each member like a future Tiger or Phil. What was it he recently told you? "Mom, can you believe this? I'm living the life."
JUNE JAMES LOOKED AT HER PHONE, HOPING THERE WAS A MISTAKE, HOPING TYLER WAS SLEEPING, HOPING HE HAD SIMPLY BEEN PREOCCUPIED. 'BUT THEN I THOUGHT ABOUT HIM NEVER RETURNING MY TEXTS,' SHE SAYS, 'AND I KNEW.'
It sure doesn't look like the life to you. Tyler is 26, making $26,000 a year, driving a 2004 Ford truck with 120,000 miles. He has a tiny apartment and no girlfriend and subsists on Buffalo Wild Wings and Chipotle. Yet the happiness oozes from him. Tyler picked up his first club at age 5 and later played at Ottawa University and Howard Payne University. While his peers dreamed of competing on the PGA Tour, Tyler dreamed of coaching.
"When he was in high school he'd play tournaments and help out the rival golfers with their swings," you say. "He's the rare person whose first instinct is to help."
But now you don't know what to think. You look back at your phone, hoping there's a mistake, hoping Tyler is sleeping, hoping he had simply been preoccupied.
"But then I thought about him never returning my texts," you say, "and I knew. Deep down, I knew."
THE SEARCH FOR MEANING takes you here. It has to take you here. You are Gary Raines, a 70-year-old retired prison chaplain and a man who believes— no, knows—God has a precise plan for the way everything winds up. It is by design, all of it. But now, sitting inside your home in Fort Stockton, Texas, you are questioning yourself.
It's after midnight on Wednesday, March 16. You have just received the call that your 21-year-old daughter, Karisa, is dead—and you fail to process the information. Karisa's light cannot be extinguished, not when she's this young, this vibrant. It is not possible. She is not dead.
This was a girl who at 4 was deemed legally blind by an optometrist. Multiple eye surgeries followed, then—for years—the Coke-bottle lenses concealed a good portion of her small, freckled face. For Karisa's twin brother's 12th birthday, you bought the boy a set of golf clubs. "I brought them to the house for Kasey, and Karisa was steaming mad," you say. "She complained, 'Where are my clubs?' I said, 'Honey, you're … blind.' "
HAYDAN STONE BOUGHT HIS OLDEST DAUGHTER A SET OF GOLF CLUBS, AND DURING THE PANDEMIC THEY PLAYED NEARLY EVERY DAY. 'MAYBE,' HE TOLD HER, 'YOU CAN PLAY IN COLLEGE. MAYBE …'
By week's end you were driving 85 miles to the Odessa Walmart to pick up a small set of clubs for your daughter. In her first tournament, she shot a 92. "The girl couldn't hit a volleyball because she couldn't see it," you say. "But she could hammer a tiny golf ball. She just loved everything about the game. It spoke to her."
Now, you're being told that your baby daughter is gone? No. No, no, no. You are sitting, tears streaming down your face, remembering that you had planned on driving 1½ hours to Midland to watch Karisa play. "Don't come," your daughter had pleaded. "The field is tough, and I need to concentrate 100 percent on my game."
You canceled the trip. What if you hadn't? Maybe you would have stayed the night at a motel in Midland. Maybe Karisa would have stayed with you. You could have had dinner, swapped stories, discussed Bible passages. Maybe she wouldn't have boarded the van.
"But God knows what He's doing," you say. "It's not always easy to grasp. But God knows."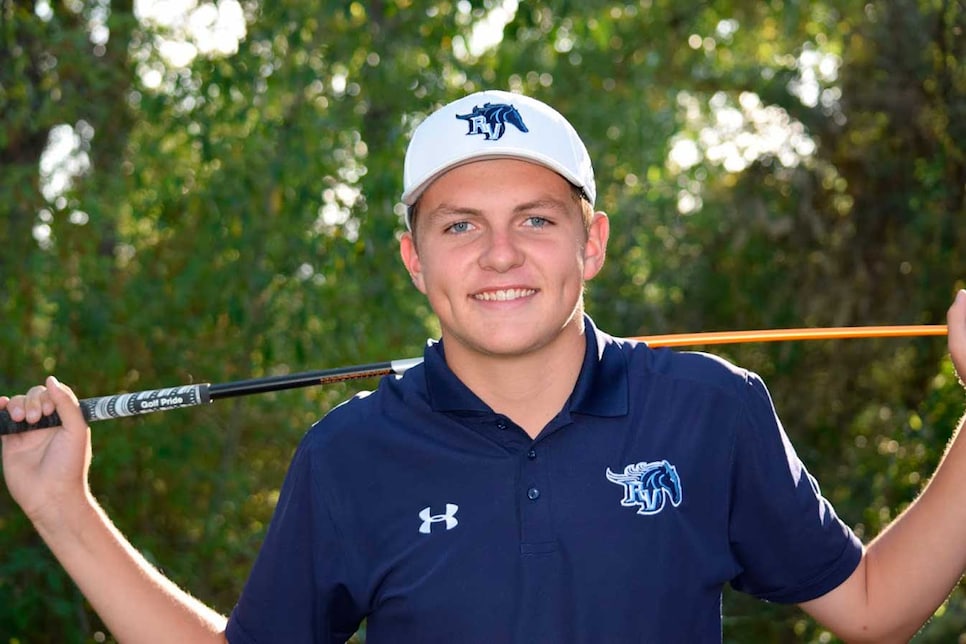 Junior Jackson Zinn was considering a career as a PGA golf professional.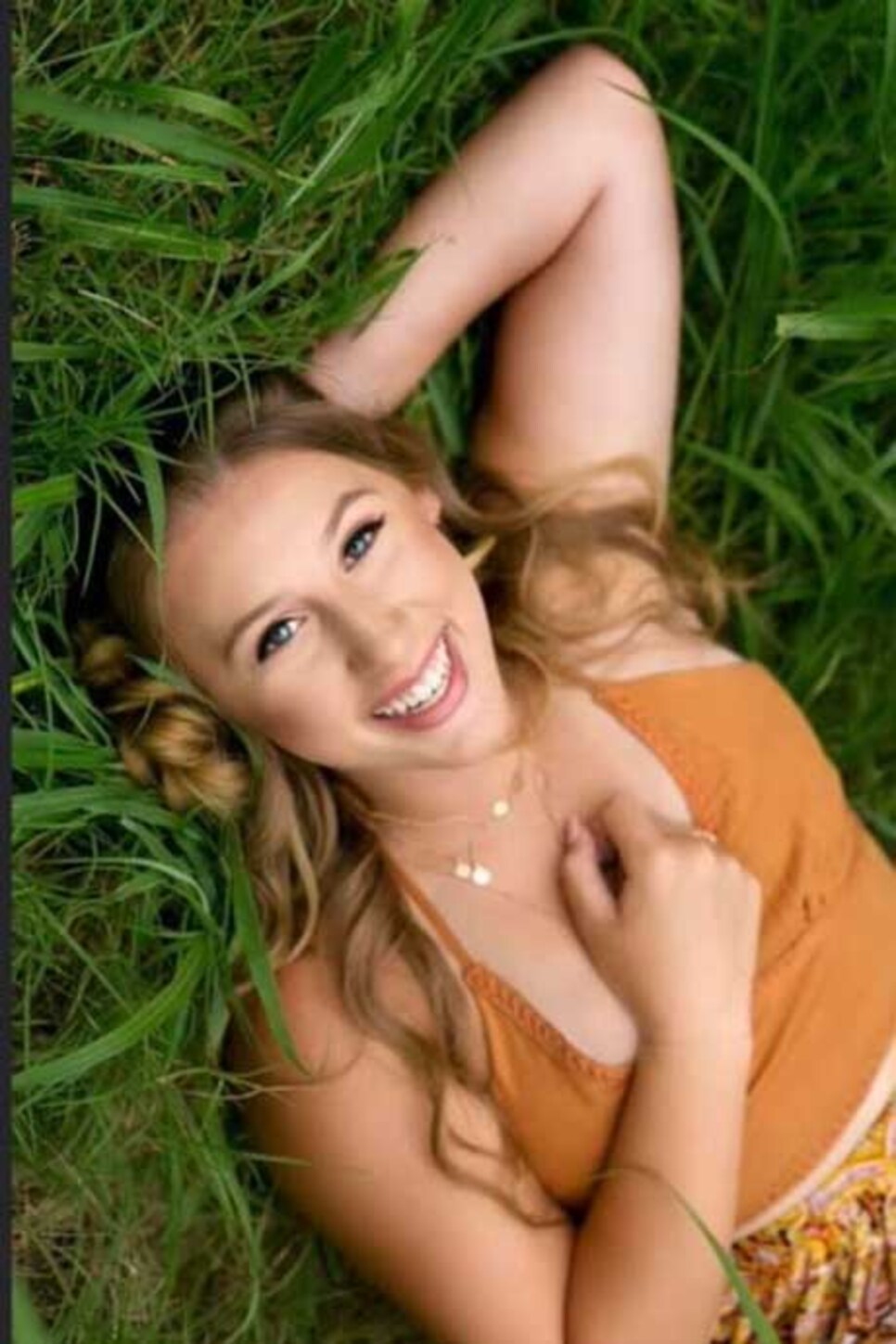 Freshman Laci Stone had been in the front passenger seat serving as trip DJ.
Freshman Tiago Sousa (with his mother, Ana) could solve a Rubik's cube in less than a minute.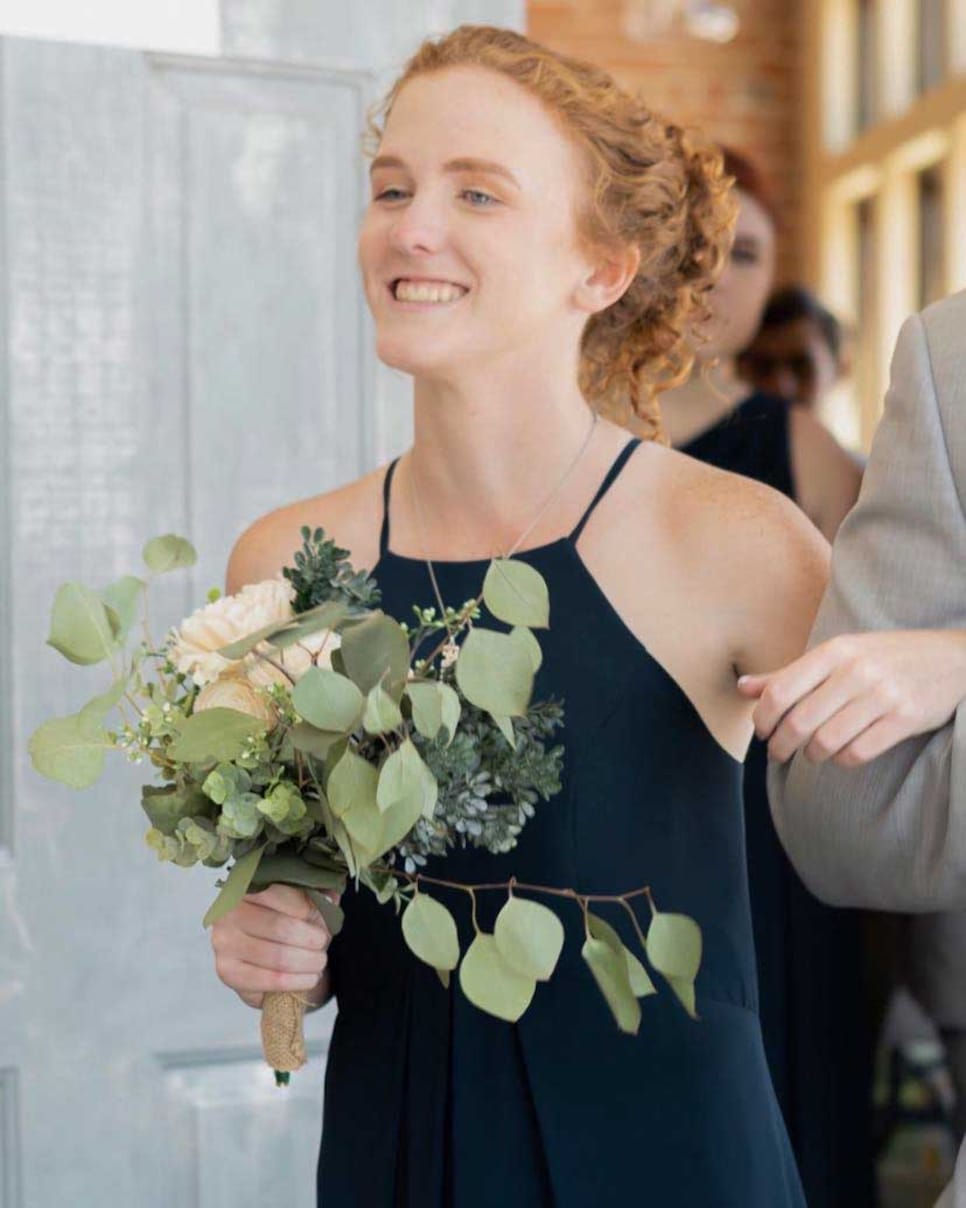 Junior Karisa Raines, a huge Nelly Korda fan, wanted to become a forensic scientist.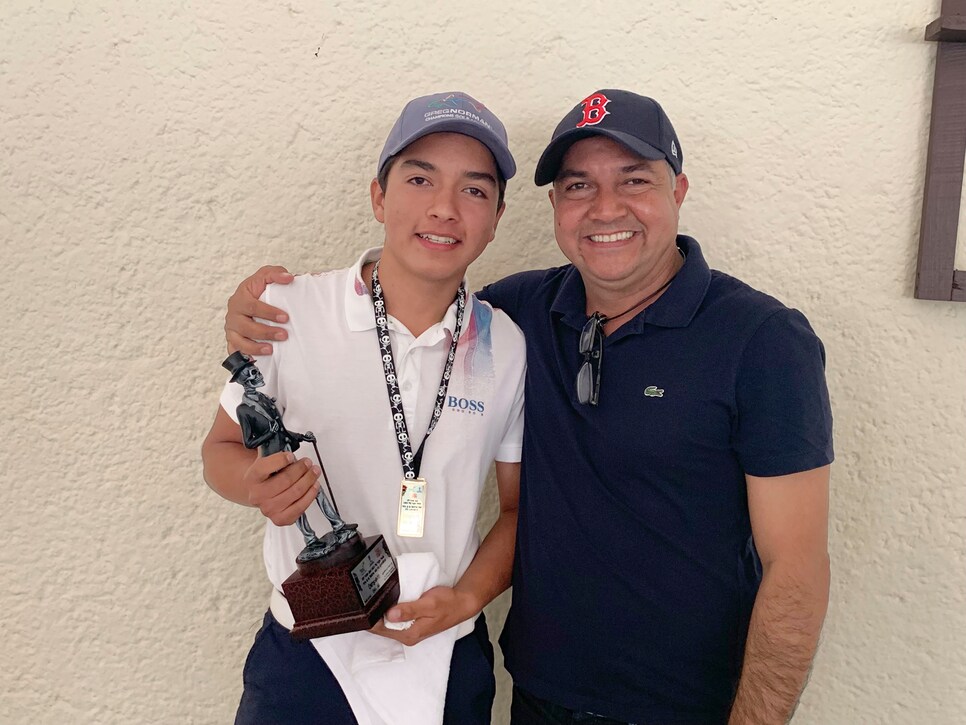 Freshman Mauricio Sanchez (with dad Juan Carlos) was the best player on the team.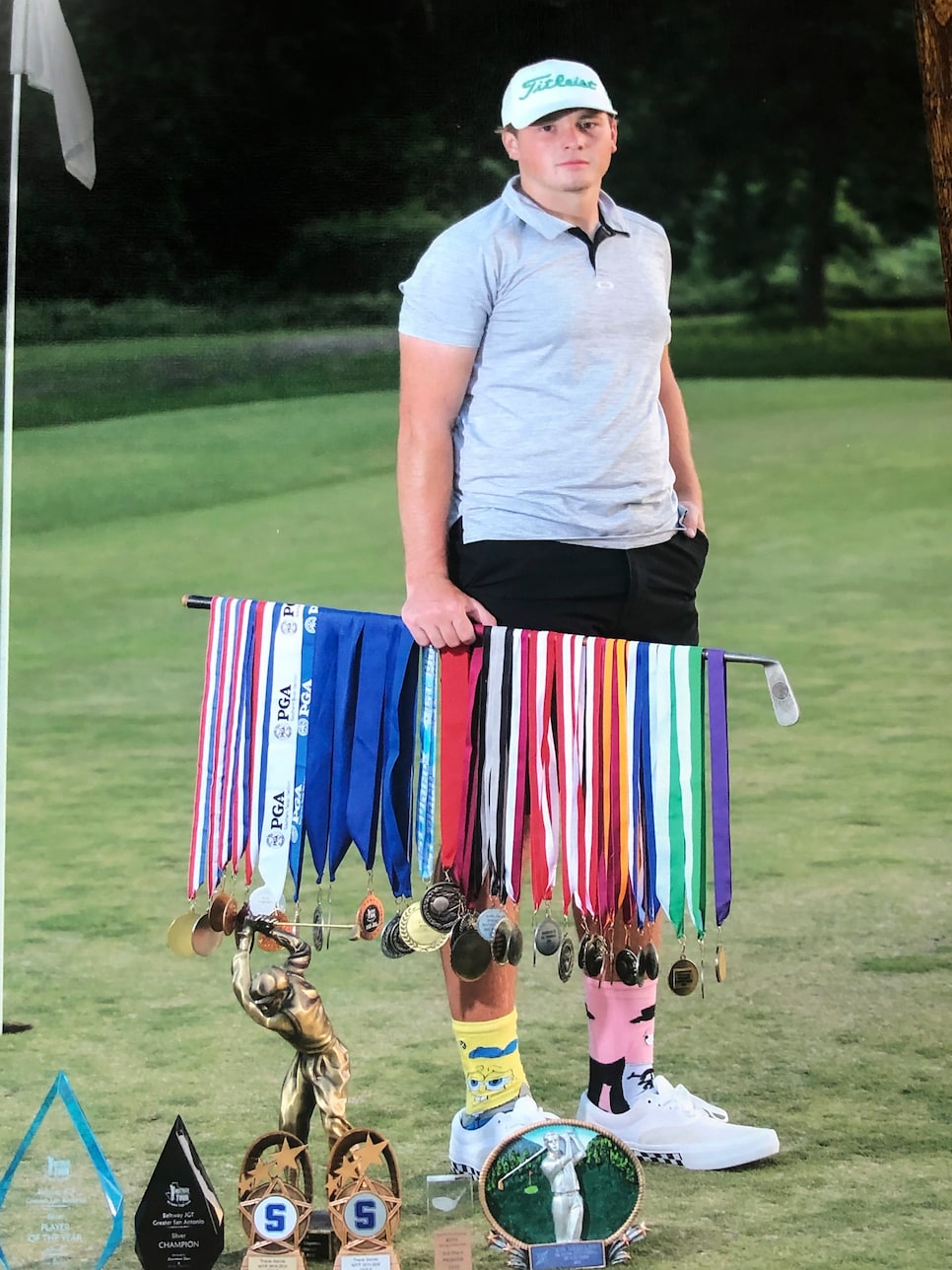 Freshman Travis Garcia had a decorated high school career.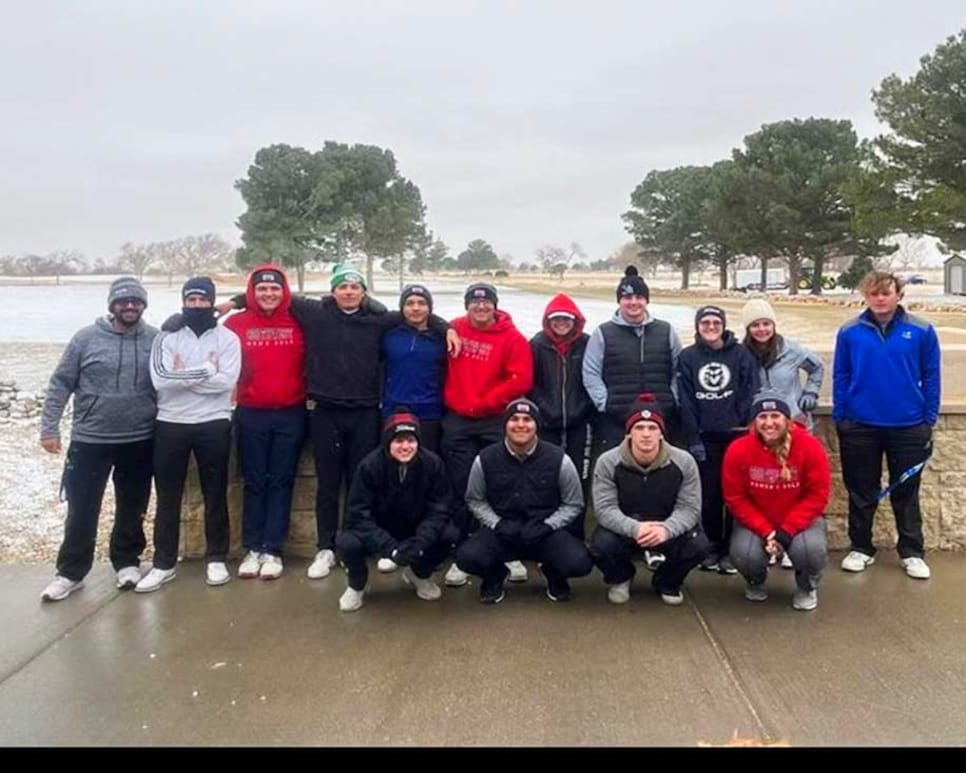 Coach Tyler James (far left) had his players compete in the snow as a team-bonding exercise.
THE SEARCH FOR MEANING takes you here. It has to take you here. You are Ryan Tipton, University of the Southwest provost, and you're in Port St. Lucie, Fla., on vacation with your wife, Keisha, and daughter, Rylee. It is roughly 11 p.m. Eastern time on the night of Tuesday, March 15. Your cellphone rings. A number appears with a 575 area code—Hobbs, N.M.
The last thing you want is a work call. You're in 75-degree weather, next to the white beaches of the Atlantic Ocean, to get away from reality. All you do is work and work and work. Provost and problem-solver are academic synonyms. There's no rest. But even 1,500 miles away from Hobbs, you have to pick up.
Rockwind Community Links in Hobbs, N.M., is where the golf team practiced.
Darren Carroll
One of your staffers is on the other end. There has been an accident involving the university's golf teams. Not much information is available: a return trip from Midland, Texas, Farm-to-Market Road 1788, eight students and a coach on board, fatalities.
Your mind races. In a past life, you owned Tipton Oil and Gas. Post college, it seemed like the thing to do. Then the tragedies mounted. "The oil industry," you say, "is the second most dangerous job, only behind the fishermen in Alaska." Over 10 years myriad employees died in oil-field catastrophes, in car accidents, one after another. As the boss, it was your responsibility to call the loved ones and break the news. "I'm sorry, ma'am, but your husband … "
GARY RAINES IS SITTING, TEARS STREAMING DOWN HIS FACE, REMEMBERING HOW HE HAD PLANNED ON DRIVING TO MIDLAND TO WATCH KARISA PLAY. WHAT IF HE HADN'T CANCELED THE TRIP? MAYBE SHE WOULDN'T HAVE BOARDED THE VAN.
"You never get used to it," you say. "You don't get comfortable telling people a family member died."
Now you are sitting here, inside your Florida hotel room, and the tragedy comes into focus. A deputy with the Texas Department of Transportation gets on the line and breaks everything down. The University of the Southwest Ford Transit van towing a box trailer filled with golf equipment was driving north toward Hobbs. A Dodge Ram 2500 pickup was driving south toward Midland. The Dodge truck lost control and swerved into the other lane. A head-on collision and fire ensued. Some of the casualties are confirmed—Laci Stone and Karisa Raines, Mauricio Sanchez and Travis Garcia.
Even though it's late at night, you demand your employee get you the family phone numbers ASAP. Telling parents their child has died is awful but not nearly as awful as having them learn via the Internet or television. So, one by one, you dial.
"Hello, this is Ryan Tipton. I'm the provost from the University of the Southwest, and I'm calling with some terrible news. There's been an accident … "
As you relay the information and listen to the howls and screams, you realize your past life and your present life are intertwined. You are the deliverer of grief.
THE SEARCH FOR MEANING takes you here. It has to take you here. You are a first responder, approaching the Texas Farm-to-Market Road 1788, just a hair north of Texas State Highway 115. It is a little after 8:30 p.m. on Tuesday, March 15. You have been told of an accident involving two vehicles. Because of your experience in law enforcement, you are prepared for this. Or you thought you were prepared for this.
The scene before you is indescribable. As soon as the pickup truck crossed the median, it clearly collided head-on with the University of the Southwest van, then swerved off into a ditch and against a barbed wire fence. There are two lifeless bodies in the front of the Dodge Ram—a man and a boy. The long white van, meanwhile, is engulfed in flames, as is the cargo vehicle behind it. On the ground, roughly six feet from impact, rests the body of a young woman with long blonde hair. You later learn that Laci Stone had been in the front-passenger seat, sitting alongside Tyler James, acting (as always) as the trip DJ. She was ejected through a window and onto the pavement. Her family will come to see this as a blessing—the only one of the victims whose body will be identifiable. "I believe she died quickly," Haydan Stone says, "without pain."
The fire is enormous. The heat is unbearable. Whoever is within the van will not be getting out. You do not yet know that six people remain inside, that none of the victims are older than 26, that they have yet to live full lives, have yet to fall in love and get married and have children and travel the world and taste amazing food and …
You don't know any of this. You do know that—somehow, against all logic and odds—two of the passengers are alive. Their names are Hayden Underhill and Dayton Price—both freshmen from Ontario who happened to be seated side by side near the rear of the vehicle. They were able to crawl out and will soon be airlifted to hospitals in Lubbock. They will make it. You like to think of this as good news. But you can't unsee the body.
SOMEHOW, AGAINST ALL ODDS, TWO PASSENGERS SURVIVE. HAYDEN UNDERHILL AND DAYTON PRICE, BOTH FRESHMEN WHO WERE SEATED NEAR EACH OTHER IN THE BACK, CRAWLED OUT.
THE SEARCH FOR MEANING takes you here. It has to take you here. You are Henrich Siemens, 38-year-old husband and father from Seminole, Texas. You work for an outfit called Lo Pro Trucking. You have two daughters, a son and, well, a pretty awful track record.
According to the Gaines County Sheriff 's Department, you once held scissors against the neck of your wife, Agatha, such that "in the manner of their use and intended use were capable of causing death or serious bodily injury during the commission of the assault." Another time, according to police, you burned her with a soldering torch.
Somehow, Agatha has stayed with you for more than a decade. She regularly turns to social media to express her love and affection. She calls you "my best friend." The Facebook pictures tell a story Agatha wants everyone to grasp: Henrich, the loving dad, Henrich, the top-shelf spouse. She manages to see the good in you.
On the night of March 15, at approximately 8:15, you and your son, Ricky, are driving your Dodge Ram 2500 south down 1788. It's the type of father-son moment Agatha raves about. He's a good man. Really, he's a good man. However, you're traveling along this dark, fast stretch of Texas highway under the influence of methamphetamine. Your son, just 13 years old, is in the passenger seat. For whatever reason, you swerve into the oncoming lane.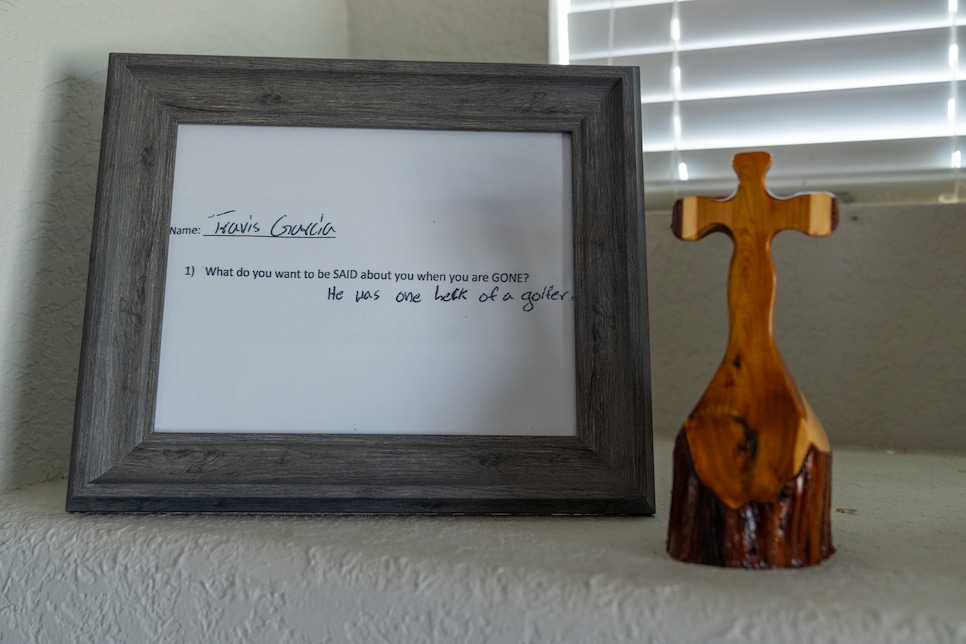 Travis Garcia's passion for golf was evident in how he filled out this card.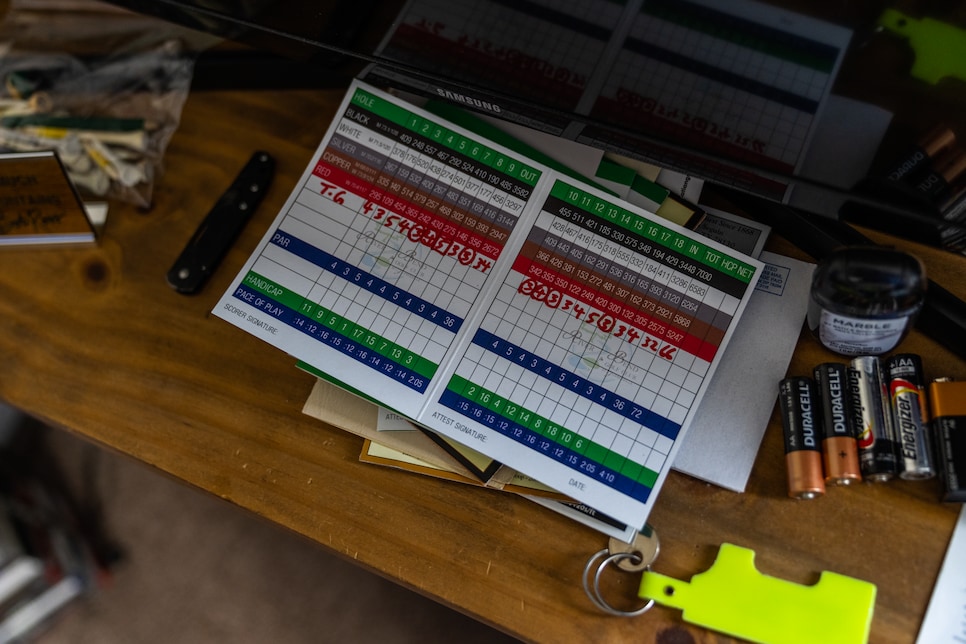 A scorecard lying on a desk in Travis Garcia's bedroom.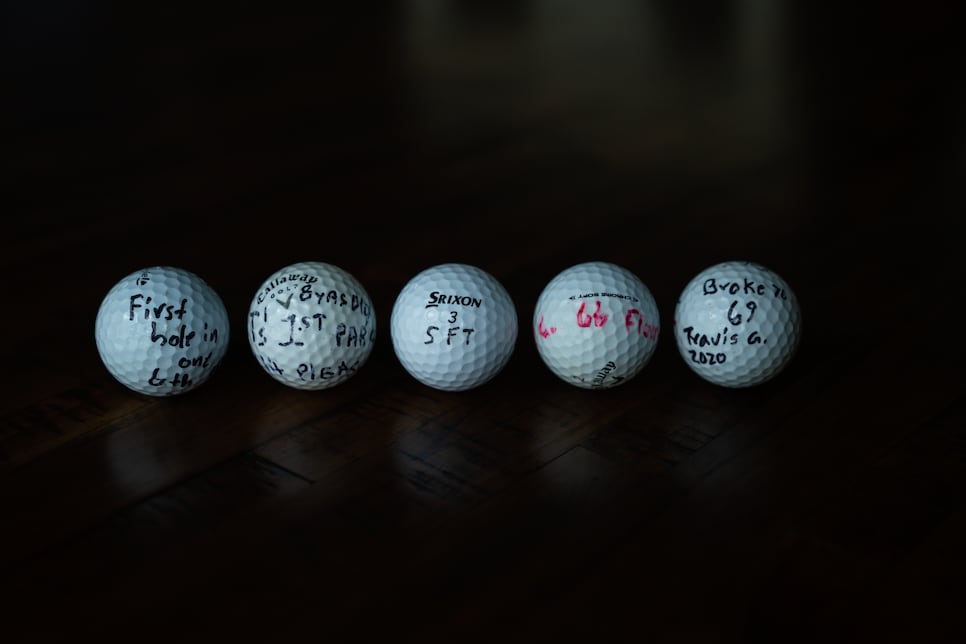 Golf balls Travis Garcia had saved over the years.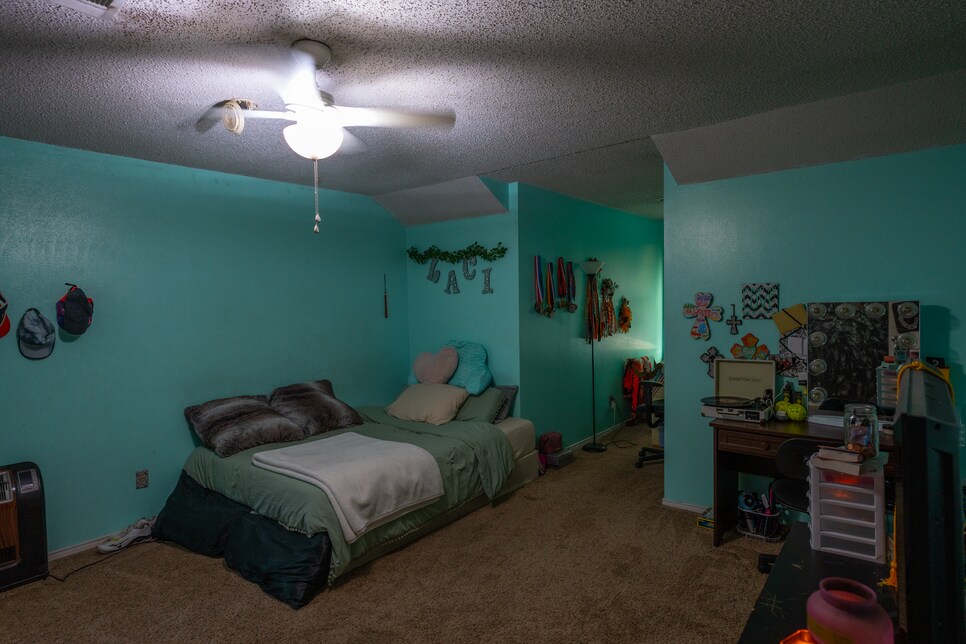 Laci Stone's bedroom at her family home in Nocona, Texas.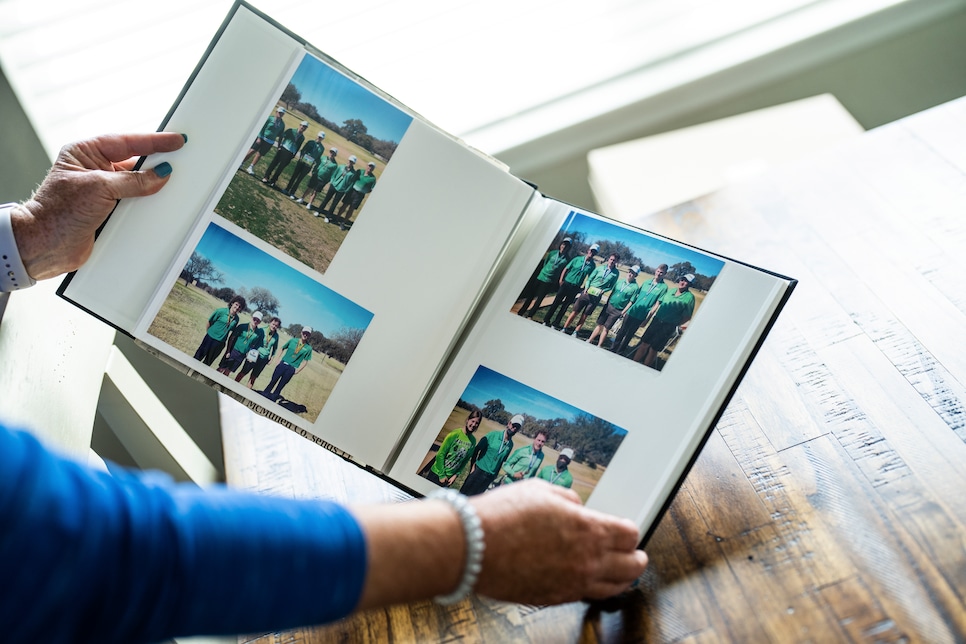 Abby Rains, the mother of Travis Garcia, flips through a scrapbook that her sone kept of his golf accomplishments.
Darren Carroll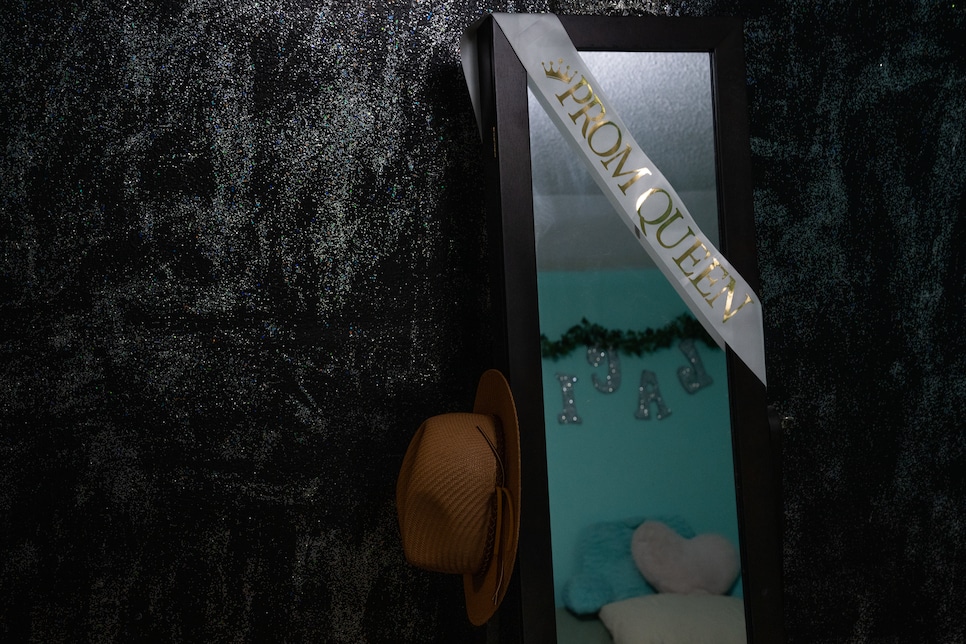 The prom queen ribbon hanging in Laci Stone's bedroom.
THE SEARCH FOR MEANING takes you here. It has to take you here. You are eight members of the University of the Southwest golf team, sitting inside your van at the Ranchland Hills Golf Club in Midland. Over the past eight hours, you collectively butchered the first day of the TankLogix Invitational. In the men's team competition, 36 holes were completed, and the Mustangs placed last, 56 strokes behind Midland College, the nation's top team in the National Junior College Association of America division. Things got so dire that, midway through the second round, Travis Garcia—the self-doubter of the bunch—called his mother, Abby Rains, while waiting his turn.
"Mom," he said, "I'm playing so terribly. This is awful."
SOMEHOW, AGAINST ALL ODDS, TWO PASSENGERS SURVIVE. HAYDEN UNDERHILL AND DAYTON PRICE, BOTH FRESHMEN WHO WERE SEATED NEAR EACH OTHER IN THE BACK, WERE SEVERELY BURNED BUT CRAWLED OUT.
Rains didn't want to hear it. Her only child could be such a ray of light: a collector of crazy socks, a Bob Ross fanatic, a devoted son who called home multiple times per day. However, he also had this habit of sabotaging himself, of failing to see the talent within. He had once shot a 66 on his hometown course and dreamed of playing professionally—if he could only get out of his head.
"Dude," she said, "you're gonna get in trouble."
"I don't care," Travis replied.
"Yeah, you do care," Abby said. "You know you're not supposed to be on the phone. Don't do this."
Laci Stone and Karisa Raines, meanwhile, fared no better in the women's field. After 18 holes, Raines (89) and Stone (99) ranked near the bottom. "I texted Laci to ask how it went," Chelsi Stone said. "She wasn't too happy." Making matters worse, you will drive home tonight, wake up early the next morning and return for one more day of shellacking. Your team simply isn't at this level, not yet.
But now the good news. Coach James reads the mood of his team, and it is dark. Hence, he has decided that, instead of immediately making the 100-mile drive back home to Hobbs, you will stop for dinner at the nearest Midland Chick-fil-A. Coach pulls up and parks, and you all enter, stare at the familiar menu and order your meals. It's a much-needed escape from the seriousness of competitive golf and allows a general decompression.
By the time you depart the restaurant, it is approximately 7:45 p.m. Without Chick-fil-A, the timing changes. You would have already driven down Texas Farm-to-Market Road 1788. You would have been approaching home.
FRESHMAN MAURICIO SANCHEZ WAS A SCRATCH GOLFER WITH DREAMS OF TRANSFERRING TO A DIVISION I PROGRAM. 'THERE IS NOTHING MY SON LOVED MORE,' SAYS HIS FATHER, JUAN CARLOS.
THE SEARCH FOR MEANING takes you here. It has to take you here. You are Mauricio Sanchez. Everyone calls you "Mau." It is March 15, 2022, roughly 4 a.m. The alarm on your phone blares loudly, and on 99 of 100 occasions you abhor the damned sound. Sleep, after all, is one of your great passions, and your teammates routinely ridicule your ability to doze off anywhere, anytime.
Today, though, you pop out of the bed in your University of the Southwest dormitory room and, after a quick shower, prepare for the awesomeness that awaits. That's how you view the game of golf—as pure awesomeness—and it shows. Though only a 19-year-old freshman from Aguascalientes, Mexico, you are already the Mustangs' finest player—a scratch golfer with legitimate dreams of transferring to a Division I program. You don't care that Hobbs is the epicenter of nothing. You don't care that there's no social life. You are here because golf means everything to you. "His passion for the sport was unparalleled," says Juan Carlos Sanchez, Mauricio's father. "There is nothing my son loved more."
At 5 a.m., you and your teammates meet up at the van in the university parking lot. The sun has yet to rise. The temperature is in the mid-40s. It's you and Tiago and Karisa and Laci and Travis and Jackson and Hayden and Dayton, plus two other young women, who plan on staying over in Midland with family. Coach James greets everyone with a warm smile, an optimistic word, a pat on the back, a hearty, "Good morning!"
You file into the vehicle, settle into your seats, and you take off. Your immediate path entails a straight road to Texas. Your long-term future, however, feels limitless.