News
Undercover Tour Pro: My caddie has my back, so I've got his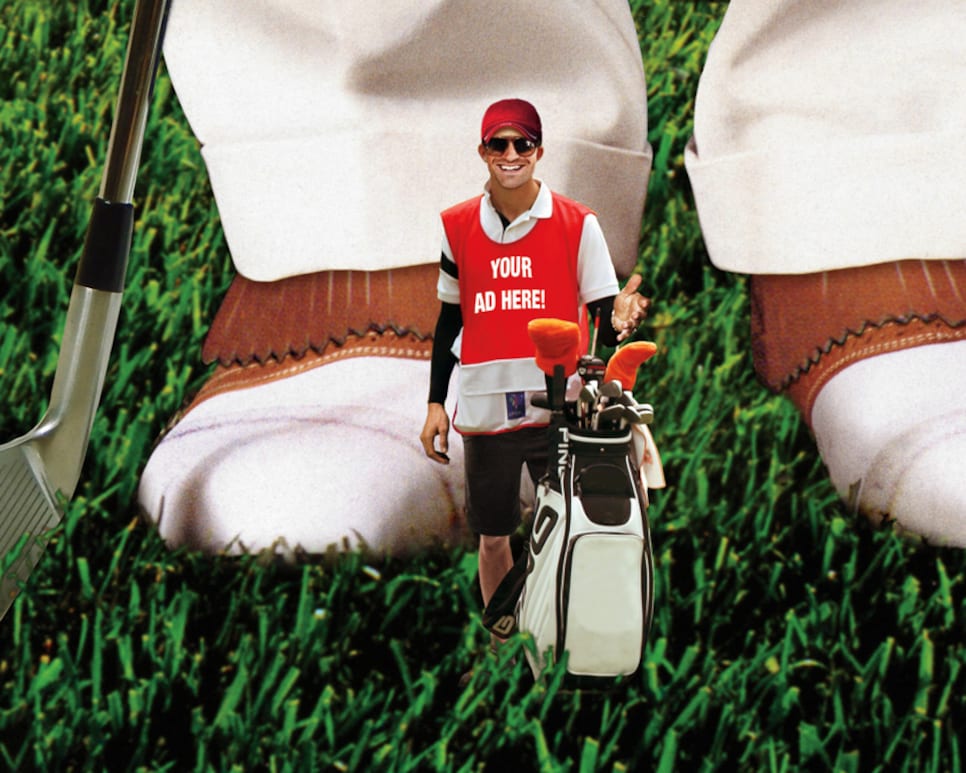 Illustration by Eddie Guy
By now you've heard that caddies are suing the tour over bibs. My caddie is part of the lawsuit, so I've been privy to all the back and forth for the past year and a half. As you've seen, the chest and back of the bib usually go to the title sponsor, with the FedEx Cup and PGA Tour logos on the front pockets. The caddies want a taste of the action, or at least the right to sell the left breast.
The tour runs the program that gives caddies the option of wearing a sponsor's logo on their hat, but the top caddie stands to make only about 11 grand. For what it's worth, I've played European Tour events where the bibs had a dozen logos. But rather than dive into the legalese of who owns the marketing real estate on a person's body in the context of independent contractors and yada yada yada, what it comes down to is this: The PGA Tour could do better by the caddies.
Is their treatment better than 20 years ago? Absolutely. Is it up to 2015 standards? A lot of these guys lead pretty hard lives, and it wouldn't cost the tour much to make them a little better.
I know what you're probably thinking: They're caddies! They chose a notoriously insecure form of labor. Every caddie out here chose to go through life with someone else's name on his back. So set up a tent behind the scoring trailer, throw 'em some hot dogs and be done with it?
My caddie has a college degree. Last year I paid him $270,000. His travel expenses were significant. Still, that's serious income. I'm glad he can set up his wife and two children in a nice house not far from a major airport. Given what I make, and that he's right next to me as I'm making it, that seems fair. Is he indispensable? Well, I read my own putts, and anyone with half a brain can pace a yardage. But when the stakes are what they are and I can have only one guy in my corner, my caddie's the guy I want. That's why he's worth every penny.
Sure, you'll see players win with a random buddy or brother-in-law on the bag. I've seen Freddie Couples shoot 64 with a girlfriend who had no idea how to pull a pin. Players work differently. Webb Simpson might not know how to take the club back anymore without Paul Tesori standing beside him. Webb's a great player, but the fact Paul played on tour lets Webb trust him to a high degree, and together they're a real team.
Which is all to say, being a PGA Tour caddie is a big-time job. They're part of the TV show. They're half the dialogue that gets picked up on course, and they give interviews after the round. I can't think of any other line of work where a guy can make half a million a year but is treated so dismissively.
My caddie isn't allowed in the clubhouse. At PGA National, caddies had to wait in a shed during a severe lightning storm, which was absurdly dangerous. European Tour caddies get clubhouse credentials. LPGA Tour players get a "buddy badge" to bring in whomever they wish, which is often their caddie. Normally I eat with my wife or other players, but I'd like the option.
At Torrey Pines they ran out of parking, and the fix was making caddies park at the glider airport, which is a 20-minute walk to the first tee. Maybe that doesn't sound like a big deal, but these guys need to be on time. Gestures of disrespect add up in a workplace. Like the tour won't grant a caddie a credential to look for work unless a player has signed for him. "This isn't a job fair," one lifelong caddie was told. And back to the bibs: Originally all they wanted was a modest pension plan and a boost to their health care.
The tour just canceled the annual caddie meeting. I don't know how the lawsuit will play out, but I can't help but root for the little guy. – With Max Adler