Branded Content
Hatton Captures 2023 PGA TOUR Aon Risk Reward Challenge
Editor's Note: This article is written in partnership with AON.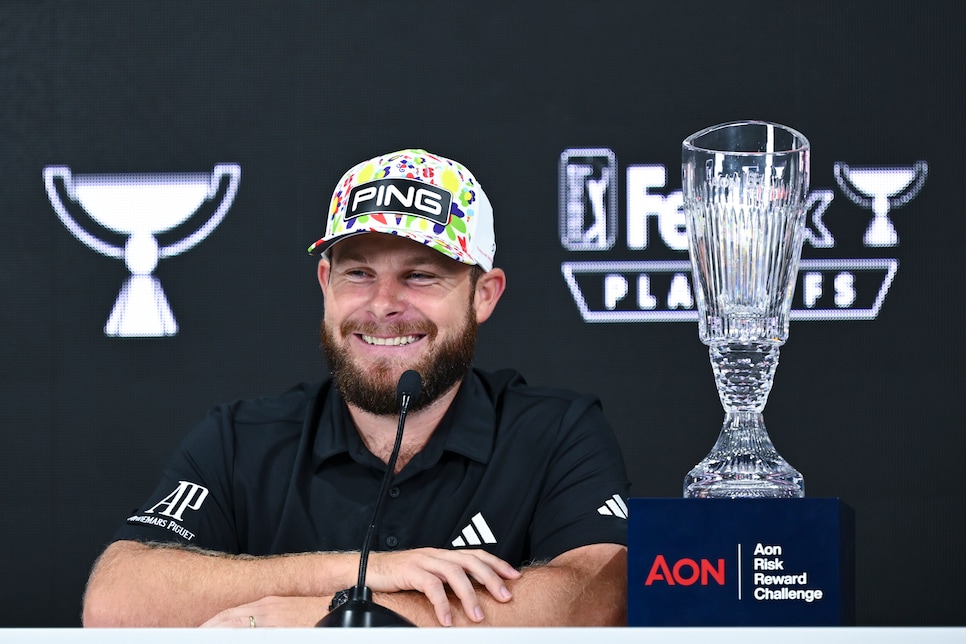 Tyrrell Hatton is always entertaining. Known for expressing his emotions on the course, the Englishman this year also showcased his competitiveness and intelligent decision making, as he captured the 2023 Aon Risk Reward Challenge, its $1-million grand prize, and its title of the best decision maker on the PGA TOUR.
The season-long competition that ended with last week's Wyndham Championship is ultimately awarded to the PGA TOUR pro who accumulates the best two scores on one designated hole from every participating event throughout the season. Each hole is identified by risk-reward themes that test players' pre-event strategy and in-round decision making. While Stephan Jaeger had on opportunity to claim first place as the season wound down – and even led the Aon Risk Reward Challenge with two weeks left – Hatton ultimately prevailed, averaging -0.885 in relation to par on Challenge holes, which translates to a birdie 81 percent of the time.
Week after week during the season, Hatton was on the Aon Risk Reward Challenge top-10 leaderboard — a testament to both his game's remarkable consistency and his overall decision making in the moments that mattered most. He had a knack of knowing when it was worth taking risks combining this evaluation with world-class execution, recording a total score of 23-under par on his 26 Challenge scores this season. Hatton strategically went for par-5 greens in two 76 percent of the time, with a 16 percent success rate, and hit Challenge greens in regulation 82 percent of the time. That ultimately secured him the leader board's top spot, the prize money, and the Aon Risk Reward Challenge trophy.
"This season's been great so far, and the only thing missing had been a trophy," says Hatton. "But I get to take this one home now, so that's a nice bonus. We play some pretty tough courses and some tough holes throughout the year, so sometimes you have to be smart, and sometimes you have to be aggressive. It's ultimately just trying to make the right choice."
As the PGA TOUR playoffs come to an end over the next few weeks, be sure to tune into the LPGA Tour, where the 2023 Aon Risk Reward Challenge is heating up. The women are just now completing their European Swing, before returning to the United States and Asia to conclude their regular season. That race concludes in November with the LPGA Tour Winning Moment at the CME Group Tour Championship. The LPGA Tour winner will also take home the Aon trophy and an equal $1-million prize. Visit here for all the details, including an up-to-date leaderboard and Aon Risk Reward Challenge upcoming hole schedule and insights.