News
Tseng underwhelming, but was she overhyped, too?
RANCHO MIRAGE, Calif. -- The deification of Yani Tseng was put on hold here when the Kraft Nabisco Championship benevolently abandoned the script on Sunday and opened itself up to all comers. The winner was Sun Young Yoo, who emerged from a group of four tied for the lead late in the round. Yoo won in a playoff with I.K Kim, who missed a one-foot par putt to win on the last hole of regulation.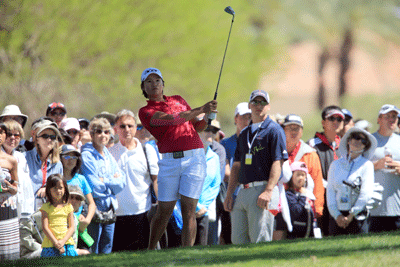 The loser, however, emphatically was Tseng, the Taiwanese superstar who in the process of rewriting history improbably imploded. Two straight victories, three in her last four starts, six in her last 12, and tied for the lead heading into the first major championship of the season stacked the odds prohibitively in her favor. Throw in the fact that she already has won 15 times on the LPGA, including five major championships, and is closing in on fulfilling the performance requirements for LPGA Hall of Fame enshrinement, all before her 24th birthday, and this one seemed over before it began. But, as is often said, there's a reason they play it out rather than identify the winner by proclamation.
Tseng bogeyed the first hole on Sunday, disturbing an equilibrium that was never really recovered. Was she a victim of hype? This was the explanation offered by Stacy Lewis, who a year ago surgically removed the trophy from Tseng's hands, overcoming a two-stroke deficit to win by three. "I think Yani's got a ton of pressure on her," Lewis said. "The media, from all the writings and everything, they basically gave Yani the tournament, and they did that last year, too. That's a lot of pressure for somebody, because she's still got to go out there and play and play a hard golf course. I can't say that I'm not surprised. I couldn't imagine having that pressure." Another player in the field, Kristy McPherson, voiced a similar view on Twitter. "According to media everyone shud just take the rest of the week off and give the win to Yani," she wrote on Friday. "Said just give her the $. I take the field!"
"It is pressure," Tseng said. "I just try to turn that pressure into motivation. I don't want to think too much. After two wins, everybody is kind of looking at you. I know that. But the things I can focus on is to play my own game." In defense of those who were inclined to concede her the victory, none of the potential challengers, those trailing her in the top 10 in the Rolex Ranking, seemed up to the task of impeding her assault on history. Meanwhile, the highest ranked of the four who were sharing the lead was Kim, 12th. The others -- Yoo (37th), Seo (38th) and Karin Sjodin (216th) -- would not have been considered a threat pre-tournament. None of the four had won a major championship (though Seo was runner-up in the U.S. Women's Open last year), suggesting that had Tseng applied any pressure at all, she might have won in a rout. Instead, she stumbled along, failing to make a birdie until the 12th hole. A second birdie on 17 provided her an opportunity to join Seo and Kim in a playoff, but she hit an indifferent approach to the 18th green, then narrowly missed a downhill 30-foot birdie putt.
"I feel I'm improving," Tseng said, clinging to having come up one, rather than three, strokes short. "I was happy, smiling, enjoying the crowd, enjoying the walkway at 18. I still have a chance on the last hole, still very happy about that.
"Maybe God just wanted another player to win it," she said.