The Loop
Trip Report: Bandon, Pumpkin and Chambers.
This is not my trip report. A few months ago I received an e-mail from Scott Ford, a reader asking for advice about a trip he was taking to Oregon and Washington. He gave me two different travel scenarios. Based on my experience in the area, I suggested he go with Plan B, which was to get to Bandon Dunes as fast as he could. The next day he managed to fit in Pumpkin Ridge and Chambers Bay before he headed home to Atlanta.
He sent me this e-mail after he got back from his trip (I've added a few notes):
Matt, Apologies for the delay (I'm still on cloud nine after our trip to Bandon). You were absolutely right about Bandon--simply amazing. For those who have never been there in person, you just can not put it into words.
Very quickly, a summary of my trip to Bandon Dunes: On the way to Bandon from Portland on Thursday it was 50 degrees, windy and rainy (what you would expect?). Thursday afternoon on the range we took it all in and played the short course. We had a great dinner and drinks at McKee's Pub. Get the fish and chips.
Note: Bandon Dunes website says the resort is a 5 hour drive (246 miles) from Portland.
On Friday we had a 7:50 a.m. tee time at Pacific Dunes, a 12:50 tee time at Bandon Dunes and at 5:40 we crawled over to Bandon Trails for another nine. If anyone ever asks here's my ranking of the three courses: 1A: Pacific Dunes; 1B: Bandon Trails; 3rd: Bandon Dunes.
Note: If you go hole-by-hole, Bandon Trails may have more wins than the other two. I also think Pacific is the best course. I appreciate Trails because it's so different than Bandon and Pacific. I'd rank them as: 1A: Pacific; 1B: Trails (but please fix the 14th hole) and 1C: Bandon (something has to finish third out of three courses, but they're all fantastic). Old MacDonald, the fourth course, opens next year. Here's a link to a story I wrote about Old Macdonald for Golf World several months ago.
We came off the course at 8:15 p.m. We were speechless. We went back to McKee's Pub for dinner. Oh by the way, it was 62 degrees, no wind, rain, or clouds. A chamber of commerce day! [The 444-yard 13th hole at Pacific Dunes is pictured below.]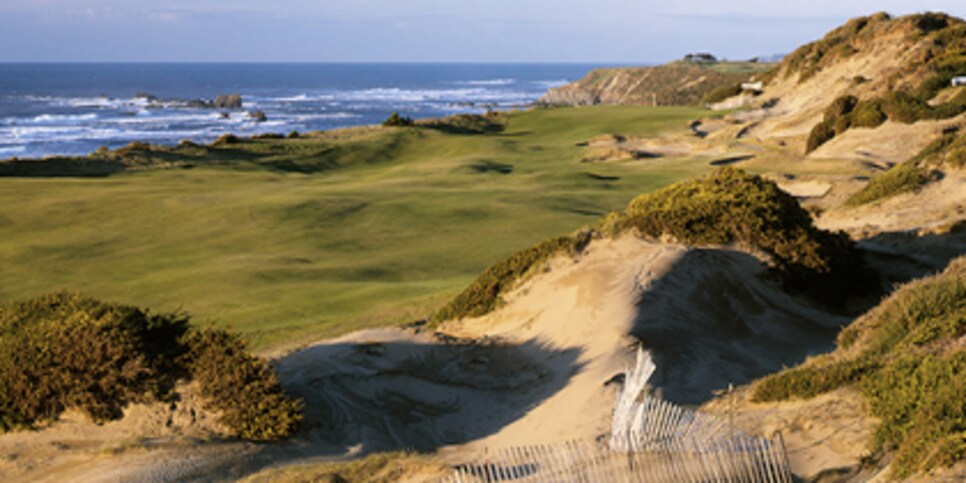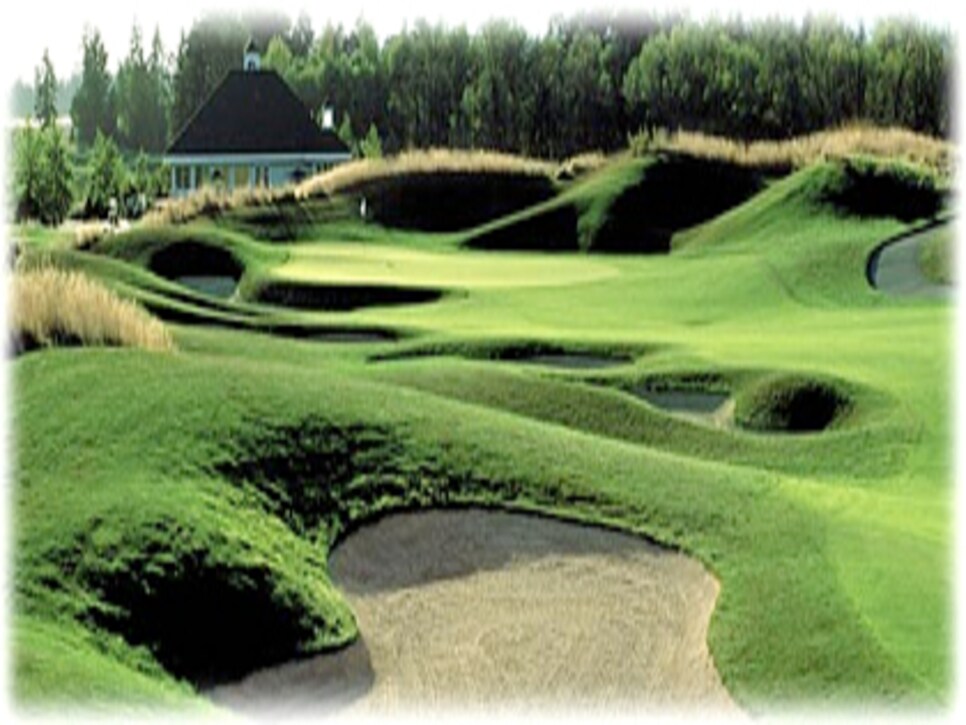 After 27 at Pumpkin and one more car ride we ended up in Seattle. My buddy had to head back and didn't get to play Chambers Bay. I was playing in a tournament there, The Golf Channel Amateur Tour. I figured, what a great way to cross one off my US Open venue wish list. The weather, oh the miserable weather: 44 degrees, 20 to 30 mph winds and raining sideways. (Yes, sideways!) I wouldn't let that spoil my day. I got to Chambers Bay and looked out behind the clubhouse. What a view down to the course.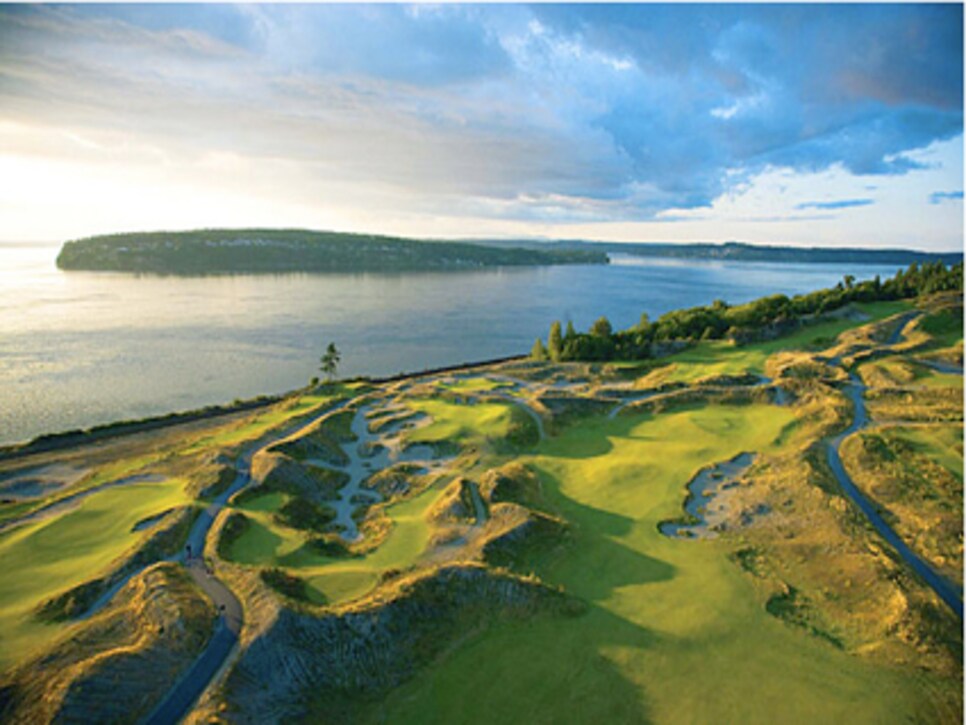 Anyway, after the front nine my caddy Eric does a double take on my scorecard and says, "What's your handicap again?"
He says, "I'm still trying to figure out how a 14 can post a 38 on the front in these conditions."
I kid you not, I got to the scoring area, turned in my scorecard for an 81 and took home the hardware. By one stroke! It might not have been the US Amateur or the US Open, but it sure made that four-hour flight back to Atlanta a lot easier.
I just wanted to say thanks for the advice.
Scott, thank you for your e-mail and your scouting report.
Note: If I'm ever paired against you and your 14 strokes (often refered to as diapers), I'll join your friend and catch the early flight home.