The Loop
Topgolf Las Vegas is the world's most insane driving range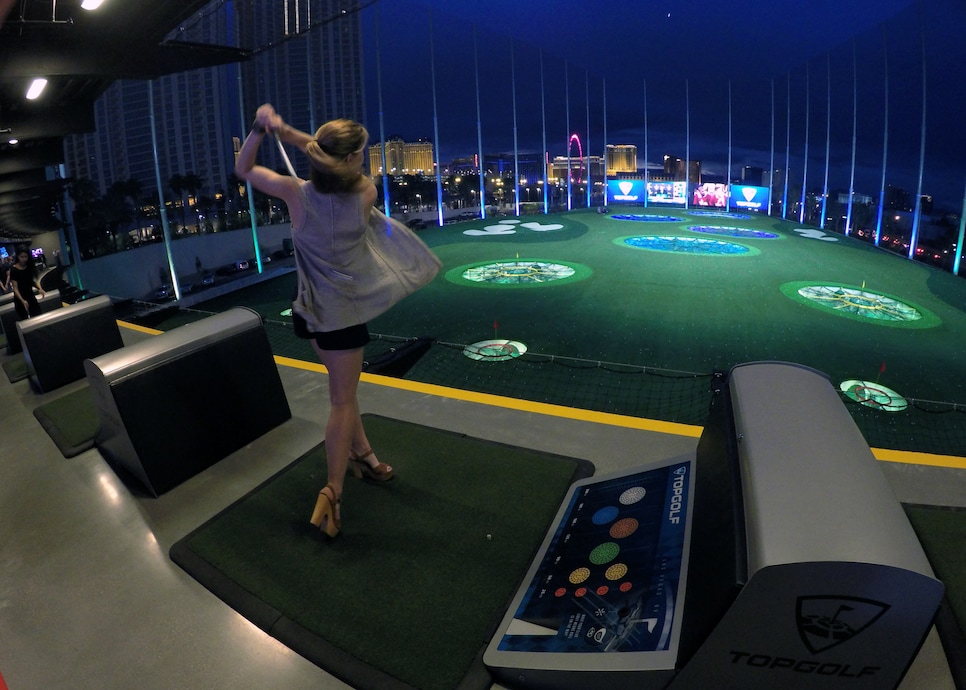 It has 108 hitting bays, six flashing, multi-colored targets, four levels that cover 105,000 square feet, five fully-stocked bars, a plethora of large-screen TVs that are designed to showcase every significant sporting event (there are even TVs at the far end of the range, so you can hit balls while watching sports), a concert venue, a Callaway Golf fitting studio, two pools, a pro shop that sells everything from polos and board shorts to tanks and bikinis, and, well, you get the idea.
Topgolf Las Vegas, the largest Topgolf yet, is about to become hottest venue on the Las Vegas Strip.
"Our flagship venue is the product of nearly four years of hard work and reimagining what the Topgolf experience could be like," said Topgolf CEO Ken May. "We can't wait to welcome our fans and new guests from all over the world to play at Topgolf."
The venue, which is located right behind the MGM Grand, opens its doors to the public on May 19th at 8 a.m. PDT, and it's expecting more than one million visitors in its first year. We got to experience Topgolf Las Vegas at a media event on Tuesday night, and it's nothing short of insane.
After climbing up two short flights of stairs, we arrived at the venue's second floor and main entrance. A flock of happy, energetic Topgolf employees greet visitors and usher them to their hitting bay. Bay pricing starts at $30 per hour for up to six players and varies depending on bay location and time of day. (General admission into Topgolf Las Vegas, however, is free.) The venue's four floors each offer a different experience. The second and third floors are rowdy and loud, the quieter fourth floor has far fewer hitting bays and even has a private room designed for celebrities and high-rollers (it has two hitting bays, a few TVs, sofas and a mini bar), and the first floor seems to be the designed for the avid golfer—it's equipped with a full-service Callaway Golf fitting center (one of just 20 such fitting centers in the country).
The venue's two pools, located on the third and fourth levels, each have swim-up bars and offer a view of large-screen TVs and the driving range. Speaking of TVs, the venue is loaded with them. Never again will Las Vegas goers have to choose watching sports over hitting golf balls.
So there you have it. Whether you're a sunbather or a gambler or an avid golfer, this venue will draw you in. We said it before and we'll say it again: Topgolf Las Vegas is about to become hottest venue on the Las Vegas Strip. And that's only great news for the entire golf industry.
Here are some of our favorite posts from Tuesday night's media event: