The Loop
Tom Watson, 64, contends at Senior PGA and sets Ryder Cup tone
BENTON HARBOR, Mich. -- Tom Watson will be at the Memorial Tournament next week, getting the top 25 players on the United States Ryder Cup points list fitted for their clothes and hoping to sit down with a couple of potential team members who might play for him at Gleneagles in September.
"It's just the process of trying to get to know some of these players before the event happens so they get to know me," Watson said. "They get to know a little bit of what I am and what I bring to the table to them."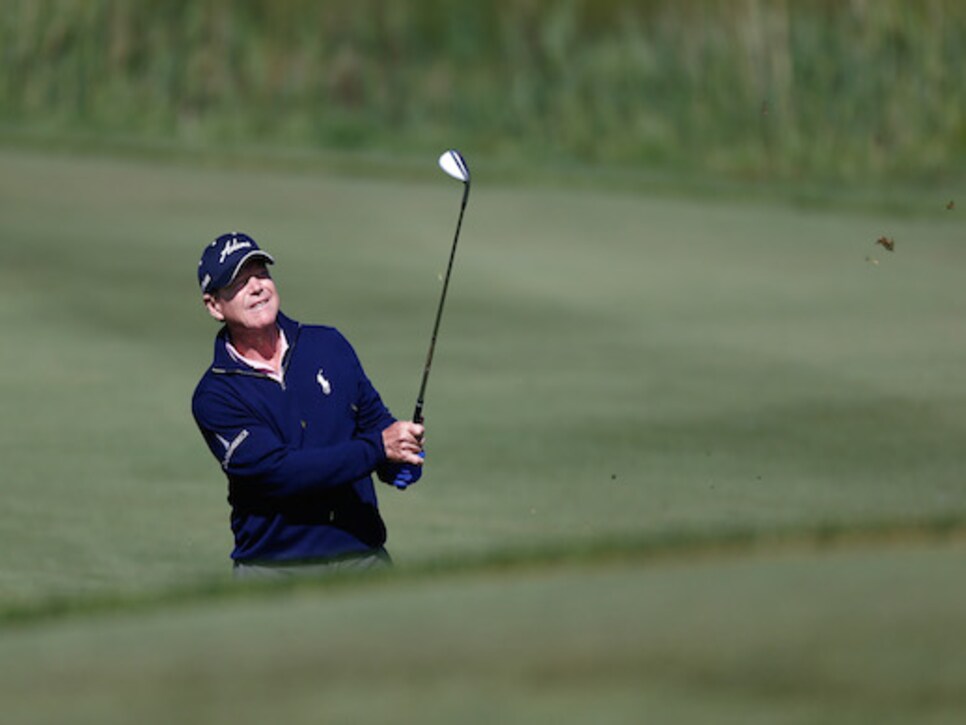 What Watson was, and remains at age 64, a competitor who gives no quarter. If the Americans who might comprise the Ryder Cup squad in four months were paying attention to the leader board of the Senior PGA Championship Friday, they would have gotten a reminder - not that they should need it.
Through 36 holes at Harbor Shores, Watson is poised to build on his considerable history in the game. Three years ago at the Senior PGA, when he was 61, Watson became the oldest winner of a major since the start of the Champions Tour in 1980. (Jock Hutchison was 62 when he won the 1947 Senior PGA, then a 36-hole event.)
Watson shot a three-under 68 Friday, and was tied for the lead with Kiyoshi Murota, Colin Montgomerie, Brad Faxon and Bernhard Langer as the afternoon starters began their second rounds. He is in great position to become the oldest winner on the Champions Tour, supplanting Mike Fetchick, who won a tournament on his 63rd birthday in 1985.
Five years since his monumental run in the British Open at Turnberry, Watson still enjoys the quest. "It's part of my makeup," he said. "I'm a competitor. I don't like to lose, and I like to get everything out of every shot."
Watson double-bogeyed the 12th hole. "I stubbed my chip and it came back and then I three-jacked it from there," Watson said. "That's the way to make you throw up." But then he played hard - the only way he knows - and birdied Nos. 15 and 17. It is the kind of resolve he has been showing since he turned pro in 1971, the kind of grit his American team will need to show to win for the first time in Europe since Watson was captain in 1993.
"Well, the challenge is on the players," Watson said. "They haven't won but two [1999, 2008] in the last nine Ryder Cups. They have had their butts handed to them. I hope they have the attitude they're going to go in there and take no prisoners, get the job done, no matter what it takes, no matter where you are on the golf course."
The man giving the talk, as he is continuing to show just three months before turning 65, can walk the walk.