The Loop
Today, for the first time in tennis history, no man under age 30 holds a grand slam singles title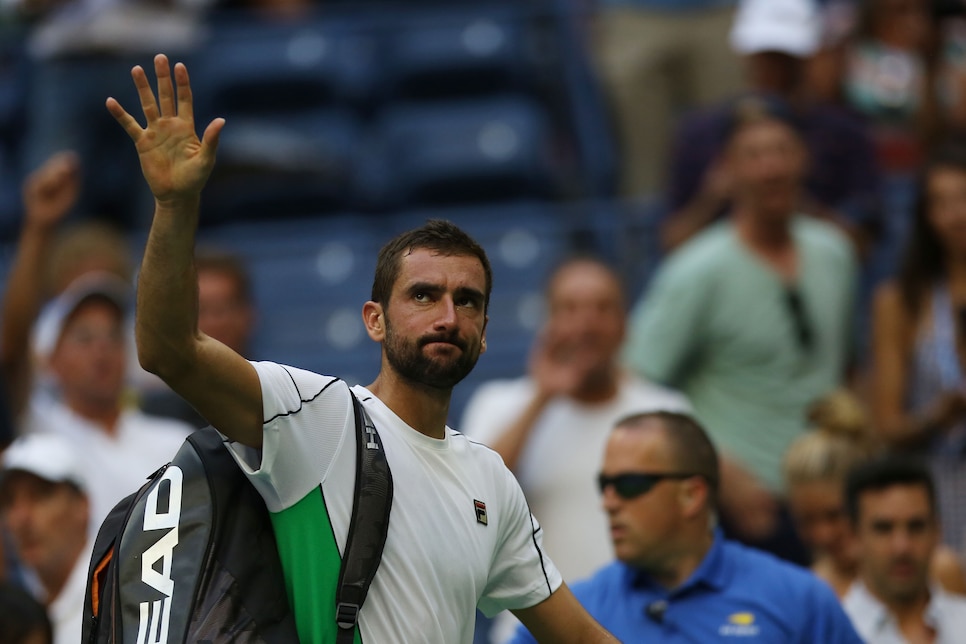 In 1877, Spencer Gore won the first Wimbledon tennis tournament, defeating William Marshall 6-1, 6-2, 6-4 in front of a crowd of 200 spectators at the All England Lawn Tennis and Croquet Club. He didn't know it at the time, but he had just become the first grand slam singles champion in tennis history.
Gore was 27 years old when he won Wimbledon. Since that mid-July day, there has always been a male tennis player under the age of 30 who held a grand slam singles title. For 141 years, the reign of the 20-somethings went unbroken.
That streak has come to an end.
Marin Cilic, winner of the 2014 U.S. Open, celebrates his 30th birthday today. A week ago, Juan Martin Del Potro—2009 U.S. Open champ—also turned 30. As they wave goodbye to their 20s, they leave...
Let's state it again, for emphasis: For the first time in 141 years, since the advent of grand slam tennis, there is no current male title holder on the planet Earth under the age of 30.
Clearly, this is a testament to the ahistorical dominance of three men: Roger Federer, Rafael Nadal, and Novak Djokovic. They now hold the top three spots in "grand slams won" despite the fact that they played in the same era and are still active. We don't need to go into great depth here—their greatness speaks for itself. But this bizarre statistic is just further evidence of how thoroughly they have hoarded the oxygen of the tennis universe, suffocating an entire generation in a way that has never been seen in the sport's long history.
For those curious, I showed my work below. Each man listed was both A, a grand slam singles champion and B, younger than 30 for the tournaments listed. Don't be confused—they did not win the titles listed in every case. Some had won their first title before, but the way I checked my hunch was to find a champion in his 20s, list the range of grand slam tournaments that person "covered" until he turned 30, and then find someone still under 30 who overlapped. These were far from the only male 20-something title-holders at the time listed; they're just the ones I used to prove my thesis.
Spencer Gore - 1877 Wimbledon to Wimbledon '78
Frank Hadow - Wimbledon '78 to Wimbledon '84
Richard Sears - Wimbledon '84 to '91 USO
Willoughby Hamiltin - '91 USO to '94 USO
Laurence Riboulet - '94 USO to '00 USO
Malcolm Whitman - '00 USO to '06 USO
Maxime Decugis - '06 USO '12 USO
Richard Williams - '12 USO to '20 USO
Gerald Patterson - '20 USO to '25 USO
Rene Lacoste - '25 USO to '33 USO
Sidney Wood - '33 USO to '41 USO
John Bromwich - '41 USO to '48 USO
Jack Kramer - '48 USO to '51 Wimbledon
Frank Sedgman - '51 Wimbledon to '57 USO
Ashley Cooper - '57 USO to '66 USO
Tony Roche - '66 USO to '68 USO
Arthur Ashe - USO '68 to French '73
Jan Kodes - French '73 to French '74
Bjorn Bjorg - French '74 to French '83
Yannick Noah - French '83 to French '89
Michael Chang - French '89 to Wimbledon '92
Andre Agassi - Wimbledon '92 to Aussie '99
Carlos Moya - French '99 to Wimbledon '05
Rafael Nadal - French 2005 to French 2016
Marin Cilic - French 2016 to Sept. 28, 2018